---
Americ Empire Cabin Instant Tent with 3 Room XL is a very comfortable camping option for families and groups, lightweight, with a great packed size, and an easy setup.
---
Key features
Cabin style tent.
3 rooms.
2 doors.
6 windows.
Great waterproof rating.
---
Where to buy
Check on Amazon, they have the best shipping conditions with stores on 5 continents.
---
What is in the name
I am using the name as provided by the manufacturer, and it is very inaccurate. This is not an instant tent in the usual meaning, see more about this here. This is a cabin style structure with straight legs poles and an arched roof, so it does need an assembly which will take you around 15 minutes.
The tent is not freestanding, it must be staked down properly to be functional. You have two dividers inside so the tent is formally a 3-room structure. This is a very tall structure with a stand-up design in all three sections.
---
Who is it for
Space-wise, this is a huge tent with 210 ft² (19.2 m²). The declared capacity is 12 – 13 people, but this is far too many for such a space, in the case of 13 this would mean 16.2 ft² (1.48 m²) per person. It is best to downgrade this by about a half if this is about true camping.
They show pictures with 6 queen size beds fitting in the tent, this is unrealistic, so make it maximum 3. Ideally, the two side rooms should be used for sleeping and the central room as a living room. So the tent should be great for two couples or for parents with 3 – 4 kids.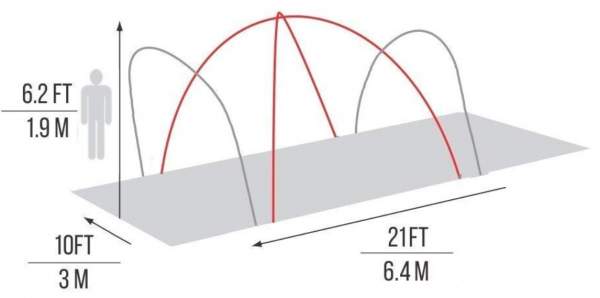 Weight-wise, with 30 (13.6 lb) the tent is quite typical for such a size and type. In fact, I would call it lightweight, you will realize this from the comparison table below.
The packed size is really good, 28 x 15 x 12 inches (72 x 38 x 30 cm), and you will realize this also from the comparison table below. But in any case, you need a car for transportation.
Seasons-wise & climate-wise, this is a tent for summer camping, or maximum for 2 seasons. The waterproof rating is very good but the fly is minimal, it covers only the roof. The tent is tall and not for a windy environment. There is plenty of mesh, so this is great for warm weather situations but far less great for a cold environment.
---
Materials & construction
The poles
The poles are a combination of steel and fiberglass. There are 8 steel legs poles plus 5 fiberglass poles. One of the fiberglass poles is used to cross the main dome section and to create small brims above the doors.
The steel poles are very thick and you have a pin-and-ring system for their connection to the base of the tent. The upper sections are bent and this is where you attach the roof poles. So this is a design without the usual plastic elements for the connection of the two sets of poles.
The fabric
The fly is 190T polyester with PU waterproof coating of 2000 mm. They do not provide many details about the rest except that the tent is "proudly made in America with 100% virgin material". My guess is that the walls and panels on openings are the same material. They make a bold statement that it is "100% waterproof" which I cannot take seriously, there is no such a thing as a fully waterproof tent.
It seems that the floor is an anti-fungal polyethylene, so this should be very waterproof and reliable.
The doors & windows
The tent is with 2 tall inverted-T shaped zippered doors that have mesh and panels. The windows are two types, 2 oval and 4 rectangular and also two-layer type. The zippers on the windows are such that you can open them as much as you want and keep at any position. So there is nothing one could object to this design.
Ventilation
With so many windows and doors with mesh, and mesh sections in the ceiling, ventilation should be good here. But if it is raining for a longer period of time, all the windows and the doors must be with panels, and ventilation can become an issue. Pity they did not add floor vents.
Other features
Lantern hook is available.
There are a couple of small pockets on the wall, far from enough.
---
My rating, pros & cons
Please see how I rate it for the same parameters and criteria applied to all other tents in the site. This makes the comparison easy.
---
Specifications
Type: cabin style.
Weight: 30 lb (13.6 kg).
Declared capacity: 13 people.
Dimensions: 21 x 10 ft (6.4 x 3 m).
Area: 210 ft² (19.2 m²).
Area per person: 16.2 ft² (1.48 m²).
Peak height: 6.2 ft (74.4 in; 1.9 m).
Packed size: 28 x 15 x 12 in (72 x 38 x 30 cm).
---
Americ Empire Cabin Tent vs Competitors
It is always good to compare such an item with other products of the same type, so here I give two more cabin style tents. This may help in understanding the features of this Americ Empire tent. As you realize, its packed size is much better than the Core Instant tent. It is much lighter that the other two and also offers far more space. Please follow the links to check for the updated prices.
28 x 15 x 12
(72 x 38 x 30)
48 x 11 x 11
(122 x 28 x 28)

28 x 10 x 10
(71 x 25 x 25)

---
Final thoughts
In summary, this Americ Empire Cabin Tent XL is really well built so the mentioned incredibly high rating by users is not a surprise. I do have a few objections but I use the same criteria for all tents. Most importantly, just ignore the official capacity, it makes no sense, use it for maximum half the indicated capacity number and you will have a nice camping item.

If you need more options to consider, just look around in various categories, this site is all about tents so you will find something for you. You might want to check also this Ozark Trail 12-Person 3-Room Instant Cabin Tent with Screen Room. If this tent is not big enough, check this Wenzel Mammoth 16-Person tent.
Note that this is not a sponsored text and I am not paid by the brand or related to them in any sense. Please use the comment box below in the case of questions or comments. Have a nice day.

---