---
Need a tent for extreme weather conditions, to use with a wood stove? Read this Arctic Oven review, you will not find a better option on the market.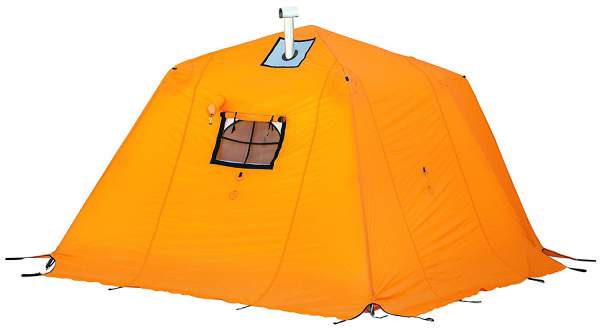 ---
Key features & benefits
Breathable Vapex fabric.
Designed to accommodate a wood stove.
Completely waterproof & reliable.
Cold weather tent.

---
What type of tent is this
This is a tent very suitable for cold weather and for winter in general, but it can be used in a warmer environment as well. The secret of its versatility is its inner tent material and construction. So what you have here is a special Vapex material which I described in my separate text.
There is no mesh at all in this tent, so it preserves the warmth nicely. But at the same time, this material is breathable and it performs great in any environment. In view of this, the condensation issues are reduced to a minimum, the vapor is able to escape but the water droplets cannot get in, and this is the beauty of this design and materials.
The number 12 in the Arctic Oven 12 extreme tent name denotes its size (12 x 12 feet), so do not mix it with the capacity.
The tent is a cabin style with very steep and straightened walls, and the highest point is 218 cm. The inner space is one single room and the vestibule is created with the help of a massive extra pole, so it looks more like a porch with a vestibule. In fact, you have a massive area here, no less than 46 ft² (4.3 m²).
The structure is formally freestanding, but to make it fully functional the fly must be staked out, and this front vestibule pole is fixed in place only together with the fly, you will realize this from the video below.
---
Who is it for
Seasons-wise, I have already mentioned its special materials, so this is a tent that could be used perhaps in all seasons, but this is primarily a cold-weather tent. It will keep you protected wherever you use it. This is a tent for extreme weather conditions and this is its main purpose. It is in my list of tents for cold weather camping and also in the list of best tents for winter camping.
Sizewise, this tent offers 25 ft² (2.35 m²) of the inner area per person in the case of 6 users, so this is more than enough. See about the tent capacity a bit more in my separate text. They suggest that this number should be reduced to 4 – 5 in the case a wood stove is used, so this again sounds realistic. Bear in mind also the huge protected area under the vestibule, you have 18.4 square meters of the total protected floor area. See the floor plan and the dimensions in the picture:
Its packed size is not so great, you have 38 x 34 x 28 inches (97 x 86 x 71 cm), and the weight is 78 lb (35.4 kg). But this is not so surprising when you see those massive poles and such a full-coverage fly with long storm flaps around. So you need some vehicle for transportation.
---
Construction and materials
The inner tent
The inner tent material is extremely breathable and water repellent Vapex material. It seems that this material is used exclusively in these Arctic Oven tents, but I might be wrong. The walls are straightened and tall, and you have a ring on each of the 3 sides of the inner tent, so you attach them to the fly and this creates a bit of extra volume inside.
The floor is a heavy-duty 4 oz urethane coated 200D oxford nylon, it is bathtub type so there are no seams in the corners. The seams on the floor are sealed. You will notice clips in the corners – this is if you use the footprint which is designed to be used inside the tent so that you can easily remove the debris in particular if a stove is used.
You have attachment points in each of the corners of the roof, so you can pass a cord around and use it to hang your clothes. There are small storage pockets on the two sides of the tent.
Ventilation openings on the inner tent
You have them two, one on the front and one on the back. Those are tubes with drawcords which you can open or close from inside the tent.
Then you have two windows, one on the door and one on the back wall. They are double-layered, so you have mesh from outside and panels from inside. You unzip the panels from inside the tent if you want more ventilation. But as I said, the whole fabric is breathable.
The door
The door is U-shape and with self-healing YKK zipper with double pulls. This is the only door here, quite large though, so good enough for such a tent, see it in the picture below. You can roll it up and fix with two straps.
Using the stove
The Arctic Oven 12 is designed to be used with a wood stove. So you have a stove jack on the inner tent ceiling where you pass the stove pipe, see the picture. The stove jack has a non-burnable layer around so it will not be damaged by the hot pipe. If you do not use it, it will be covered by the fly.
The fly
The fly material is the same as what you have on the floor, the heavy-duty 4 oz urethane-coated 200D oxford nylon. Here you have a storm flap all around close to the ground, you can see in in the pictures. If the snow is around, you put it on the flap and protect the tent from the wind, or just put some stones on it.
There are 9 guy-out points on the fly so you can secure it and stake to the ground, plus many stake-down points around on the bottom of the fly.
There is a flap on the back which pairs with the back window, so you can open it and fix it with two straps if you want a direct airflow through the window on the inner tent. It is closed by the Velcro tab which runs all the way around its three sides.
You also have a ventilation tube here, see the picture, and it is paired with the ventilation tube on the inner tent, so you can make a direct access to both of them together. It is equipped with a drawstring so you can close it if necessary.
There is the external stove pipe jack on the top as well, naturally paired with the jack on the inner tent. So it is with a flap and you can close it if not in use.
On the front vestibule, you have yet another ventilation tube on the fly. This is great to have if you cook under the vestibule. This front vestibule is also with two parallel zippers which create the huge entrance door. You can use this flap in several ways. You can roll it up and fix with the straps on the top.
Waterproofness rating
I was surprised to see a statement by the manufacturer where it is recommended sealing it before using in rain. So I asked and received this answer: "Seam sealing is an extra precaution people like to do. It is not required. The materials are water-resistant and the seams are sewn with tape and water wicking tread. The seam sealer just acts as an additional cover film layer over seams. It is helpful after wear and tear."
This sounds good enough but I also asked about official rating and did not get an answer. In the mail I received there was this statement: "Our flies are made of Oxford 8oz nylon which has a 1/2-3/4 oz. Urethane Coating, DWR from the manufacturer. We do not have a rating on this but this is the most common nylon that most tents are made. The body of the tents are made out of our proprietary Vapex material, which is water-resistant as well and wicks out any moisture and water. This is the main technology of our tents. Water cannot go back into the Vapex, leaving it dry and warm inside the tent."
I must say I was disappointed with such an answer. For a tent which costs over $2600, I would expect something more.
So I asked again, but the person on the other side obviously lost patience with me, and I did not get any further reply. In any case, this tent is praised by many, and no doubt with all good reasons.
Poles and pegs
Here you have very thick anodized aluminum tubing with durable steel hub fitting. The four corner poles create a freestanding structure together with the roof poles that are of the same diameter, see the picture below. One extra pole with the same features, plus a ridge pole, create a huge vestibule.
The stakes in the package are made of light-weight automotive-grade ABS plastic.
Setting the tent up
I think it is best that you see this video for the details:
---
Specifications
Type: 4-season tent.
Capacity: 6 – 7 people.
Weight: 78 lb (35.4 kg).
Dimensions: 12'4" x 12'4" (376 x 376 cm).
Inner area: 152 ft² (14.1 m²).
Inner area per person: 25 ft² (2.35 m²).
Vestibule area: 46 ft² (4.3 m²).
Peak height: 7'2" (218 cm).
Packed size: 38 x 34 x 28 in (97 x 86 x 71 cm).
---
Arctic Oven 12 Extreme Tent vs competitors
It is difficult to find a tent for a direct comparison with Oven 12. So I give it here side by side with two other tents that are very different, but also designed for 4-season use. You can get some idea of what they offer and then compare the prices.
---
Final thoughts
So in the summary of this Arctic Oven review, I would stress again that this impressive tent offers a complete protection even in the most severe conditions. It is difficult to find a tent that could compare with it. My overall rating appears to be relatively low because of several criteria I use, but I give it maximum where it matters most, in reliability and protection.
As you realize from the comparison table above, there are various options on the market and with very different features. These are expensive tents and it is worth checking carefully. But you might want to see also this Marmot Lair 8 Person Tent which is for extreme winter conditions and a bit more affordable.

Thank you for reading. Let me know what you think, there is a comment box below. This site is all about camping tents, so if this tent is not for you, just check around. I wish you a nice day.