---
This Barebones Outfitter Tent review is about their medium 8-person 4-season freestanding frame tent with a stovepipe port, 8 windows, and a removable floor.
---
Key features & benefits
This is a frame tent.
8-person capacity.
4-season tent.
Single room design.
Integrated flapjack for the stove pipe.
2 doors.
8 windows.

---
Barebones Medium Tent – what this is about
They build this model in two sizes, so the one presented here is the Outfitter 8 person tent and they have yet another, the Lodge tent for up to 12 people. This is what some call a wall tent and the meaning is that it has all four completely vertical walls so the structure looks like a house. I would call this just a cabin style tent and it is included in the category Cabin Tents here in the site.
This is a frame tent as well. The meaning of this term is that the frame is a completely separate freestanding structure and you add the tent when the frame is completely ready, see the picture below. In this sense, it is a bit similar to the White Duck Outdoors Alpha Wall Tent and Trek Tents 246C Cotton Canvas Cabin Tent but these two are canvas tents, and the frame in the Outfitter 8 tent is far stronger with so many poles.
This is a tall structure with 108 inches (274 cm) peak height and the side walls are 72 inches (183 cm), so this together with no less than 8 windows make it a very pleasant structure with lots of volume. I have included it in my list of very tall tents. Note that there are no dividers here, so this is a single room structure, pity they did not add something for a bit of privacy.
The stove port on the roof allows for installing a wood stove like the Camp Chef Alpine Stove and you will have heating and cooking place in the tent. Note that it comes with a flame-retardant stove mat for the floor protection. I have included it in my list of best tents with a stove jack.
---
Who is it for
Capacity-wise, the tent offers an area of 126 ft² (11.7 m²) and the declared capacity is 6 – 8 people. So if used by 8 people this gives 15.7 ft² (1.5 m²) per person and this is far from enough. Note that you have no storage areas for your camping stuff.
So I think this is for maximum of 4 people if used as a camping tent. It should be good for parents with two kids. You can save the floor space by using some bunk cots, in such a case you can still use the space underneath the cots to store your gear. The picture below shows a bunk cot used in this tent:
Seasons-wise, they have built this tent as a 4-season tool. In a cold environment, you can even use a wood stove inside the tent, it comes with the stovepipe flapjack in place, see the pictures. For some tips about wood burning tent stoves please see in my separate text. All the windows can be closed to preserve the warmth. In addition, the fly covers the windows as well (this configuration is in the picture below), but you can roll it up above the level of the windows as you can see from the picture above.
Climate-wise, this is related to the seasons mentioned above, the tent has mesh windows on all sides and mesh is also on its huge door, and the vents are under the roof (visible in the picture above) so it will work well in a warm environment just like any other cabin tent.
You can have great ventilation even if you close the doors and if the fly is rolled down as in the picture above; in such a configuration the side windows can be with mesh only, they are protected with the fly. But if it is cold, all those windows are with panels that you can close.
The tent looks boxy and it is very tall, but the frame is very strong and they claim it can withstand winds of up to 90 mph and the vertical pressure of up to 1000 lb (454 kg) like in the case of the snow accumulated overnight. In my view, these are truly great numbers.
Weight-wise, this is a heavy structure 218 lb (99 kg) which comes in several packages, see in the specifications below. Note that the weight given on Amazon is different from what I give here, but my numbers are directly from the manufacturer's site. It is interesting to note that this weight is the same as in the Crua Loj tent, but the Crua tent offers 300 ft² (28 m²) of the area and it is an insulated tent.
The packed size is far from great, you will see the numbers below. So you need a car and lots of space in it to transport this tent to your camping place.
So who can really use it? This is a great tent for camping and it offers a home-like comfort, but disregard the official capacity. This is also a tent for hunters, for glamping, for family events in the garden at home, and you name it.
---
Materials & construction
The frame is aluminum and all the joints are nylon, you will see below that they give a lifetime warranty, so this is a reliable construction. You have snap buttons when you attach the poles to the joints so this part of the job is easy. This is a nicely engineered system and I do not remember seeing anything comparable to this.
But the frame includes so many elements that setting it up may take at least one hour if you haven't practiced it already. So this is not the best tent if you plan to change the place frequently, in such a case better choose one of instant camping tents.
The fabric is a blend of polyester and nylon so this should have the best features of both, as you know these two materials behave differently when wet. If you check on Amazon you will see that they compare it with canvas tents and make some statements that really make no sense like the issues with condensation in canvas tents as opposed to the absence of such a problem in this synthetic tent. It is hard to understand why they needed such absurd statements that contradict elementary logic.
But in any case, this is indeed a good material, the fabric won't get moldy and it is anti-microbial. You also have a removable and very thick rain fly and a removable floor. The bad thing with such a floor is that in principle bugs can get in but not easy because the floor goes up the walls for some 25 cm or so and you clip it in place with numerous attachment elements. The good side of such a design is that you can remove the floor it and wash after your camping, you know well this will be necessary.
The outer wall is with a skirt design all the way around to prevent the water and wind from getting in. They write that the tent is waterproof but they do not provide any statement about the waterproof rating.
All the windows are double-layer structures with a mesh and panels, the latter can be rolled up when not needed. The same structure is on the doors.
The side walls are 72 inches (183 cm) tall and I have already mentioned the peak height. So you really have plenty of volume here and you can walk upright throughout the tent. There are stakes and guylines in the package, see how they look: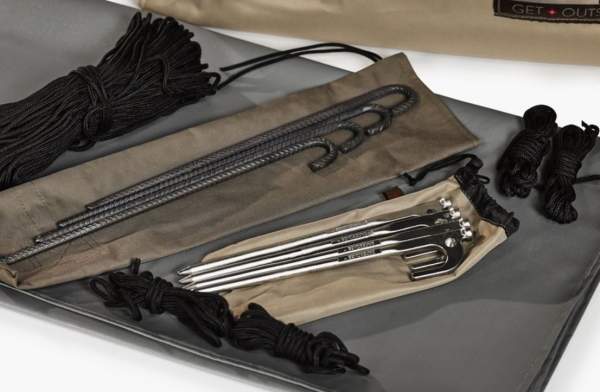 ---
What is included in the package
Here is what you have:
1 Outfitter tent.

1 Attachable floor.

1 Tent fly.

1 Flame-retardant stove mat.

1 Set Outfitter tent poles.

1 Set Outfitter tent joints.

4 Stakes, see the picture above.

4 Nylon cord tie-downs shown in the picture above.

High wind kit. This includes additional rope and shepherd hooks (also visible above) to stake down the tent when needed. With such a reinforcement it is designed to withstand 90 MPH winds. 
Warranty
This is what they offer when you buy this tent:
Poles: lifetime warranty.
Joints: lifetime warranty.
Fabric: 5 years warranty.
---
Specifications
Capacity: 6 – 8 people.
Total weight: 218 lb (99 kg).
– Tent alone: 73 lb (33 kg).
– Poles: 59 lb (26.8 kg).
– Joints: 43 lb (19.5 kg).
– Accessory kit: 43 lb (19.5 kg).
Dimensions (L x W): 12 x 10.5 ft (366 x 320 cm).
Area: 126 ft² (11.7 m²).
Area per person: 15.7 ft² (1.5 m²).
Peak height: 9 ft (108 in, 274 cm).
Wall height: 6 ft (72 in, 183 cm).
Packed size:
– Tent: 40 x 21 x 10 in (102 x 53 x 25 cm).
– Poles: 32 x 14 x 10 in (81 x 36 x 25 cm).
– Joints: 32 x 14 x 12 in (81 x 36 x 30 cm).
Frame: aluminum.
Fabric: polyester-nylon weave.
Joints: nylon.
Stakes: zinc alloy.
---
Barebones Outfitter Medium Tent vs Competitors
Here I give this Outfitter Medium Tent side by side with two other tents built in the same style, so all of them are wall tents but those two are canvas. The size is a bit different but this might give you some idea about what to expect if you decide for a different tent material and a different size.
As you realize, the Outfitter is far heavier but this is mainly because of its frame which has far more poles than the other two tents, so it is much stronger, and it is also taller. So the given weight is not necessarily a bad thing. Please follow the links in the table to read more.
White Duck
Alpha Wall Tent
---
Final thoughts, rating, pros & cons
This Barebones Outfitter Tent, or Barebones Medium Tent as it is also called, is a really strongly built and you will not find many tents that can match this structure. You have very durable materials wherever you look, and this is reflected in the price which is very high and in the weight and bulkiness. So this is an investment and no doubt worth the money if you can afford it (in spite of my relatively low rating).
But bear in mind all its features and my objections above, this is not something to move frequently and to carry anywhere. So if you need something much lighter and for summer camping, please check this Timber Ridge 8-Man Log Cabin Tent.
They give contradictory statements about the weight (218 and 160 lb, while at the same time the shipping weight is 180 lb) and this is both on Amazon and on their site. Quite a mess, so this is a bit disappointing for a tent that costs so much. There is no statement about the waterproof rating, I guess if you are supposed to pay so much you would want to have such a piece of information.
See how I rate it, my average rating is quite low but I consistently use the same multiple criteria and the same formulas for all the tents in the site, so it is best to compare them.
Barebones Outfitter Tent
Pros
Very sturdy construction.
Very tall tent.
Suitable for all seasons.
Very pleasant structure.
Good ventilation system.
Ready for a wood stove.
Cons
Very heavy.
Very bulky when packed.
Very expensive.
No storage elements.
Hard to set up.
No waterproof rating.
I gave a couple of alternatives in the comparison table above, but if you need more it is best to check in my list of tents for cold weather camping and also in the category of Cabin Tents in the site. Check also my list with best canvas camping tents because all of them are also 4-season tents.
Thank you for reading. Please use the comment box below in the case of questions or comments. I wish you a nice day.  

---