If you need a camping shelter that can be set up in a minute, this Caddis Rapid 6 Person Tent is for you. It is fully freestanding so you can pitch it anywhere.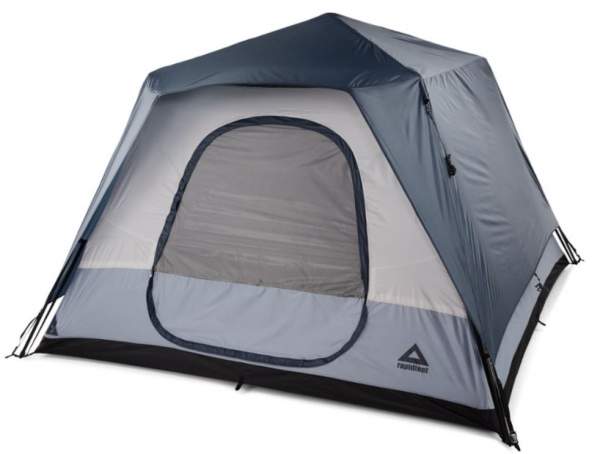 ---
Key features & benefits
Instant setup tent.
Freestanding.
Very tall.
1 Door.
E-cable port.
Gear loft.
---
Overview
This Rapid 6 is definitely in the group of fully freestanding tents. This means that it is completely self-supporting even when the fly is on, so you can move it and rotate as you wish. The picture below shows how it looks without the fly.
Note also that this is what is normally described as an instant tent. This means that the frame shown in the picture below is pre-attached to the tent. It remains so when you pack the tent. So you can indeed raise the tent in under a minute or so.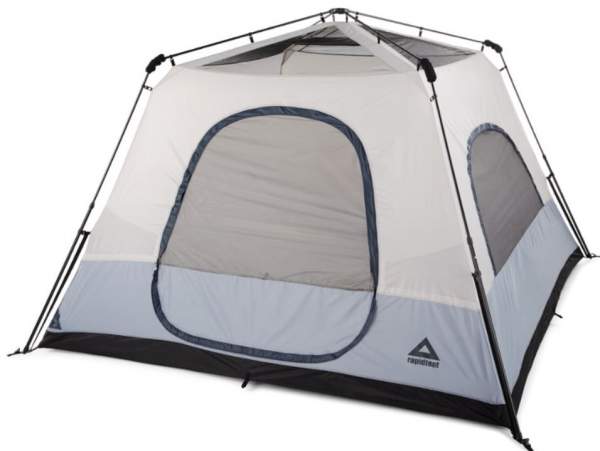 You have telescopic leg poles that you extend until you see and hear a pop-up button in place that locks the pole to its required length, see it in the picture below.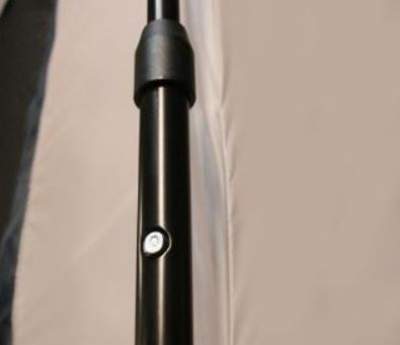 The fly attaches to the tent's base, you have buckles in place at four corners. Adding the fly may be a bit tricky because the tent is very tall, you have a peak height of 80 inches (203 cm). The overall structure is very similar to the Timber Ridge 6-Person Instant Cabin Tent with Rainfly.
But in this Caddis 6 Tent, you have an unusual feature on the back, a zipper on the fly, so you can move it to the side to have views through the back window visible in the picture below.
As you realize the fly is not full size, for some strange reasons they have built it so that it does not go to the ground on the three sides. On the front, you only have a small brim created by an extra pole that you add separately after the fly is in place. This is uself to have a dry entry point.
Windows & the door
There are openings on all sides. You have 3 separate windows, plus one on the single door shown below. All these mesh windows have zippered panels from inside, for protection and privacy. This all looks great but the problem with this design is that the fly covers the windows and makes them useless, so their only purpose is reduced to ventilation. The only true window is the one on the door.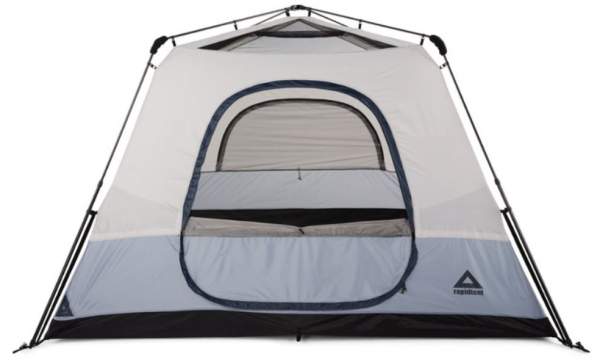 Note that the door panel can be unzipped almost completely, so you can place it into a mesh pocket on the side. For me this looks better than fixing it to the sides with toggles. The door is large so you can easily bring in your camping stuff like a big mattress etc.
Other features
You have several small wall pockets for personal items, see below how they look. There is also a large detachable gear loft above the head, it is shown below.
The tent comes with an E-cable port shown below so you can pass a power cord here if you camp in a regulated space with a power supply.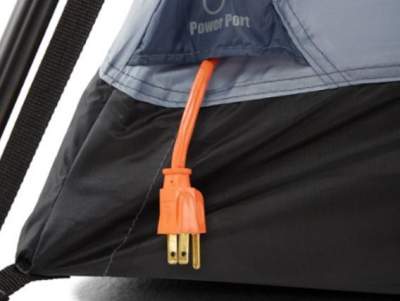 Ventilation
You have already seen the tent without the fly so you realize it has lots of mesh on the ceiling. The mentioned "windows" are not really windows, they are more for ventilation. So this should work well if you unzip their panels, they are under the fly so you can keep them this way all the time. But I still miss a floor vent that may be necessary when you have long periods with rain.
---
Materials
The poles: They use steel and the poles are thick and heavy with a 21 mm diameter at the base.
The fabric: The fly is a fire-resistant 190 polyester taffeta with an official 1800 mm waterproof rating. The walls of the inner tent are the same material but with a 1200 mm waterproof rating. This should be fine for its exposed sections. The rest of the inner tent is a No-See-Um mesh. The floor is a 210 polyester taffeta with an 1800 mm rating, and I find this quite a low value for the floor. The carry bag is a 300D polyester.
Please see more about the tent in this video:
---
Who is it for
Regarding the tent's weight, with 25 lb 8 oz (11.6 kg) this is a heavy item, so you would not want to carry it anywhere. The packed size (L x D) 50 x 9 inches (127 x 23 cm) is also not its best feature. So you need a car for transportation and this is a tent for places with a car access.
Regarding capacity, the tent is officially for 6 people, and for this you have the floored area of 100 ft² (9.3 m²). This means 16.67 ft² (1.55 m²) per person, so not a real castle. The tent is a square with 3 meters side length, and it is possible to place 6 sleeping pads on the floor. This is still much more than in this EVER ADVANCED Instant Cabin Tent 6 Person built in the same style.
But for real camping, I see it best suited for up to 4 people, observe that there are no vestibules for storage. You will have to use car in any case so you can keep your stuff in the car. Note that they also have the Caddis Rapid Screenhouse Shelter that is built in the same size and style, so you can use it as an annex in the camp.
Regarding seasons & climates, the manufacturer describes the tent as a 3-season camping shelter and this is more or less so. The waterproof rating is good enough, except for the floor where you have 2.56 pounds per square inch.
But the front is without a cover, and the design with the back zipper on the fly is not so great in my view. On the other hand, the tent is very tall and boxy so this is good for comfort but not so great in strong winds. All in all, I would use it in calm weather conditions and in areas without much rain.
Regarding the price, the tent is a bit expensive and there are indeed more affordable options on the market. You will find them many in the group of Cabin Tents here in the site.
---
Specifications
Official capacity: 6 people.
Weight: 25 lb 8 oz (11.6 kg).
Dimensions: 120 x 120 in (305 x 305 cm).
Area: 100 ft² (9.3 m²).
Area per person: 16.67 ft² (1.55 m²).
Peak height: 80 in (203 cm).
Packed size (L x D): 50 x 9 in (127 x 23 cm).
Poles: steel.
---
Final thoughts, rating, pros & cons
In the summary of this Caddis Rapid 6 Person Tent review, I would again point out its instant design, so if you change the camping place frequently or simply do not want to spend much time setting up and packing the tent down, this is a great option to consider. The tent is fully freestanding and you can use it anywhere.
It is best to ignore its official capacity, but this is nothing new, the same is with the majority of the tents on the market. More important is to stress that the tent is tall so not best suited for windy conditions.
In the table below you can see how this tent stands against my standard set of rating criteria, and the summary of my pros and cons.
If you need more options in the same size range, please check in the category Tents for 5/6 people here in the site. Check this Outsunny Easy Pop Up Tent 5 Person that is also an instant setup tent. See also this UNP 6 person tent built in a similar style.
You might want to bookmark this site and visit it occasionally, this will keep you informed because we add texts here regularly. Thank you for reading and have a nice day.