In this Coleman Air Valdes 6XL review you have a huge tent with 344 ft² (32 m²) in 4 separate rooms, with an advanced air beam technology, the materials that block 99% of the daylight, and an impressive 4500 mm waterproof rating.

---
Key features & benefits
Air beams.
Huge area.
Blackout sleeping rooms.
Hinged door.
Climate control.
UV guard.
4 rooms.
4 PVC windows.
3 entry doors.
E-cable port.
---
What type of tent is this – what is in the name
You have seen already a lot in the title and in the key features. So this is the new 2018 version of a hybrid type tent with 4 inflatable air beams and with 2 classic poles. The air poles are made from strong and durable TPU material and this is encapsulated in a PE shell. In the case of damage, the inflatable poles can easily be replaced or just fixed like a bicycle tire. The pump with a manometer is included and you inflate the poles to 7 PSI.
This is also a huge 4-room tent with a large living room with more than 12 square meters, and three sleeping rooms. In addition to this, you also have a very large and deep porch with 113.7 ft² (10.56 m²) of the area for sitting and for cooking. You can also store lots of stuff under the porch, it is 2.4 meters deep and it will be protected from the rain. See its floor plan and dimensions:
Each of the three sleeping rooms is big enough to accommodate a double-size air bed. Note that the sleeping area consists of two separate tents within the external shell tent. The divider in the bigger inner tent is removable so you can convert it into a large single room, and you will still have the other smaller double bedroom, see the picture:
The tent is not freestanding, this is common to practically all tunnel type tents; here you have this type with no less than 5 arches. Such a structure needs to be staked on both narrow sides in order to stand up. So you have all stakes and guylines included, just make sure to choose a proper ground where you can use the stakes.
The tent is single layer everywhere except in the sleeping zone where you have the mentioned tents within the tent.
What is FastPitch in the name
They call it Coleman FastPitch Air Valdes 6 XL Tent and this FastPitch term should not be mixed with their classic fast pitch series which implies that the hub element is permanently attached to the roof poles; you have this in their Coleman Carlsbad 6 tent and in the Coleman Steel Creek 6 tent.
So here this is about the advanced air valve which allows for the tent to be inflated and pitched in minutes, and the same holds when you want to dismantle the tent.
Hinged door
The Valdes tent comes with an interesting detail – one of its doors is the hinged type, so the tent is also in my list of hinged door tents. This design implies 2 poles that run along the perimeter of the door and make it rigid. With this, you have a quick and easy access and you also have a feeling of being at home. If for any reason you do not like this design, you can remove the poles and use the door as the usual D-shaped tent door.
Note that the hinged door is deep under the porch where it is completely protected, see the picture, and also it is on the flat wall of the tent so this is the best place to have such a door; it is easy to use and it closes nicely.
Blackout rooms
The three sleeping rooms are constructed from a dark material and in such a way that they block 99% of the daylight. This is an award-winning tent due to this feature. Please see more about this technology in the video:
Climate control
This feature means that the dark rest technology makes the atmosphere cooler for 5 C degrees during the day and around 1 C degree warmer during the night.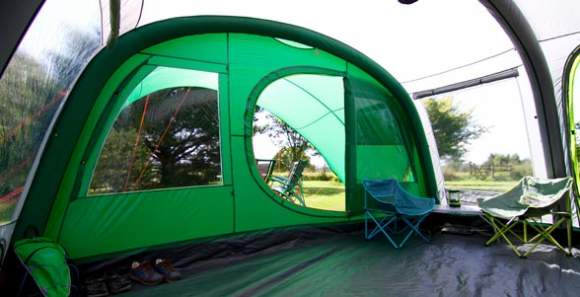 UV Guard
They claim that certified laboratory testing was performed showing that the tent fabric is with an SPF 50 protection level against the ultraviolet rays. This is great to have if you camp on an exposed terrain or at high elevations.

---
Who is it for
Space-wise, the declared capacity is 6 people. This is truly remarkable and generous if you know that the inner area is 230 ft² (21.44 m²), and you have 38.4 ft² (3.57 m²) per person. Note also that the living room has an area of more than 12 square meters and its dimensions are 4.4 x 2.8 m (14.4 x 9.2 ft), so another 6 – 8 people can easily fit with their pads on the floor. But this would be only in emergency situations and only for spending the night in the tent, not for real camping.
In any case, they did not use a backpacking principle here, this tent offers far more area than needed for 6 people and this is not so frequent with camping tents.
Climate-wise, the tent is fully enclosed and by this I mean that it is without mesh on the ceiling and the windows are solid material. Such a design will work well in a cooler environment, but probably less well in a very warm area.
Seasons-wise, this is related to what I said above; the tent is with an incredibly high waterproof rating and it will withstand any rain in a normal 3-season use.
Weight-wise, this is a heavy tool. You have 30.5 kg (67.2 lb), and it is also bulky with the packed size 30.7 x 22.8 x 18.9 inches (78 x 58 x 48 cm). So this is a car camping tent.
Note the following: this tent has been modified and improved in the past so various versions should not be mixed. This what you have here is the latest 2018 variant. There exists also the Air Valdes 6 L which is a smaller tent and with a different design.
Even the XL version is modified so this version here has a much deeper porch than the previous XL version. This is due to the extra pole added here; the previous 2016 XL tent was with only one porch pole.
So when you read some older reports about this tent, bear in mind that those refer to the 2016 version.
---
Materials & construction
The poles
The two front poles are classic and this is fiberglass, not the best option and somehow unfit for such an expensive and feature-rich tent. But you have the same situation in the Vango Capri tent shown below in the comparison table.
The air beams are made from strong and durable TPU material and enclosed in a PE shell.
The fabric
The floor is a bathtub style polyethylene with welded seams; this is the best possible way of sealing such materials, and you have it double in the sleeping area because the inner tents have their own extra floors.
The shell tent is polyester with an impressive 4500 mm hydrostatic head. All seams are leak-free and fully taped.
The materials are fire retardant in agreement with European laws.
The windows & doors
You have 4 huge solid PVC windows with shutters from inside so you can use them for privacy or to reduce the daylight.
There are 3 entry doors, the hinged door under the porch plus two normal zippered doors on the sides, you have mesh here as a second layer for insect protection and for ventilation. There are also 3 inner doors that roll to the side.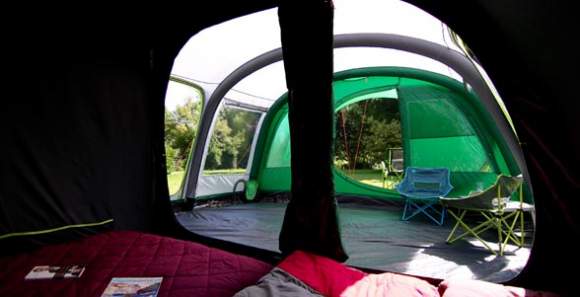 Pockets
You have many pockets everywhere around. No less than 6 of them are on the wall between the two inner doors, and you have them also on the walls in the sleeping rooms.
Ventilation
You have 3 vents with zippers on the back, so you can regulate the airflow. One vent is above the porch door, and you can use the mesh on the doors to take care of the airflow. They have missed adding floor vents in the living room, pity.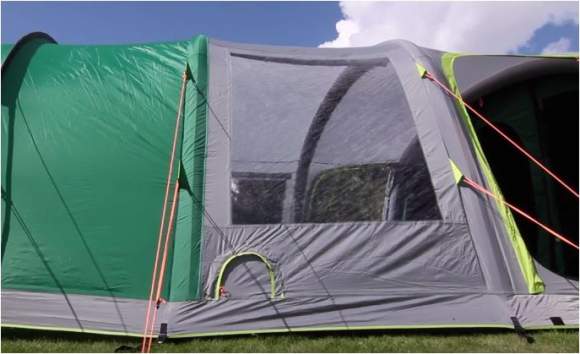 Other features
You have lantern hanging points.
Electric cable port with zipper is available.
You also have Velcro tabs to pass the cable and fix it along the beam to the apex point where you hang the lantern.
You have 2 air valve ports, one in the living room and one in the sleeping area, see the picture above which shows one of them. They have added them for the beams that are not close to the door, so that you have access from outside and you can pass the pump hose through them and raise the tent. If you have a cat in the camp with you, they can double as the cat's ports.
Please see more in this video by Coleman, you will see also how to set it up:
---
Specifications
Tunnel type, non-freestanding.
Capacity: 6 people.
Weight: 67.2 lb (30.5 kg).
Floor dimensions: 287 x 173 in (7.3 x 4.4 m).
Total floor area: 344 ft² (32 m²).
Porch area alone: 113.7 ft² (10.56 m²).
Inner area: 230 ft² (21.44 m²).
Inner area per person: 38.4 ft² (3.57 m²).
Peak height: 84.6 in (215 cm).
Packed size: 30.7 x 22.8 x 18.9 in (78 x 58 x 48 cm).
Setup time for one person: 10 minutes.
An air pump is included.
---
Coleman Air Valdes 6XL vs Competitors
In the table below I give the Valdes tent side by side with two other tents with multiple rooms. All of them are great tents with plenty of features and with large areas for 6 occupants. The other two tents are more affordable, please follow the links to check the current prices.
Eurohike
Buckingham
Elite 6
---
Final thoughts, rating, pros & cons
In the summary of this Coleman Air Valdes 6XL review, I would stress that there are no many tents on the market that would match all its features, but this all comes at a price. The organization of space and livability are incredible as well as its waterproof rating.
Note that you can always remove the inner tents and use the shell tent for family events in the garden. You can also remove only one of the sleeping rooms and use that corner as a storage area in the camp. I have included this tent it in my list of the very tall tents for camping.
The price is high, but you have seen its features, they are impressive. See how I rate this tent:
Coleman 6 Man Fastpitch Air Valdes Tent XL
Pros
Impressive waterproof rating.
Great organization.
Many pockets.
Incredibly dark sleeping zone.
PVC windows.
Power cord port.
Cons
Fiberglass porch poles.
Expensive.
No floor vents in the living room.
BEST PLACEs TO BUY:
If this tent is too big for you and you want something smaller from the same brand, please check this Coleman Rocky Mountain 5 and also the Coleman Oak Canyon 4, both are with multiple rooms and far more affordable. If you would prefer a dome tent with inflatable beams, check this Crua Core 6 tent.
Note that this site is all about large family camping tents, so all possible types are available here, just look around if you need something different.
Thank you for reading, please use the comment box below if you have a question or comment. Have a nice day.