---
This Coleman Bayside 8 person tent review is about an interesting 2-season extended dome style tent with a hinged door, a cabinet, 4 windows, and a great price tag.
---
Key features & benefits
Extended dome type tent.
Hinged door.
Fiberglass poles.
E-cable port.
Floor vent.
Closet with shells.
4 Windows.
1 Door.
---
Where to buy
This tent is available on Amazon. So please follow the link and check shipping conditions for your location.
---
What type of tent is this
This Bayside 8 is a single-room construction and an extended dome style tent with a partial coverage fly, with one door and with 4 windows. All the windows are double layer type with mesh and zippered panels for privacy and protection. There are also toggles that keep the panels' top tight in place.
The two front windows are under the awning, so you can keep the with mesh all the time. The side windows are also partially protected by the fly.
The tent is not freestanding, there are several poles here supporting the side extensions and the front awning. So this all must be staked properly to be functional.
The hinged door
There is one door only, but this is properly designed. So it is D-shaped and you have two poles that run along its perimeter. The poles are in their sleeves and adding them there is very easy.
Having such a hinged door saves you from hassle with the usual zippers which you still have here but you do not have to use them all the time. I have included this tent in my list of best tents with hinged door.
The closet
The closet is on the back side and its floor dimensions are 38 x 20 inches (97 x 51 cm). So you have around a half square meter of the area, but note that it comes with 3 shelves. So this is lots of storage space. See how it looks from inside, there is a curtain which closes it:
The floor of the closet is a part of the tent's floor, and it is supported by the tent's poles. The rain protection is with the tent's fly. In view of this feature, I have added this tent to my list of tents with cabinets. See how it looks from outside, the picture shows also the floor vent and one of the side windows: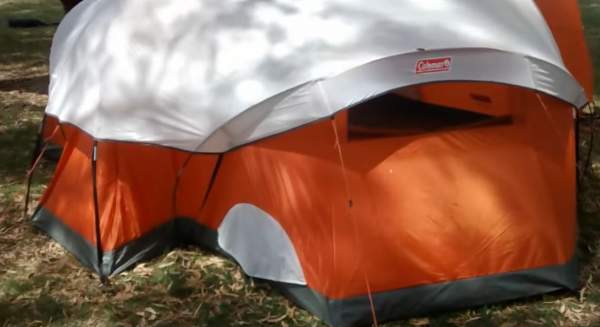 Ventilation
Ventilation is properly designed in this tent. It relies on mesh which you have on all the windows and on the door, plus the huge ceiling all in mesh. But when it is raining, you have to keep the windows closed, so they have added one floor vent visible in the picture above. This together with the ceiling mesh will generate enough vertical airflow.
---
Who is it for
Space-wise, the tent is with the declared capacity of 8 people. Its official dimensions are 15 x 10 ft but the floor plan below tells you that it is a bit complicated to determine its true area. Even the declared dimensions are not correct, it is around 15 x 15 ft because of the awning and the windbreakers supported with the awning pole.
The picture above shows how the tent looks from the back. As you see, this is the only side without windows. My estimate of the total floored area is 113 ft² (10.5 m²). This would give 14.1 ft² (1.3 m²) per person if the tent is used by 8 people. I doubt that one can put so many sleeping pads on the floor. I would say this tent is for a maximum of 5 people. The picture above shows that you can easily put two queen size beds inside.
Seasons-wise & climate-wise, I see this tent most suitable for warm weather camping in areas without much rain and wind. With such a fly and awning it would not last long in strong winds.
On the other hand, the ceiling is all mesh and ventilation is very good, so this is great for summer camping. But it would be unpleasant to be in such a tent in a cool environment.
Weight-wise, with its 26 lb (11.8 kg) of weight, this is a heavy structure. You will see how it compared with some of its competitors, there is a comparison table below.
It is also a bit bulky when packed, the packed dimensions are 28 x 10 x 10 in (71 x 25 x 25 cm). So this is a tent for places with a motorized access.

---
The materials & construction
The poles
There are 8 poles here and this is fiberglass, not particularly durable material but this is a budget tent. Two poles are used for the hinged door, one supports the awning, and the rest support the central dome and the extensions.
The fabric
The fly and the walls are polyester with a waterproof rating of 800 mm. All seams are taped. The floor is polyethylene which is normally highly waterproof, and this is a bathtub construction with welded seams.
Other features
Ground stakes and carry bag are included.
There are a couple of storage pockets on the walls.
There is an E-cable port.
Setup time is at least 20 minutes.
Please see a bit more in this video:
---
Specifications
Declared capacity: 8 people.
Weight: 26 lb (11.8 kg).
Dimensions: 15 x 15 ft (457 x 457 cm).
Closet area: 5.4 ft² (0.5 m²).
Total inner area: around 113 ft² (10.5 m²).
Inner area per person: 14.1 ft² (1.3 m²).
Packed size: 28 x 10 x 10 in (71 x 25 x 25 cm).
Peak height: 72 in (183 cm).
---
Coleman Bayside 8-Person Tent vs Competitors
It is always a good idea to see how such a tent stands when compared with some of its competitors from the same declared capacity range. So here it is together with the NTK Laredo 8/9 Person Tent and Timber Ridge 8 Tent.
As you see it is heavier than the other two tents, but it has more features. By price, it is in between them. Please follow the links to read more.
---
Concluding remarks
So in the summary of this Coleman Bayside 8 person tent review, I wish to stress again rather unique features of this tent. Its floor plan is unusual and the closet adds to its functionality. The hinged door is an extra bonus which adds value to this tent.
This is a very affordable and budget-friendly option, but bear in mind all its features and use it in calm weather and for summer camping.
Please see how I rate this Coleman Bayside 8 tent, I use my standard set of criteria and apply them to all the tents here in the site so you can compare easily:
Please see around if you would want to see some more options. This site is all about family camping tents, so you will surely find something for you. Let me know if you are undecided, there is a comment box below. See their another dome-style tent from a new series, the Coleman 8 Person Skydome Camping Tent. If you would like a cabin tent instead, check their Jenny Lake 8 tent which also comes with a hinged door and a cabinet.
Note that this is not a sponsored text, and I am not paid by the manufacturer. I wish you a nice day.

---