---
This CORE Lighted 9 Person Instant Cabin Tent is the new version of the Core's popular 14 x 9 ft tent. They have launched this new model for the season 2019 with integrated light and awning pole.

---
Key features
Freestanding tent.
Lighting system.
2 rooms.
Steel frame.
Setup in one minute.
Very tall.
Floor vents.
---
What type of a tent is this
The CORE Lighted 9 is a freestanding cabin style tent. The minimal fly covers only the ceiling and it attaches to the tent corners through buckles. So the structure is fully self-supporting but you should not miss staking it down. This is because of its height that is 78 inches (198 cm) and it represents a huge obstacle in the case of a sudden wind.
This is also an instant tent and if you are not familiar with the terminology this means that the frame is pre-attached to the tent (see the picture) and the 6 legs poles are telescopic, you simply extend them to their full length. So the official setup time is under one minute.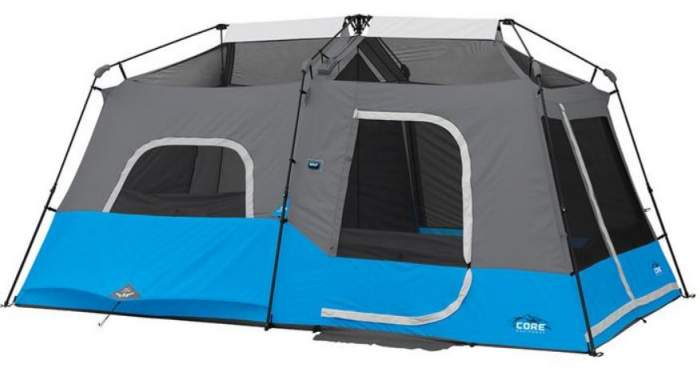 This is a slightly modified version of the Core 9 Person Tent that has been on the market for a number of years already. The colors are different, this new version is heavier, the packed size is different, they have added a small brim pole above the door, but most importantly this new version is a lighted tent as the name suggests. 
You might want to know that they have yet another 10-person version with almost the same structure under the name CORE 10 Person Lighted Instant Cabin Tent.
The tent also comes with an integrated zippered E-cable port, you can use it separately from the light system if you have access to power in the camp.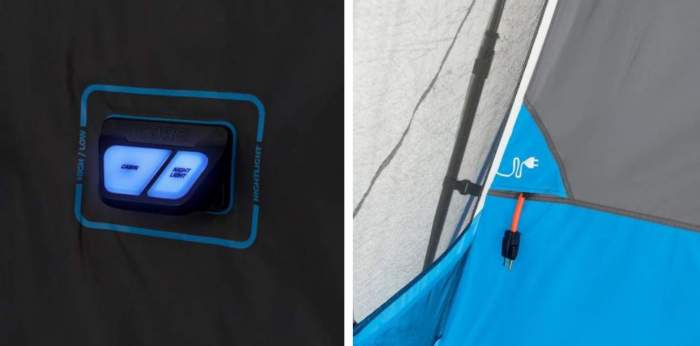 The lighting
The integrated LED lights are built into the roof poles. You have a switch mounted to the tent wall (shown in the picture above) and it glows in the dark. The system works on 4D batteries or 5V (not included) and you have the following operation settings:
High: 950 Lumens, 50 h run time.
Medium: 300 Lumens, 110 h run time.
Nightlight: 35 Lumens, 250 h run time.
You also have a diffusing fabric that disperses light for a nice even glow, see this very short video to realize how it works:
---
Who is it for
Capacity-wise, the tent is officially for 9 people. But the floor area is 126 ft² (11.7 m²) and this means 14 ft² (1.3 m²) per person. It is possible to put 9 sleeping pads on the floor and this can work for a group of friends on an open-air summer festival, but this cannot work for a real family camping.
I would say this is a tent for parents with 2 – 3 kids. When you use the divider, you have two rooms that are 2.13 x 2.74 m. So putting large double beds would eat all the space and this cannot work. A better option might be to use bunk cots. Note that there are no vestibules to store your gear, but you will have a car with such a tent.
Seasons-wise, this is a tent for summer camping, the ventilation is excellent and there is plenty of mesh on the ceiling and on its huge windows. So it is perfect for warm weather but far from ideal for a cooler environment.
The fly is minimal and the waterproof rating is also very low, and the tent is very tall. So I would not use it in an area with very strong winds and lots of rain. But the picture below with the fly on shows you numerous guylines on all sides, and the frame is incredibly strong, so the tent is surely well built.

Weight-wise, this is a heavy tent with 40.3 lb (18.3 kg), but this is not necessarily a bad thing. You are not supposed to carry this tent anywhere, and the weight is because of its incredibly strong steel frame.
The packed size is 48 x 13 x 13 inches (122 x 33 x 33 cm), so the tent is bulky when packed, but this is quite typical for instant tents. All in all, this is a car camping tent which requires quite some space in the car trunk.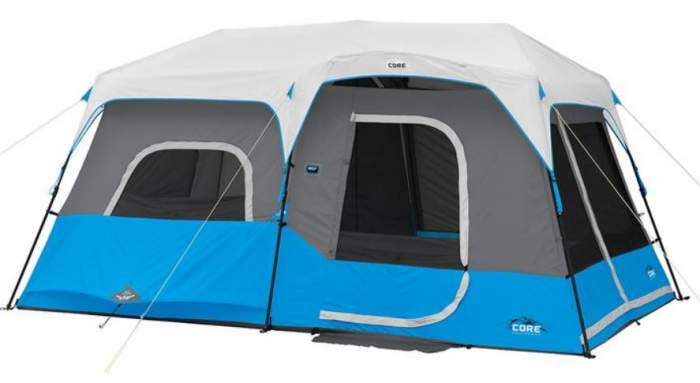 ---
Materials & Construction
The poles & stakes
I already mentioned that the frame is steel so this is a very strong and stable construction. They have added a small pole that you put above one of the doors and this is the only extra work needed with the frame. So this is a true instant tent, and they call it the Core Instant Hub Technology. The package includes 20 steel stakes 7 inches long.
The fabric
The same fabric is used in all tents from this blue series. So the tent's body and the fly are a reasonably durable 68D polyester and the floor is a much more durable 125 gsm polyethylene.
The waterproof rating is quite modest 600 mm, they call it H2O Block Technology. The truth is that you do not need a higher rating for summer camping and in particular if all the seams are properly done. The Core is a reliable and globally known brand so test the tent and get in touch with them in the case of an issue.
All the doors and windows are with mesh and panels so you can have protection from elements and privacy. The main door is huge and with an inverted T-shaped zipper and the other is a D-shaped door.
Ventilation
Because of the minimal fly, the walls are with the same waterproof rating as the fly and not breathable. So you have to rely on the mesh on the windows and doors, and on two huge vents shown in the picture below that are on the opposite sides in the back room.
Also, the whole ceiling is mesh (see the picture below) so air circulation should be perfect and you should not have issues even if you have to keep the panels on the windows and doors when it is raining.
---
Specifications
Type: freestanding cabin tent.
Declared capacity: 9 people.
Weight: 40.3 lb (18.3 kg).
Dimensions: 14 x 9 ft (4.26 x 2.74 m).
Floor area: 126 ft² (11.7 m²).
Area per person: 14 ft² (1.3 m²).
Peak height: 78 in (6.5 ft; 198 cm).
Packed size: 48 x 13 x 13 in (122 x 33 x 33 cm).
Frame: steel.
---
CORE Lighted 9 Person Instant Tent vs Competitors
It may be useful to see some basic features and parameters of this tent side by side with some other popular models that are on the market. So I give two cabin style tents from renown brands. As you see it is heavier and its packed size is bigger, but this is an instant setup tent. Note that the Coleman tent also comes with a light system included. Please follow the links to check for the updated prices.
48 x 13 x 13
(122 x 33 x 33)
Browning Camping
Big Horn 8 
30 x 12 x 12
(76 x 30 x 30)

40.5 x 14.5 x 8.5
(103 x 37 x 22)

---
Summary
So this Core Lighted 9 Person Instant Cabin Tent comes with an integrated light system and this is the most important difference when you compare it with the previous 9-person instant tent. This is again a nicely built tent for summer vacations with your family and friends.
The instant setup makes it very suitable for those who change the camping place frequently, you can really make it ready in just a couple of minutes. Because of its light system, I have included it in my list of Best Lighted Tents.
Please see how I rate this tent, the criteria are the same for all the tents in the site so you can compare easily:
Please check in the category Tents for 9 & 10 people if you need some more options in this size range, and also in Cabin tents if you want this type in particular. Check their CORE Lighted 10 Person Instant Cabin Tent with Screen Room and also the Core Lighted 12 Person Instant Cabin Tent from the same series.
Note that this is not a sponsored text and I am not paid by the brand. Please use the comment box below in the case of questions or comments. Have a nice day.