---
This Easy Camp Tempest 500 Inflatable Tunnel Tent is without solid poles, with three rooms and PVC windows, and a huge waterproof rating for full protection against elements.
---
Key features
Air beams instead of poles.
Pump included.
3 Rooms.
3 PVC windows.
Fully sealed floor.
E-cable port.
Reasonable price.
---
What is this Easy Camp Tempest 500 about
Here you have a tent without any classic pole, you have inflatable air beams instead. So pitching this tent is easy with the included pump and one person can do this in a couple of minutes. This is a part of the series that also includes a 6-person tent.
So what you have here is a 3-room structure. It includes a sleeping area with two asymmetric rooms and this is a tent within the external shell tent, and the front living area which is a bit bigger. The divider between the two rooms is just a curtain and it is removable. I have included it in my list of 3-room tents. Note that the shell tent is with a durable and completely sewn-in and sealed floor, and the inner tent has its own floor as well, so you have two waterproof layers in the sleeping zone.
The tent is not freestanding, this is typical for most of the tunnel tents on the market. So bear this in mind, at least the front and the rear side must be staked down to have the tent upright.
---
Who is it for
Capacity: the declared capacity is 5 people, so let's see what the tent offers. The total protected area is around 142 ft² (13.2 m²), this includes 5.77 m² in the sleeping zone and 7.44 m² in the living area. The effective area is a bit bigger as you realize from the picture below, there is space between the inner tent and the shell, this is rather wide and good for ventilation. In any case, you have at least 28.4 ft² (2.6 m²) per person and this looks like a luxury to me.
So the tent indeed provides space for 5 people and it can easily accommodate twice this number if this is about a group of friends at a summer festival or any similar activity. The picture below gives a bit more details about the tent's geometry and dimensions:
Climate-wise & seasons-wise, the tent is fully enclosed with its PVC windows and the sealed floor. The waterproof rating is also very high. So I see it best suited for a cooler environment rather than a very warm climate. But in general, this is a 3-season tent that offers full protection from elements and from insects.
Weight: With its 31.5 lb (14.3 kg), this is a heavy item, but you will see later that this is a quite good number for such a type and size, there is a comparison table below. The packed size 29.5 x 17.3 inches (75 x 44 cm) is not so great but in any case, this is a tent for places with motorized access, you are not supposed to carry it long distances.

---
Materials & Construction
The poles
So you have seen this already, there are no rigid poles of any kind here. You have 3 air tubes instead, and a two-way pump with a manometer for fast inflation that comes in the package. You have external inflation valves, one is shown in the picture below.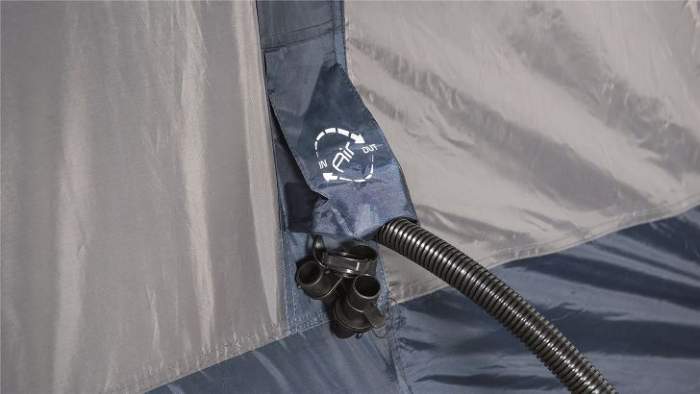 So you inflate the beams from outside and the tent raises with the inner tent preattached. This is very convenient when you have to set the tent up in rain, the inner area will remain completely dry in the process. This is not so if you have a tent with a separate fly which is added above. It would be appropriate to call this an instant tent because the setup is easy and fast. But I have included it in my list of best inflatable tents.
The fabric
The shell is a 190T 100% polyester with PU coating and it provides a 3000 mm waterproof rating. The bathtub floor is 100% polyethylene, thick and sturdy. The same material is on the inner tent's floor. So you have a complete protection from water. The inner tent is a breathable polyester. The tent can be used without the inner tent of course, in this case just unclip it from the walls, see the picture below.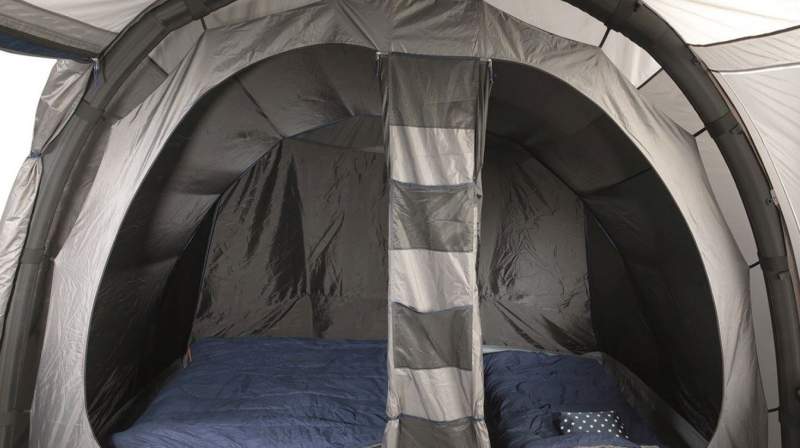 There are 2 external doors and 2 inner doors. The former has no mesh, only panel is there, pity. The inner doors have mesh sections in the upper areas.
There are 3 PVC windows as well, one large on the side and two smaller on the front. Yet another great feature is that you can make the entry area floor completely flat (this is in the picture below). So your kids will not be catching it by feet and tripping over it, this is also nice to have if there is somebody with a wheelchair using the tent.

Ventilation 
There are no mesh areas on the shell, so the tent relies on vents. You have them on the side and on the back (shown below) and they are with mesh for protection against insects. But there are not many of them and this might not be enough if you have to keep the doors closed either because of rain or because of insects. So as I said above, it is better suited for a cooler climate.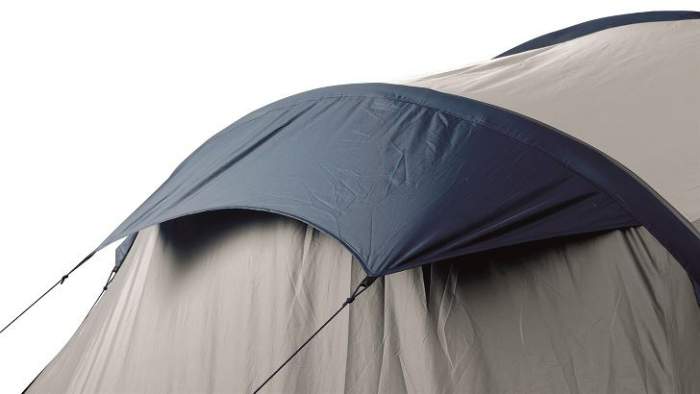 Other features
There is a zippered cable entry port above the floor.
Hanging point for an electric lantern.
Guyline retainers hold folded guylines securely when packing away.
Please see a bit more in this short video by the manufacturer:
---
Specifications
Type: tunnel-shape air beam tent.
Declared capacity: 5 people.
Weight: 31.5 lb (14.3 kg).
Dimensions: 189 x 122 in (480 x 310 cm).
Area: 142 ft² (13.2 m²).
Area per person: 28.4 ft² (2.6 m²).
Peak height: 80.7 in (205 cm).
Packed size: 29.5 x 17.3 in (75 x 44 cm).
---
Easy Camp Tempest 500 vs Competitors
In the table below I show this Tempest 500 tent side by side with two 5-person tents by Vango, both inflatable type. This might help in better understanding the feature of this tent. As you see, it is lighter but it offers less space although indeed it is so large.
---
Final thoughts, rating, pros & cons
So as you have realized, this Easy Camp Tempest 500 Inflatable Tunnel Tent offers more than enough space for the declared number of users. It is perfect for families and groups of friends seeking a reliable and versatile tent. It is a pity they did not add mesh on at least one of the entry doors.
The price on the US market is great, but it is much more expensive on the EU market. Please see how I rate this tent, the same criteria are used as for all other tents here in the site:
Easy Camp Tempest 500 Inflatable Tunnel Tent
Please check my list with inflatable tents if you want to see more options without classic poles. There is yet another inflatable tent from this brand here in the site, the Easy Camp Hurricane 500 Inflatable Tunnel Tent.
If you would rather have classic poles, check this Ferrino Proxes 6 Family Tent which is for 6 people and also with 3 rooms. Check also this Jack Wolfskin Travel Lodge FR tent for 5-7 is in the same declared capacity range but it is much larger.
Note that this is not a sponsored text and I am not paid by the manufacturer. Let me know what you think about this tent, there is a comment box below. Have a nice day.