---
Eureka Boondocker Hotel 6 Tent is a nicely designed car camping tent with a huge garage and with several unique features. This is a very reliable full-coverage fly tent for a 3-season camping.
---
Key features & benefits
2 doors.
Porch (garage) + vestibule.
Full coverage fly.
1 back window on the fly.
Very large protected area.
Very functional design.
Great ventilation.
---
What type of tent is this
In fact, it is difficult to put this tent in any of the usual three groups (dome, cabin, tunnel tents). When you see its poles and the structure you realize it is not a type that would fit properly in any of the three. The inner tent is shown without fly in the picture below so you can see it yourself.
I would say it is more a cabin tent than anything else because of its vertical sides, see the picture above. Note that there is yet another vertical side on the bigger vestibule when you add the fly. In any case, this very specific structure offers lots of the headroom and the protected area, more below.
This inner area is a freestanding structure, as you can see from the picture above. But see also the pictures with the fly on. You will realize that there is one extra pole used for one of its large vestibules (it could also be called a porch or a garage). So to have this porch fully functional, the fly must be staked down completely. For this reason, this is not a freestanding tent.
Before I continue, perhaps it is best that you see this short video by Eureka:
---
Who is it for
Space-wise, I have seen people being delighted with the size and writing it is huge, and this is true. But the tent is with the declared capacity of 6 people, and the inner floor area is only 82 ft² (7.6 m²) and this gives 13.7 ft² (1.27 m²) per person. This is a really modest value, perhaps appropriate for a backpacking tent but not for a camping tent which you have here. The floor plan below shows what they suggest as the best way of sleeping in this tent with 6 people in it. This looks very unrealistic to me.
The floor plan shown above is not so accurate as it does not depict one of the vestibules. Note also that the inner tent is not strictly rectangular (see the corners) and this is why the actual area is smaller than 90 square feet as the dimensions suggest. I was confused with it and asked Eureka directly, and they sent me exact dimensions the same day. So if you need more details, just let me know.
But in any case, there are two asymmetric vestibules here which add 36 + 22 ft² (3.34 + 2 m²). With this included, you have the total area per person of 23 ft² (2.16 m²). This looks far better of course. Nevertheless, if you plan to use it as a camping tent, this is for 3 – 4 people only. It is ideal for parents with 1 to 2 small kids.
Note that the total length (together with the garage) is around 455 cm, and the total width (with the side vestibule included) is around 400 cm. You might need to know this if you are in some tight spaces in camps.
I already mentioned its vertical walls. Such a construction works well with bunk cots. You can save lots of the floor area by using such cots, and you will still have the space underneath the bunk cot to store the gear. Note that there are bunk cots for kids as well.
Seasons-wise, the tent is with a full-coverage fly and it has a good waterproof rating. The poles are strong and the structure is quite aerodynamic. So this is a true 3-season tent. But the big garage with only one pole is not something to use in strong winds, so use this tent in quiet areas and not above the tree line.
Climate-wise, if you check the tent without the fly, you will realize that there is a lot of mesh. This is certainly very good for ventilation, and this is a construction suitable for a warmer climate. In a cooler environment, you will feel cold in such a tent. For such a purpose better choose some of those fully enclosed tents with PVC windows and without mesh. You have them many in the category Tunnel Tents here in the site.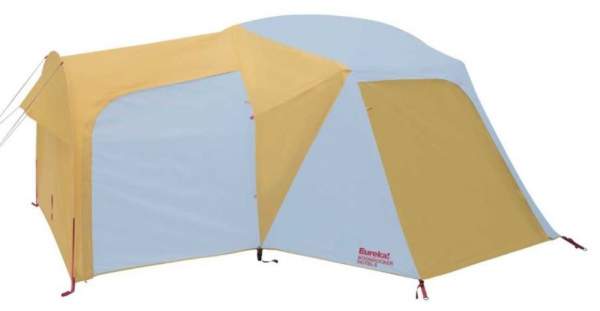 Weight-wise, the tent is quite typical for its size and you will realize this from the comparison table below. But this is 19 lb 8 oz (8.84 kg), and you would not want to carry it anywhere. This is a camping tent for places with a motorized access. You can transport it even on a motorbike, its packed size is great, only 24 x 11 inches (61 x 28 cm).

---
Materials & construction
The poles & stakes
The frame may look complicated, but in fact this is a hubbed design with all poles shock-corded so the setup is really easy. Only the porch pole is separate. The poles are strong, so you have 16 mm and 13 mm Osung aluminum. This is a type of duralumin and the name is from a Korean brand. The stakes are also aluminum and they are included in the package.
The fabric & some unique details
This is a tent with a full-coverage fly, and the fly is 68D 185T polyester ripstop, so this is a quite standard durability for such camping tents. The waterproof rating is appropriate for a 3-season camping and you have 1800 mm.
There is a unique detail here – the fly is with a mesh window and a panel. Now, on the back side of the inner tent you have a horizontal zipper and from here you can get to the fly and put its panel in place in the case of rain, no need to get out of the tent. I think this would be a great design if they added a zipper for the fly panel here; but this is not so, pity
There is yet another unique feature here and you have it shown in the video. The part of the fly between the two entry doors can be raised and used as an awning. But observe that both entry doors are toggled to this section of the fly, so when you create such an awning, the doors are over there rolled up above your head. So in my view, this is not the best design to say the least. They should have made the side doors to roll up instead to the side, and then one could use them as much bigger and more functional awnings similar to what you have in this Marmot Limestone 8 tent.
The inner tent is 50D 260T polyester taffeta and 40D polyester no-see-um mesh. The floor is 68D 185T polyester taffeta, the same as the fly. But the coating is thicker here and you have a 3000 mm waterproof rating.
So in general, the fabric is a high quality, quite decent waterproof rating, and standard durability.
Other features
Because of its huge porch (garage), this tent looks like a 2-room structure, see the picture below. Essentially this is so, though the porch area is not floored. But this is an incredibly pleasant and functional space, very tall and well protected.
Note also that you have 2 large entry doors, and one inner door which is simply gigantic, see the picture. This is a very user-friendly design.
There are 6 pockets inside, though they are very small and with angled entrance, I am not impressed with such a design. But they are useful for small items.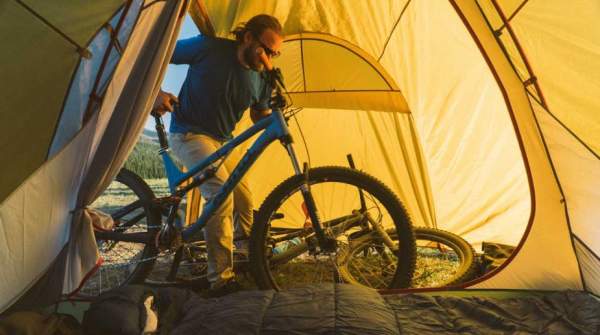 Ventilation
There are vents on the fly, both on the inner tent part and on the porch. You also have the mentioned two vestibules and you can experiment with their flaps and make some extra airflow. Remember also the mentioned awning with the fly section between the two doors, so use it to create extra airflow. Use also the fly mesh window on the back when the weather allows.
The fly does not go totally to the ground so you have air access along the perimeter. All in all, I do not think you will ever have any big issues with condensation here; but you know that this can never be fully avoided, this is just physics, my main field.
---
Specifications
Capacity: 6.
Weight: 19 lb 8 oz (8.84 kg).
Dimensions: 10 x 9 ft (3.05 x 2.74 m).
Inner floor area: 82 ft² (7.6 m²).
Inner area per person: 13.7 ft² (1.27 m²).
2 vestibules.
Vestibules area: 36 + 22 ft² (3.34 + 2 m²).
Total protected area per person: 23 ft² (2.16 m²).
Peak height: 6 ft (183 cm).
Packed size: 24 x 11 in (61 x 28 cm).
Doors: 2.
6 storage pockets.
---
Eureka Boondocker Hotel Tent vs Competitors
In the table below I give the Boondocker tent side by side with two really top-notch tents that are built in a somewhat similar style. All are full-coverage fly and have large vestibules. And yes, all are very expensive but this Eureka tent is a champion, it is far more pricey than the other two. Please follow the links to see more.
Vestibule area, sq ft (sq m)
Big Agnes
Tensleep Station 6
27 x 15 x 5
(68 x 38 x 12)

---
Final thoughts, rating, pros & cons
In the summary of this Eureka Boondocker Hotel 6 Tent review, I would stress again that the tent is really nicely built and very functional. But this all comes at a price, and as you realize it is more expensive than the two tents from the top brands shown in the table above.
This is a very expensive tent, but the quality is there. It is worth the money if you can afford it. See how I rate it:
Eureka! Boondocker Hotel 6 Six-Person, Three-Season Camping Tent
Note that this tent is very similar in style to The North Face Wawona 6 Tent. If the tent is too expensive for you, please look around and you will find something for you. Check in the categories and also see my very list of 6-person tents if this is the size you want. For full-fly tents, please check this list, these are all 30season tents. If you need something totally unique, check this Crua Core Dome 6 person tent but see also the X-Loft 6 tent from Eureka.
Thank you for reading. Please use the comment box below in the case of questions or comments. Have a nice day.