---
Eureka Copper Canyon 6 Family Tent is a freestanding family camping tent for moderate summer conditions, with a great packed size and a very affordable price.
---
Key features & benefits
Freestanding.
Great price.
Very tall tent.
Cabin type.
Huge windows.
Very small packed size.
Electricity port available.
---
What type is this 
Here are a few specific features which describe this tent:
The Copper Canyon 6 is in the group of freestanding tents, so you can pitch it anywhere, regardless of the ground. You will see in the video below the tent is assembled in a big room. Such tents usually have a minimum weight and packed weight in specifications. The former is without stakes because you can use it without them, but it is better to stake it out whenever possible.
This is also a cabin-type tent, and this implies almost vertical walls, see the picture below, and a great height which is 7 ft (2.13 m) in this case. So the tent provides a lot of volume inside and you do not feel claustrophobic. This feeling is only increased with huge windows which you have on all walls.
The tent is hybrid-type. This implies that it is mostly a single layer and only above the mesh ceiling you have the fly as the second layer, see the picture. The panels on the windows are also doubled with mesh.
The tent is a 3-season type, or better to say a summer tent for camping. By this, I mean that it is not designed for heavy rains combined with winds. If you need something for such situations, you will have to think about full-coverage double-layer tents like the Kelty Trail Ridge 6.
This tent is a part of a big series which includes the tents for 4, 6, 8, 12 people, and the 5-people tent with the screen room.

---
Who is it for
From the features described above, you already know that this is a family camping tent, or a tent for groups of friends at places like open-air concerts and similar events. In any case, this is a tool for moderate weather conditions.
The declared capacity is 6 people. In the case of groups who would use it only to sleep during some festivals, this is fine and the tent can accommodate so many users, see the floor plan below.
But for families, this is for parents with two kids maximum. This is a simple square space of 100 square feet (9 m²) floor area, i.e., the dimensions are 10 x 10 ft (3 x 3 m), see the picture below, and you do not have any vestibule for the storage of gear.
To have more space, you can use bunk camping cots, there are great models available on the market both for kids and for adults. See some of them here. This is a tall tent, very suitable for bunk cots.
The packed size of this tent is amazing, 26 x 8 inches (66 x 20 cm) only. It can easily be transported in a car, on a motorbike, on a bicycle, in a kayak. So it is a great tool for any outdoor activity where you would not carry it yourself, note that its weight is not so great; you have 25 lb (11.34 kg) here.
Here is a short promotion video from the Eureka brand about this Copper Canyon series, please have a look:
---
How to set the tent up
It is best to see this nice video, the whole process is shown. Note that the setup starts from the roof – you add the two shock-corded poles in the ceiling sleeves first, and then the corner poles are added. Have a look:
---
Other features
I already mentioned its great windows, they are with mesh screens, so you have a full protection from insects. But you also have panels for rain protection. They roll down and can be fixed under the windows.
The tent has a small zippered port for the electrical cord, see it shown in the picture. This is useful to have in camps where electricity is available.
The fly
The fly is minimalistic in design and it covers only the roof mesh. But this is all normal for such a design which includes such huge windows. Note that the fly must be staked out and the stakes are provided.
Ventilation
With such huge windows around, and with the roof which is all mesh, the ventilation cannot be better. But remember what I said about its best use; such a design does not keep the warmth. So use it in the summertime and you will enjoy it.
Waterproofness
The waterproofness rating for the whole series is the same, 1200 mm. This is lower from some other tents presented in the site, where you have 1500 mm (Nemo Wagontop 6) or 1800 mm (Kelty Trail Ridge 6). But compare this with an ordinary umbrella which has only 500 mm or so. So this is more than enough for the purpose of this tent.
Pockets 
There are only two pairs of pockets but completely under the roof. You can see one pair in the picture. I would love to see more of them around the walls in the lower area, and I am sure you would as well, so this is a bit disappointing.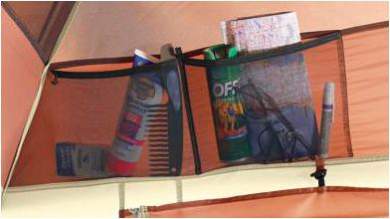 ---
What is included
You get the following items:
The tent.
The rain fly.
Poles.
Gear loft.
Stakes and guylines.
Carry bag.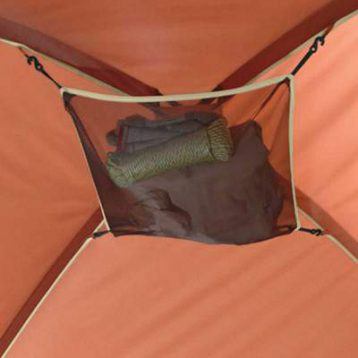 ---
Specifications
Type: freestanding, cabin, 3-season.
Capacity: 6 people.
Minimum weight: 23 lb 2 oz (10.5 kg).
Packed weight: 25 lb (11.34 kg).
Floor area: 100 ft² (9 m²).
Area per person: 16.7 ft² (1.5 m²).
Dimensions: 10 x 10 ft (3 x 3 m).
Peak height: 7 ft (2.13 m).
Packed size: 26 x 8 in (66 x 20 cm).
Doors: 1.
Storage pockets: 2 + 2.
Gear hammock: 1.
Pole attachment: sleeves, clips, hubs, ring & pin.
Poles: 6, steel & fiberglass.
Fabric: polyester.
Fly: 1200 mm PU coated polyester.
---
Eureka Copper Canyon 6 vs Competitors
See how the Copper Canyon 6 compares with some other tents of the same size. All are described in the site, so please follow the links to read more.
---
Summary, rating, pros & cons
So, at the conclusion of this Eureka Copper Canyon 6 Family Tent review, I would stress the great style of this tent with so many windows on all sides. It is also very tall and you will not feel claustrophobic inside. The setup is easy, and the tent can be pitched anywhere.
But the design is without a vestibule, so bear this in mind if you plan to use this tent with many people, you will not have space for storage. As for the price, you have seen it, it is hard to match.
This is a very popular tent, not surprising in view of its price and features. So there are many reports everywhere. On Amazon alone, you have them in hundreds and the average rating is very high. See my rating below.
If you need a larger tent from the same series, check this Copper Canyon 8 tent. You might want to see also their Jade Canyon 6 tent which is built in the same cabin style.
Note that this is not the only tent of this size from this brand presented in the site. See also Coleman 6 Person Instant tent but check also this new model from the same brand, the Desert Canyon 6. But if you still need something different, please just look around, this site is only about family tents.
Thank you for reading. I love to hear from you, so please use the comment box below. Have a nice day.