---
Exped Ursa VI Tent is a tunnel type yet freestanding 3-season roomy family camping tent with two rooms, two doors, aluminum poles, and a very good waterproof rating.

---
Key features
Two rooms.
Two doors & two vestibules.
Aluminum poles.
Good waterproof rating.
Very tall.
Removable floor in the smaller room.
Freestanding tunnel tent, who would say.
---
Where to buy
This tent is available on Amazon, and after searching I realize that currently, this is only in the US store. But it might appear in their other stores at the time when you read the text.
---
So what is the Exped Ursa VI Tent
The Exped Ursa VI is a tunnel style tent with two separate rooms. This is a very tall and pleasant tent, the inner peak height is 82.7 inches (210 cm) so you have standing height and can walk inside.
Is it freestanding or not
Tunnel tents are usually not freestanding, but here you have a very particular design. The tent is with three arches created with its three poles but there is also a ridge pole that crosses them from one end to another. This ridge pole is attached to the tent on both ends, you can see one of those points in the picture below.
Now, when you pass the main three poles through the sleeves, this creates tension in the inner tent fabric and the tent is very stable laterally. On the other hand, the ridge pole attached to the tent's ends creates tension in the inner tent in the longitudinal direction. This makes the whole structure self-supporting and freestanding. So adding the ridge pole was a smart move and this is what makes the tent unique.
This is also a fully double-layer tent with a full-coverage fly. Not so many tunnel tents here in the site are a double layer, but there are some indeed like these NTK Arizona and NTK Super Arizona tents. So I have included the Ursa VI in my list of tents with full fly where the majority are dome-style tents of course.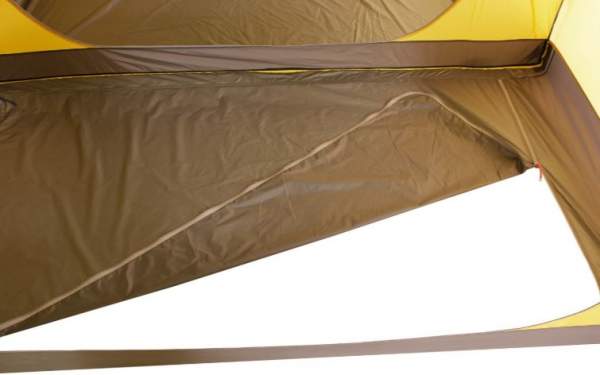 The floor in the smaller room is removable as shown above, so you can use it for cooking and sitting as you see in the picture below. Note that you have a real zipper here so you can fully close the floor and use for sleeping as well and you will be safe from insects.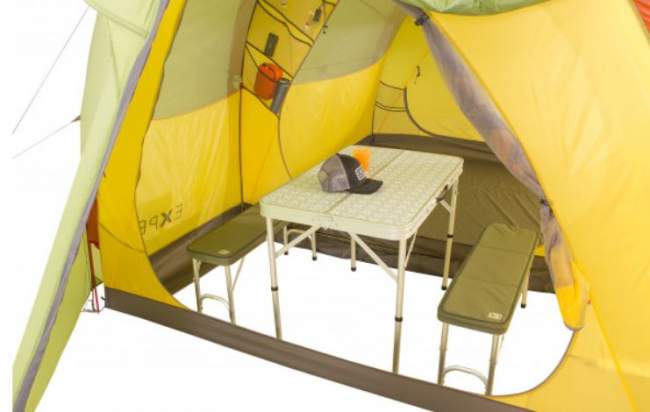 From the picture below you get some idea about the inner space. There are doors on both sides of the tunnel structure and you also have vestibules on both sides. This is the advantage of having such a full-coverage fly which creates such storage areas on both ends.
What you also see here is that the tent has many storage pouches on the walls. This is always useful and this tent offers a lot of it. You can see those pockets also in the following picture which is the view from inside through the vestibule.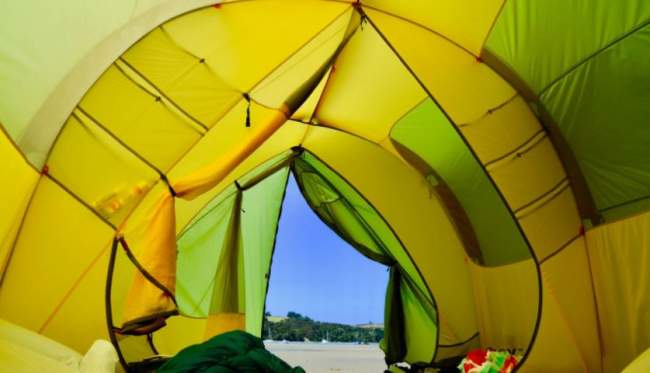 ---
Who is it for
Capacity-wise, the manufacturer describes it as a tent for 2 – 6 people. The floor plan below shows you what they suggest for using this tent by the maximum number of occupants. Note that the ground area for this tent is 5.7 x 2.6 meters.
So the front room can be used for sleeping as well and you can put 6 pads on the floor in both rooms. Note that there are two vestibules so the total protected area is 122 ft² (11.4 m²). In the case of 6 users, this would give 20 ft² (1.9 m²) per person. But for a comfortable camping, this tent is ideal for couples or for parents with one kid.
Seasons-wise, they declare it as a 3-season tent and this is surely so. You have a full fly, the waterproof rating is very good, the poles are aluminum, and there is enough mesh for ventilation.
Weight-wise, the tent does not look bad at all. The full weight is 16.5 lb (7.5 kg) and the minimal weight is 15.2 lb (6.9 kg). So perhaps this is not for carrying on the trail but this could be done, the area/weight ratio is quite high, see my rating below, and the carry bag shown below is nicely designed. You will also see how it compares with some competitors, there is a comparison table below. Nevertheless, if you need something lighter for the trail, please check my list with 6-person backpacking tents.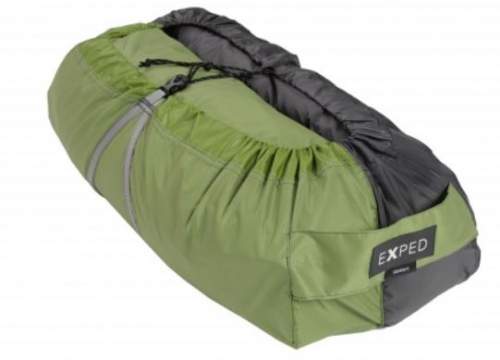 ---
Materials & construction
The poles
They use DAC Featherlite press fit 11.1 mm TH72M and DAC Featherlite press fit 13.2 mm TH72M aluminum poles. If you are not familiar, the DAC is the leading manufacturer for tent poles so you have the best of the best. The TH72M is an extremely high grade 7000 series Alcoa aluminum alloy created especially for DAC tent and trekking poles. So this is tough, durable, and robust material and the poles you have here can be trusted.
The fabric
The rainfly is 40D ripstop nylon, with PU coating, factory seam taped, and you have a 1500 mm waterproof rating. The canopy is 30D ripstop nylon and 15D No-See-Um mosquito mesh nylon with 1500 mesh/square inch. The floor is 70D taffeta nylon with PU coating, factory seam taped, and with 5000 mm water column rating. All materials are free from flame retardants and Oeko-Tex 100 certified.
In case you do not know, Denier is a unit of measure used for thread strength, so this is the weight in grams of 9000 m of yarn.
Ventilation
The canopy features large mesh panels for ventilation and you can see them in the picture below. Note that the rainfly can be rolled up 2/3 of the way to allow for views and ventilation whenever the sky is clear. There are no floor vents, pity. But the two vestibules and the two doors on this long tunnel allow for air cross-flow and this is possible even when it is raining.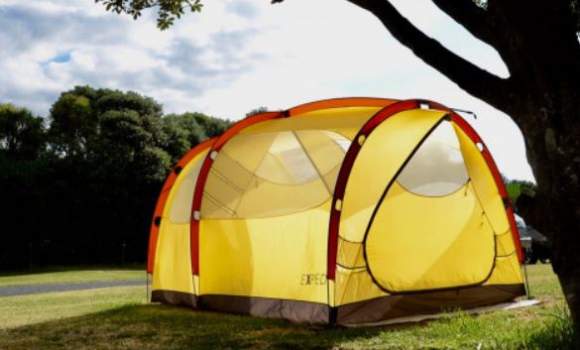 ---
Specifications
Type: freestanding tunnel tent.
Capacity: 2 – 6 persons.
Packed weight: 16.5 lb (7.5 kg). This is the weight of rainfly, canopy, poles, stuff sacks, and the accessory bag with pegs, guy-lines, and repair kit.
Min. weight: 15.2 lb (6.9 kg). This is the combined weight of rainfly, canopy, and poles.
Inner dimensions: 133.8 x 94.5 in (340 x 240 cm).
Canopy area: 88 ft² (8.2 m²).
Area per person (for 6 users): 14.7 ft² (1.4 m²).
Vestibule area: 34 ft² (3.2 m²).
Total area: 122 ft² (11.4 m²).
Total area per person (for 6 users): 20 ft² (1.9 m²).
Peak height: 82.7 in (210 cm).
Packed size: 23.6 x 9.8 in (60 x 25 cm).
---
The Exped Ursa VI Tent vs Competitors
In the table below I show this Ursa VI tent side by side with two other very unique models. So you have truly specific constructions here and these are top quality tents. As you see it is the lightest of the three tents, the packed size is better than in the other two, and it is also taller. But it is far more expensive than the other two tents. You will find the updated prices if you follow the links.
Vestibule area, sq ft (sq m)
23.6 x 9.8 x 9.8 
(60 x 25 x 25)
29 x 11 x 11
(74 x 28 x 28)

Therm-a-Rest
Tranquility 6
24 x 15 x 11 
(61 x 38 x 28)

---
Summary, rating, pros & cons
So this Exped Ursa VI Tent is really well-built, with top quality and lightweight materials, it is very functional and with a great organization. As you have seen above, the materials used here are similar to what you have in top-notch ultralight backpacking tents. Having such materials in a family camping tent is rare.
There is not much one could object to this great tent except for its price. The structure is unique and the materials and craftsmanship are high levels, so they set the price high. But it may be above the budget of many people. So if you can afford it, you will have a great tent, otherwise check the options I gave in the table above, or in the category of tents for 6 people.
Exped is a renown brand for outdoor equipment, in particular for sleeping pads. They have a number of smaller tents, and so far this Ursa VI is the largest they have built.
Please see how I rate this tent:
Exped Ursa VI Tent Green 4 Person
If you want something in a different style, check this The North Face Kaiju 6 tent which is an extended dome type, and also this new model on the market the Eureka Space Camp 6 Person Tent which is dome-type with aluminum poles.
Please note that this is not a sponsored text and I am not paid by the manufacturer. Do let us know if you have some experience with this tent, there is a comment box below. I wish you a nice day.