---
Jet Tent F25DX 10 Person Camping Tent is a polycanvas extended cabin type tent with a semi-instant setup, for all seasons, with 7 double-layer windows and 3 rooms.

---
Key features & benefits
Unique and cool design.
Polycanvas tent.
3 rooms.
7 windows.
Huge ventilation openings.
Minimal coverage fly.
Extended cabin style tent.
Fast-pitch semi-instant setup.

---
What type of tent is this
This is a sort of an extended cabin tent with a central room and two side rooms. I have included it in my list of best 3-room tents. The central section is a fast-pitch system with a pre-attached frame and you open it in seconds. You could call it an instant tent as well, but note that there are two extra poles on the sides, which you add separately to support the side rooms' roof. In any case, the setup is very easy for such a huge structure and one person alone can make it ready in several minutes. I have included it in my list of instant tents.
It is also a tent with a partial coverage fly that covers the roof only and you have unimpeded views through numerous windows. This structure must be staked to be functional so it is not a freestanding tent.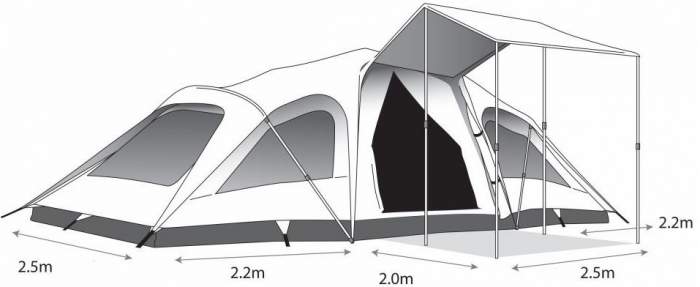 But Jet Tent F25DX 10 is a rather unique design as you realize this from the pictures. It is also exceptional regarding the materials, you have a poly-canvas here, a breathable but watertight material which is a combination of cotton and polyester. You can read more about reasons for such a material combination in my separate text.
---
Who is it for
Space-wise, the tent's declared capacity is 10 people, so let's see what it really offers. The total inner area is 186 ft² (17.25 m²) so for 10 people this means 18.6 ft² (1.7 m²) per person. In principle, this is enough if you only plan to stay the night in such a tent. But for a real camping, I see this tent for up to 6 people maximum. The reason is that you have no storage area and you have to downgrade the number of occupants. So the two side rooms can easily accommodate 3 people each, and you can use the central room as your living area.
Note that the rooms are large and with good proportions so you can put any types of beds inside. There is the front awning with 54 ft² (5 m²), this is a great feature for sitting in the shade but you cannot store the stuff here as it is not fully protected. This awning increases the total ground area so that you need 4.5 meters of the width, but you do not have to use it. You can simply roll it up and fix with straps above the door.
Seasons-wise, I have seen it described as a 3 – 4 seasons tent. The frame is clearly strong enough for such a use but there is no official waterproof rating (more below), as usual for canvas tents. They claim that the wind rating is 100 km/h or 62 mph; apparently, this is from the testing and if this is so then the tent can really withstand a lot of pressure. But I note that there are only a few guylines, so for such a big structure, this does not look much. But there are no less than 18 stakes.
Climate-wise, I am convinced that this tent is suitable for any climate. In a warm climate, it will work great because it is breathable and it creates a cool atmosphere that is much different than any synthetic materials. But it also has vents, more below.
On the other hand, in a cold environment, this canvas material ads some insulation and this is very different from any synthetic tent which is totally sensitive to the external temperature. Also, all the windows and vents can be zipped up and you can prevent cold drafts and you have no open mesh areas. So this is indeed a great design.
Weight-wise, this is a very heavy tool which weighs 97 lb (44 kg) and its packed size is such that you need lots of space in the car, it reduces to 47.2 x 16.5 x 16.5 inches (120 x 42 x 42 cm) so as you see it remains long in one dimension.
---
Materials & construction
The tent is a 3-room structure with a single entry door which is double-size and with an inverted T-shaped zipper. You have dividers on the sides, with a centrally positioned zippers, and they separate the central room from the two side rooms. The side rooms are roughly 250 x 220 cm so you have enough space for 3 people in each of them.
Each of the side rooms has 3 double-layer windows. Those on the narrow sides of the tent are of a particular design so you can use them as vents. The central room has a huge double door which is double layer type so effectively you have huge windows in the door. But there is yet another zippered window on the opposite side, with mesh and panel of course.
One door on such a large tent does not look so great, but it is indeed a double door so this is not completely bad; though the side rooms are without separate entrances. They have missed adding much more storage elements, so this is very disappointing for such a big and expensive tent.
The fabric
The tent's body is a rip-stop poly-cotton canvas with double stitched seams and the manufacturers claim it is 100% waterproof. I do not think that there is such a tent, but I have seen some statements elsewhere that the waterproof rating is 3000 mm.
The fly is minimal by the design and it covers the roof so all the seams and stitching on the ceiling are secure and protected. It appears that this is a polyester material and the mentioned 3000 mm rating is probably for the fly only. Note that you do not have to use the fly if you use the tent in a dry area.
The floor is a heavy-duty waterproof, bath-tub style and freeze-resistant PVC material so this should definitely be waterproof. All windows and the door are with a great quality superfine no-see-um mesh plus with panels. So the tent looks totally reliable to me and this addition of the polyester on the top is a clever idea; it adds almost total protection from above and the breathability of the tent as a whole is not at all reduced. I am impressed with this design.
The poles
You have very thick corrosion-resistant aluminum poles. This is a patent-pending auto-lock and release frame or a quick-pitch system in the main central part of the tent. As mentioned above, the side poles must be added separately. Note that you also have two awning poles included in the package.
Ventilation
You should never have ventilation issues here. The material is breathable but they have also added vents. So you have two huge vents on the ceiling in the central room. They are so large that they look like windows but they are indeed completely under the fly. These structures are with mesh and with zippered panels so you can regulate airflow as you wish.
The side windows are also with a gusseted design and they are very low, so they work as low vents and can be with mesh only all the time because of the external panels.
All the windows are also double layer structures with mesh and with zippered panels so you can have ventilation and privacy regulated as you wish.
Other features
Attached and concealed guy ropes in convenient built-in pockets.
Pegs are included in the package.
The built-in power cord inlet is available.
Heavy-duty YKK zippers so you have the best stuff here again.
Please see a bit more in this video. Note that the awning walls which you see here are not in the standard package, they are ordered separately. Also, the awning comes only with one set of 2 poles, you see 4 of them here.
What is included
You have the following in the package:
Tent.
Attached awning.
2 telescopic poles 1.9 m (6' 2").
Attached guy ropes: 4.
Pegs/Stakes: 18.
Awning guy ropes: 2.
Manual.
Carry bag.
The setup
This is a heavy and bulky tent and this may look frightening, so indeed you have to be strong to take it from the car to the exact spot where you plan to pitch it.
You start by spreading out the central part and staking the 4 corners. After that you raise the central section, it opens like an umbrella. As I said above, this part is a true instant setup tent. If you plan to use the fly, put it over the tent before you raise its corner legs (poles) because later it may be difficult due to the height of the tent.
Then you expand the fabric of the two side rooms (like what you would do to pull out your empty pockets from the pants, and stake them properly and add their poles. With this, the job is done.
Expanding the awning and adding its two poles (which are included) is optional and this can be done at any time later. Note that the awning is not the flap of the door, this is a separate piece above the door, so the door has its own panels for protection.
---
Specifications
Capacity: 10 people.
Weight: 97 lb (44 kg).
Dimensions: 23 x 8.2 ft (700 x 250 cm).
Inner area: 186 ft² (17.25 m²).
Area per person: 18.6 ft² (1.7 m²).
Awning area: 54 ft² (5 m²).
Peak height: 82.7 in (210 cm).
Packed size: 47.2 x 16.5 x 16.5 in (120 x 42 x 42 cm).
Color: grey.
---
Jet Tent F25DX 10 Tent vs Competitors
It is difficult to find tents for comparison because this F25DX 10 tent is quite unique in the design and materials. So I would first ignore the official capacity and this is why I add a 6-person Crua Loj canvas tent here which is also unique and offers far more space than what its official capacity tells you, so this is just the opposite of the Jet Tent; in fact, it is far larger than the F25DX.
I also add the Teton Sports Sierra 16 tent which is a bell-shape canvas tent for 6 – 8 people, but it is also larger than the 10-person F25DX tent. So you have a variety of very different options and features, these are exceptional tents in various ways. Please follow the links for more details.
---
Final thoughts, rating, pros & cons
In the summary of this Jet Tent F25DX 10 Person Camping Tent review, I hope you realize how exceptional this tent is and how many great features it has. So if you have missed some, to point out a few here: this is a fast-pitch design, you have a breathable 3-room canvas structure with so many large and pleasant windows, and this is a reliable tent for all seasons and for all climates. I have included it also in my list of tents for cold-weather camping and in my list of best canvas tents for camping.
See how I rate it for several parameters. My average rating is relatively low and this is affected by the price, packed size, and weight of the tent.
Jet Tent F25DX
Pros
Very tall structure.
Pleasant and cool atmosphere.
Good for all seasons.
Great windows design.
Very good awning.
Quality craftsmanship.
Cons
Very heavy and bulky.
Very expensive.
Only one entry door.
Just a few small storage pockets.
You might want to check also this canvas Springbar Highline 8 Tent which is a quite different construction designed for all seasons and for all climates. Check also this DANCHEL Cotton Bell Tent with Two Stove Jackets which is ready for a wood stove.
Thank you for reading. If you have any experience with this tent or have any comment and question, please use the comment box below. Have a nice day.

---