---
Newdora 12 People Straight Wall Cabin Tent is a new item on the market, a freestanding summer camping tent with several great features, and its packed size is hard to match.
---
Key features & benefits
Great packed size.
3 rooms.
3 doors.
A screened sitting area with a full floor.
Gear loft.
Awning configuration.

---
What type of tent is this
♦ They describe it as a 12-person true. On the other hand, the dimensions are 170 x 120 inches (4.32 x 3.05 m), which gives 13.2 m². So this makes no sense, and the same holds for the suggested way of using the floor for 12 people, which you can see below. There is no way you can put 12 people here the way they describe it.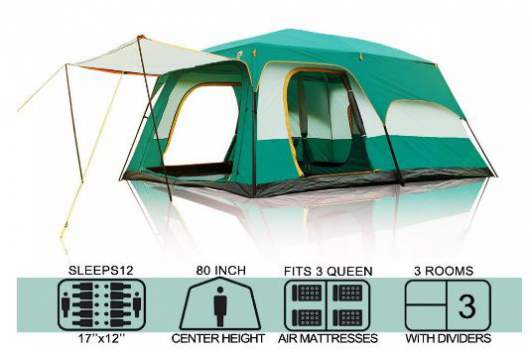 ♦ You will also see in its description that this is a 2-room and 3-room tent, at the same time.
♦ Oh yes, you will also see that its dimensions are 17 x 12 and 170 x 120 at the same time, and the units here appear to be inches (or feet in the first case?).
♦ They describe the tent as instant, and this just makes no sense, or they badly misunderstood the meaning of the term instant. So this is definitely not an instant tent. Their description supported by pictures also shows that this is not an instant tent.
♦ They write about a 2-minutes setup. This cannot possibly be true, this tent needs a lot of work to set it up.
But the tent has some great features and this is why I have decided to write this text. It is also included in my list of 3 room family camping tents.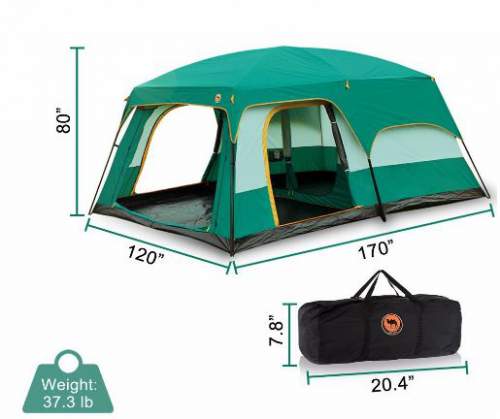 In reality, the Newdora 12 is a:
cabin style tent,
freestanding tent,
screen-room tent.
So these three features make it quite an impressive tent. With the peak height of 80 inches (203 cm) and the straightened walls typical for such a cabin tent, this is a very livable and pleasant tent.
The screen room
This is the best part of the tent because you have s large screened area with the openings on its three sides. Note that this room is completely floored just like the other areas, so this is a true room for sleeping as well, see the picture below.
You have a large front awning created with the help of two extra poles, so this is a pleasant area for sitting in the shade and for cooking.
From the screened room you have dual D-shaped doors, shown below, that lead in the inner part of the tent.
---
Who is it for
Sizewise, this tent is not for more than 8 – 10 people sleeping on the floor. In the case of families with kids, it is good enough for parents and 3 – 4 kids. This holds in particular if you use some bunk beds, there are models both for kids and for adults.
The packed size of the tent is simply impressive, so you have a bundle of 20.4 x 7.8 inches (52 x 20 cm). The weight is less impressive, with 37.3 lb (16.9 kg) this tent is rather heavy. So in any case, you need a car or a motorbike for transportation.
From the technical side, this is a summer camping tent and I would not even think of using it in any harsh weather conditions. With such a minimal fly and the tall profile, the tent is not built to withstand strong winds or heavy rains.
---
What is included
The package includes the following:
tent,
poles, many of them, 13 in total, with different diameters and materials, fiberglass and steel,
rain fly,
gear loft,
room divider,
10 tent stakes,
8 guylines,
expandable carry bag.
---
Construction & materials
The tent comes with many poles, 13 in total, with different colors and diameters, so this makes the setup easier. The structure is freestanding, but stakes and guylines are included in the package and don't miss to use them.
They give no indication about the waterproofness rating of the fly, walls, and the floor. There is only a statement about some PU coating used for the fabric. The floor is a bathtub design, and this is good because of the reduced seams on the ground.
I particularly love the awning which is created with the help of two poles (see the pictures above), this is a useful space to sit in the shade and for cooking.
---
Specifications
Type: cabin type, freestanding.
Weight: 37.3 lb (16.9 kg).
Dimensions: 170 x 120 in (4.32 x 3.05 m).
Floor area: 13.2 m².
Area per person: 1.1 m².
Peak height: 80 in (203 cm).
Packed size (L x D): 20.4 x 7.8 in (52 x 20 cm).
Rooms: 3.
Warranty: 18 months.
---
Newdora 12 Cabin Tent vs competitors
Here I give the Newdora tent side by side with two other tents form the same declared capacity range. You realize the big difference in the floor area, this is what I was talking about above. But observe also how great its packed size is.
---
Final thoughts, rating, pros & cons
So this was my Newdora 12 People Straight Wall Cabin Tent review. Obviously, the tent has many great features but they have done a very bad job in the description of this tent. In any case, you have seen how it stands with respect to its competitors, so you have some truly great options to choose from.
The inner area is with only one external window, I find this not so great. Also, the declared capacity simply makes no sense. If this is disregarded and you downgrade it by 3 – 4 users, then this suddenly becomes a nice space. See below how I rate this tent.
Newdora 12 People Straight Wall Cabin Tent
But if you still need something different or bigger, please look around, this site is only about family camping tents, there are many great tents to choose from. Check this Ozark Trail Base Camp 14 tent and also Ozark Trail Instant Cabin 15 tent. If you need a tent for 12 with a full fly, please check this NTK Super Arizona GT tent. Check also this Ozark Trail 11 Person 3 Room Instant Cabin Tent.
Thank you for reading, and please use the comment box below if you have a comment or question. Have a nice day.