---
Northwest Territory Front Porch Cabin Tent 10 Person is a freestanding steel frame tent with a porch, two doors and many windows, suitable for summer family camping. Read more below.
---
Key features & benefits
Two doors.
6 + 2 Windows.
Screen porch.
Two rooms.
E-cable port.
---
Where to buy
---
What this is about
This tent has been on the market for almost a decade as far as I know, and in the past its dimensions were 18 x 12 ft. The version which is on the market now is 20 x 10 ft size. So do not get confused if you see some older videos and reviews of this tent.
Here you have a typical cabin-style tent that comes with a removable divider so the inner area can be organized in two rooms. There are two doors, one on each of its narrow side, so the rooms have separate entry points.
But there is also a deep screen porch which is with a removable floor. The porch is protected by the fly, but note that its sides are only mesh without panels. So when you sitting on the porch, you can have protection from flying insects and not full protection from elements. In any case, this is a nice design with a removable floor on the porch, and I have included this tent in my list of tents with a screen room.
This is a pleasant structure with 6 separate and large windows that are with mesh and zippered panels, plus two windows with mesh and panels on the two doors. The windows are on all sides and with such steep walls you will have a feeling of being at home, see the picture below.
The tent is very tall with the peak height 7 ft 2 in (218 cm) along the main axes, so I have included it also in my list of extra tall tents.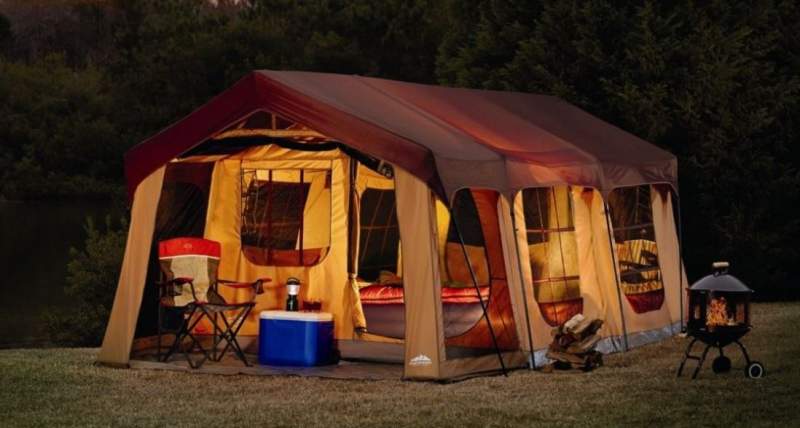 ---
Who is it for
Space-wise, the declared capacity is 10 people, and the floored area is 150 ft² (14 m²). This makes 15 ft² (1.4 m²) per person, and the dimensions are such that you can indeed put 10 sleeping pads on the floor. The porch is partially protected from elements and it adds 50 ft² (4.6 m²) of the area. But for real family camping, it is best to downgrade the number of users to 5-6 people maximum.
Seasons-wise and climate-wise, I see it as a tent for summer camping in areas without much wind and rain. The ceiling is all mesh and there is mesh on all the windows and doors, so this will work well in a warm climate. This is a tall and boxy construction but it comes with guylines to secure it in case of winds. Nevertheless, it is best to avoid windy areas with such a tent.
Also, do not plan to use it in a cool climate, it is not built for such a use. I have seen somewhere a user complaining it was cold in this tent. Of course it was, it is cold in every tent if you use it in a cold environment, but some tents are better suited for a cold climate than the others.
Weight-wise, with its 51 lb (23 kg) this is not a lightweight tent, but you have steel poles here and the tent is huge, so the weight is justified. The packed size is not so bad for such a big tent, it packs down to 34 x 17 x 13 inches (86 x 43 x 33 cm).
---
Materials
The poles
The poles are all steel, and you have 8 legs poles plus roof poles with a long ridge pole. This is a large construction but the setup is a breeze with color-coded and chain-corded steel poles, plus quick-connect frame hubs that are built into the top corners and sides of the tent. The poles are in a separate bag. Simple steel stakes are included in the package.
The fabric
No doubt the tent is polyester but there is no information about its denier value and waterproof rating. The floor is indeed a bathtub construction so you should be safe from the ground. All they provide is a statement that the fabric is with what they call Everdry coating, and the rainfly is with taped seams.
The removable porch floor allows for some versatility. You can roll it out when you cook under the porch or when you dry wet clothing, or simply when you use chairs with narrow feet and do not want to damage the floor.
Other features
There is an E-cable port under the porch.
Two storage sets are on the walls on the tent's narrow sides. They have integrated smart tablet display pockets.
The carry bag is with wheels, you will need this for such a heavy tent.
Instructions for setting this tent up are available here. Please see also how to set this tent up, as you will realize one person can do this easily:
---
Specifications
Declared capacity: 10 people.
Weight: 51 lb (23 kg).
Overall dimensions: 20 x 10 ft (610 x 305 cm).
Inner area: 150 ft² (14 m²).
Screen room area: 50 ft² (4.6 m²).
Peak height: 7 ft 2 in (218 cm).
Packed size: 34 x 17 x 13 in (86 x 43 x 33 cm).
---
Northwest Territory Front Porch Cabin Tent vs Competitors
In the table below I give this tent side by side with two other tents built with screen rooms, this may help in making an informed decision. Note that the design of the screen rooms is a bit different in these tents.
So neither Core 10 Tent nor Ozark Trail 9 Tent has a floor in the screen room, and they are also without panels in the screen room. But as you see the Northwest Tent is a bit heavier, and it is not an instant type as the other two tents.
Northwest Territory 10 Person 
---
Final thoughts, rating, pros & cons
In summary, this Northwest Territory Front Porch Cabin Tent 10 Person is a pleasant and easy to use construction in spite of it size and weight. It comes with a price tag that makes it a true bargain. Do not put it to harsh tests, this is a tent for quiet summer weather, and for such a use I can fully recommend it.
Please check around in the site if you need something different, this site is all about family camping tents and you will definitely find something for you. Check for example this nicely built Columbia Mammoth Creek 10 Person Cabin Tent.
Note that this is not a sponsored text, and I am not paid by the brand. Please use the comment box below in case of questions or comments. Have a nice day.
---