---
Northwest Territory Grand Canyon Tent looks incredibly cool, like a house with its steel frame, vertical walls and huge windows.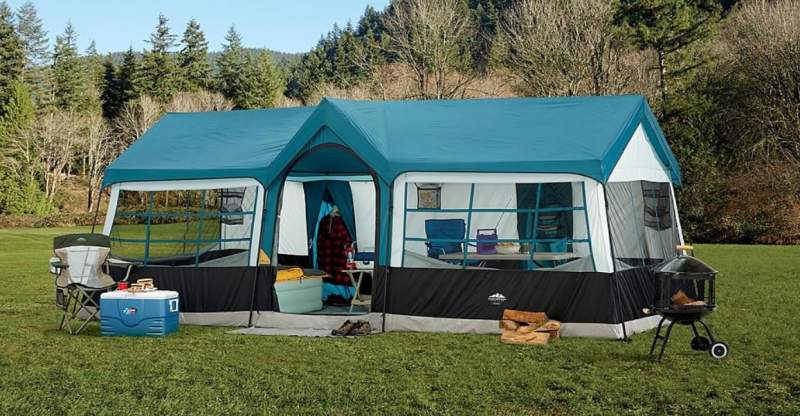 ---
Key features
Cabin tent.
Huge area.
Freestanding.
3-Room design.
2 Closets with shelving.
4 Huge windows.
Very tall tent.
Bonus light and remote control.
---
Where to buy
This tent is available on Amazon. So follow the link and benefit from their global shipping service.
---
What type of tent is this
This structure looks like a house and you realize this from the picture above. So this is a nicely designed cabin style tent with steep and tall walls, which could be placed in the group of framed tents. The meaning is that you raise the frame which is freestanding itself and the tent attaches to it.
It comes with two removable dividers, so formally this is a 3-room tent and I have included it in my list of tents with 3 rooms. But it has also two closets for storage on the back with the entry from inside the tent, see them in the picture below.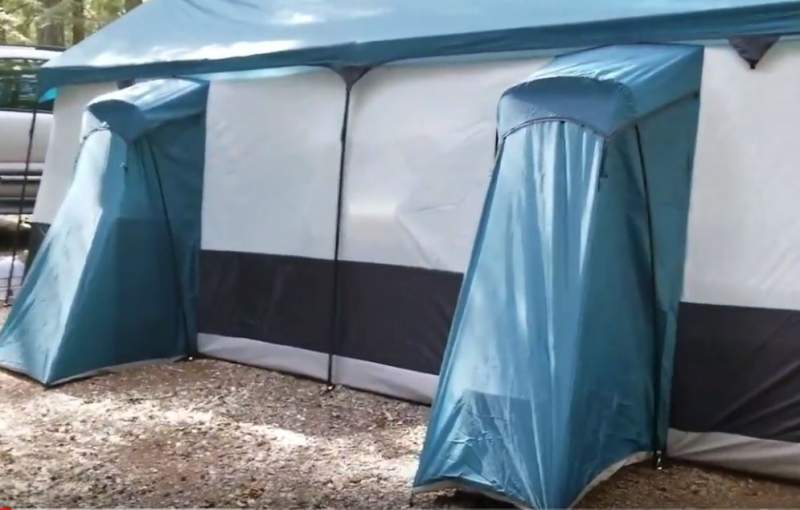 So as you realize, the closets have their separate poles and they add really useful storage spaces to the tent. One of them can be used as a space for a portable toilet. Note that they come with net shelves for storage. This is why I have added this tent to my list of camping tents with closets.
Note that the structure is very high and you can realize this from the picture above. The peak height is 84 inches (213 cm), but this is still not enough to be included in my list with very tall tents. The tent is with a minimal fly that covers only the roof, but this is why you have unobstructed views through its huge windows.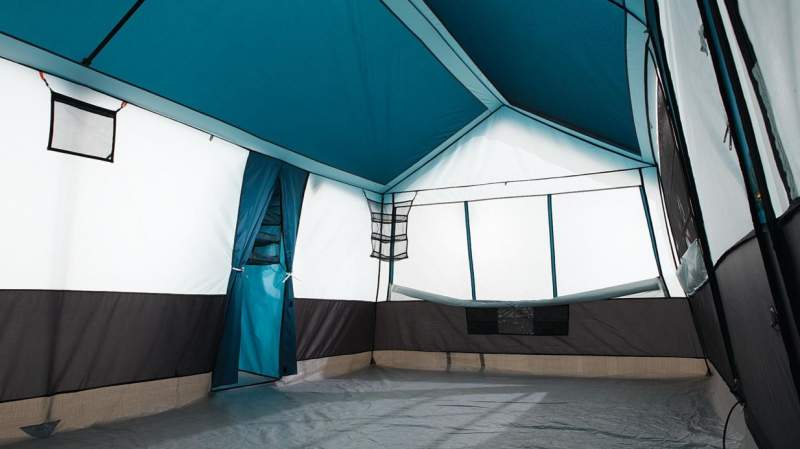 The tent is with one door only and this may not look so great, but the door is huge and the tent looks like a home where you would have one door wouldn't you? What it lacks in the doors, it compensates in windows, so you have them on three sides, huge and equipped with mesh and zippered panels.
---
Who is it for
Capacity: The declared capacity is 12 people and the inner area is around 240 ft² (22.3 m²). So per person, this would give 20 ft² (1.8 m²). Such an estimate is based on the backpacking principle and although the tent can indeed accommodate such a number of users, for real camping this would not make much sense. Nevertheless, I have included it in my list with best 12-person tents.
But if you would use bunk cots, you could accommodate even more than what the manufacturer claims. With such steep and tall walls, this tent is perfect for bunk cots. In any case, I have added it to my list of extra large family camping tents.
Seasons & climate: This tent is with mesh on its huge ceiling, so this is great if you use it for summer camping. But you would not want to be in such a tent in a cold climate.
On the other hand, the tent is very tall and boxy, and with a minimal fly, so although the frame is very strong, I would not use it in a windy place and with lots of rain.
Weight is not its best feature, it weighs 58.65 lb (26.6 kg). But the carry bag is with wheels. The packed size is 37 x 15.5 x 12 inches (94 x 39 x 30 cm), so all in all, this is a tent for places with a car access.
It is very suitable for large families, those separate rooms will provide some privacy that you will need. It can be used also by two couples, so each couple can have its own sleeping area and the central room can be used as a common living space.
---
Materials
The poles
The poles are steel, so this explains the weight of the tent. They are color-coded and chain-corded, and with quick-connect hubs, so the setup is far easier than you might expect from such a huge tent.
The fabric
The fly and walls are 68D 185t polyester taffeta with the waterproof rating 1200 mm for the fly and 600 mm for the walls. The same materials are on the closets. In principle, you do not need more for summer camping. The mesh sections are 68D polyester. The floor is bathtub style and very heavy-duty polyethylene material with welded seams, so this should be fully waterproof.
Ventilation
With such a huge mesh ceiling and 4 enormous mesh windows, speaking about ventilation may look redundant. But I notice that the tent has no floor vents. This is not a big deal as long as you can keep the mesh on windows. But in the case of hours with rain, you have to close all the openings.
Other features
The tent comes with two sets of storage pouches that you hang on the walls.
There are also a few small pockets on the wall.
You have a media pocket to use for a tablet and to watch movies.
As mentioned above, you also have a bonus light that you put in the net under the ceiling, with a remote control.
The tent packs up into a durable and expandable wheeled bag.
A gear loft is included.
Stakes are included.
A bit more in this video, please have a look:
---
Specifications
Declared capacity: 12 people.
Weight: 58.65 lb (26.6 kg).
Dimensions: 20 x 12 ft (6.1 x 3.66 m).
Area: 240 ft² (22.3 m²).
Area per person: 20 ft² (1.8 m²).
Peak height: 84 in (213 cm).
Packed size: 37 x 15.5 x 12 in (94 x 39 x 30 cm).
---
Northwest Territory Grand Canyon Tent vs Competitors
When you see the features of this tent side by side with some other tents with the same declared capacity, you can better understand its value and make an informed choice. So I am showing it with the two 12-person tents, both built as cabin tents, but one of them is with an instant design.
The Grand Canyon 12 tent is indeed much heavier but see the floor size. Please follow the links in the table, those two tents are described in detail in my separate texts.
Nothwest Territory
Grand Canyon 12
---
Final thoughts, rating, pros & cons
So if you use this Northwest Territory Grand Canyon Tent in an environment and climate for which it is designed, and this means summer camping and calm weather conditions, you will have a pleasant camping castle. Not many tents currently on the market have such a cool house-like shape. It has plenty of storage elements, and those two closets are really great additions which you can use in various ways.
With its two removable dividers, the tent offers some variants regarding the space organization. Note that they have yet another cabin tent with screen room, so have a look here.
Please see how I rate it against the standard set of criteria for easy comparison with other tents here in the site:
For more cabin tents please check under the category Cabin Tents here in the site. Note we have yet another tent from this brand here, the Northwest Territory Front Porch Cabin Tent 10 Person. You might want to see this new tent on the market, the CORE 12 Person Extra Large Straight Wall Cabin Tent 16 x 11.
Note that I am not paid by the brand and this is not a sponsored text. Please use the comment box below in case of questions or comments. Happy camping.

---