---
This REI Grand Hut 6 tent is a very tall full-coverage-fly cabin-style tent with 2 doors and 2 vestibules, nicely ventilated, and with quality aluminum poles.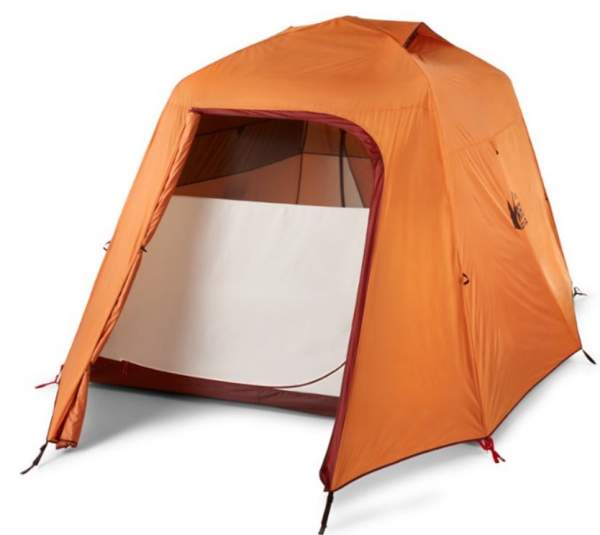 ---
Key features & benefits
Cabin-type tent.
2 Doors & 2 vestibules.
Aluminum poles.
Roof vents.
Floor vent.
Very tall tent.
Many wall pockets.
---
What this REI Co-op Grand Hut 6 Tent is about
So here you have a very tall cabin-style tent with straight and steep walls, the peak height is no less than 78 inches (198 cm). The picture below shows it without the fly so you realize that it offers lots of volume and headspace.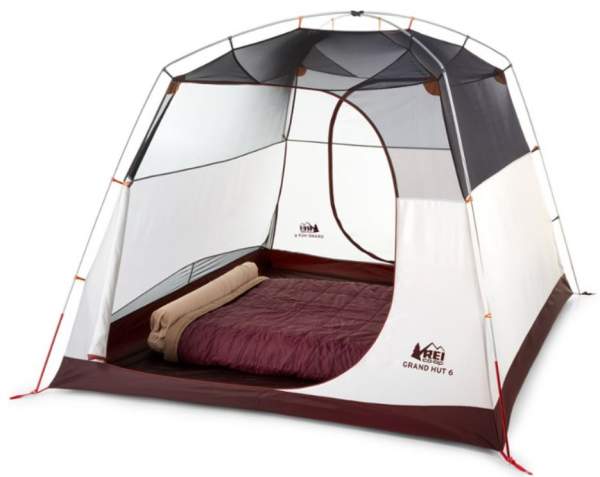 What you see above is a fully freestanding and self-supportive structure so you can rotate it and move around before you stake it and fix it to the ground.
The doors & vestibules
There are two inner D-shaped doors here, both very tall and they roll to the sides as you see from the picture above.  Note that you have mesh areas on their upper parts, the picture below, so they serve as windows when the vestibules' flaps are rolled to the side.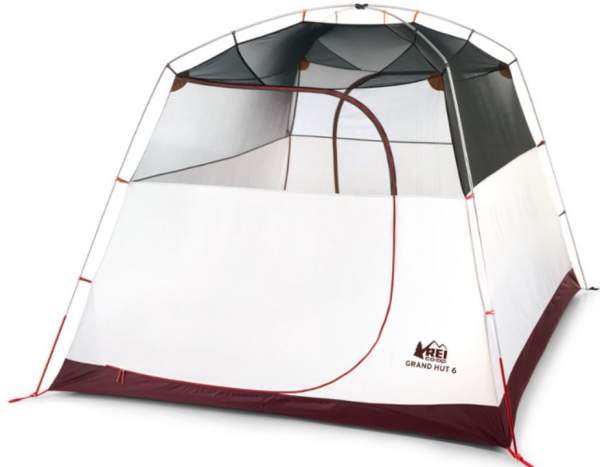 The fly is a full-coverage type and it creates two vestibules, both designed to be staked at two places. So this is an extra storage space, very useful to have. The fly attaches to the tent's base through buckles, and this is very easy to do. Because of these features I have included it to my list of tents with a full-coverage fly.
Wall pouches 
There are triangular mesh pouches in all the corners, and this means above the floor (the picture below on the left) and also above the head (the picture below on the right). So these are very useful elements to store small gear and personal items.
Ventilation
The upper part of the tent is all mesh and this is to the level of the mentioned windows on the doors. But with such a massive fly you need more. So they have added a large floor vent on the side of the tent, plus two roof vents on the fly. You have 2 zippers on the inner tent to access these roof vents, no need to get out of the tent, see the picture.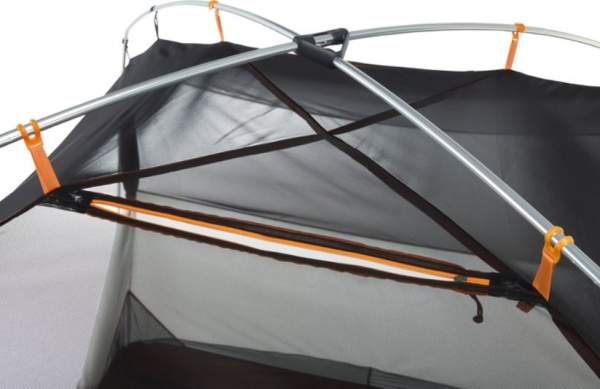 So you cannot expect more in the tent with such a massive fly, this is good enough, but condensation cannot be avoided in general, I am sure you know this well.
---
Materials
The poles & stakes
The frame is created by 6061 aluminum poles that converge to the top spot where you have an integrated hub element. Some manufacturer's (like Coleman) calls this a fast-pitch design. The point is that the poles are pre-attached to the hub, and they are all shock-corded. All you have to do is to attach them to the tents' grommets in the four corners. One person can do all this very easily.
The inner tent attaches to the frame through clips, so there are no sleeves here. Note that the tent is very high and this is where you can use the ceiling zippers to attach a few roof clips. 
The stakes are very simple, for such an expensive tent one would expect something more advanced. You have them 8, for the corners and for the vestibules. But you might want to stake the sides of the tent as well, so you would need some extra, at least 6 to be specific. So again, it is disappointing they did not put more. They sell them on their site under the name REI Co-op Steel Stake and they are $1 each, see them here.
The fabric
As usual with REI, they do not provide much info about the fabric. But the floor is a durable 150D coated polyester and it is a bathtub design, there is no info about its waterproof rating. The fly is a 75D coated polyester, again without a waterproof rating given. The canopy is a combination of mesh and taffeta.
Other features
There are hanging loops in all the corners of the ceiling. Here you can pass a cord and hung your clothes as well, and you can also attach lights.
The vestibule zippers can be open from the top as well from the bottom, so this allows for some versatility regarding ventilation.
They have the REI Co-op Grand Hut 6 Footprint built specifically for this tent and you can order it separately.
The carry bag is included, and it is pretty basic, see the picture.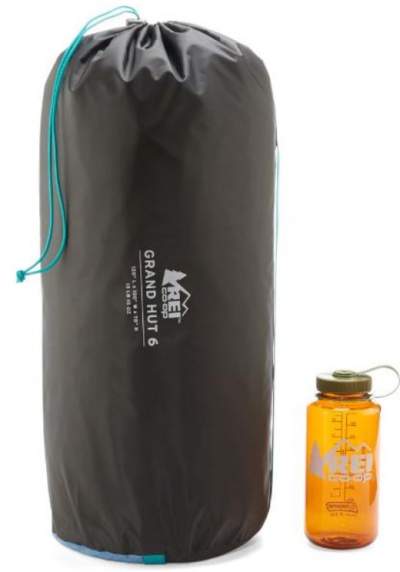 ---
Who is it for
Regarding the weight, the tent weighs 16 lb (7.26 kg). They provide also a minimum trail weight but this is not important, you would not carry this tent anywhere from the car. The packed size is 24 x 10 x 10 inches (61 x 25 x 25 cm), you have seen it above, so it is reasonable. It can be transported even on a motorbike.
Regarding the area, the tent looks huge and it is tall, but its official capacity is 6 people. For this you have 83 ft² (7.7 m²) of the floor area and 38 ft² (3.5 m²) under the vestibules. So the total protected space per person is 20.16 ft² (1.87 m²). So the inner area is almost the same as in this EVER ADVANCED Instant Cabin Tent 6 Person built in the same style but without vestibules.
The dimensions are such that it is possible to put 6 sleeping pads on the floor. With such steep walls, you might want to use bunk cots here and this will save some floor space. But all in all, I would not use it with more than 4 people in total.
Regarding seasons & climate, they describe it as a 3-season tent, so this is quite disputable and it depends on various factors. With so much mesh you would not feel comfortable in a cold environment. But with such a massive fly it is not the best option for warm summer camping. The same fly makes it a great choice for places with lots of rain, the picture below shows how it looks when the vestibules are fully closed.
The tent is very tall and this is a huge object in the case of winds, so it is best to avoid very windy places. I would avoid using it above the tree line.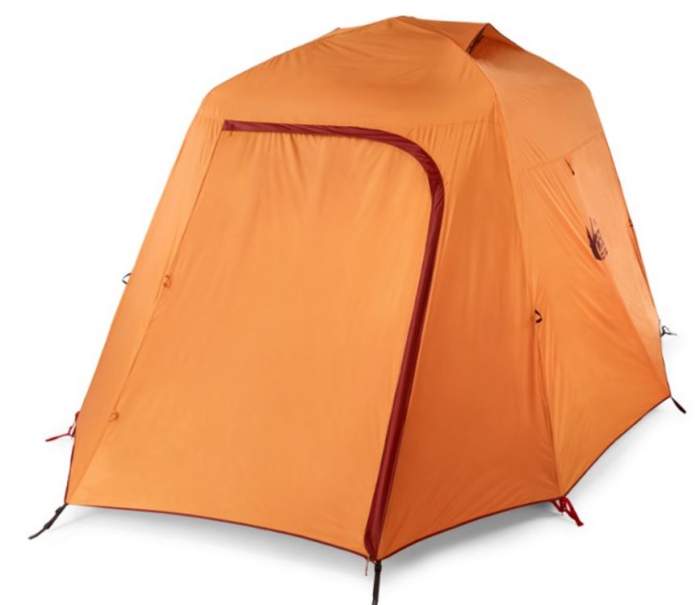 Regarding the price, the tent is expensive, but you have some really great features and aluminum poles, plus a renown brand behind this product. But see also the remarkable warranty below.
Please see more in this very useful video:
---
Specifications
Official capacity: 6-person.
Weight: 16 lb (7.26 kg).
Floor dimensions: 120 x 100 in (305 x 254 cm).
Floor area: 83 ft² (7.7 m²).
Vestibules area: 38 ft² (3.5 m²).
Total protected space: 121 ft² (11.2 m²).
Total protected space per person: 20.16 ft² (1.87 m²).
Peak height: 78 in (198 cm).
Packed size: 24 x 10 x 10 in (61 x 25 x 25 cm).
Poles: aluminum.
Warranty: I think it is best that you see what they write at REI's site: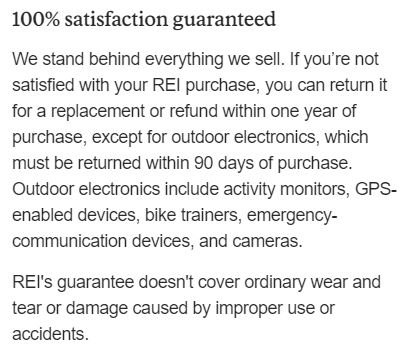 ---
Final thoughts, rating, pros & cons
In the summary of this REI Grand Hut 6 review, I would again point out the height and the inner volume of this tent, its quality aluminum poles, and the warranty that will put your mind at rest. So although the price may look steep, you know what you are buying. This brand has been around since 1938, just to know.
Below you can see how this tent scores with respect to my rating criteria, the overall rating is very high and this is well-deserved:
For more tents of this type, please check under the category Cabin Tents here in the site. Note that there is yet another tent of this brand here in the site, their best known REI Kingdom 6 Person Tent. If you would want something with an instant setup, check this Caddis Rapid 6 Person Tent.
Bookmark this site and visit it occasionally, this will keep you informed because we add texts here on a regular basis. Thank you for reading and have a nice day.