---
This REI Kingdom 6 Person Tent review is about the latest version of this freestanding 2-room tunnel tent with aluminum poles, 4 roof vents, and an incredible number of storage pouches.
---
Key features & benefits
Freestanding.
Tunnel type tent.
2 Doors.
1 Vestibule.
Removable divider for 2 rooms.
Aluminum poles.
4 Roof vents.
Many wall pockets.
Awning configuration.
---
What this REI Co-op Kingdom 6 Tent is about
REI has several tents in this Kingdom series and they have been on the market for many years. Note that there is also a larger 8-person version described here in the site, the REI Kingdom 8 Person Tent. The 6-person version given here is their latest and I do not think the tent is improved. If you are familiar with the previous version, you will realize this from the text below. But it is fair to say that I have seen the opposite opinions, so it is up to you, keep reading.
This is a tunnel type tent but quite asymmetric in the design. The picture above shows it without the fly and this is from the side that could be described as the main entry point. Below you can see it from the opposite side, also without the fly. So the two parts of the tent have different amounts of mesh.
The inner tent shown above is fully freestanding, and this is achieved with the frame that has 10 points on the ground, and the poles have no less than 5 intersection points plus two hub elements. So the structure is incredibly stable as it is, it is self-supportive and strong.
But this is an almost double-wall tent so there is an almost full-coverage fly. The word 'almost' describes the fact that the rear door is without a vestibule, see the picture below. But you have a vestibule in front of the front door, you can see it in the top picture above, and this vestibule must be staked down to be functional. There are 3 stakes used for the vestibule alone.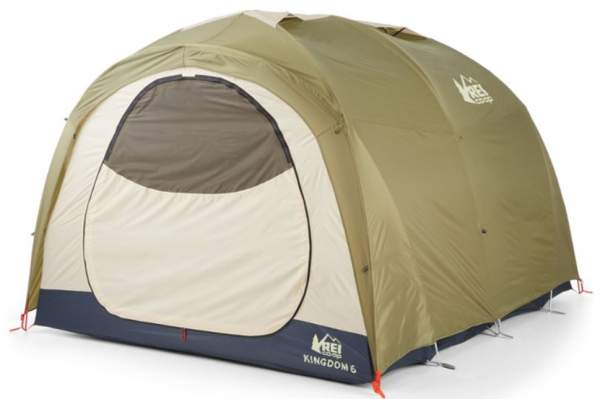 A bit more about the doors & vestibules
So I already mentioned the doors and you realize there are two large doors on the two ends of the tent. This new design of the back door is certainly not an improvement, there is no awning or brim for dry entry, you can see it above. This door has a waterproof panel and mesh in the upper part.
But the other side is with a very functional vestibule. The vestibule door can be opened half only, and this can be any of the half sides. But you can also unclip it from the central stake and then roll it up. Note that you can also expand the vestibule panel and create an awning with the help of trekking poles. 
The inner door can be unzipped all the way to the top, and the same is with the back door. Then you can store them under the ceiling, there are mesh pockets for this purpose, see the picture below. I guess these pockets are better used for lanterns, because you will want to keep the inner doors in place to be protected from insects.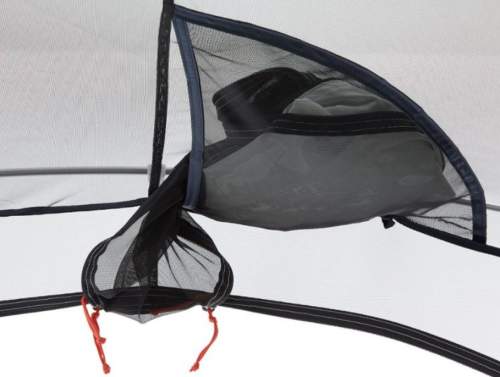 The divider
The tent has a removable divider that attaches with toggles to the walls, and it is with a central zipper. But it has also a toggle to attach it at the center on the floor, see the picture below. This is more or less just a curtain. Note that you can position it in the center of the tent and have two equally sized rooms, or you can attach it at around 3/4 of the tent's length and have two asymmetric rooms.
Pockets
I already mentioned two ceiling pockets for the doors. But there are also 4 ceiling pockets on the sides. However, there are many more above the floor. Namely, along both long sides you have two series of huge mesh pockets for storage, some are visible in the picture above. Not many tents on the market can match this.
Ventilation
This tent is ventilated and this means the following. Both large doors have huge mesh sections for ventilation. The inner tent ceiling also has lots of mesh, and there is mesh also on the side, you have seen it in the pictures above.
But they have added no less than 4 vents on the roof. You have 2 zippers on the inner tent's ceiling so you can get to the Velcro stiffeners from inside and raise the vents without getting out of the tent.
Though the two doors have no mesh in the lower sections. So essentially you have no floor vents, and this can make lots of difference in warm and humid conditions, this was far better in the previous version of this tent. The picture below shows the front view on the part of the tent where there is more mesh, and you realize that it still goes quite low above the ground so you can have some extra draft without floor vents.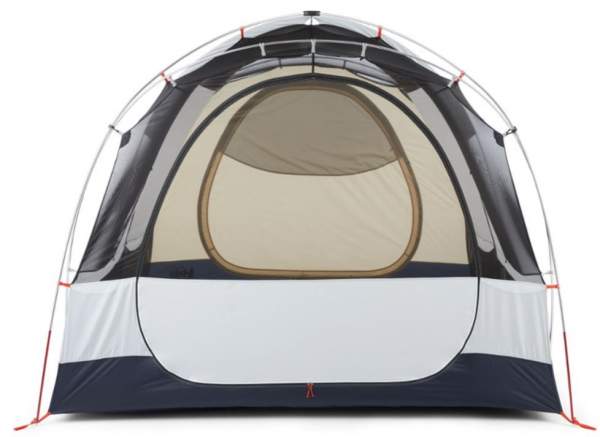 You can keep the inner door unzipped but then you have no protection from crawling insects. So not everything is perfect here, pity. But there are ways around this, they have added some features to help:
When the sky is clear, you can roll the fly from the rear door all the way to the center and then fix it there. This gives more ventilation and you can enjoy sleeping under the stars. You can always put it back in place in seconds.
Yet another option is to unclip the vestibule and unclip the fly from both long sides and then roll it up to around 2/3 of the height, so you will have it on the roof only and you will have ventilation from all the sides.
---
Materials
The poles
The tent frame is a bit complicated, and you will need up to 20 minutes to set it up with a partner. So there are 5 poles in total and this is a 6061 and 7001 aluminum. The poles are with a diameter of 14.5  and 11 millimeters and you realize they are massive. Two of them are Y-shaped and they are with plastic hub elements, note that in the previous tent all was metal.
The tent attaches to the frame through sleeves and clips, and at the base you have the usual grommets. Everything is color-coded so this should help.
The fabric
The floor fabric is a very durable 150D coated polyester Oxford, and it is a bathtub design, you can see in the pictures that it goes very high above the ground to protect the tent from splashes.
The shell is a 75D coated polyester taffeta. I could not find any statement about its waterproof rating, but the seams are taped. I must say I have seen somebody complaining about leaks, quite surprising.
The carry bag is really nicely designed with separate compartments and it is with straps to carry it backpack-style. Note that you get 13 quality stakes, 6 guylines with tighteners, and a pole repair tube. 
All these features and much more you can see in this great video:
---
Who is it for
Regarding the area, this tent is described as huge, and indeed it offers 83.3 ft² (7.7 m²) of the floored area plus 29 ft² (2.7 m²) under the vestibule. But its official capacity is 6 people, and this means 18.7 ft² (1.7 m²) of the total protected space per person, and you have only 1.28 square meters per person in the inner tent.
So they use a backpacking principle although this is a camping tent. In other words, the capacity makes no much sense, and the space is modest for such a number of users. In my view, this is a tent for a maximum of 4 people. 
Regarding seasons & climate, they describe it as a 3-season tent and this is indeed so. But this does not mean you will feel great in a cold environment, the tent has a lot of mesh.
The frame is incredibly strong and it can withstand lots of pressure from any side. But the tent is with a peak height of 75 in (191 cm) and it is long, so this is a big structure. Hence, if you use it in windy places and you can detect the main wind direction, it is best to orient it with the vestibule facing the wind direction, this side is more aerodynamic. 
Regarding the weight, with 21 lb 6 oz (9.7 kg) this is a heavy tent and you would not want to carry it to long distances. But this is indeed possible in view of its backpack-style carry bag. The packed size is not its best feature, it measures 25.2 x 15.75 x 8.6 in (64 x 40 x 22 cm).
Regarding the price, the tent is expensive, but I am sure it is worth the investment, you have a reliable brand behind this tent.
---
Specifications
Official capacity: 6-person.
Weight: 21 lb 6 oz (9.7 kg).
Floor dimensions: 120 x 100 in (305 x 254 cm).
Floor area: 83.3 ft² (7.7 m²).
Vestibule area: 29 ft² (2.7 m²).
Total protected space per person: 18.7 ft² (1.7 m²).
Peak height: 75 in (191 cm).
Packed size: 25.2 x 15.75 x 8.6 in (64 x 40 x 22 cm).
Poles: aluminum.
---
Accessories
There are two that may be very important:
REI Co-op Kingdom 6 Footprint. It weighs 1 lb 14 oz (0.85 kg) and it will protect the floor of this expensive tent.
Kingdom Mud Room. You could describe this as a removable vestibule, and it can be added to the side without the integrated vestibule. It is pole-supported and it adds around 50 ft² (4.6 m²) of covered space. The picture below shows how it looks: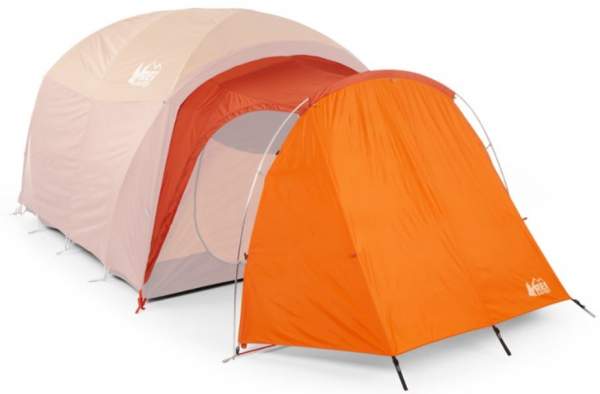 ---
Final thoughts, rating, pros & cons
So to summarize this REI Kingdom 6 Person Tent review, what you have seen above is a great tent and one of the best-known on the market. It has been reshaped and many things are changed, the frame is different and I do not think this is an improvement, but this is what is there, and there is no point in looking back on the previous version.
This is a reliable tent, though a bit heavy and bulky, but this is a tent for car camping so these parameters are immaterial. Fully recommended. 
I use several different rating criteria and the tent does not score well in some of them, see how it stands:
If you need more tents of this shape, please check under the category Tunnel tents. You might want to compare this tent with the Portal Outdoors Unisex's Gamma 5 Spacious Large Tunnel Tent built in the same tunnel style. For this capacity group check among Tents for 5/6 people, in particular, check yet another tent from this brand, the REI Base Camp 6 Tent.
Bookmark this site and visit it again, this will keep you informed because we add texts here regularly. Thank you for reading and have a nice day.