The question of sewn-in groundsheet versus zipped in (or linked in) groundsheet comes out related mainly to the construction of tunnel tents and bell-shaped dents. So here are a few pros & cons for both constructions.
About the terminology: In the case of tunnels tents when the floor is removable, this is usually a design with toggles. So you have some overlapping between the groundsheet and the wall of the tent and you attach them to each other. This is usually described as a linked-in floor (groundsheet).
On the other hand, in the case of bell-shaped tents, this is normally with zippers. So you can unzip the floor and roll it to the side or remove. This is what manufacturers describe as a zipped-in floor.
The term sewn-in floor (or groundsheet) is frequently used in the description of tunnel tents. With this some manufacturer want to stress the difference between some of their tents. You can see this in the description of Vango tents. With a sewn-in floor, you are fully protected from groundwater, cold drafts, spiders, crawling insects, and snakes.
---
Examples – tunnel tents
In some tunnel tents, you have the floor removable. You can have this in large as well as in small tents of this type. So you have a sleeping area which is a tent within the tent with its floor, and the living room in front is with what they call linked-in floor.
Examples of this type are these Jack Wolfskin Travel Lodge FR (shown in the picture), Vango 5 Person Odyssey Air 500, and MSR H.U.B. 8 tents.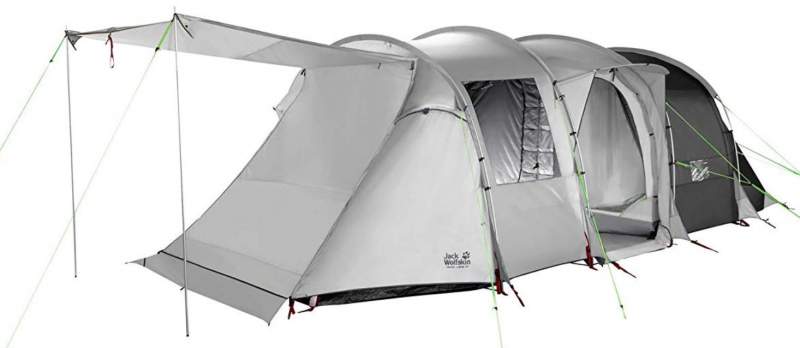 Fully sewn-in groundsheet you have in this Vango Iris 600 XL tent, Ferrino Chanty 5 Deluxe Family Tent, in Coleman Rocky Mountain 5 Plus (shown in the picture), and in many other tents here in the site.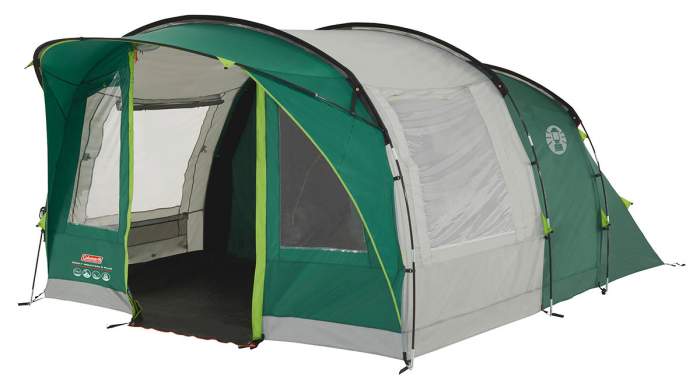 ---
Examples – bell-shaped tents
Many tents of this type have an option to unzip the floor. In the case of the DANCHEL Cotton Bell Tent, the floor can be unzipped as shown in the picture below. So you have a pleasant canopy for sitting in the shade.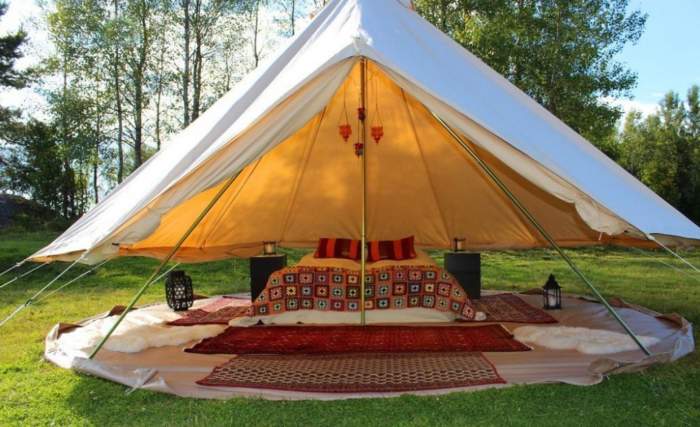 Note that some tents of this type have a mesh around (which can be unzipped separately). So even when you unzip the side panel wall, you can still have a full protection from insects. One great example is this Stout Bell Tent.
---
How about dome tents?
This design is rare in dome-style tents. But there are indeed expedition tents that are dome-style yet built without a floor. Those are described as shelter tents. You can see this in the Mountain Hardwear Stronghold 10 Person Tent.
---
So which design is better: sewn-in or linked-in (zipped-in)
I do not think that there is a simple answer. This depends on the purpose of the tent. Here are a few possible pros and cons:
Sewn-in pros
This design means a full protection from groundwater.
You are also fully protected from crawling insects, spiders, ticks, and snakes.
There are no cold drafts.
Sewn-in cons
After days of camping, you will have to clean the floor. It is hard when you cannot remove it.
If you are using camping furniture, you have to take care not to damage the floor.
When you cook, you have to be careful to keep the area clean and dry.
The same is when you want to dry your washed clothes inside, you will have water on the floor.
See some arguments regarding linked-in or zipped-in design:
Linked-in (zipped-in) pros
You can unzip or detach the floor and have some extra breeze.
If you use a wood-burning stove for heating or for cooking, by rolling a part of the floor to the side you avoid potential damages on the floor.
It is far easier to clean the tent when you can remove the floor.
This design allows for separate use and transportation to lighten the total weight.
Linked-in (zipped-in) cons
In the case of snow, and if the floor is not a high bathtub design, you can have water seeping through the zipper or under the linked-in floor.
The zipper adds lots of weight. The circumference of the Danchel Cotton Bell tent shown above is more than 15 meters.
The zipper can get damaged.
Linked-in design means you are not completely safe from crawling creatures and snakes; this applies to the living area only of course.
So when you compare the two designs, here is what you might conclude:
When you have a zipper closed, there is no way a snake or lizard can get in. This is not so with a linked-in structure. But in any case, a sewn-in groundsheet offers a complete protection of this type and it is better.
Zippers are normally always above the floor, so groundwater cannot get in. On the other hand, some of the linked-in systems do not have a bathtub profile, so protection from groundwater is not complete. Though some of them are designed that the groundsheet goes up along the wall and attaches to it above the ground. In any case, the sewn-in system offers more protection here as well.
Linked-in and zipped-in systems offer more versatility than a sewn-in floor.
Linked-in and zipped-in systems are easier to clean and to dry than a sewn-in floor.
With a linked-in system in place, you can have cold drafts. So better avoid this for cold weather camping tents, but this will depend on the purpose of the tent. Some of them are for fishing, so you have zippers on the floor.
I wonder what you think about all this? I love to hear from you, so please use the comment box below.
---