---
Timber Ridge 8-Man Log Cabin Tent is a very tall freestanding framed structure for summer camping, with 4 large windows and a mesh porch. 
---
Key features
Framed tent.
Steel poles.
Cabin type.
Freestanding.
Very tall tent.
Screen porch.
---
What is in the name
The Log Cabin words in the name should be obvious when you see the picture. This is a cabin-style tent and fully freestanding of a particular type with the frame which is freestanding itself, see the picture below. So you set up the frame and attach the tent to it, this is typically described as framed tents, yet another example of that type is also Barebones Outfitter Tent.
This is a tent with a peak height of 86 inches (218 cm). The tent looks like a 2-room design with the inner area and the screened porch. However, the porch is with mesh only and the only protection it has is from the fly which extends over it. I have included it in my list of tents with screen room.
There are four large windows on all sides, with mesh and panels that are equipped with zippers so you can set them at any position for protection and privacy. The large entry on the porch is with an inverted T-shaped zipper, this is visible in the picture above.
Inside, you have mesh pouches in every corner, though they are high under the ceiling and not so easy to use. The fly is minimal and it covers the ceiling only, you have 800 mm PU waterproof coatings here and the seams are sealed. The floor is a bathtub style and you have vents above the floor for ventilation. They do not provide any information about the waterproof rating for the floor and the walls.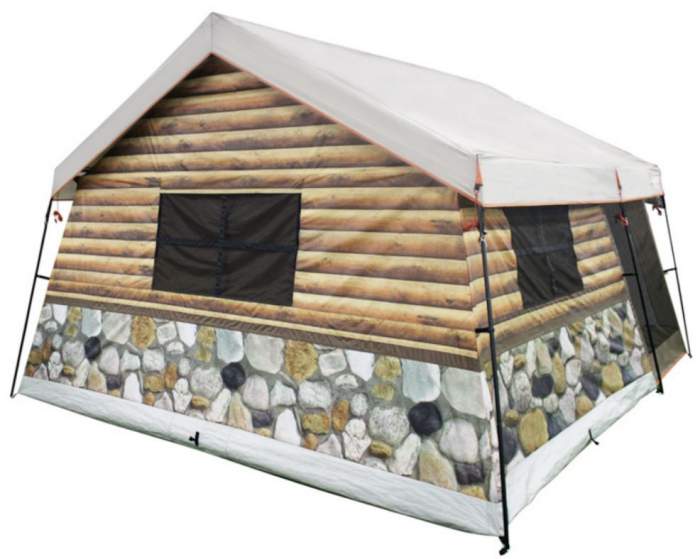 The tent comes with a full set of stakes so do not miss to stake it properly although it looks so stable and self-supporting. As for the setup time, it will all depend on how familiar you are with the construction and how many people are helping you. But this is not a quick setup tent, and if this is what you need please check my list with best instant tents for camping.
---
Who is it for
Space-wise, the declared capacity is 8 people. But when you see its dimensions, in particular the inner area which is only 108 ft² (10 m²) you realize that this gives 13.5 ft² (1.25 m²). So the declared capacity makes no sense, this is a tent for up to 4 people. There is a porch of course with the size of 48 ft² (4.4 m²) but this is not protected from rain and you cannot store things in it.
Though it is fair to say that you can indeed set 8 sleeping pads on the floor so 8 people can have a shelter here. But you can save lots of space by using bunk cots, and you will still have plenty of space underneath such cots to store your camp gear.
Seasons-wise and climate-wise, this is a tent for warm-weather camping. The roof is all mesh which is surely good for ventilation and perfect for warm areas, but this is not a structure for a cold climate.
The tent is tall and the frame is strong yet this is everything but an aerodynamic structure, so I would not use it in areas with lots of winds. Use it in a calm area and you will enjoy it.
The waterproof rating for the fly is very low, and this is a minimal fly that only covers the roof, so again, it is best to avoid areas with lots of rain.
Weight-wise, with its 47 lb (21.3 kg) of weight, this is a heavy item and you would not want to carry it anywhere. The packed size 34 x 12 x 12 inches (86 x 31 x 31 cm) is such that you need a car for transportation. But its carry bag is with two wheels on the bottom and with handles on both sides, so you can drag it or it can be carried short distances by two people.
---
Specifications
Type: framed tent cabin style, freestanding.
Capacity: 8 people.
Weight: 47 lb (21.3 kg).
Dimensions: 13 x 12 ft (396 x 366 cm).
Inner dimensions: 12 x 9 ft (366 x 274 cm).
Inner area: 108 ft² (10 m²).
Inner area per person: 13.5 ft² (1.25 m²).
Porch dimensions: 12 x 4 ft (366 x 122 cm).
Porch area: 48 ft² (4.4 m²).
Peak height: 86 in (218 cm).
Packed size: 34 x 12 x 12 in (86 x 31 x 31 cm).
Poles: steel.
---
Timber Ridge Log Cabin Tent vs Competitors
I already mentioned competitors, so here are two of them, very popular tents built in a similar style. This Log Cabin tent is clearly much heavier, it offers less floor area, but it is taller and it looks great. Please follow the links for more.
Browning Camping
Big Horn 8
---
Final thoughts
In the summary of this Timber Ridge 8-Man Log Cabin Tent review, I would stress again that the colors and the design of this tent are quite unique. The tent is pleasant and very livable, most suitable for calm weather and for summer camping.
The tent is a bit pricey and there are more affordable options on the market, but this is a really tall tent and the design is cool, and it has received a very high rating by Amazon customers. Now, my rating is quite different but I use several criteria and I use them consistently for all tents here in the site, so you can compare easily.
If you want something lighter and with easier setup, check their dome-style Timber Ridge 8 Person Family Camping Tent. You might also want to compare this tent with yet another interesting screen room tent, the Gazelle T4 Plus Hub Tent with Screen Room. Check this Slumberjack Overland 8 Person Tent if you want something in the tunnel-style.
Thank you for reading. Please use the comment box below in the case of questions and comments. Have a nice day.