---
TOMOUNT 6 Person Tent is a nicely built cabin with steel poles, freestanding and very strong construction for 3-season camping. With three mesh windows and partial coverage fly this is a pleasant construction.
---
Key features
Freestanding tent.
Cabin style.
E-cable port.
Huge waterproof rating.
Great price.
---
Where to buy
This tent is available on Amazon, so please follow the link and check the shipping conditions for your location. They have a global shipping service.
---
So what this is about
They call it Keep 6 person tent, just to know to avoid confusion. The description which you see on Amazon is confusing enough because they sell several different tents at the same place and it is far from clear what is what when you see reports and questions by customers.
So this is a great example of a cabin style tent with straight and steep walls, very stable and nicely balanced. This is a freestanding structure so you can move it short distances even after you set it up. But do not miss to stake it down properly.
The tent is a 1-room construction with 1 door with window, and two separate windows with panels and mesh. The partial coverage fly is there so you can have unobstructed views around. It is new on the market but it is becoming extremely popular and I would say with good reasons, the price is such that it is hard to find a match.
---
Who is it for
Capacity-wise, they describe it as a 6-person tent so let's see what it offers. The area is 80 ft² (7.4 m²) and the dimensions are 10 x 8 ft (305 x 244 cm). The area per person would be 13.3 ft² (1.23 m²). So indeed it is possible to put 6 pads on the ground. But if this is about real camping, this is a tent for a couple or for parents with one kid.
Weight-wise, they describe it as lightweight and suitable for hiking, but note that it weighs 20.72 lb (9.4 kg). This is far from a light tent and definitely not for hiking. If this is what you need, please check my list with 6-person backpacking tents. So this is a tent for car camping.
Seasons-wise, I see this Keep 6 person tent as a 3-season tent. The structure is very strong with steel poles so that it can definitely withstand lots of pressure from any side.
But it is not so aerodynamic, the fly is not full cover type and it stays high so it would not last long in strong winds, and the ceiling is completely mesh which you cannot close.
So yes, you could use it in the snow as they show on Amazon, but you would not feel great. This is not an enclosed design, so better check my list with tents for cold weather camping if you need something of that type.
The packed size is reasonable for such a type, it measures 24.4 x 9.8 x 9.1 inches (62 x 25 x 23 cm) so you can transport it even on a motorbike.
---
Materials
The poles
The best part of this tent is its poles. This is all steel and it looks like a framed tent in the sense that the frame alone is freestanding. The tent attaches to it through clips. The official setup time is 8 minutes and this is realistic.
The fabric
They do not provide much info, but this appears to be polyester and the declared waterproof rating is exceptionally high 4000 mm. My understanding is that this holds for the tent and the fly. Note that the floor is a catenary cut. The ceiling is all mesh.
Ventilation
With mesh on the ceiling and on the windows located on the opposite sides of the tent, ventilation should be great as long as the windows are with mesh only and with panels open. There is no vent on the fly but this is not a deep fly so all condensation will evaporate and escape.
The problem is that there are no floor vents. In the case of extended rain intervals, all the openings must be closed and this cannot be pleasant.
Other features
An electrical access port is available, see the picture.
There is a wall pocket, far from enough.
A smooth 2-way zipper is on the door.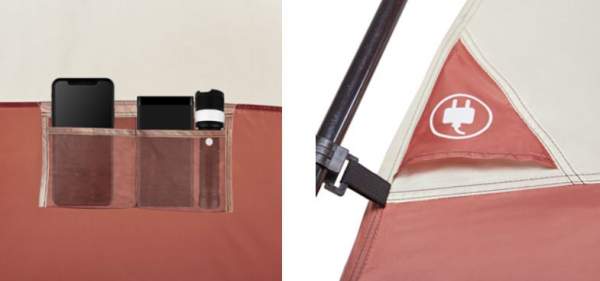 ---
Specifications
Type: cabin tent.
Declared capacity: 6 people.
Weight: 20.72 lb (9.4 kg).
Dimensions: 10 x 8 ft (305 x 244 cm).
Area: 80 ft² (7.4 m²).
Area per person: 13.3 ft² (1.23 m²).
Packed size: 24.4 x 9.8 x 9.1 in (62 x 25 x 23 cm).
1-Year full replacement or refund warranty.
---
TOMOUNT Keep 6 Person Tent vs Competitors
I have decided to show you how this tent stands when compared with some other tents built in the same style and with the same declared capacity. So here are two of them from top brands. As you realize, it offers far less area but it is also far more affordable. Please follow the links to see more.
24.4 x 9.8 x 9.1
(62 x 25 x 23)
28 x 8.5 x 8.5
(71 x 22 x 8.5)

26 x 8 x 8
(66 x 20 x 20)

---
Final thoughts, rating, pros & cons
So this TOMOUNT Keep 6 Person Tents really looks cool, stable, and sturdy. The price is incredible and if you do not want to spend much and want a tent for occasional outdoor adventures and camping close to your car, this is definitely a tent to consider. 
There is a rating on Amazon, and the average value is very high. But they sell several tents under the same name and there is no way to know the rating for this particular 6-person tent. But I have my own set of parameters and I apply them consistently to all the tents here in the site, so please have a look:
Check also this Bushnell Shield Series 11 x 9 Instant Cabin Tent which is for 6 people and with some great features, many storage elements, and steel poles. If you would rather have a tent with a screened porch and awnings, check this very functional NTK Texas GT up to 7 Persons Tent.
Note that this is not a sponsored text, and I am not paid by the brand. Please use the comment box below in the case of questions or comments. Have a nice day.