---
Many tents on the market come with one or more vestibules, so I think it is a good idea to have the term camping tent's vestibule described in one place as a reference. Hence this text, keep reading.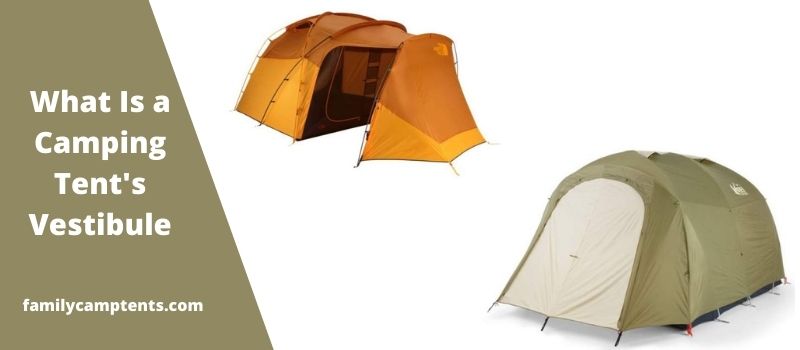 In short, a camping tent's vestibule is a tent's extension that is protected from the rain. Typically, a vestibule is a part of the tent's shell or tent's fly. I make the difference between the tent's shell and the fly because of the following. Some tents are single-layer constructions and in this case it is appropriate to speak about the shell.
On the other hand, some tents have an inner canopy plus a fly as a second layer. So a vestibule is a part of the tent's waterproof fabric. Some tents also have a removable vestibule, but such a feature is rare. 
Most of the tents with a full coverage fly have vestibules and this is almost always the case with dome tents. There are also cabin tents with a full-coverage fly but they are frequently without a vestibule, an example of this type is this Coleman Octagon 98 Full Fly Tent. 
What is the purpose of a tent vestibule?
Because the area under a vestibule is protected from the rain, this is a useful space for storage where you can put your boots and camping gear. Note that some tents have a vestibule with a removable floor, and this is yet another layer of protection, this time from the groundwater. So when you store your gear under such a vestibule, it will not get wet and muddy from the ground.
You can use a vestibule also for cooking. I know that some are against cooking in the tent in general, but when you have many hours or even days with constant rain you do not have much choice. You can cook in a tent and under a vestibule in a safe way, read more about this in my separate text. If the vestibule is floored, you can simply roll out a part of it in the area where you cook.
Under a zippered vestibule, you are protected from flying insects. In the case of the floored vestibule, the area may look like an extra room, but you do not have protection from crawling insects and snakes. So a tent's vestibule is not a space for sleeping.
Some vestibules are tall and large, with plenty of space for sitting. To see what I mean, it is enough to have a look at this The North Face Wawona 6 Tent shown below, or The North Face Kaiju 6 Tent.
When you have a vestibule, then the inner door is fully protected. So if such an inner door has mesh sections covered with zippered panels, you can keep them with mesh all the time and this will increase ventilation. Sometimes such inner doors are only mesh and this is fine because they are deep under the vestibule and great ventilation is guaranteed.  
Sometimes a vestibule is with double zippers so you can create an awning. The awning can be supported by a pair of included poles, or you can use your trekking poles. See how it looks in this Marmot Guest House 6-Person Tent, and note that this particular tent has no less than 3 vestibules: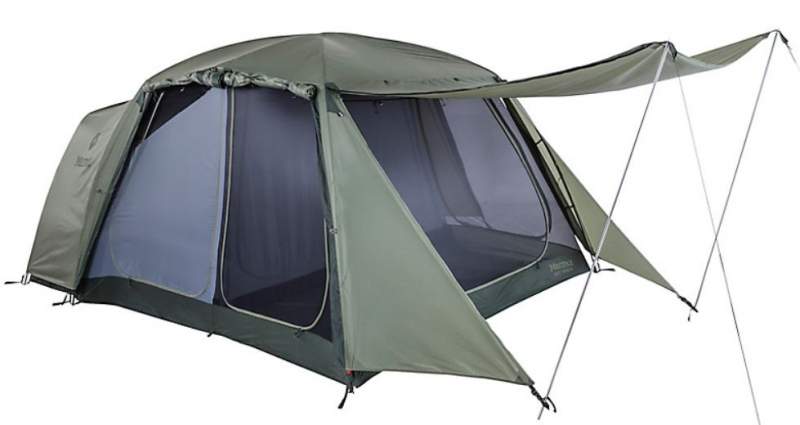 Disadvantages of having a vestibule 
• A vestibule extends the tent's protected space and having such an addition is normally useful, but note also that because of a vestibule, a tent becomes non-freestanding. Namely, the inner tent can be fully freestanding, but when you put the fly on, to have a functional entry and storage space, you have to stake the vestibule's flaps. So this is a sort of trade-off. 
Many manufacturers that build tents with vestibules, describe them as freestanding, but because of the mentioned reasons, this is not always so. I thought you would want to know this, more about this you can read in my separate text. See this nicely built REI Base Camp 6 Tent as an example: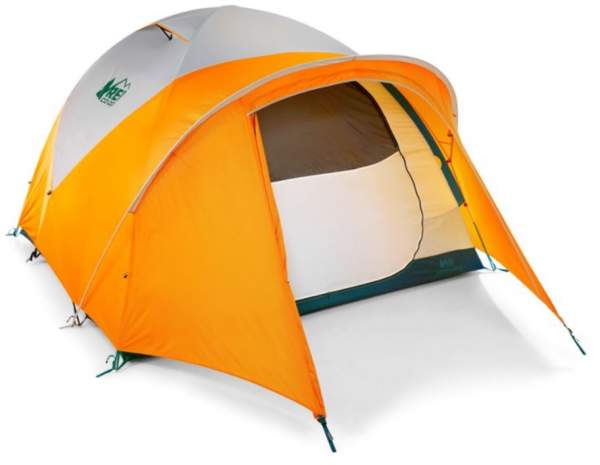 • When you have a vestibule, you have to wrestle with zippers all the time. This may be annoying. As I wrote in my other text, there are no zipperless tents currently on the market, pity. 
So all in all, having a camping tent with a vestibule may be useful if you need storage for gear. But this depends on the purpose of the tent, and also on the type of tour. If you are on a cross-country tour and have no gear or keep them in the car, then you might go for a tent without a vestibule. 
You might want also to read my text single wall tent vs double wall tent. Thank you for reading. Please let me know if you have questions or comments, there is a comment box below. Have a nice day.