---
What is a wall tent? In short, this is a sub-type of cabin-style tents, more precisely a shelter with vertical walls and a strong freestanding frame usually suitable for all seasons. Keep reading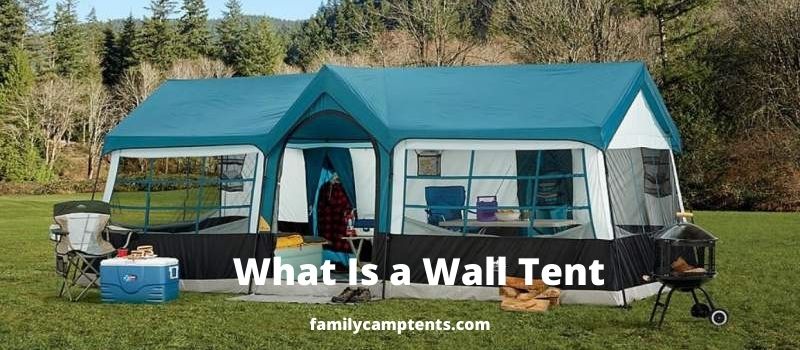 This question I received in a comment, so I replied there and decided to give a bit more in this separate text. 
If you go to Wikipedia you will see how the author describes wall tents. So this is a good text for a start but it is far from enough and there are a few details there that are a bit misleading.
The shape
It is best to start from the phrase itself, so the term 'wall' implies that you have more or less vertical walls. This makes it similar to a standard cabin tent, though in most cases cabin tents have steep and straight but not strictly vertical walls.
But see also this Coleman Hampton 9 Person Tent, this is a cabin tent with almost completely vertical walls. But I doubt that anybody call it a wall tent.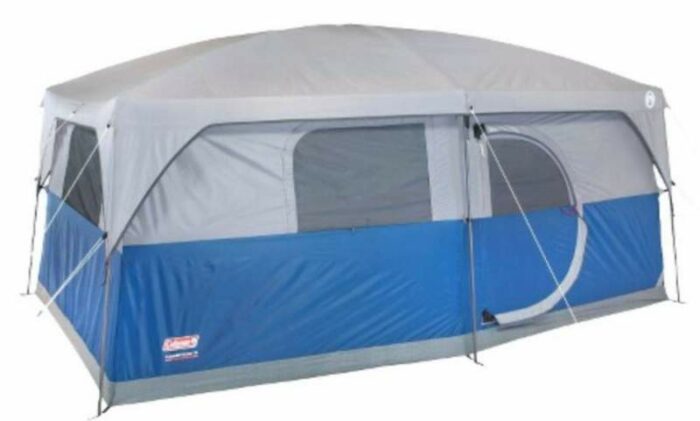 Related to this issue of the wall, to have it vertical, you have to use an appropriate frame. So wall tents are more or less the same as what is sometimes described as framed tents. This is yet another new phrase I introduce, so it looks as if I am going around the subject instead of explaining it. But all these terms are used by people. 
A framed tent or frame tent is supported by a frame that is freestanding by itself. You can pitch such a tent on any ground. The fly is added usually from above and the vertical walls are attached from the outside. Typically, cabin-type tents are in general freestanding but they are not really sturdy unless you stake them properly. So wall tents (or framed tents) are a stronger and sturdier sub-group of cabin tents.
A wall tent or if you wish a framed tent needs quite some work to prepare its frame. Once it is up, you would not want to change the camping place quickly. This is what makes such tents essentially different from many cabin tents. As you know, there are huge cabin tents that are instant tents and one person or two people can set up such a tent in a minute or two. 
The roof of a frame tent is usually like a roof of a house, you can see one perfect example in the picture below that shows the Guide Gear 10 x 12 Canvas Wall Tent. In many cabin tents, the roof is a bit different and they cannot withstand lots of pressure from the top. This is not so with wall tents. So this brings us back to the conclusion I made above, a wall tent is a strong type of a cabin tent.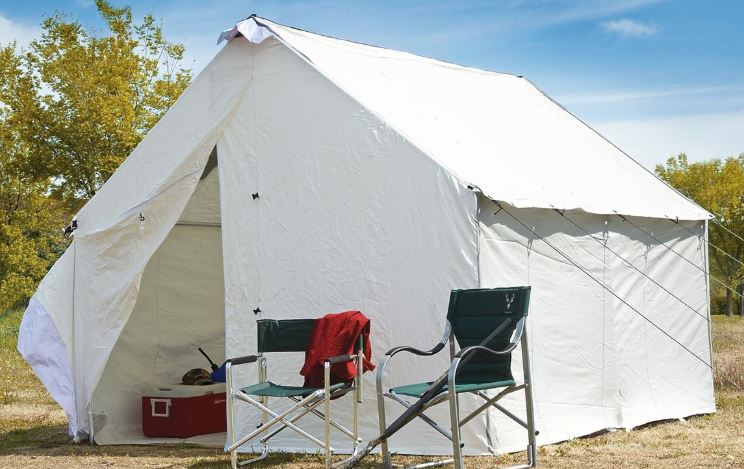 The materials of wall tents
I already mentioned the frame. So this is usually steel, and sometimes they sell a tent without a frame. So you can make it yourself from steel or from wood. As far as I know, there are also wall tents with PVC tubes used for the frame.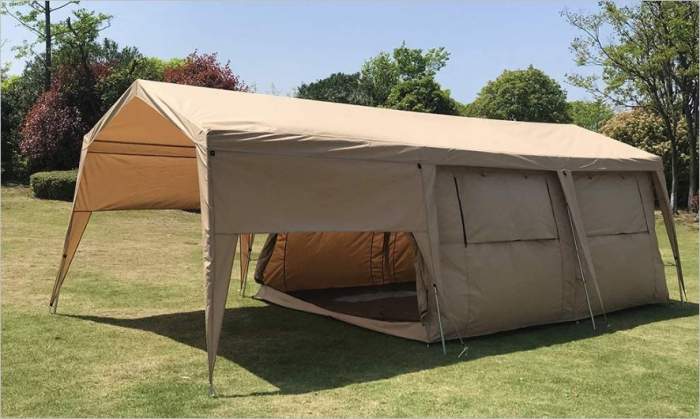 As for the fabric, I would say that majority of wall tents are made of heavy cotton canvas or polycotton. You can see one great example above that shows the Dream House Double Layers Waterproof Safari Glamping Tent. For such heavy fabric, you need a strong frame.
But some are built of synthetic materials, and these are lightweight wall tents, so you have nylon wall tents and more frequently polyester wall tents. You can see one shown in the picture that shows the Ozark Trail Hazel Creek 12 Person Cabin Tent: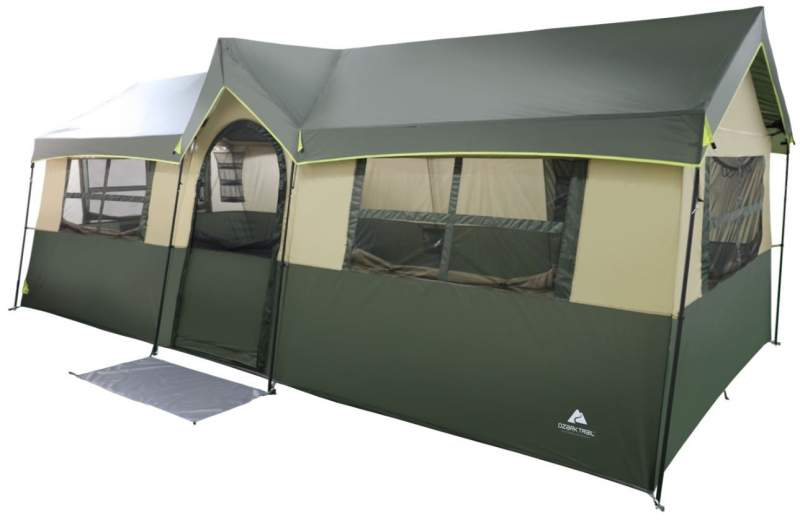 Floor: Cabin tents for family camping normally have a floor. It may be missing only in their screen rooms if they have such an extra feature. On the other hand, a wall tent is frequently without a floor. But there are exceptions, both tents shown above have a floor. 
The tent below is the White Duck Outdoors Alpha Wall Tent 12 x 14 and it has a removable floor: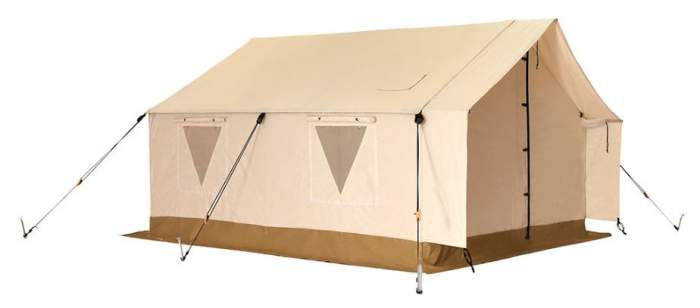 Windows
In standard cabin tents you usually have many windows, and this is their best feature. But in most cases this means they are designed for warm and calm weather.
The examples of wall tents shown above indicate that these tents can also have many windows, but this depends on their purpose. Some have fewer windows, more about this below.
The users & best use of wall tents
Canvas wall tents are normally suitable for all seasons. You can have a thick tight-woven cotton that is naturally breathable but also waterproof. Such material gives a bit of insulation which is useful in both cold and warm environments. This is a heavy material and this also means less noisy than any synthetic tent.
But there are also polyester or vinyl-based wall tents that are for all seasons. In this case, you have to rely on vents. If they are missing in a tent that you want, better keep searching for something else.
In wall tents you have lots of volume inside, this is why they are convenient in environments where you know that you will have to spend a lot of time in the tent. 
The structure is boxy and it is everything but aerodynamic, but this is compensated by the fact that you have strong construction, so they can withstand a lot of force. If they are built for a cold environment, you can expect fewer windows, and they are closable.
Sometimes you can have solid windows with shutters for privacy. The White Duck Outdoors Alpha Wall Tent 12 x 14 shown above has such windows that are triple-layer. 
These tents are suitable for hunters, expeditions, military, and also for glampers.
Heating wall tents
Many of the wall tents on the market come with an integrated pipe jack. You can see them in my separate list. The vertical walls and high roofs make it possible to install a wood-burning tent stove and heat such a tent safely. Many of them have a removable floor or they are without a floor. Read more in my separate text about heating and cooking in a tent.
In summary, the term cabin tents is more generic and broader than the term wall tent or frame tent. But I hope that from this text it is clear what a wall tent is. Let me know if you have questions or comments, there is a comment box below. You might want to read also my comparison of single wall tent vs double wall tent. Have a nice day.