---
White Duck Outdoors Family Explorer Basic 10 x 14 Canvas Camping Tent is a single-room 4-season structure with the official capacity of 8 people, with a steel frame and pleasant breathable natural fabric.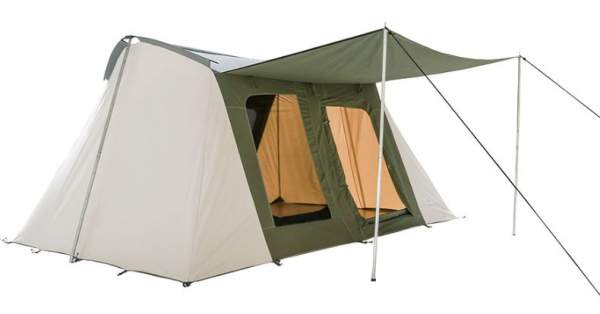 ---
Key features & benefits
Canvas tent for 8 people.
Cabin type structure.
Two doors with windows + two windows.
Waterproof & breathable.
Polyester waterproof carry bag.
---
What is in the name – what type of the tent is this
This is a new item on the market, a canvas cabin-style tent. If you are familiar with Springbar and Kodiak tents, then this structure is already known to you. So here again you have a tent with two legs only and as such it is not freestanding.
It is with the roof construction that includes the main ridge pole and four spring rods that create tension in the roof. The ridge pole is with the same system as in the mentioned well-known tents, so you have two tubes, plus a third sleeve brace which overlaps the connection between the two tubes and it is locked in place with pop-up pins on both ends.
As mentioned, it is not freestanding so you have to stake the tent properly and once this is done, it is able to withstand lots of pressure from any side. There are 16 loops in total around the perimeter where you stake the tent. This is a tall and pleasant structure with a peak height of 78 inches (198 cm), with large doors and with breathable walls.
On the site of this brand, they call the tent Family Explorer Basic 10 x 14, and the word Basic here implies that it is different from their Family Explorer Deluxe version which has triangular windows on the sides. Note that both types are available as 6 and 8 person tents, i.e., 10 x 10 and 10 x 14 ft. If you are familiar with Kodiak Canvas tents you realize this is very similar to the Kodiak VX tents which have the same side windows design. So this Basic version is without side windows but the rest of the design is very similar to their Deluxe version.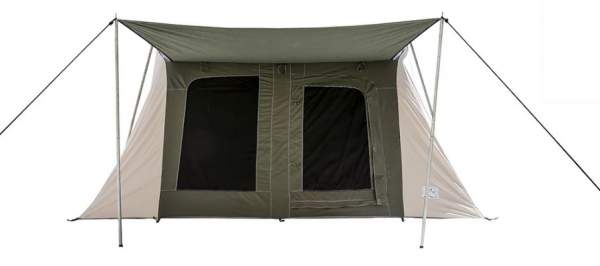 ---
Who is it for
Capacity-wise, they claim it is for 8 people. The floor area is 140 ft² (13 m²) and if used by 8 people this would give 17.5 ft² (1.6 m²) per person. This may be enough if you have no much stuff in the camp. There are no external storage spaces so all your gear must be inside. So for a true family camping, in my view, this number of users should be downgraded by half.
Seasons-wise and climate-wise this is a true 4-season tent and suitable for any environment. The canvas material they use here is thick and you have a bit of insulation if the tent is used in a cold environment. All the openings are with mesh and panels so you can close them completely when it is cold. There is no mesh on the ceiling and this is a big difference as compared with the usual summer camping tents.
The tent must be staked properly so plan the area where you will pitch it, rocky or frozen terrain, as well as sand and gravel, is not an option.
But if you use it in a warm environment, a mesh is available on the doors and windows and the wall material is naturally breathable, so you can always have air circulation and the tent creates a cool atmosphere because of the thick canvas.
Weight-wise, this is certainly not where this tent shines. It weighs 86 lb (39 kg) so not everybody can handle it with ease. Note also that it is bulky when packed, 49 x 14 x 11 inches (124 x 36 x 28 cm). Clearly, you need quite some space in the car for such a tent.
---
Materials & construction
The poles, stakes & zippers
This is all steel and you have 15 pieces in total, and those include tubes and rods, so the mentioned weight should not be a surprise, see the picture below. You have galvanized steel poles to give protection from corrosion, the two supporting steel pipes are thick and the same holds for the roof ridge poles.
The 16 pegs are also steel and they are 12 inches long. Only the T-shaped joints on the roof are aluminum. They use YKK zippers so you have the best of the best.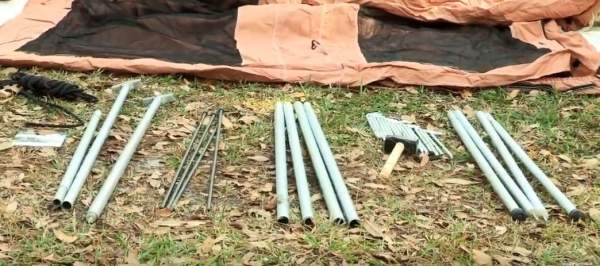 The fabric
They describe the tent's material as a double fill 100% cotton army duck canvas with has natural UV protection and also a bit of insulation. This is a high-density tightly-woven canvas with a breathable and high-performance finish and weightless water & mildew chemical treatment.
The roof is 12-oz silver-coated cotton which reflects back most of the heat and this is what makes the ambient temperature cooler than in other tents. The doors and the windows are with No-See-Um Mesh that keeps even the smallest bugs out.
The floor is a polyvinyl high density coated, 16-oz and heavy-duty. All seams are double-stitched and corners are reinforced.
The awning
This tent has a large awning, so this is a large flap supported by two poles and you keep it standing with the help of guylines, see the picture below. The design is the same as in the Springbar and Kodiak tents. This is definitely a bonus and useful addition. It comes with two awning poles included in the package, you can see them in the picture above.
But in all these tents the awnings tend to sag and to collect water when used in the rain, and they are not removable. So when it is raining you might want to roll it up, but you will have a roll above the door and it will funnel and collect the water in such a state and it might start liking on the door and the window.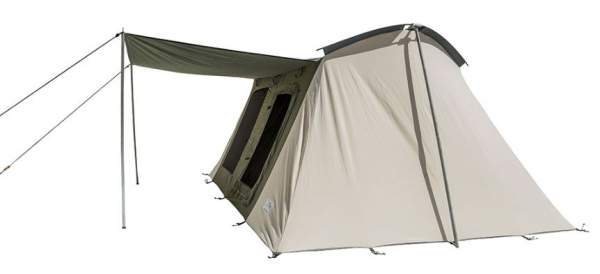 One feature that is missing is obviously a possibility to detach the awning. Yet another is this – one person cannot roll it up, it is simply too wide. So two people are needed for such a simple task. This is the same also in the Kodiak and in Springbar tents. An extra bar sewn-in at the end of the structure would allow one person to do this easily, this would be rolling the awning around such a bar. They might add such features if they ever redesign this tent, this would make it different from the competitors.
Waterproofness
They claim the tent is fully waterproof. So I asked them about waterproof rating and got an answer that they do not apply any waterproofing because of natural materials used here; such a treatment would not allow them to breathe. This is a logical answer.
On their site, I have found a statement of the water repellency rating 450 mm. This is practically at the level of an umbrella, but the situation is not so simple and the waterproofness rating for canvas tent should be understood a bit differently than for synthetic tents. Cotton swells in humid and rain conditions and although it becomes wet, the water should not pass.
Other features
Oversized door on the front and on the rear side, both with mesh windows and panels.
Windows on the front and on the back side. They open from the inside.
Multiple O-rings to hang clothes and to fix strings.
Functional cabinet, pocket and roof organizer to store small and important items
Setting the tent up
I think it is best that you see this video. Note that they write this is Explorer Basic 10 x 14 tent, but in fact, this is Explored Deluxe 10 x 14. The structure is the same, just ignore the side windows:
---
Specifications
Type: cabin tent, non-freestanding.
Capacity: 8 people.
Weight: 86 lb (39 kg).
Dimensions: 14 x 10 ft (427 x 305 cm).
Peak height: 6.5 ft (78 in; 198 cm).
Area: 140 ft² (13 m²).
Area per person: 17.5 ft² (1.6 m²).
Packed size: 49 x 14 x 11 in (124 x 36 x 28 cm).
Frame: steel.
---
White Duck Outdoors Family Explorer Basic vs Competitors
Here you have this White Duck tent side by side with two other tents built in exactly the same style, all are canvas tents of course. The differences in the parameters are not big, so it all comes to the price and to the reliability of the brands. Please follow the links in the table to check for the updated prices.
49 x 14 x 11
(124 x 36 x 28)

43 x 13.5 x 13.5
(109 x 34 x 34)

46 x 17 x 15
(117 x 43 x 38)

---
Final thoughts
This White Duck Outdoors Family Explorer Basic 10 x 14 Canvas Camping Tent is one out of many tents that have been appearing recently on the market, all built in the same style. Note that the Teton Sports' tent shown in the table above is also a new item on the market.
This tells you that the trend is growing and these canvas tents are becoming more and more popular. There are many good reasons for that and I hope you have seen some in the text above. This is a pleasant and breathable natural material and the feeling in such a tent is far different from any synthetic structure. But you have seen the price, the weight, and the packed size. You might want also to check their bigger and very different tent the White Duck Outdoors Alpha Wall Tent 12 x 14.
This tent is expensive but this is a normal price for such a canvas tent. You have seen some of its competitors in the comparison table below. See how I rate it for several of its features:
I have included this tent in my list of best canvas camping tents, so have a look if you need to see some more options. It is also in my list of cold weather camping tents. If you need something a bit smaller from the same material, check this Kodiak Canvas Flex-Bow VX tent.
Thank you for reading. Please use the comment box below in the case of comments or questions. Have a nice day. 

---