---
This Outwell Woodburg 6A Air Tent is a camping castle with its 4 rooms plus a large porch, an inflatable tent without solid poles, with a huge waterproof rating for full protection from the elements.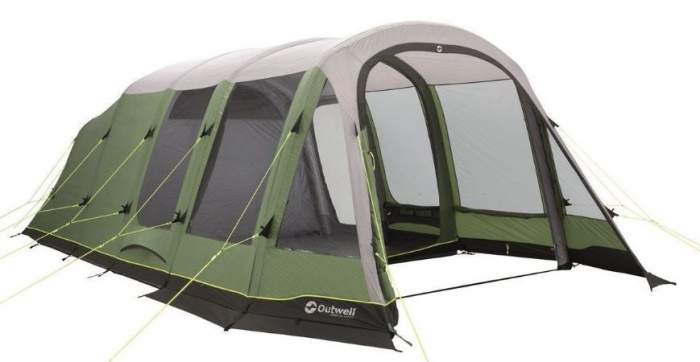 ---
Key features & benefits
Air beams tent.
Huge area.
Tunnel shape.
4 Rooms plus a porch.
Impressive waterproof rating.
6 Windows plus 2 external doors with 2 windows.
6 Inner doors.
Many storage pouches.
---
What is in the name
This Outwell Woodburg 6A Air Tent is the smaller in their mini-series that includes also a 7-person tent. The official name used in the title is a bit awkward because A implies air, and the word Air is also in the name. The point is that this is a tent without solid poles, you have 5 inflatable beams instead. All the beams are with their separate valves and one person can pitch the tent with ease.
The tent is huge and tunnel-type, in fact, it looks like a bus to me, see the picture below with its most important dimensions. As you realize from the numbers, the overall dimensions are 23.12 x 10.83 ft (705 x 330 cm). The tent is very tall with its 220 cm outer height, and equally important is the fact that the side beams are almost straight so the tent's walls are steep and high, almost like in a cabin tent. 

The rooms
This is a 4-room tent, and its structure should be clear from the floor plan below. So you have one inner tent on the back, with a removable divider that creates two asymmetric rooms for 2 and 3 people. There are huge wall pockets above the floor in both of the rear sleeping rooms.
A huge living room is in the middle, and there is a porch on the front where yet another single-room inner tent is added.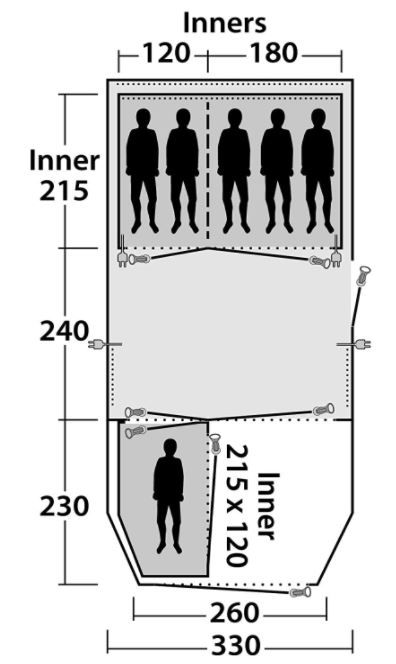 The inner area (the living room plus the inner tent) is with a sewn-in and sealed floor. But the inner tent has its own floor as well, so you have two floors in this part of the tent. This inner area is also a hybrid double-single wall structure, with two walls in the back inner tent and one wall in the living room.
The porch is huge and this is a floorless area, so here you can use all your camping furniture without thinking of damaging the floor. But the single-tent in the porch has its own sewn-in floor, you can see it in the picture: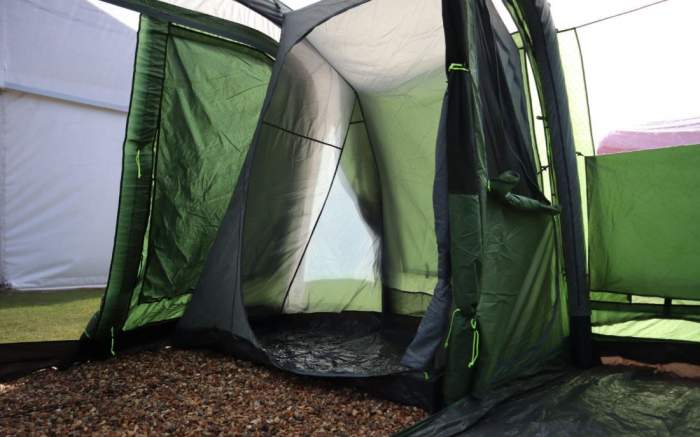 Note that you can remove both inner tents and this will give you a large single-room space that can be used for family events in the garden. In any case, the tent can be used as a 1, 2, 3, or 4 room tent, so you have a lot of versatility with such a design. I have added it to my list of best 4 room tents.
With solid translucent panels on all sides of the porch, you have panoramic views everywhere around. But you can combine this with mesh to have air circulation if you feel warm. 
The doors
There are two large external doors, one on the front and one on the side. The former is double size and triple-layer, so you have a full-size double-wide mesh door plus a double-size panel for privacy and a solid panel for views. These doors are with dual zippers so you can open them as you wish, fully or partly. The front door is 2.6 meters wide, enough to drive a car through it. The side door is without mesh, so this is just a panel, you can see it below.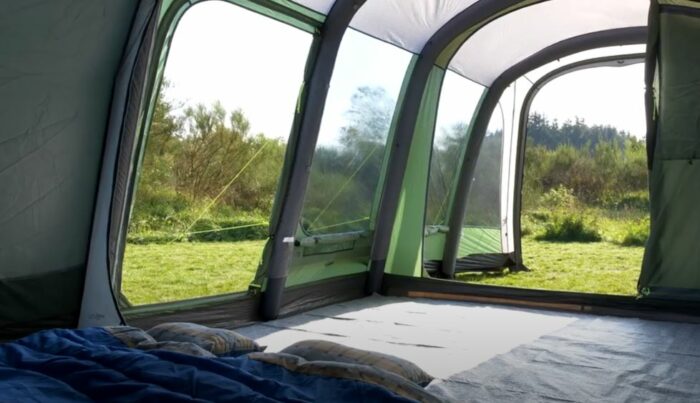 A bit more about the inner doors. This single-person inner tent in the porch has two doors, you can get to it from the living room and from the porch. One of its doors matches the narrower inner door that you will see below. There are several storage pockets above the floor inside of this inner tent, you can see this also in the floor plan given above. So this is a great and useful space. As you realize, it is very wide so perhaps two kinds can sleep there.
The inner wall is with a zipper that goes around it so you can unzip it and fix it to the side with toggles, in this way you get a gigantic living area partly with a floor and partly without it. There are two doors in this removable wall, see the picture below. One of them is narrower and it matches the door on the single-person inner tent under the porch.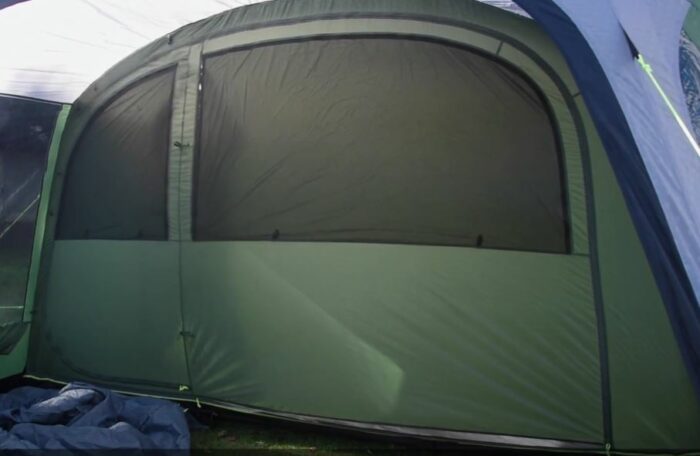 The rear inner tent is also with two doors. But the whole wall of the rear inner tent, with its two doors, can be unzipped almost completely, and you can store it in a small pocket on the floor. All these 6 inner doors have mesh sections and panels in the upper parts, for privacy, and for ventilation.
Windows
There are 6 separate large windows, all solid and tinted, see some below. As mentioned above, you have 2 more mesh and solid windows on the front door. Note that all solid windows have panels with toggles for privacy. You can fix them half-way up and still have views around with some privacy, or you can fix them all the way up to have full privacy.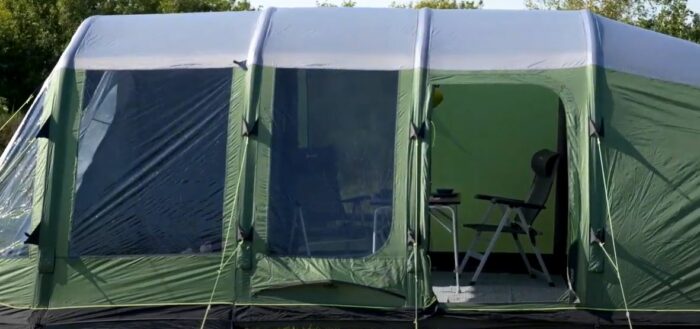 Ventilation
This tent has so many mesh sections that ventilation should not be an issue in any environment. The inner door has huge mesh surface in the upper part, in fact, half of the door/wall is mesh, and this door is fully protected under the porch so you can keep it unzipped or with mesh alone all the time unless you feel cold.
There are also low vents under the windows in the living room, and one huge rear vent is behind the rear inner tent, see the picture below. The positions of the vents are given by the dashed lines in the picture with the floor plan above. The vents you can keep open all the time, as you see there are Velcro stiffeners for this purpose.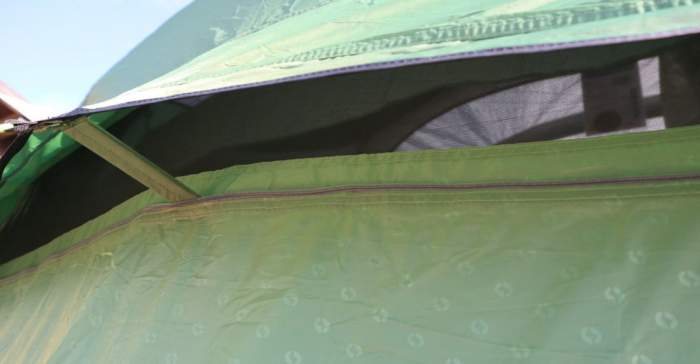 Materials
The shell is an Outtex polyester with a 4000 mm waterproof rating, and all seams are taped. The inner tent is a breathable polyester. For tubes they use what they call the Rigid Air System frame that allows for a maximum pressure of 9 psi/0.6 bar. The inner tent is with a darkened ceiling to reduce glare, so this is a sort of a dark-rest tent. On the floor, you have a double-coated waterproof 100% polyethylene and it is sewn-in.
There are many guyout lines to stabilize the tent, and a full set of three types of stakes is included, see the picture: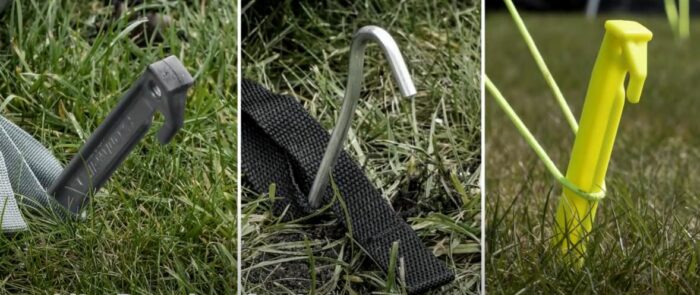 Other features
Hanging points for lanterns in the living room and in the porch. 
Velcro loops to pass a cord.
E-cable ports under the windows in the living room.
E-cable ports for the rear sleeping rooms.
Pre-shaped air tubes for more headroom and interior volume.
A carry bag is included.
Please see a bit more in this short video:
---
Who is it for
Regarding the capacity, the tent is officially for 6 people only. But for this you have four separate areas and the space is huge, here are some numbers. The total floored area is 189 ft² (17.59 m²). This makes 31.5 ft² (2.9 m²) per person. If you look again at the floor plan above, you will realize that the living room can easily accommodate 5 people extra if necessary. 
But see also the porch with its remaining floorless 52 ft² (4.83 m²), this is with the single-room inner tent in place. So there is plenty of space here. The tent can accommodate up to 11 people.
Regarding seasons & climate, this tent is built for the EU market and it is perfect for a cooler climate because of its solid windows. But it will work well anywhere. So this is a true 3-season tent and even more than that. It is important to avoid snow on the roof because air beams cannot withstand a lot of pressure from the top. But they claim the tent can withstand wind force 9 and this means winds in the range 47-54 mph. 
Regarding the weight, the tent is heavy with its 54.7 lb (24.8 kg). But you have seen its dimensions, so this weight is justified and my rating below is very good. The packed size is less impressive, it measures 36.6 x 19.3 x 19.3 inches (93 x 49 x 49 cm) in its carry bag. It is portable for short distances but this is a car camping tent.
---
Specifications
Official capacity: 6 people.
Weight: 54.7 lb (24.8 kg).
Dimensions: 23.12 x 10.83 ft (705 x 330 cm).
Inner floored area: 161.6 + 27.8 ft² (15.01 + 2.58 m²).
Floorless porch area: 52 ft² (4.83 m²).
Packed size: 36.6 x 19.3 x 19.3 in (93 x 49 x 49 cm).
Peak inner height: 82.68 in (210 cm).
---
Final thoughts, rating, pros & cons
In the summary of this Outwell Woodburg 6A Air Tent review, I must say that there are no many tents of this type that can match the number of its features. The organization of the space is excellent, you have a pleasant construction with many solid and tinted windows around. It can accommodate far more people than what the official capacity tells you.
This is a modern and advanced design with air beams, so it is very easy to use, one person can have it ready in 15-20 minutes easily. I have added it to my list of best tunnel tents. Fully recommended.
Please see how I rate this tent against my standard set of criteria, it scores great in most of them:
For more tents with air beams please check under the category Inflatable tents. If you want a tent with classic poles, but in the same tunnel shape, check this Robens Green Castle 6 Person Tent. Let me know if you have questions, there is a comment box below. Thank you for reading and have a nice day.