---
This site is about camping tents for families and for groups of people. The term family here should be understood as parents with at least one kid. The term group can imply a combination of people of various ages and gender.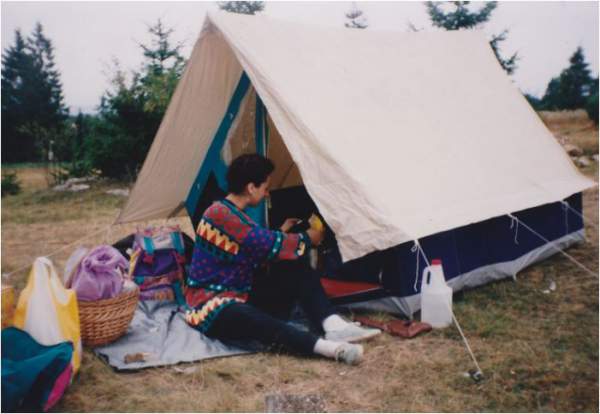 My own personal family story with tents has started practically since the moment I got married, and this was 36 years ago. Perhaps you would not believe, but my wife and me went on a honeymoon trip to a national park, and we were camping in the area where this was forbidden. The first night we realized why this was so; there was a bear walking around and we could hear it breathing heavily.
Obviously, we were stupid and ill-informed, or perhaps this was just my natural arrogance – nobody loves the Nature more than me, so nobody will tell me where I can stay overnight. Naturally, we were frightened and with the first daylight, we moved our camp to a regulated and safe camp zone. This was in a country that doesn't exist any longer, disintegrated a few decades ago, but the national park is still there of course.
A few years later, with our two daughters, we were camping somewhere in the same tent. It was a tent for two without a proper vestibule, see the picture from that trip, an old-style A-frame type tent which we still keep at home, so imagine the mess. We were a young couple and could not afford to buy something bigger. But we managed somehow.
From such experiences, I know that one needs space in a tent, otherwise it can be a nightmare. This is why, if you go camping with kids, I always suggest having a tent that is designed for two people more. What I mean by that is the following: if you are a couple with one kid, have a tent for 5 people, and if this is about 2 kids use the tent for 6 people. This may be dependent on the tent's design of course, but better more space than less.
The weather is not always great when you are outdoor, so you may spend more time in the tent than you have planned, and you need some space for your daily activities in such circumstances. After all, kids will need meals, and you will have to prepare them somehow. So these are the reasons for presenting tents for 5 people plus in this site.
However, there are some nice exceptions, and this is why we have a category of tents for 4 people. The reason is that there are some truly exceptional tents with the declared capacity of 4 people only, while the actual area is such that they can accommodate twice as many users and they can still have full comfort. To see what I mean, it is enough to see the incredible Bushtec Adventure Echo 2200 Luxury Camping Tent with its inner area of 206 ft² (19.18 m²). In fact, this tent is also in the group of extra large tents here in the site, can you believe this?
Please get in touch with me if you have any question or comment. There is a comment box below.
JV