The North Face Wawona 8 Tent is an extended dome type tall shelter supported with aluminum poles, with 4 doors, 2 rooms, a partial coverage fly, and a large vestibule.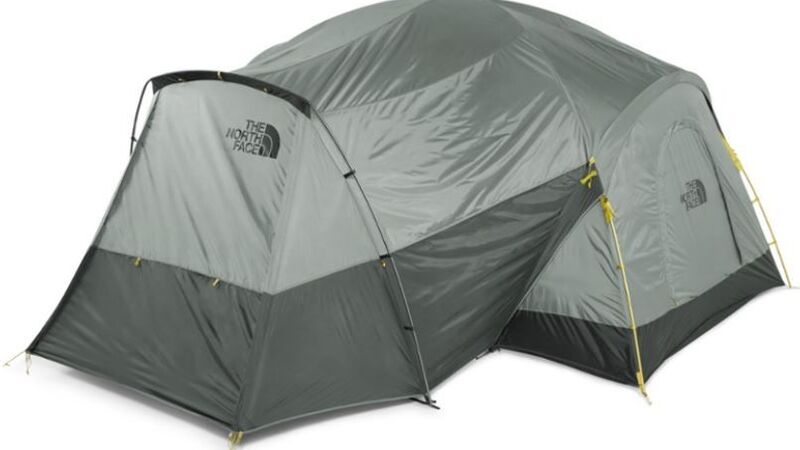 ---
Key features & benefits
Extended dome type.
Aluminum poles.
4 Doors.
Large vestibule.
Tall tent.
---
Overview
This The North Face Wawona 8 Tent can be described as an extended-dome type tent, and you can realize this when you see its picture without the fly shown below.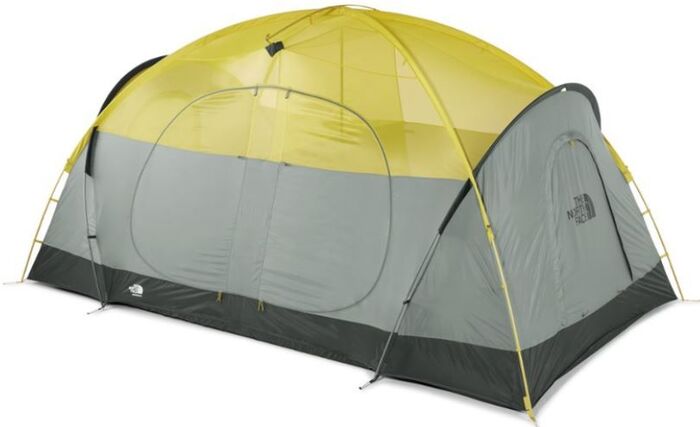 Without the fly, the structure is completely freestanding. There is a removable divider in the middle so the tent is formally a 2-room shelter. Note also that the peak height is 78 inches (198 cm).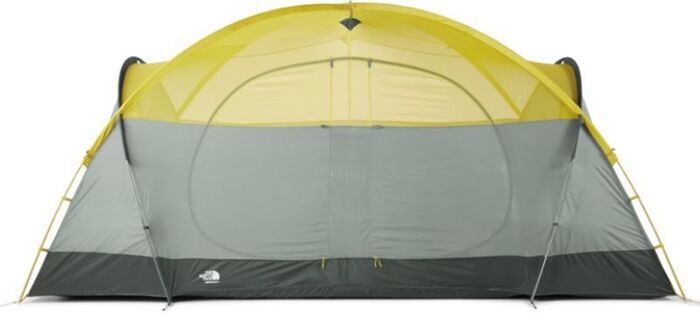 The doors & windows
The picture below shows the tent with the doors open, and you can see also its two doors on the narrow sides of the tent. These side doors are full double-layer type, so you have a zippered mesh and a separate zippered panel. The two front doors have mesh only on the upper sections.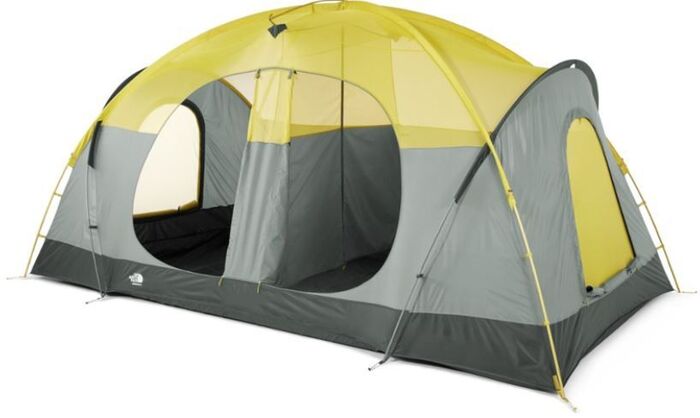 This means that you can have 4 windows if you keep the side panels unzipped and if the vestibule is open as in the picture below. When the fly is on, there is an extra loop that supports the vestibule roof. So the tent must be staked to have the vestibule functional.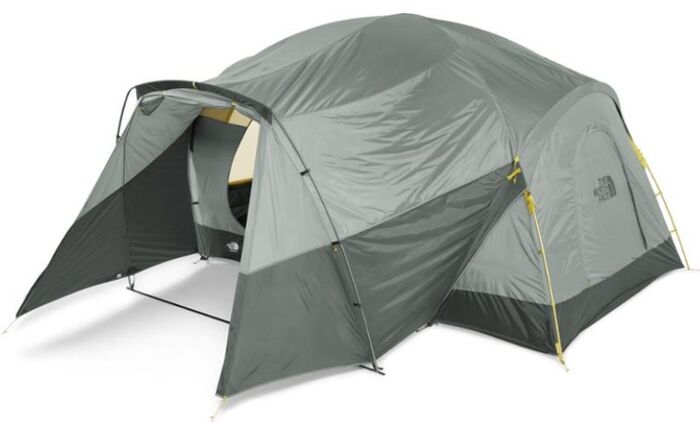 Note that the fly has two zippers on the rear side, so you can roll it up when the sky us clear and this creates yet another panoramic rear window: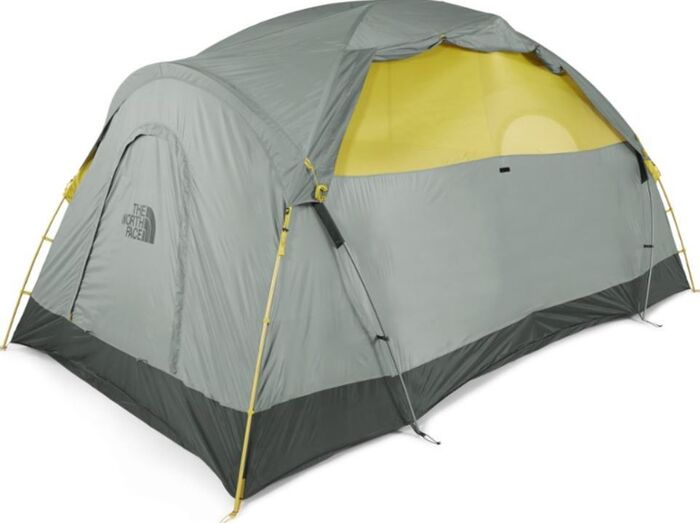 With the vestibule's flap rolled up, you have a nice area for sitting in the shade. So here you put your camping chairs, and you can also use the space for cooking. See below how this looks: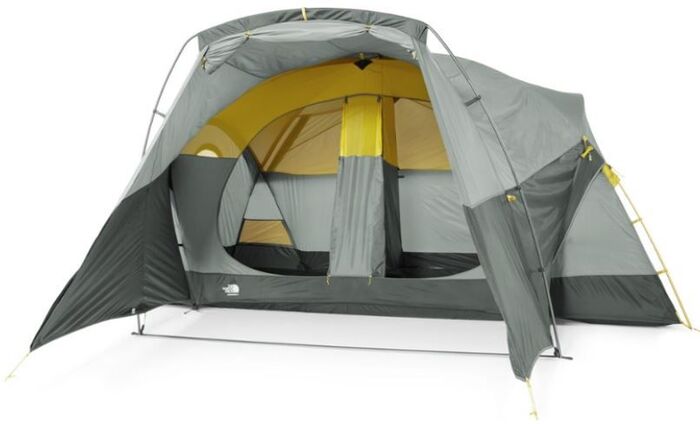 Materials
The poles: You have quality aluminum poles, they write they are DAC MX. I have tried to find out what this MX means, without success. There are 6 of them, and the main loops create 5 intersection points so the structure is very strong.
One of the poles is a short ridge pole that pulls the front and rear walls up and make them almost vertical. This adds to the volume inside.
The fabric: The fly is a partial coverage type and this is a 75D polyester with 1200 mm PU coating. The same material and rating is used for the walls. The floor is much tougher 150D polyester but the rating is the same. I find it quite low for a floor.
Ventilation
The tent has plenty of mesh as you have seen in its pictures without the fly. So this all will work great as long as you can keep the vestibule open, or the rear side of the fly rolled up, and also the side doors with mesh only.
But when it rains, you have to keep the rear zippers closed, and the same holds for the side doors. So it is surprising that they did not include any vents. There are no floor vents either. I wonder what they were thinking.
Other details
There are internal organization pockets to keep essentials organized.
There is also a wall organizer, see the picture.
Color-coded poles.
A lantern loop is available.
External guylines provide for extra security in inclement weather.
Made without flame-retardant coatings.
Please see more about this tent in the video:
Here you can see more about setup:
---
Who is it for
Regarding the area, at REI they describe it as a 8+ person tent. But it offers only 112 ft² (10.5 m²), and this would make 14 ft² (1.3 m²) per person. So it is far from clear what they mean with that +, it makes no sense at all.
It may be possible to put 8 sleeping pad on the floor, but this tent is definitely not suitable for 8 users. It is best to downgrade it to 4-6 people. There is a large vestibule that adds around 36 square feet (3.3 m²) so this adds to my rating.
Regarding seasons & climate, they describe it as a 3-season tent and this is indeed so. It is with lots of mesh but the tent is closable. The poles are strong and it should perform good in not too strong winds.
Regarding the weight, with its 24 lb 3 oz (11 kg) the tent is moderately light. But I do not think this is so important because it is built for car camping.
The packed size is not very impressive, it is long when packed, the carry bag shown below measures (L x D) 37 x 10 inches (94 x 25 cm).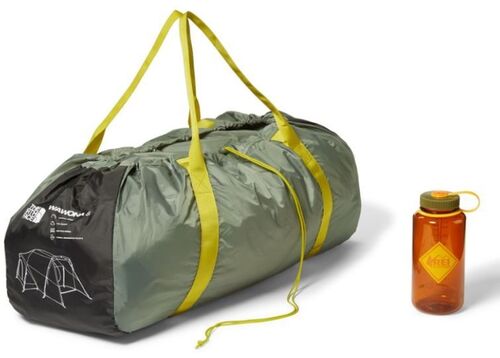 Regarding the price, it is quite steep, it is fair to say that there are much more affordable options in the group of Tents for 7 & 8 People.
---
Specifications
Weight: 24 lb 3 oz (11 kg).
Official capacity: 8 people.
Dimensions: 168 x 96 in (429 x 244 cm).
Inner area: 112 ft² (10.5 m²).
Inner area per person: 14 ft² (1.3 m²).
Porch area: 36 ft² (3.3 m²).
Peak height: 78 in (198 cm).
Packed size (L x D): 37 x 10 in (94 x 25 cm).
---
Final thoughts, rating, pros & cons
In summary, The North Face Wawona 8 Tent looks cool and it has quite a number of interesting features. It is tall and it has a very useful and large front vestibule.
With so many doors it is easy to get out when you have to go during the night. Two rooms offer some option for privacy. But I have some objections, you can see them summarized in the rating table below.
Here you can see how this tent stands against my standard rating criteria that I apply consistently to all of them here in the site so that you can easily compare:
BEST PLACEs TO BUY:
For more tents of this shape please check in the category Dome Tents and also in the group Tents for 7 & 8 People.
Let me know if you have questions, there is a comment box below. Bookmark this site and come again, this will keep you informed, as you realize I add texts here on a regular basis. Thank you for reading.