The Big Agnes Wyoming Trail 4 Person Tent has two inner floored rooms, one large floorless living room, and two vestibules, and this all is supported with quality DAC aluminum poles.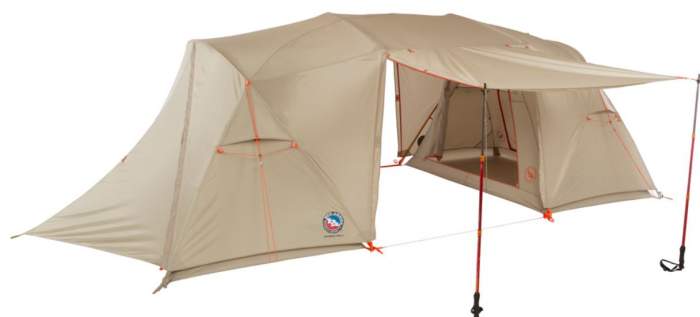 ---
Key features & benefits
Two inner tents.
Huge porch.
Two vestibules.
Four doors.
Awning setup.
DAC aluminum poles.
Plenty of storage pouches.
Backpack style carry bag.
---
Overview
This Big Agnes Wyoming Trail 4 Person Tent has been on the market for a decade already, but they have launched a new version for the coming season. There are differences between the two versions, the easiest way to recognize which is which is the color, the old version is orange.
It is a bit hard to determine which group it could fit in. With a but of imagination, it can be described as a very extended dome structure, but frankly speaking its shape is completely unique and does not belong to any of the well-known groups.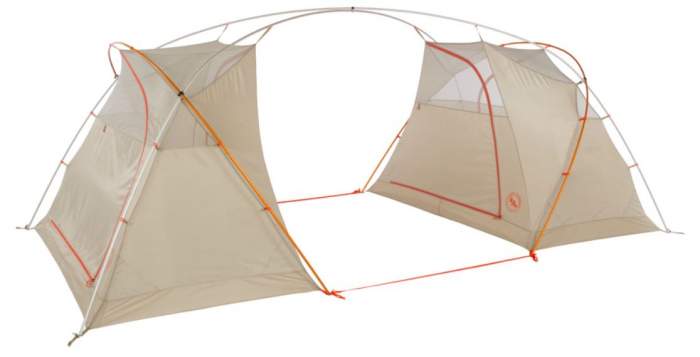 From the picture you can see that there are two inner tents attached to the frame, and the space in between is normally under the fly so this is a huge floorless living area. You can call it a porch or a floorless room.
You can see a bit more in the floor plan below. Note that the tent is not particularly tall for its overall size. The first picture shows the height in the inner tents, and below you have the numbers for the central living room.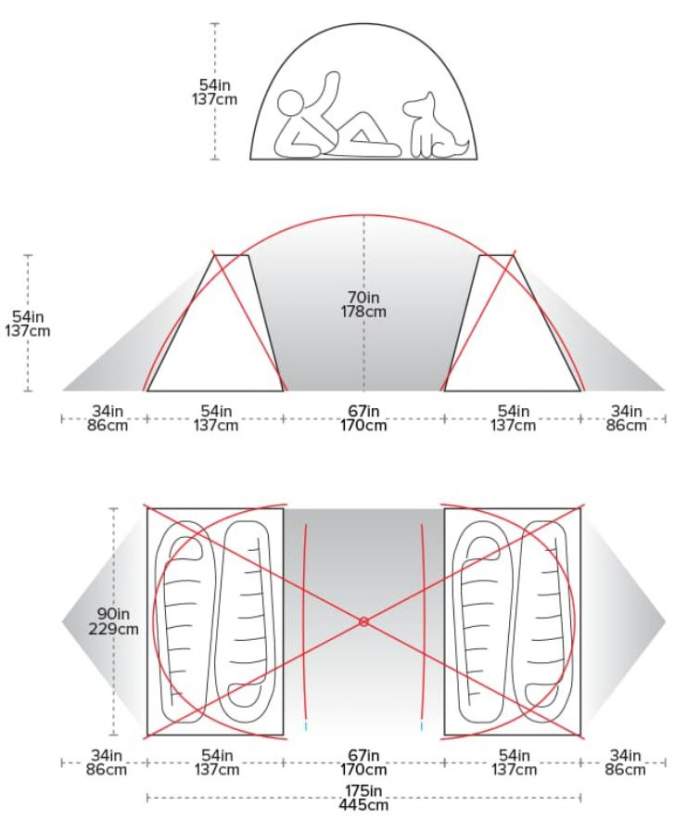 The doors & vestibules
When the fly is on (the picture below) this becomes a fully enclosed structure. The gray area shown in the picture above is the total covered space, and you can now see that there are two vestibules on the narrow sides of the tent.
There are no less than four external doors, two of them are in the central room. These are all smooth opening, dual-zip doors with easy grip zipper pulls.
Each of the inner tents has two inner doors, one leads to the central porch area and one into the vestibule. So the space organization here is simply excellent.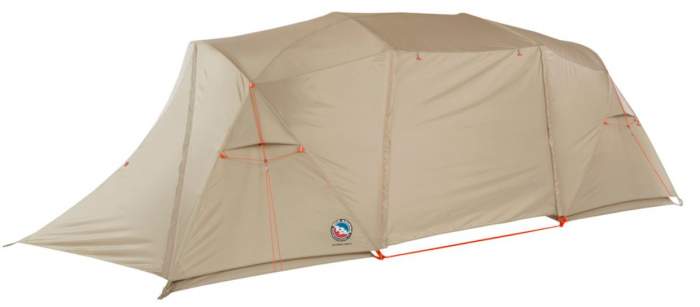 Awnings: Both doors in the central room allow for large awnings with the help of your trekking poles. This adds lots of pleasant space for sitting in the shade.
Materials
The poles: You have high quality DAC lightweight aluminum poles set that includes two main long poles plus several shorter loops.
The fabric: The fly and floor are the same polyester taffeta with a 1500 mm waterproof polyurethane coating. All seams are taped with a waterproof polyurethane tape, so you should be completely protected. The inner tents canopies are made of a breathable polyester taffeta and mesh.
Other details
14 Big Agnes Dirt Dagger UL tent stakes with patent pending I-Beam aluminum construction.
Easily stow unzipped doors with Quick Stash door keeper located on the tent body door.
6 Interior mesh pockets in each tent.
A backpack-style carry bag with adjustable shoulder straps, webbing handles, and a zip closure.
The tent is compatible with Triangle, Trapezoid, Large Trapezoid, Wall, and Square gear lofts. All of them are sold separately, but if you have them from your other Big Agnes tents, you can use them here.
Fast Fly setup available, a footprint can be ordered separately, see how this looks: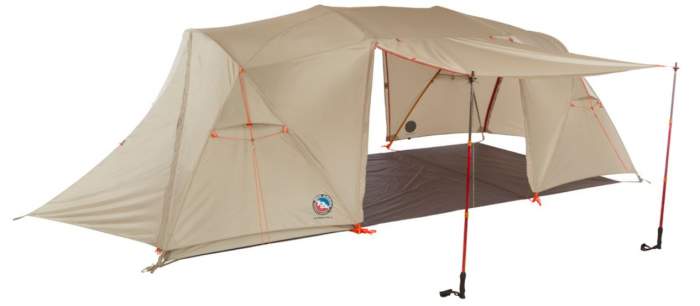 Ventilation
The inner tents have lots of mesh on the canopy, and the fly has roof vents visible in the pictures. They are positioned quite low. The inner doors have mesh only on the upper sections.
There are no floor vents, pity, the tent would be much better with them. If it is really warm, you can keep the inner doors open of course but then insects can get in.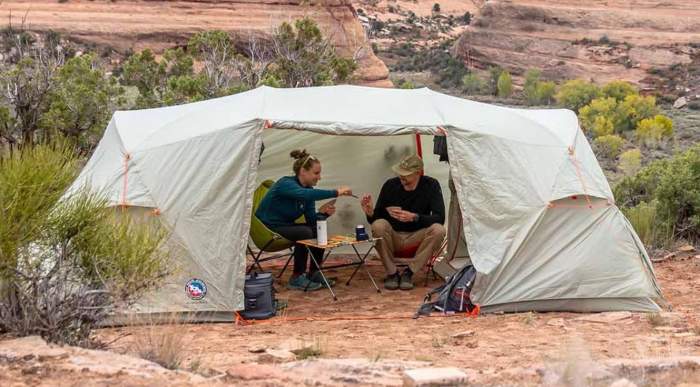 Please see more in this video:
---
Who is this Big Agnes Wyoming Trail Tent 4 for
Regarding the area, the tent is officially for 4 people, so let's see what you have. The two inner tents are the same size and they have together 67.5 ft² (6.27 m²). Their dimensions are such that you can easily put 2 + 2 sleeping pads. The inner area per person is 16.9 ft² (1.56 m²).
But there is also the central room/porch with its 42 ft² (3.9 m²). This is not all, the two vestibules add 11 + 11 ft² (1 + 1 m²). So the total covered area is impressive 131.5 ft² (12.16 m²).
Observe also that the two inner tents are completely separated, so this is the best privacy configuration you can have in a tent. This makes it great for two couples or for parents with older kids.
You do not have to use both inner tents of course, so if you leave it at home, you will have a much larger living area. This is an excellent option for a couple. In any case, I have included this tent in my list of best family camping tents for 4 people.
Regarding seasons & climate, the describe it as a 3-season tent, so it is up to you. I see it best suited for the warmer part of the year, say late spring, summer, and early autumn.
The tent has lots of mesh for ventilation, yet it is fully covered with its huge fly. It is also relatively low profile and aerodynamic, so if you orient it properly, it will perform great even in windy places.
Regarding the weight, with its 22 lb 5 oz (10.12 kg) it looks heavy, though the total covered space is huge. They provide the trail weight, but this is certainly not a tent for the trail.
On the other hand the packed size is 25.5 x 16.5 x 9.5 inches (65 x 42 x 24 cm). This is a bit bulky but it is not so bad.
---
Specifications
Weight: 22 lb 5 oz (10.12 kg).
Official capacity: 4 people.
Dimensions: 175 x 90 in (617 x 229 cm).
Inner floored area: 67.5 ft² (6.27 m²).
Inner area per person: 16.9 ft² (1.56 m²).
Porch area: 42 ft² (3.9 m²).
Vestibules area: 11 + 11 ft² (1 + 1 m²).
Total covered area: 131.5 ft² (12.16 m²).
Peak height: 70 in (178 cm).
Packed size: 25.5 x 16.5 x 9.5 in (65 x 42 x 24 cm).
---
Final thoughts, rating, pros & cons
In summary, this Big Agnes Wyoming Trail 4 Person Tent is a new version of the tent that has been around for years. Its organization with multiple rooms and doors is excellent. The tent provides lots of storage space under its vestibules and in its numerous wall pouches.
The carry bag is an excellent piece, it is with adjustable straps and you can carry it as a backpack. The price is steep, but you have a quality feature-rich tent from one of the best known outdoor brands. Fully recommended.
Below you can see how this tent stands against my standard rating criteria that I apply consistently to all of them here in the site so that you can easily compare:
BEST PLACEs TO BUY:
For more tents from this brand please check in my separate list of Big Agnes camping tents.
Let me know if you have questions, there is a comment box below. Bookmark this site and come again, this will keep you informed, as you realize I add texts here on a regular basis. Thank you for reading.