The Cabela's Ultimate Alaknak 13'x27′ Outfitter Tent is incredibly large and tall, built from a durable fabric, with two double-layer doors, multiple vents, many windows, and with two pipe jacks.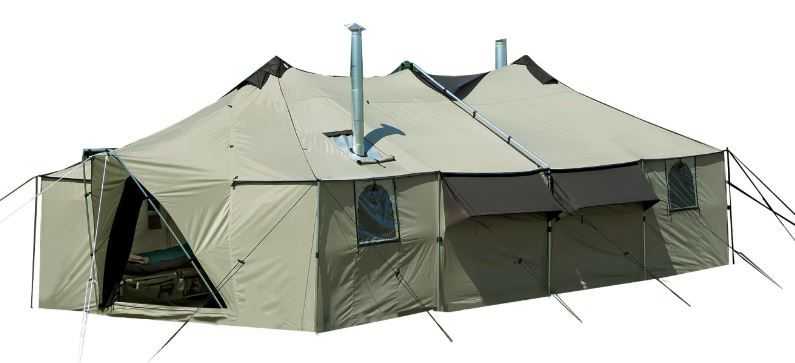 ---
Key features & benefits
Cabin type tent.
Enormous floor area.
Extremely tall tent.
2 Stove jacks.
2 Doors.
Very strong fabric.
4 Solid windows.
4 Mesh windows.
Numerous roof vents.
6 Storage elements with unique fold-down shelves.
YKK zippers.
---
What this is about
So this Cabela's Ultimate Alaknak 13'x27′ Outfitter Tent is the largest shelter from their Alaknak Series that is presented here in the site. In fact, this is the largest tent ever presented here. The numbers in the official name tell you the base dimensions.
This is also an incredibly tall tent with two peaks, and the maximum height is 116 inches (295 cm). It is built as a cabin tent with completely vertical walls, but it also has two inner poles that give a bit of feeling of a bell tent. The height at the side walls is 5 feet (152 cm).
The tent is a single-layer and single room structure.
The doors & windows
It has two doors on its narrower sides, and these are double-layer, with full size mesh and with panels. Note that both doors have awnings that are supported with their A-frames. So these are dry entry points, very useful to have.
As for the windows, here you have a combination that is unique to this Alaknak series.
So it has 4 solid windows, those are the ones visible in the picture below that are inverted-U shaped; there are two more on the opposite side. These windows are 3-layer type, with solid translucent panels from outside, with mesh, and with inner zippered panels.

But it also has four windows with hoods from outside. Two of them are visible in the picture above. They have fixed mesh, and from inside they are with closable panels.
Below you can see how the tent looks from inside. Observe the two inner supporting poles.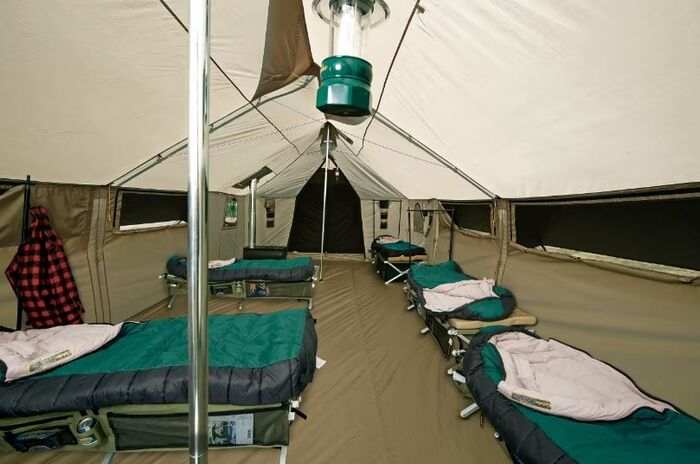 2 Pipe jacks
The tent comes with two integrated 5 inches (13 cm) pipe jacks so you can simultaneously use two wood-burning tent stoves.
They are equipped with flaps to seal the openings when not in use. Because of these features it is included in my list of best tents with a stove jack.
Materials
The poles & stakes: You have 10 perimeter tent poles, 2 interior center support poles, and an exterior support pole, plus two support frames for the doors. All are very thick and strong.
There are also 12 inches steel stakes included in the package together with a full set of guylines.
The fabric: They use what they call the X-Treme 250D polyester oxford with a 1000 mm PU coating. They write it is UV-, fire-, abrasion-, and puncture resistant. In specifications they write it is 'highly breathable' which makes no much sense to me.
The floor is even more durable 300D polyester oxford with a 3000 mm waterproof coating. Note that you have zippered openings at the place for a stove.
The mentioned solid windows material is vinyl. The doors are with top quality YKK zippers.
Other details
There are 6 storage sets on the walls with fold-down shelves with patented cup holders.
A large zip-close storage bag is included.
Ventilation
The tent has mesh on all 8 windows and its two doors. But there are also separate vents above doors, you will see them in the video, plus several roof vents.
So there is nothing really to object here except for the fact that there are no floor vents, but you can keep the doors with mesh most of the time to compensate for this.
Please see a bit more in this video:
About the Alaknak series you can see in this video:
Here you can see how to set this tent up:
---
Who is it for
Regarding the area, this is the largest tent presented here in the site so far. The floor area is around 459 ft² (42.6 m²). They do not give any official capacity. So the number of people will depend on the number of stoves used inside, you can have one, two, or none. It is added to my selection of extra large camping tents.
The dimensions are such that you can easily place 16 sleeping pads on the floor if stoves are not used. In any case, this is simply an incredible space. I have included it in my list of best 16 person camping tents.
Regarding seasons & climate, the tent is built with several closable vents and windows, and it has two pipe jacks, so you can use it in any climate.
Regarding the weight, be ready for it, the tent weighs 123 lb (55.8 kg). So this is incredibly heavy and suitable only for places with a car access. Regarding the packed size, the tent is a very long and bulky tube when packed, the numbers are below.
Regarding the price, the tent is expensive but you have seen its dimensions, this is a great value product.
---
Specifications
Weight: 123 lb (55.8 kg).
Official capacity: NA.
Dimensions: 27 x 17 ft (823 x 518 cm).
Inner area: 459 ft² (42.6 m²).
Peak height: 116 in (295 cm).
Packed size: 66 x 17 x 15 in (167 x 43 x 38 cm).
Warranty: the tent comes with a one-year warranty against defects in materials and workmanship.
---
Final thoughts, rating, pros & cons
In summary, this Cabela's Ultimate Alaknak 13'x27′ Outfitter Tent is impressive in many ways and the largest in their famous Alaknak series. You can use it in any climate and in any season, it will protect you no matter the weather. If you need a large shelter, this is it, you will not find anything bigger. Fully recommended.
Below you can see how this tent stands against my standard rating criteria:
BEST PLACEs TO BUY:
For more tents of this shape please check in the category Cabin Tents.
Let me know if you have questions, there is a comment box below. Bookmark this site and come again, this will keep you informed, as you realize I add texts here on a regular basis. Thank you for reading.