The Coleman Mosedale 5 Family 5 Person Tent is a 3-room shelter with dark rest bedrooms, nicely ventilated, and with a high waterproof rating for full protection in a 3-season camping.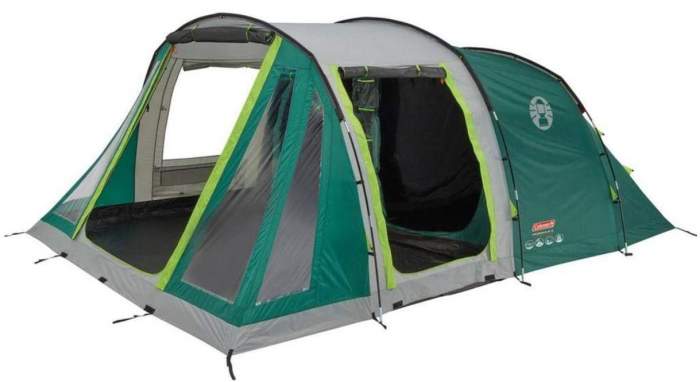 ---
Key features & benefits
3 Rooms.
2 Doors.
Solid windows.
Black-out design.
Ventilated.
Fiberglass poles.
Great waterproof rating.
E-cable port.
---
Overview
This Coleman Mosedale 5 Family 5 Person Tent is a typical tunnel-type tent with 3 rooms. This includes an inner tent that offers 2 bedrooms separated by a removable divider, and a large living room in front of it. The picture below shows its floor plan and some dimensions.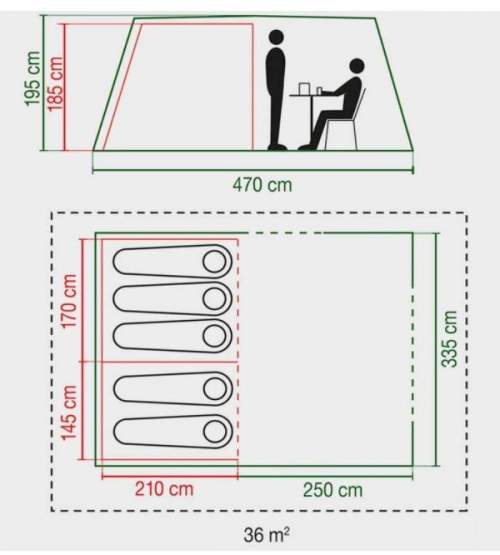 The shell is with its own sewn-in and sealed floor, and the inner tent has yet another sewn-in and sealed floor, so there are two layers in the sleeping area. Even if you remove the inner tent completely, you still have full protection in such a single-room setup.
The tent is with a stand-up height in its bigger part, the peak height is 76.8 inches (195 cm), and the roof poles are with pre-bent ferules for extra volume.
The doors and windows
There are 2 large doors and they are both double-layer type with a full size mesh and a panel. They are marked with the dashed lines in the floor plan above. The inner tent has two doors as well. There are 5 solid windows in the living room.
Materials
The poles: You have 3 long color-coded and shock-corded fiberglass loops. Their attachment to the tent is with the usual pin and ring system at the base, and on the canopy you have clips and sleeves.
The fabric: The floor is a polyethylene with welded seems so this is a fully waterproof plastic. The shell (fly) is a polyester with a 4500 mm waterproof rating, with taped seams, fire-retardant, and with their UVGuard design that provides SPF 50 protection from the sun's rays. As mentioned, you have PVC windows with shutters from inside.
Dark rest design
The inner tent is with what they call the BlackOut Bedroom design. They claim it blocks 99% of daylight, you will not find a brand that can match this. This is why I have included it in my list of best dark rest tent.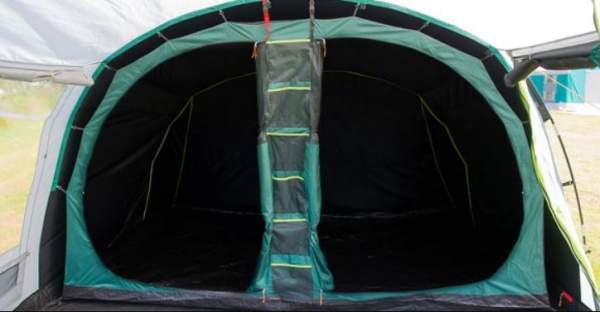 They also write that this allows for temperature control in the tent. So the bedrooms are up to 5°C cooler during the day, and up to 1°C warmer during the night. The latter should be because of the warm air that remains trapped between the two layers of the fabric.
Other features
There is an e-cable port.
A lantern hanging point is in the living room.
There are also several storage pouches between the inner doors, see the picture above.
Ventilation
When the sky is clear, you can use the mesh on the two doors for ventilation. The inner doors have mesh on the upper parts, and the fabric of the inner tent is breathable. The picture above shows that there is a gap between the canopy of the inner tent and the shell, this allows for air circulation to reduce condensation.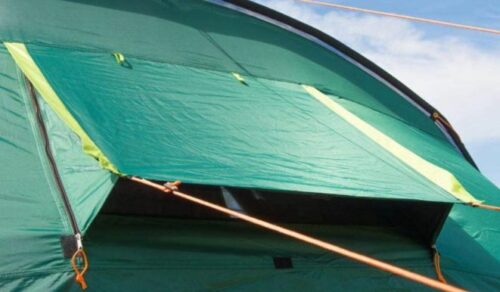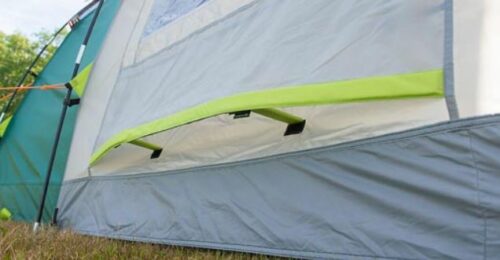 But if you are cold, or if it is raining, you have to relay on vents. So they have added one rear vent behind the bedrooms and one low vent is under the window in the living room. Both are shown in the pictures above.
One vent is above the front door, you can see it in the picture below which shows the tent with closed doors.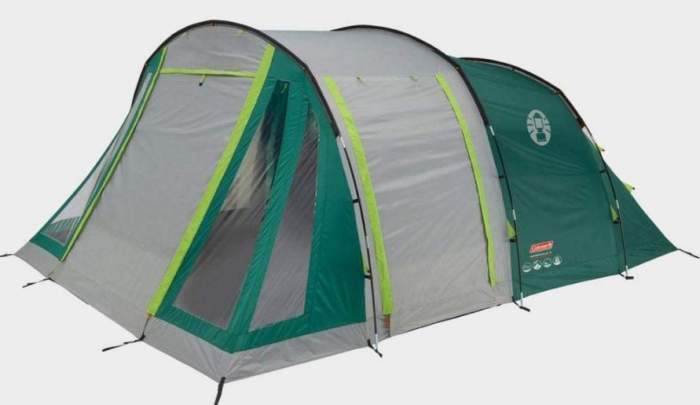 Please see a bit more in this video, it shows the main feature and how to set this tent up:
---
Who is it for
Regarding the area, the tent is officially for up to 5 people. For this you have 170 ft² (15.7 m²), and this would mean 33.9 ft² (3.1 m²) per person. So this is a huge area with plenty of space for 5 users.
Note that the living room is fully protected and with a sealed floor, so if necessary, 5 people more can sleep there.
Regarding seasons & climate, the tent is with a high waterproof rating, and it is fully enclosed with its solid windows. So this is a great option for a cooler climate.
For summer camping you have plenty of mesh and several vents for ventilation. All in all, this is a true 3-season family camping tent. The fiberglass poles are quite thin for such a size, so I would not use it in very windy places.
Regarding the weight, the tent is on the heavy side with its 37.9 lb (17.2 kg). The packed size is 26.8 x 13 x 12.6 inches (68 x 33 x 32 cm) and this is surprisingly good for such a large tent. But in any case, this is a car camping tent.
---
Specifications
Weight: 37.9 lb (17.2 kg).
Official capacity: 5 people.
Dimensions: 15.42 x 11 ft (470 x 335 cm).
Inner area: 170 ft² (15.7 m²).
Inner area per person: 33.9 ft² (3.1 m²).
Peak height: 76.8 in (195 cm).
Packed size: 26.8 x 13 x 12.6 in (68 x 33 x 32 cm).
Poles: fiberglass.
---
Final thoughts, rating, pros & cons
In summary, this Coleman Mosedale 5 Family 5 Person Tent is built for the European market and it has all typical features of the tents designed for this area. This means multiple rooms, solid windows, a great peak height, and a high waterproof rating.
But it includes also Coleman's BlackOut Bedrooms where daylight is fully blocked. This makes it a great option for families with kids who need to sleep during the day, and this is useful for everybody because users can sleep longer in the morning.
Below you can see how this tent stands against my standard rating criteria. I apply them consistently to all the tents here in the site so that you can easily compare:
BEST PLACE TO BUY:
For more tents of this shape please check in the category Tunnel Tents. Let me know if you have questions, there is a comment box below. Bookmark this site and come again, this will keep you informed, as you realize I add texts here on a regular basis. Thank you for reading.