When I saw this tent, my first thought was 'oh, what a beauty'. Read this Core 6 Person Instant Cabin Tent Review to see why I was so impressed.
---
Key benefits & bonuses
Instant setup, what else.
Totally incredible price.
Pleasant and livable tent.
Lantern hook.
Gear loft included.
Huge wall organizer included.
Electricity port.
---
What is in the name – what type is this
The Core 6 Person Instant Cabin Tent is a part of a huge series of tents built in the same style, which includes the tents for 3, 4, 6, 8, 9, 10, and 12 people. All are available on Amazon. This tent should not be mixed with their CORE 6 Person Straight Wall Cabin Tent 10 x 9 which is also a nice cabin tent.
This is a fully freestanding tent in the true sense of that word, so you can pitch it anywhere. But you have plenty of stakes and guylines to secure it against the wind. The tent is a 3-season type, and I shall say a bit more about that below.
I think the key words here are 'instant' and 'cabin'. The meaning of both should be self-evident and you will see more in the video below.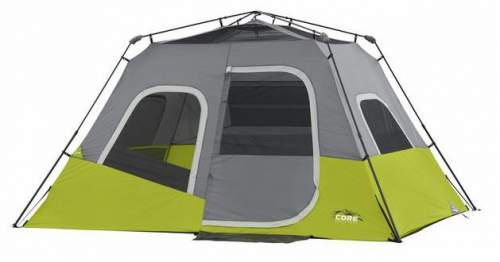 The cabin design implies that the tent is tall and the walls are at a steep angle as you realize from the picture, so this gives a lot of volume inside and it makes the tent truly pleasant and livable.
If you are tired of your previous tent's setting and its poles which you have to pass through sleeves and to attach to the proper grommet, you are safe from all this with the Core 6 tent. It opens like an umbrella, with all poles already in place and attached to the tent.
So this is a brilliant concept in every sense, and I am hopeful you will realize this when you see all its features. It is included in my list of 6 person instant tents.
---
Who is it for
With the weight of 22.8 pounds (10.34 kg) and the packed size of 48 x 8.5 inches (122 x 22 cm), it is obvious that you need a car for transportation of this tent to your camping spot. So it will serve the purpose as long as you can transport it that way, regardless of the activity.
Regarding the floor area, with 99 square feet (9.2 m²), you have around 1.5 m² per person. So this is certainly enough to squeeze so many people and to stay overnight, but if you want some comfort better do not use it for so many participants, in particular, if this is about families with kids on vacations.
Observe that you do not have a vestibule here for the storage of the gear. Assuming the car is somewhere close, this should not be a big problem, you can keep some stuff there. but think about shoes and such stuff.
The story may be different if this is about a group of friends on a music festival or any similar occasion where the tent is used only to stay the night.
In the description of the tent, the manufacturer writes that it can accommodate 2 queen size beds. But this is not so realistic, you would not have much space left in such a case. But you could indeed put a queen-size bed and a bunk bed for two kids quite easily and have some space to spare.
---
About bonuses
First of all, the price of this tent is the biggest bonus of all. At the moment of writing this text, the lowest price on Amazon is only around $140. So you do not need a comment here I assume.
I give the link below which will show updated prices all the time, please follow the link because there are many sellers for this tent (why I am not surprised with that?) and the prices may be different.

But there are more bonuses which make life easier when you are in the camp, see below:
Lantern hook: This is a tiny but useful detail, a place to hang your lantern. See the picture below.
Gear loft: You have seen it for a moment in the video, and it is shown also below. So use it to put some stuff far above your head, out of the way and safe.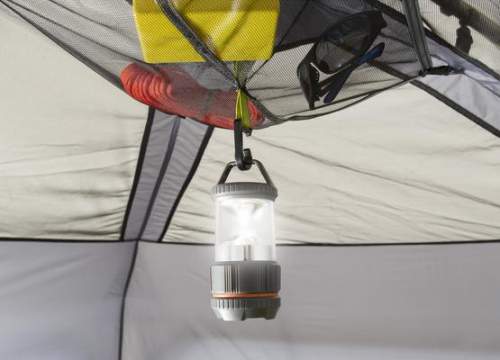 A huge Wall Organizer: This is a really useful storage area with several mesh pockets where you can concentrate many items and get organized, see it in practice below.
You will notice that in some other tents presented within this site, such an item is called a media center, so indeed, this organizer can be used for a place to store the tablet on the wall and let kids watch some movies in the evening.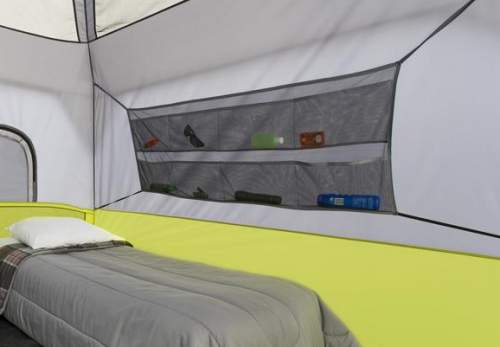 You have also a wall port for the electricity connection. This is very useful if you are staying in a maintained camp with such facilities provided, see it in the picture.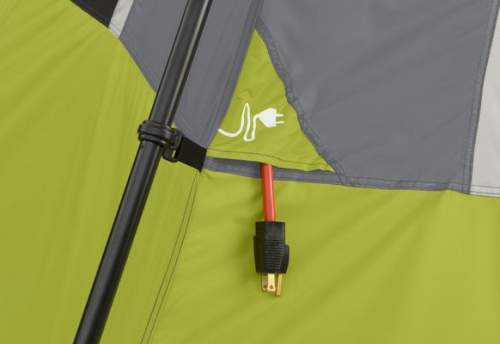 ---
Setup and construction
It is best that you see this (long) video; this is about the unpacking and setting up the two tents from the series, so the people are not used to it, but they manage it nicely. Have a look:
When you get used to it, you will be able to set this tent up under a minute time for sure.
The 3-season features
The construction of this tent is such that you can put it anywhere, and the poles look really strong, guylines are there, etc., but the tent is for 3-season use only. There are several reasons for this.
The fly is quite symbolic here, it covers mainly the ceiling where you have a mesh only. There are 4 guylines around to stake the fly to the ground, and it is also connected to the 4 poles through its own straps, but such a type is surely not the best option for strong winds.
Also, the mesh ceiling is great for a warm summer-type environment, but it does not keep the warmth and this is why you should not use it in a cold environment.
Ventilation
Observe that the ceiling is completely built from a mesh material. This combined with the openings on the walls which also have mesh should be a guarantee for excellent ventilation.
You might want to compare this with the other tent of this type, the very popular Coleman 6 Instant Cabin tent, which is without mesh on the ceiling. So I am sure in this respect the Core 6 is far better.
Weather resistance
I am a bit disappointed that they do not provide an official waterproofness rating for the tent. But there are no definitely accepted standards for such a rating in any case. Though they write about the H20 Block Technology whatever this is, it should be just the usual seams sealing and PU coating.
You see the flaps covering on the zippers on all windows and on the door. So this should be fine for most situations on a typical camping adventure, but such a design is not the best solution for side winds and a strong rain combined.
But this is a matter of compromise to some extent; with such a minimal fly which is only on the roof, you have great windows to enjoy the views (but only as long as the weather is great!).
---
Specifications
Type: freestanding, 6-person, 3-season tent.
Weight: 22.8 lb (10.34 kg).
Floor area: 99 ft² (9.2 m²).
Area per person: 16.5 ft² (1.53 m²).
Floor dimensions: 11 x 9 ft (3.35 x 2.74 m).
Peak height: 72 in (1.83 m).
Packed size (L x D): 48 x 8.5 in (122 x 22 cm).
---
So, is it worth it – rating, pros & cons
I would summarize this Core 6 Person Instant Cabin Tent Review by stressing the following. This tent is so packed with features and with such a great design, plus such an incredible price, that it is definitely worth a try.
I do not think it is for very heavy storms and I would test it carefully; there are so many seams in the fabric, they are sealed indeed, but without a real fly things can always go wrong with such a design. Note that they have yet another similar version with an awning. Need something bigger from this series? Check out this Core 9 tent.
If you need something different, with the usual setup and a fly, please look around, you will see many family camping tents reviews within this site. Check for example this Coleman Instant 6 person tent built in the same style, and much more in the Categories on the right above. Yet another tent to compare is this Eureka Copper Canyon 6 Family Tent, which is not instant-type but it has a very similar structure.
If you have been using this tent, please let me know, there is a comment box below. I wish you a pleasant day.