This CORE 6 Person Straight Wall Cabin Tent 10′ x 9′ is a nicely built reliable freestanding structure with 5 windows and one door, with excellent ventilation, and a great price. Keep reading.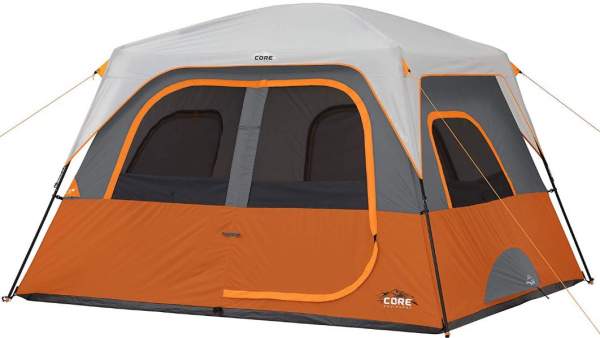 ---
Key features & benefits
Freestanding tent.
Easy to use.
Great ventilation.
E-cable port.
5 Windows.
Great price.
---
What this is about
Here you have a completely new tent on the market and it should not be mixed with the other 6-person tents of this brand, the Core 6 Person Instant Cabin Tent and CORE 6 Person Instant Cabin Tent with Awning. In fact, they have yet another the Core 6 Person Dome Tent but this is a different construction in any case. So this new tent is a bit smaller cabin-style tent, as compared with the two instant cabin tents mentioned above.
Here you do not have an instant-setup, but the tent is again very easy to use, it is freestanding and it is rather tall for its overall size, with a 76 inches (193 cm) peak height. This gives plenty of room to stand and stretch. The picture below shows the tent without the fly so you get some idea how stable and sturdy this construction is with its four leg-poles.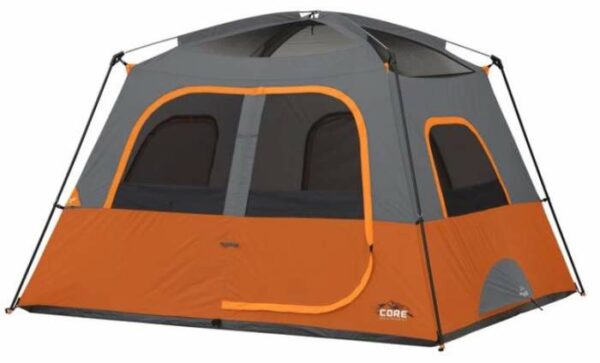 The windows & the door
The tent comes with a minimal fly that covers only the ceiling and it attaches to the legs poles. With such a design you have unobstructed views on all sides because the tent has windows everywhere around. The windows are with mesh and zippered panels for protection and privacy. You have 4 separate windows plus one on its single door visible in the picture above.
This is a single-room construction and the top-view picture below shows its roof structure and the ceiling which is all mesh.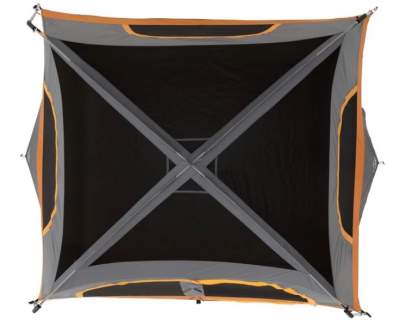 Ventilation
Yet another feature which you see in the picture above are two floor vents on the left and right sides. This together with the mesh ceiling, shown in the picture above, will always create enough air circulation even if you have to keep all the windows zippered with panels. You will have to keep them zipped in case of rain because of the minimal fly. So this is an excellent design and there is nothing one could object here. One of the floor vents is shown in the picture below.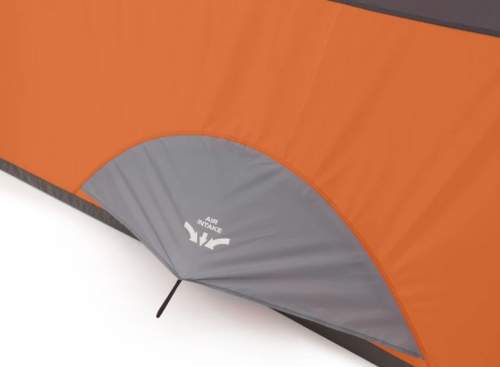 The carry bag is shown below, and as you see it is with straps and a long zipper.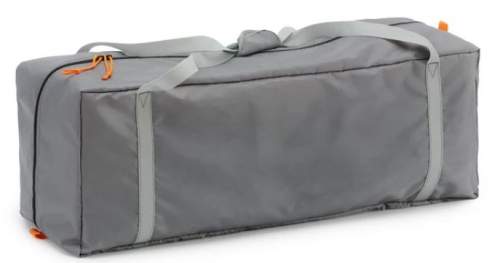 ---
Who is it for
Space-wise, the declared capacity is 6 people but although this is a great tent, it is too small for such a number. The area is 90 ft² (8.3 m²) and it is indeed possible to put 6 sleeping pads on the floor. This can work for a group of friends at a summer festival, but for real camping this is a tent for 2-4 people.
Climate-wise & seasons-wise, you have already seen its most important features, so it is clear that this tent is perfect for warm-weather camping. So I would say it is for 1.5-2 seasons maximum. The mesh ceiling cannot be closed so it is best to avoid cool climate in such a tent. With such a height and the small fly, it is best to avoid very windy areas.
Weight-wise, with its 18.6 lb (8.4 kg) this tent is moderately heavy. It is portable short distances, but in general, this is for places with a motorized access.
The packed size 27 x 11 x 10.5 inches (69 x 29 x 27 cm) is such that you would need a car for transportation.

---
Materials
The poles & stakes
The poles are a combination of steel and fiberglass. So you have 4 legs poles that are strong steel, and the two roof poles that are fiberglass. Plastic elbow connectors are pre-attached to the tent for easy setup.
You have a pin-and-ring system to connect legs base to the tent, picture below, and higher you have clips, and on the roof you have sleeves. Everything is color-coded. There are 10 steel, 7 inches long stakes in the package.

The fabric
This is the standard material used in all the tents of this brand. So the main fabric is a durable 68D ripstop polyester, and the floor is a durable 115 g/m² polyethylene.
This is all that they call H20 Block design which includes taped seams. This implies a 600 mm hydrostatic rating, this is not much but you normally do not need much if seams are done properly. They use inverted stitching for seams, and the tapes are extra-wide and heat-sealed. Note that they claim that the fabric is flame-resistant and it meets CPAI-84 specifications.
Other features
An electrical port is available, see the picture below.
Gear loft is included.
All the elements in the package are shown in the picture: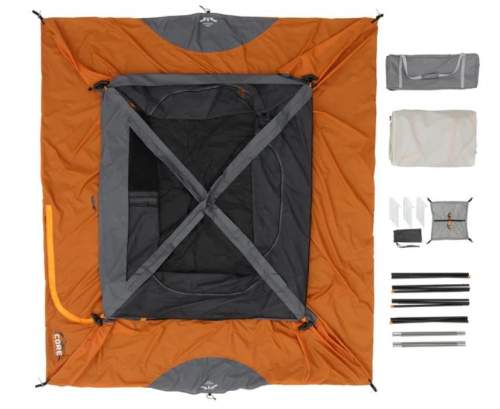 I mentioned its easy setup, so in this video you can see more about it:
---
Specifications
Weight: 18.6 lb (8.4 kg).
Dimensions: 10 x 9 ft (305 x 274 cm).
Area: 90 ft² (8.3 m²).
Packed size: 27 x 11 x 10.5 in (69 x 29 x 27 cm).
Peak height: 76 in (193 cm).
---
Final thoughts
In conclusion, this CORE 6 Person Straight Wall Cabin Tent 10′ x 9′ is really nicely built, with a simple and elegant structure, easy to use and reliable. Ignore its declared capacity, as usual, it makes no much sense, and you will enjoy this tent. The price is more than fair for what you have here, fully recommended.
Please see below how I rate this tent against my standard set of criteria used for all the tents here in the site:
Note that they also have a similar-size tent but with a screen room added, the Core 6 Person Straight Wall Cabin Tent with a Screen Room. You might want to know that they also have a 4-person version of this tent. But if you would rather have an instant setup tent with the same cabin shape, check this Outdoor Products 6 Person Instant Cabin Tent.
Note that this is not a sponsored text, and I am not paid by the manufacturer. Please use the comment box below in case of questions or comments. Have a nice day.