The CORE Instant Cabin Tent 10 Person is very easy to use, tall and pleasant with its numerous windows, with two doors and two rooms, and with great ventilation.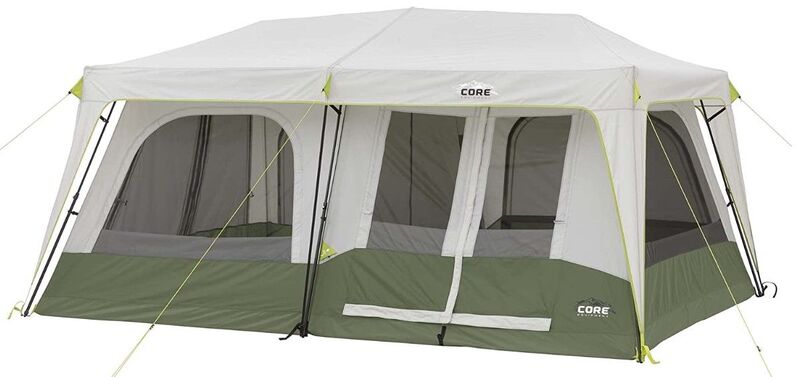 ---
Key features & benefits
Cabin type tent.
Instant setup.
Very easy to use.
Two doors.
Two rooms.
Great windows.
Ventilated.
Cable port.
---
Overview
This is currently the largest tent in their Performance series of instant cabin tents that includes four tents in total. The picture below shows how it looks without the fly. The peak height here is 78 inches (198 cm).
So all the elements here are pre-attached and there is no assembly, you simply unfold the tent and then extend its six telescopic poles. Only the fly is added separately. The official set up time for this tent is only 2 minutes, and this is quite remarkable for a tent of such a size. This is why it is in my list of best Core instant tents.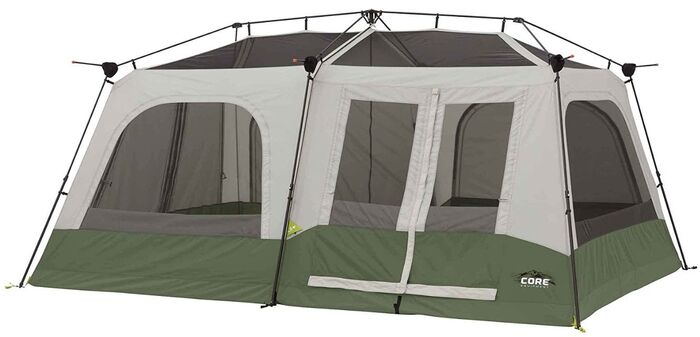 The tent has two doors, both are visible in the pictures. One of the doors is on the wider side of the tent (the picture above), and the other is on one of its narrow sides (the picture below). As you see, they are with inverted-T shaped zippers.
This is also a true freestanding tent with two rooms, and each of them has its own door. The pictures below show the inner divider:
Note also that the divider creates a true wall, it is zippered to the floor as well. So this is not just a curtain like in many other tents of this type.
One great detail here are those two sets of storage pouches that you see on the sides of the divider. The tent is also equipped with a cable port shown in the picture below.
I mentioned the fly, so it attaches to the corners at the base of the tent, you have easy to use buckles for this purpose, one is shown below.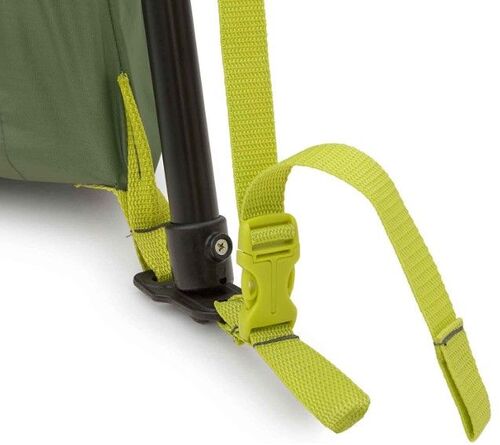 Materials
The poles: The frame is pre-attached to the tent, and this includes also those six extensions that you see in the picture showing the tent without the fly. This is what they call the Extended Eave Technology that lifts the rainfly further away from the mesh ceiling for a better air circulation.
This is all steel, and there are several hub elements on the roof. The legs poles are telescopic, so this makes the setup easy, and one person can do the job.
The fabric: You have a very durable 150D polyester used for the fly and the walls. On the floor it is 210D polyester. The official waterproof rating is 1200 mm, this is what they call the H20 Block Technology.
They claim that zippers are snag-resistant. You have a full set of attached guylines, and also 15 tent stakes that are 7 inches long.
Ventilation
The huge ceiling of this tent is all mesh, and all those large windows are also double-layer with mesh and with panels. So you have plenty of options for ventilation.
They have added a floor vent shown below, that comes good when you have to keep the windows zipped.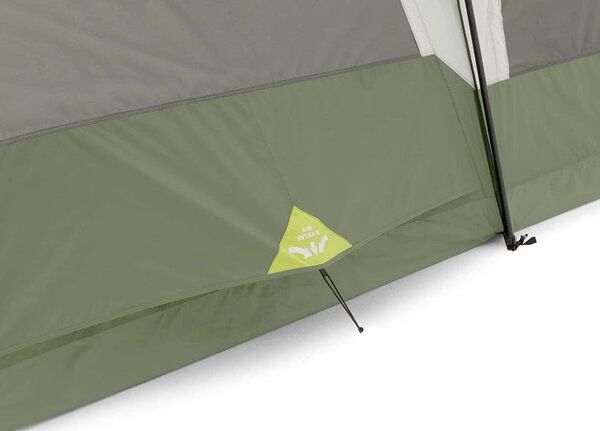 Please see more about this tent in the video:
---
Who is it for
Regarding the area, the tent is officially for up to 10 people, and for this it offers 140 ft² (13 m²). So this is not much and it is best to drastically downgrade the maximum number of occupants.
Regarding seasons & climate, this is a summer camping tent, best suited for mild weather without much wind. That overhanging fly looks cool but this is not for windy places.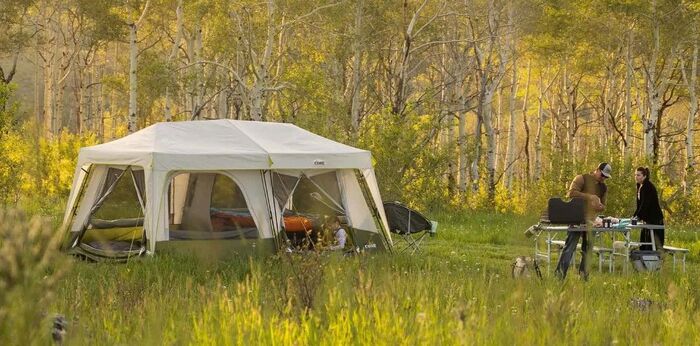 Regarding the weight, this tent is quite heavy with its 41 lb (18.6 kg). This is because of its steel frame and its durable fabric. But the instant design implies overlapping tubes that also add weight, so this is all expected.
The packed size is 48 x 11 x 11 inches (122 x 28 x 28 cm), see the carry bag below. So it is quite long when packed, and this is again because of the instant design.

Regarding the price, the tent is a bit expensive, there are more affordable tents of this type on the market, but not from such a brand and with such great features.

---
Specifications
Weight: 41 lb (18.6 kg).
Official capacity: 10 people.
Dimensions: 14 x 10 ft (427 x 305 cm).
Inner area: 140 ft² (13 m²).
Inner area per person: 14 ft² (1.3 m²).
Peak height: 78 in (198 cm).
Packed size: 48 x 11 x 11 in (122 x 28 x 28 cm).
1-Year Limited Warranty.
---
Final thoughts, rating, pros & cons
In summary, this CORE Instant Cabin Tent 10 Person looks great and it is very pleasant and functional. It is not really for 10 people, but it is large and yet very easy to use. I have included it in my list of best instant camping tents and best 10 person tents. Fully recommended.
Below you can see how this tent stands against my standard rating criteria that I apply consistently to all of them here in the site so that you can easily compare:
BEST PLACEs TO BUY:
If you need a smaller tent from this series, please check their 6-person version, it is built in the same style.
Let me know if you have questions, there is a comment box below. Bookmark this site and come again, this will keep you informed, as you realize I add texts here on a regular basis. Thank you for reading.