The Eureka Copper Canyon LX 6 Person Tent is tall and pleasant with windows on all its sides, and one person can set it up. But is this LX version an improvement? Read more here.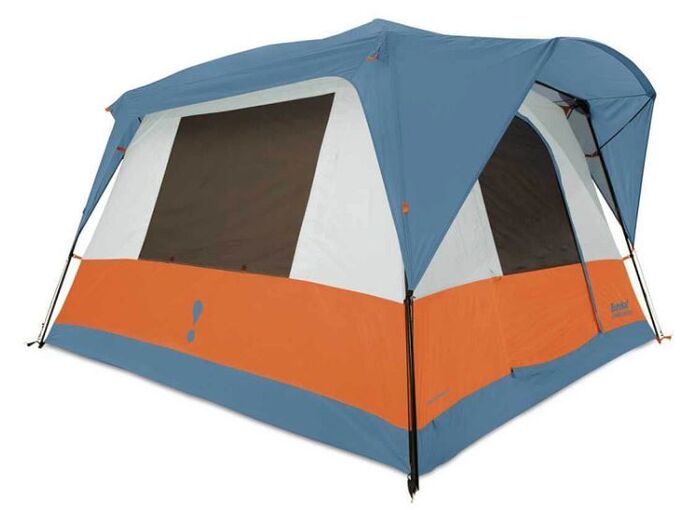 ---
Key features & benefits
Tall tent.
Easy to use.
Dry entry.
Windows on all the sides.
---
What this is about
So this is about the tent with the letters LX in the name, the latest version of the tent that has been on the market for years. There are four tents in the series that includes also 4 person, 8 person, and 12 person tents. They all share some common features, all are tall and cabin type tents, and they generally look very good with their steep and straight walls.
This new version is again a typical freestanding tent with a partial coverage fly, very tall and pleasant. Its peak height is impressive, you have a stand up height everywhere in this tent.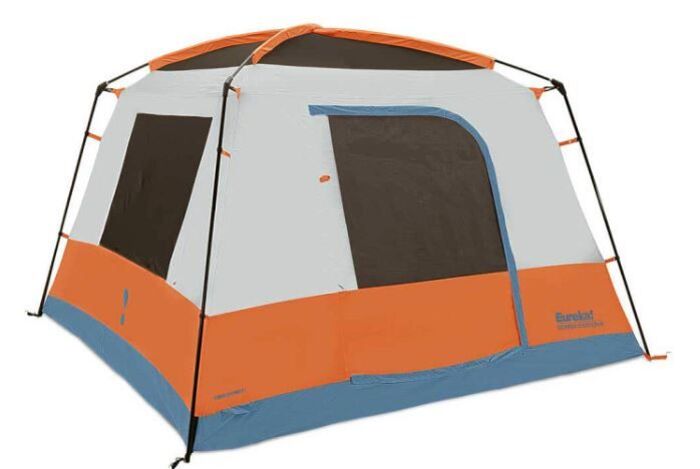 The tent is with one door only, so this may not be optimal for a 6-person tent, but the door is large and tall. The fly creates a small brim above the door, supported with an extra pole. So this is a dry entry design, always good to have.
The tent is a single room structure shown below. You can also see how its inner window panels look. Note that they have toggles instead of zippers. The good thing is that you can open them half-way up if you want, for some privacy.
But in the case of rain combined with winds, you will have water inside. This answers the question raised in the title. The same issue holds for all the tent in this LX series.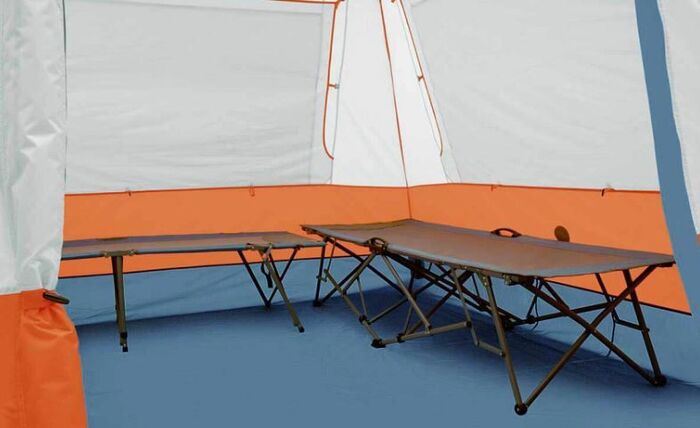 Materials
The poles: You have a combination of steel poles used for the sides and fiberglass on the roof. They are 19 mm and 16 mm diameter, respectively, so they are strong and durable. The tent comes with simple steel stakes.
The fabric: The same material is used everywhere, so you have a 75D 190T polyester taffeta with a 1200 mm waterproof rating used for the fly, side walls, and the floor. I find this rating and denier value very low for the floor fabric.
Other features
A cable port is available, the picture below.
There are 2 storage pockets.
2 Gear hammocks are included, one shown below.
Ventilation
The tent has plenty of mesh on the windows and on the ceiling, you have seen this in the pictures above. The panels on the windows do not close the tent so you will have drafts no matter if you want this or not. But I still think the tent needs a large floor cent which is missing here.
Please see more in this video:
---
Who is it for
Regarding the area, the tent is officially for 6 people and for this it offers 100 ft² (9.3 m²). This would mean 16.7 ft² (1.6 m²) per person, so not really a camping castle.
Below you can see what the manufacturer thinks of using the space. So it can accommodate 6 pads on the floor, but this is not realistic for true camping. It should be downgraded to maximum 4 people, the usual story.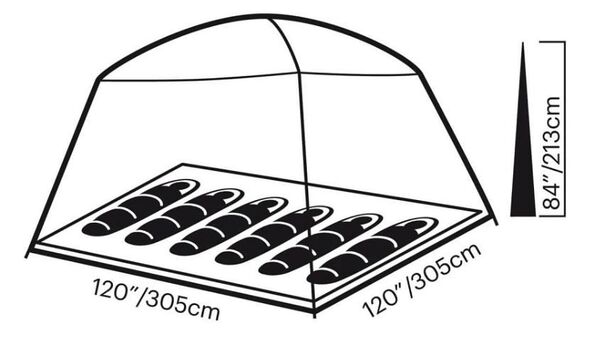 Regarding seasons & climate, the tent is tall and boxy, and you have seen its windows. Also, with such a fly it would not last long in strong winds. So this is a tent for calm weather and without much rain and wind.
Regarding the weight, with its 24 lb 5 oz (11 kg) this is a bit heavy tent but I do not think this is a big deal, it is built for car camping. The same holds for the packed size which is substantial, see the numbers below. The carry bag is well-designed, it is shown in the picture.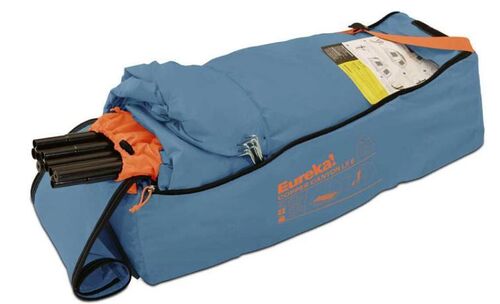 Regarding the price, I would say it is steep, there are less expensive options on the market.

---
Specifications
Weight: 24 lb 5 oz (11 kg).
Official capacity: 6 people.
Dimensions: 120 x 120 in (305 x 305 cm).
Inner area: 100 ft² (9.3 m²).
Inner area per person: 16.7 ft² (1.6 m²).
Peak height: 84 in (213 cm).
Packed size (L x D): 28 x 9 in (71 x 23 cm).
---
Final thoughts, rating, pros & cons
In summary, this Eureka Copper Canyon LX 6 Person Tent looks good, and it has some useful features. But I do not think this is an improvement when compared with the previous version.
It is hard to understand what they were thinking with that windows panels design. Why making changes that do not improve the tent? The same design is also in their Eureka Jade Canyon X 6 Person Tent.
Below you can see how it stands against my standard rating criteria that I apply consistently to all of them here in the site so that you can easily compare:
BEST PLACEs TO BUY:
For more tents of this shape please check in the category Cabin Tents.
Let me know if you have questions, there is a comment box below. Bookmark this site and come again, this will keep you informed, as you realize I add texts here on a regular basis. Thank you for reading.