---
Ferrino Proxes 5 Family Tent is a very functional and reliable 3-room and 3-season family camping tent with a very good waterproof rating and an easy setup.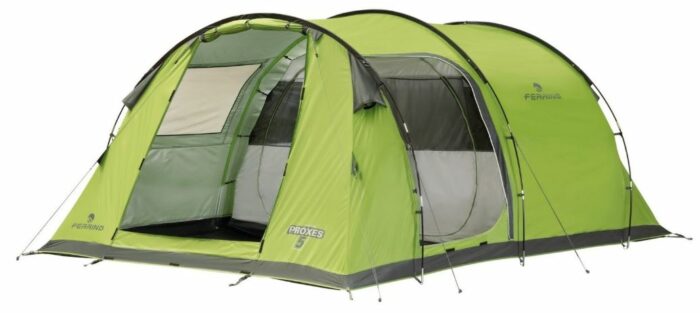 ---
Key features & benefits
Tunnel-type tent.
Fully floored.
3 Rooms.
3 Doors.
Fiberglass poles.
---
What this is about
Ferrino brand has several tents under the name Proxes, and also in Advanced Proxes series, and these tents have been on the EU market for a number of years already, at least 6-7 or so.
This Proxes 5 is a very typical tunnel-shaped tent supported by three loops, so it not freestanding. The tent is very tall and pleasant with its 200 cm along the main axes. The organization is great and there are three rooms here.
The sleeping area is a tent within the external shell tent and there you have two sleeping rooms with a removable divider. The front area is a large living room and its floor plan is shown in the picture below. In view of these features, I have added this tent to our list of best 3-room family camping tents.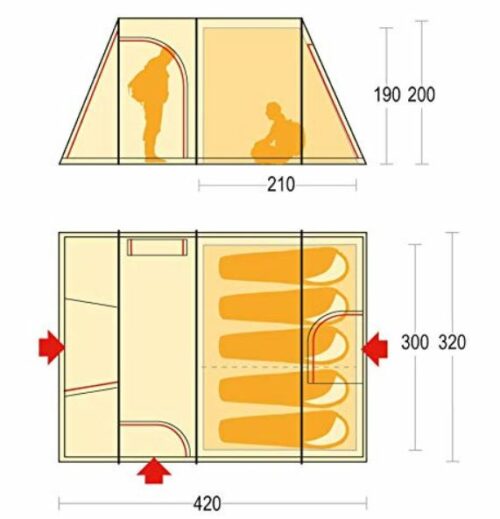 This is a hybrid double-single layer. Namely, the back area is with its own extra floor and with walls where you have taffeta and mesh, while the front living room is a single layer with the shell tent around. The shell tent is fully floored and the floor is sealed.
The inner tent is removable, it attaches by toggles to the shell tent. When you pack the tent, the inner tent can remain in the place of course. You can use the shell tent without the inner tent as well.
The doors & windows
There are 3 doors here and one of them is the double-layer type with mesh and with a panel. The back door is practically without purpose as long as you use the inner tent, there is no inner door on the inner tent to match this rear door. One separate window is in the living room, double layer, with mesh and a zippered panel.

Ventilation
Tents of this type must rely on vents and you have them 4. Two are on the front and two on the back. They are equipped with Velcro tabs and stiffeners and you can keep them open even when it is raining.
The inner tent is with a wide mesh section on all four sides and this applies also on the two inner doors. The tent is attached to the shell so that there is a wide gap in between for air circulation.
The side door is with a full-mesh zippered door and with this added to all mentioned above, you have great ventilation while still fully protected from insects.
It is a pity they did not add a couple of low vents, this is necessary when it is raining and you have to keep the side door and the window closed with their panels.
---
Who is it for
Space-wise, you have seen its dimensions above. The declared capacity is 5 people and you indeed have a generous space for such a number of users. The area is 145 ft² (13.4 m²), and per person this implies 29 ft² (2.7 m²). The area is nicely organized with the sleeping rooms and the living area which is of the same size as the back rooms.
Seasons-wise & climate-wise, no doubt this is a true 3-season tent, with a high waterproof rating, ventilated and reliable. If you use this tent where the sky is clear, the side door and the window can be kept with mesh and such huge openings will provide plenty of extra air circulation.
In the intervals with rain, you will have to rely on vents. The same holds if you use the tent in a cooler climate, you can fully close all the openings.
There are plenty of guyout lines and the tent is designed to behave well in winds, but it is tall and the poles are fiberglass so I would not use it in very harsh conditions.
As for the weight, with 26.46 lb (12 kg) this is a heavy item but this is for a good reason, you have plenty of protected space. The packed size is not bad at all, and you can transport it even on a motorbike or bicycle.
---
Materials & other features
The poles & pegs: Here you have 3 fiberglass loops, shock-corded and with the usual pin and ring system to attach it to the tent's base. All necessary steel pegs are included.
The fabric: The tent's body is the fly (or the shell if you wish), and this is a durable polyester diamond 70D, 75 g/m², with a polyurethane coating, aluminized and thermally insulating. The waterproof rating is 2000 mm and this is also a water-repellent material, all seams are taped. The inner tent is a water-repellent and breathable polyester.
The floor is also a very good side of this tent, in fact you have two floors in the sleeping area. So the inner tent has its own durable polyester 70D, 80 g/m² floor, and its waterproof rating is 2500 mm. But this inner floor sits on the main waterproof and fully welded polyethylene floor which is sewn-in and sealed. They claim its waterproof rating is more than 10000 mm and I would take this as a fact.
Other details
Toggles attach the inner tent to the shell.
Multi-point guy ropes system.
Lamp hook is on the ceiling.
Includes a stuff sack & a repair kit.
Hige internal storage pockets in the inner tent, they are on the sides, close to the floor.
Compatible with additional veranda (canopy Proxes 5/6 and Chanty 4/5).
Please see a bit more in this video which shows how to set the tent up:
---
Specifications
Declared capacity: 5 people.
Weight: 26.46 lb (12 kg).
Dimensions: 13.78 x 10.5 ft (420 x 320 cm).
Area: 145 ft² (13.4 m²).
Area per person: 29 ft² (2.7 m²).
Packed size: 24.8 x 10.6 x 10.6 in (63 x 27 x 27 cm).
Peak height: 78.7 in (200 cm).
---
Final thoughts, rating, pros & cons
In summary, this Ferrino Proxes 5 Family Tent is a nice holiday and vacation item for families. With its modular design, it allows for various configurations, so you can use it as a 3-room, 2-room, and also as a one-room tent when you remove the inner tent. You will have a full protection in any of these configurations.
You might want to know that this is an Italian brand that started building tents in the 19th century. Fully recommended.
Please see how I rate this tent against my standard set of criteria used here in the site:
For more tents of this type please check our list of best tunnel tents for camping and also check under the category Tunnel Tents. Check yet another great tent from this brand, the Ferrino Meteora 5 Tent.
Note that we add texts regularly, so bookmark this site and stay informed. Subscribe to our weekly newsletter, there is a subscription box below. Have some questions or comments? No problem, there is a box below.