This Ferrino Meteora 5 Tent is a spacious 3-room tunnel-type structure for 3-season camping with 2 doors and 2 separate windows, and with 4 roof vents.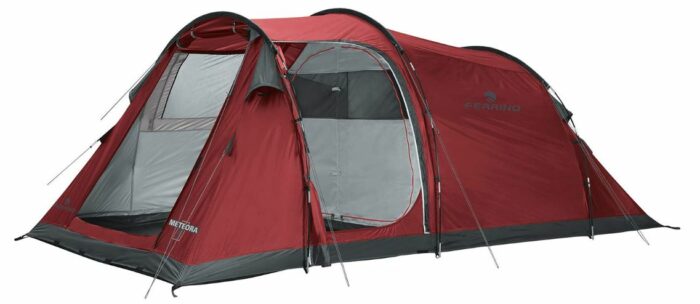 ---
Key features & benefits
3 Rooms.
Huge space.
2 Doors.
Tall tent.
Fiberglass poles.
---
So what this Ferrino Meteora 5 is about
This Meteora 5 is the largest tent from their Meteora series that includes also Meteora 3 and Meteora 4 tents. This is a very typical tunnel-type tent, one of many tents from this brand built for the EU market.
So you have a design that offers lots of comfort and space. This is a 3-room tent and the area is organized into a large living room plus a sleeping zone which is a tent within the shell tent. In this inner tent you have two separate sleeping units with a removable divider. The picture below gives you some idea of what this great tent offers:
If you are not familiar with tents of this type, to stress here that the inner tent is with its own sewn-in and sealed floor. But you also have a separate shell-tent floor which is also fully sewn-in and sealed. Therefore, in the inner sleeping zone, you have two floors.
One more feature which should be pointed out here is that this is a hybrid single-double wall tent. The sleeping area is obviously the double-wall (double-layer) structure while the living area is a single-wall part. Being a standard tunnel tent, this is not a freestanding structure, so it is essential that you stake it down properly.
Note also that the tent is very tall in the living area where you have a standing height of 76.8 inches (195 cm). So this is a very impressive construction.

Ventilation
Tents of this type rely on multiple vents for ventilation, so this is what you have here. There are 4 roof vents, two on the front and two on the back. Plus you have a huge mesh window with flap on the back, and yet another huge window with mesh in the living room.
Note that there are two doors on the living room and one of them is with a full-size mesh. The two inner doors are also with mesh areas. The inner tent is a breathable fabric and it includes long mesh sections as well.
The inner view picture above shows how the inner tent hangs attached to the shell tent. So there is a large gap everywhere between the two layers to allow for air circulation and to reduce condensation.
All looks almost perfect here, but I miss seeing some floor vents in the living area. This is necessary if it is raining and you have to keep the door closed.
---
Who is the Meteora 5 Tent for
Space-wise, the declared capacity is 5 people. But see the floor plan below to realize what this tent offers. You have around 136.7 ft² (12.7 m²) in its three rooms, and this means 27.3 ft² (2.54 m²) per person.
So there is no doubt this tent can accommodate more than 5 people if necessary. I would say up to 7 people can sleep in this tent with full comfort. This is why I have added it to my list of best 3-room tents and also to the list of best tunnel-type tents.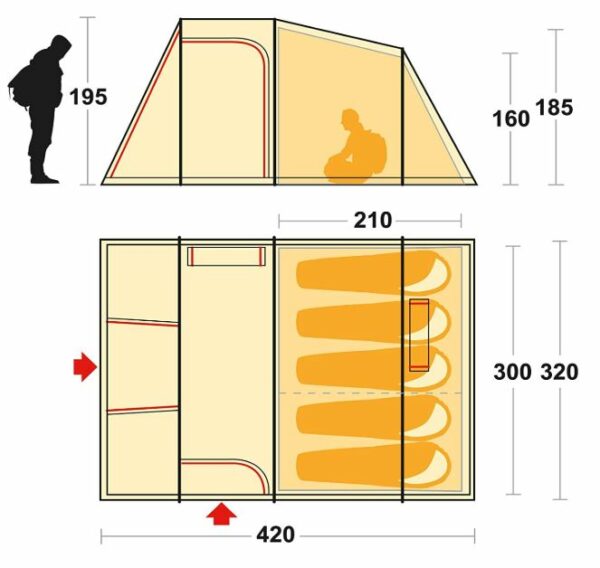 Seasons-wise & climate-wise, this is a tent with a very good waterproof rating and quality materials, suitable for any conditions in 3-season camping. All the openings and vents can be closed if you feel cold, and you have plenty of ventilation options if you use it in a warm surrounding.
Weight-wise, with its 28.2 lb (12.8 kg) this is everything but a lightweight tent, but you have seen how much space and volume it provides. So the weight is justified but this is not something to carry around.
The packed size of 25.6 x 11.8 x 9.8 inches (65 x 30 x 25 cm) is quite good for what it offers and you will see below how I rate it with respect to this parameter. So you can transport it even on a motorbike.
---
Materials
The poles
The tent is supported with three fiberglass shock-corded loops. They have the usual ferrules at the ends and the pin-and-ring connection system. This material is not particularly durable but it is now common in such family camping tents. You have color-coding in place and the setup is easy. You will see this in the video below.
Note that you have steel pegs, and all the necessary guylines included in the package. You also have an adjustable fly-sheet distance from base using buckles for excellent tensioning.
The fabric
The shell tent is a 70D Diamond polyester, 75 g/m² coated with thermal-insulated, aluminized polyurethane that is waterproof up to 2000 mm. The material is also water repellent.
The inner tent is a water-repellent but breathable polyester, and the inner tent floor is a 70D polyester 80 g/m² and waterproof up to 2500 mm.
The shell floor is a polyethylene, fully welded and waterproof more than 10000 mm. All the seams in the fly and in the inner tent floor are taped and sealed. You have a three-layer reinforced construction in the floor corners.
Note that the inner tent attaches with straps and toggles. Once in place, it can remain attached when you pack the tent, so you have less work next time.
Other details
Several large internal storage pockets.
Internal lamp hook is in place.
Large Supertex stuff sack.
Repair kit is included.
Please see how to set this tent up:
---
Specifications
Declared capacity: 5 people.
Weight: 28.2 lb (12.8 kg).
Dimensions: 165.3 x 126 in (420 x 320 cm).
Area: 136.7 ft² (12.7 m²).
Area per person: 27.3 ft² (2.54 m²).
Peak height: 76.8 in (195 cm).
Packed size: 25.6 x 11.8 x 9.8 in (65 x 30 x 25 cm).
Poles: fiberglass.
---
Final thoughts, rating, pros & cons
In summary, this Ferrino Meteora 5 Tent is indeed nicely built and I love its color. The organization of the area is excellent and you can use it as a tent with three or two rooms, and you can also remove the inner tent if you wish, and use the shell tent alone. This is a great car camping tent, a bit pricey but it is worth the investment.
Ferrino brand may be less known on the US market, but they have started building tents in 1870 in Turin, Italy, and they are present everywhere within the EU.
Below is my rating of this tent, the same criteria are used for all the tents here so you can easily compare:
You might want to check also their Ferrino Proxes 5 and Ferrino Proxes Advanced 5 tents that are built in the same style. If you want something completely different, check this MOON LENCE Instant Pop Up Tent 4-5 Person.
Note that we add texts regularly, so bookmark this site and stay informed. Subscribe to our weekly newsletter, there is a subscription box below. Please use the comment box below if you have some questions or comments.