The Gazelle T8 Pop-Up Hub Tent is a 2-room 3-season semi-freestanding easy to use tall cabin-style camping tent with 12 windows and a removable floor.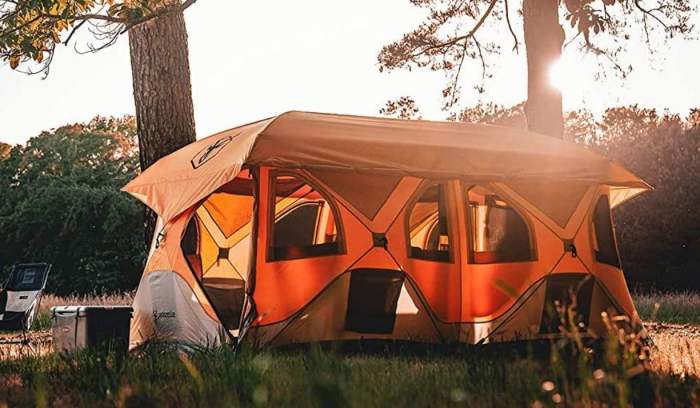 ---
Key features & benefits
Instant setup.
10 + 2 windows.
2 Doors.
2 Rooms.
Huge storage areas.
Removable floor.
---
What this is about
This tent is under a bit different names at various sellers. So on Amazon, you will see it as Gazelle GT800SS T8 Extra Large 4 to 8 Person Capacity, and at Walmart as Gazelle T8 Extra Large 8 Person Portable Instant Pop Up Camping Hub Tent. The name I use in the title is the same as at Sportsman's Guide site.
In any case, this is a design that follows the principles of their earlier tents, see this Gazelle 26800 T4-Plus Pop-Up Portable Camping Hub Tent as an example. You could understand it as a twice larger variant of their famous Gazelle 22272 T4 Pop-Up Portable Camping Hub Tent.
It can be described as an instant setup tent or pop-up tent, and this means that the frame is pre-attached to the tent, so setting it up is easy. The official setup time is 90 seconds.
The tent is cabin-style with very steep and tall walls as you realize from the picture below that shows the tent without the fly. The peak height is 78 inches (198 cm).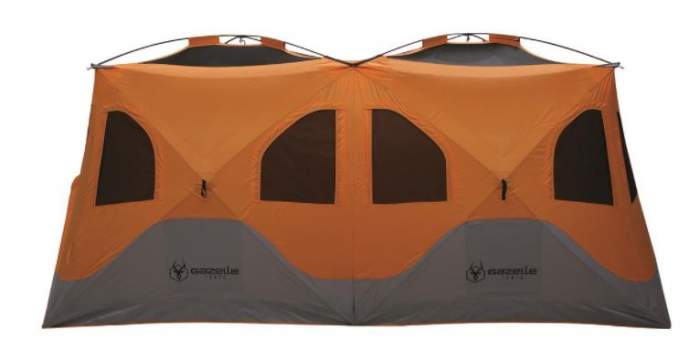 The word Hub in the name is more or less redundant, but it describes the fact that the X-crossed poles on all sides are preattached to each other by hub elements. You can see one of the hubs in the middle of the picture below.
Note that from outside you have pull loops that are exactly at the positions of these hub elements, they are visible in the picture above. So when you pull the loops the walls pop out, and this is why it is so easy to have this tent ready.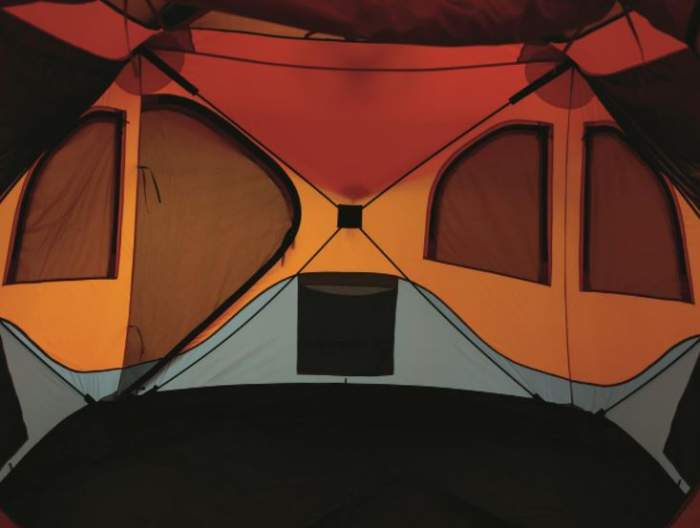 There are two rooms here and you have a huge U-shaped zippered door between them, see it in the picture below. So this is a true sewn-in divider and not just a curtain. Each of the rooms has its own double-layer external door so you have mesh and zippered panels.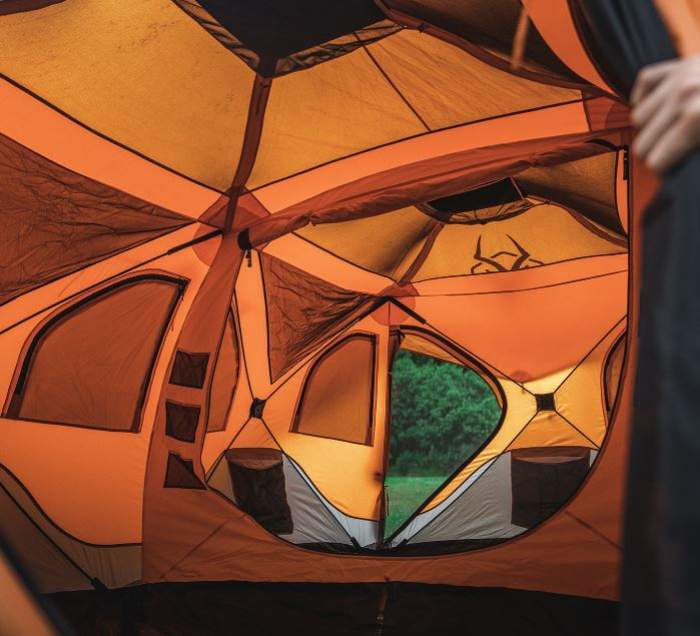 There are 12 windows in total, 10 of them are separate plus two mentioned windows on the doors. All of them are double layer. The ceiling is all mesh and you have a fly that you add separately. The picture below shows the back side of the tent when the fly is on, with 5 out of 6 windows on this side visible.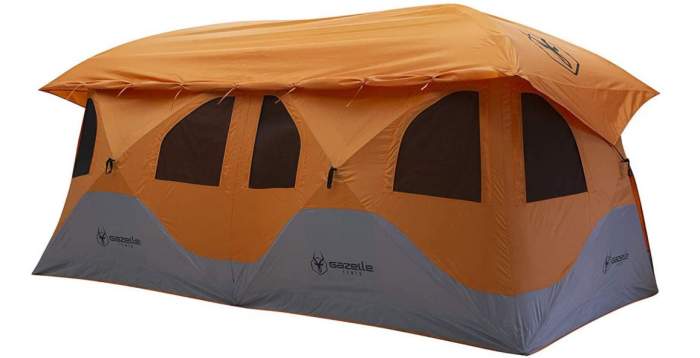 Observe that the fly is rolled up and fixed with toggles. In fact, this is an oversized design so you can spread it and create some extra covered space as the picture below shows: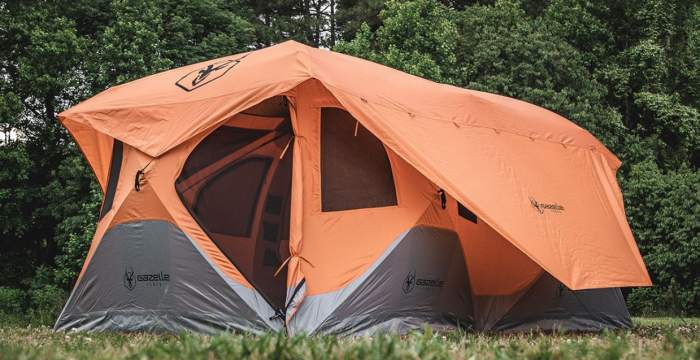 Materials
The fly and the walls are a 210D oxford-weave shell with a 2000 mm waterproof rating and fully taped seams. The floor is a 300D oxford-weave with a 5000 mm waterproof rating.
The floor is removable, it is attached by Velcro around the perimeter of the tent. In fact, each of the rooms has separate floors, so you can remove them separately. This is convenient if you use one room for cooking or as a living room so you can bring chairs inside without worrying about the floor.
My guess is this is why they use the phrase "4 to 8 Person Capacity" in its official name on Amazon. If you use one room as a living space, then you have the other room for 4 people.
The mentioned windows are with a tight-weave mesh to stop mosquitoes and other bugs. They claim that all materials feature a UV50+ rating for sun protection.
Note that you have top-quality and durable YKK zippers. With so many zippered windows it is important to have such reliable elements. An oversized carry bag is included, and you also have 12 stakes and all necessary guylines. The poles are fiberglass, and this is surprising in view of its steep price.
Impressive storage capacity
You have 6 large mesh pouches on the walls (one visible below).
There are 2 mesh lofts on the ceilings in each of the rooms.
But this is not all, you have 4 triangular mesh shelves under the canopy (one visible below).
There is a set of 6 organizer pouches on the wall between the two rooms (3 visible below).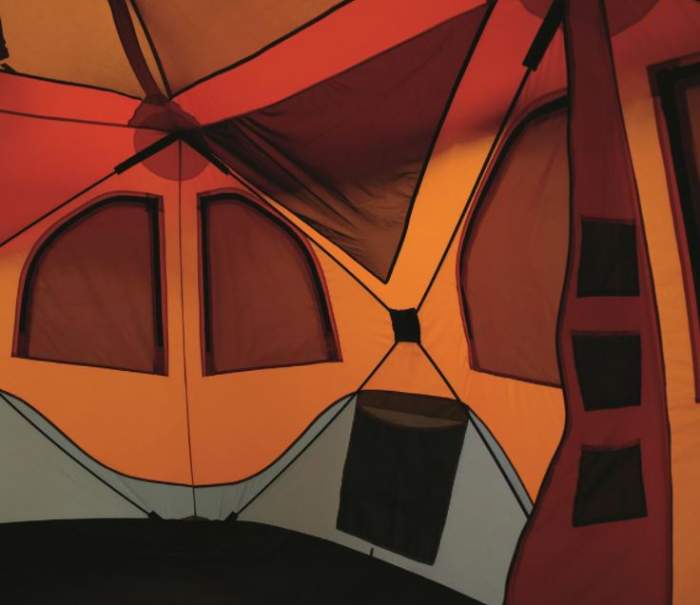 Ventilation
With so many windows and the canopy which is all mesh, it looks as if nothing can be bad regarding ventilation and condensation. More or less this is indeed so as long as you can keep the windows with mesh only. But when it is raining you will have to close everything. In such situations, you would want to have floor vents. They are missing here.
Please see more in this video:
---
Who is this Gazelle T8 Extra Large 8 Person Portable Instant Pop Up Camping Hub Tent for
Regarding the area, it is officially for 8 people, but this looks quite unrealistic to me. The area is 110 ft² (10.2 m²), so you would have 13.7 ft² (1.27 m²) per person. It is perfect for two couples or for up to 5-6 people.
Regarding seasons & climate, this is a tent with a huge waterproof rating and with an oversized fly. So you have great protection against rain. But the structure is not aerodynamic and I would not use it in very windy places. It is not for a very cold environment, the mesh ceiling is not closable. I see it as a tent for 2-2.5 seasons in the warmer part of the year.
Regarding the weight, this is a very heavy tent in view of its 47 lb (21.3 kg). Note also that the packed size is very impressive in a negative way, it measures 63 x 11 x 11 inches (160 x 28 x 28 cm). So you need a car for transportation and it will take lots of space in the car.
Regarding the price, it is very steep. Though indeed the tent is well-built and with some unique features.

---
Specifications
Official capacity: 8 people.
Weight: 47 lb (21.3 kg).
Dimensions: 168 x 94 in (427 x 239 cm).
Area: 110 ft² (10.2 m²).
Area per person: 13.7 ft² (1.27 m²).
Height: 78 in (198 cm).
Packed size: 63 x 11 x 11 in (160 x 28 x 28 cm).
Poles: fiberglass.
---
Final thoughts, rating, pros & cons
So this Gazelle GT800SS T8 Extra Large 4 to 8 Person Capacity tent is unique and with many great features. The waterproof rating is very good, and many windows make it pleasant. But I do have several objections, so check below which of them are of importance to you.
Please see how I rate this tent against my usual set of rating criteria. It does not score great in some of them.
Gazelle T8 Pop-Up Hub Tent
This tent is available at several big sellers and the prices may be drastically different. But this changes all the time so check from your side.
If you need more options regarding this capacity, please check under the category Tents for 7/8 people. Check in particular this Bushnell Instant Pop-Up 8-Person Tent built in the same style.
Let me know if you have questions there is a comment box below. Thank you for reading and have a nice day.