The Hi-Gear Hampton 6 Nightfall Family Tent is a 3-room configuration, with panoramic solid windows and dark rest bedrooms, suitable for a 3-season family camping.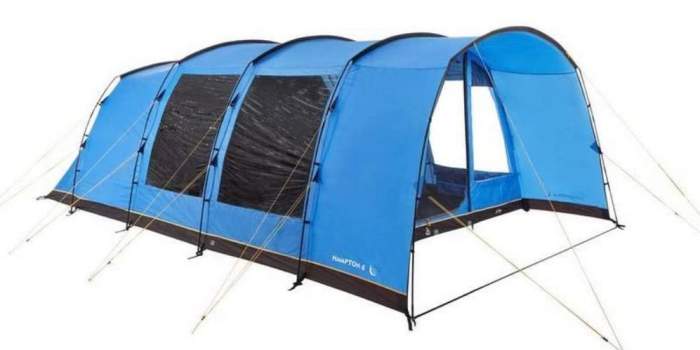 ---
Key features & benefits
Tunnel type tent.
3 Rooms.
Porch.
2 Doors.
Solid windows.
E-cable port.
Tall tent.
Ventilated.
---
Overview
This Hi-Gear Hampton 6 Nightfall Family Tent is a 3-room construction with an inner tent containing two bedrooms with a divider, plus a large living room. The divider is with zippers on the sides so you can roll it up and create one very large sleeping room.
The inner tent is the yellow area in the floor plan picture below. There is also a front porch which offers an area for sitting in the shade. The tent is tunnel shaped and non-freestanding.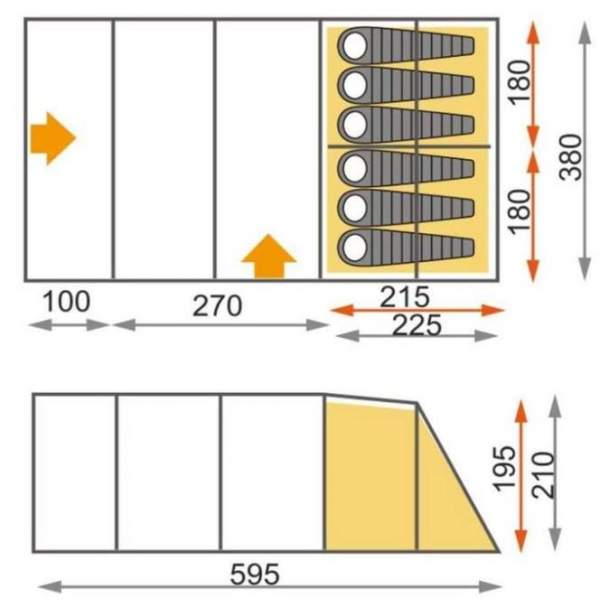 There are two doors, one is under the porch so it is fully protected from the rain and this is a dry entry point. The other door is on the side.
This is a tall tent with pre-bent poles so there is lots of headroom inside. You have panoramic solid windows on three sides and this adds a lot to livability of the tent. All these windows have inner panels for privacy and to reduce glare.
The inner tent is made of a dark material, so this is behind the word Nightfall in the name, this is a sort of a dark-rest design. This is useful to have and to avoid waking up at the crack of dawn. See how it looks.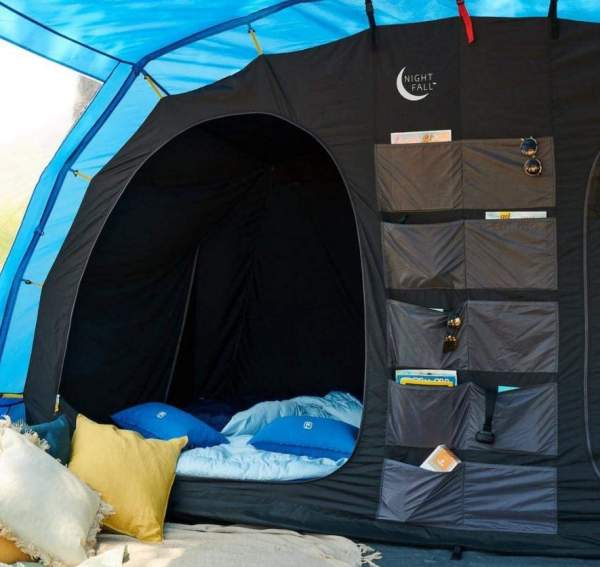 The picture also shows multiple storage pouches on the wall of the inner tent. Note that each of the bedrooms have several more pouches on the sides.
The materials
The poles: You have 5 shock-corded and color-coded fiberglass poles. They go through long sleeves on the roof so this distributes pressure over a large length and adds to the stability of the tent.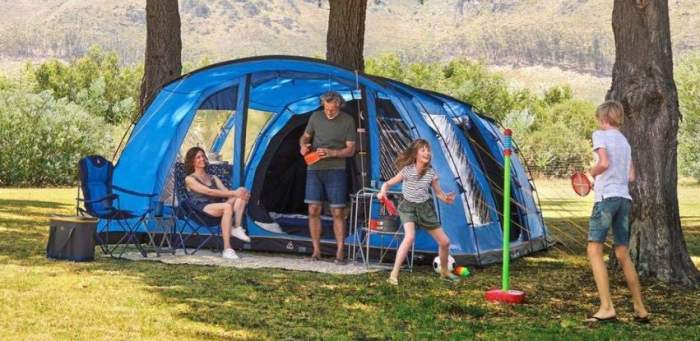 The fabric: The shell fabric is a polyester with a 4000 mm waterproof rating. The seams are taped. They do not provide information about the floor material, but note that it is fully sewn-in and sealed. The inner tent has yet another extra floor.
I already mentioned that the inner is a dark rest, so this is a breathable material that blocks up to 80% of sunlight. These are all fire-retardant fabrics tested to the BS EN 5912 standard.
Ventilation
The tent has mesh on the doors, and in addition to this, they have added several vents. You have low vents on the long sides plus a large rear vent behind the bedrooms area. the inner bedrooms have openings that match the rear vent so you can keep them open for more air, see one in the picture: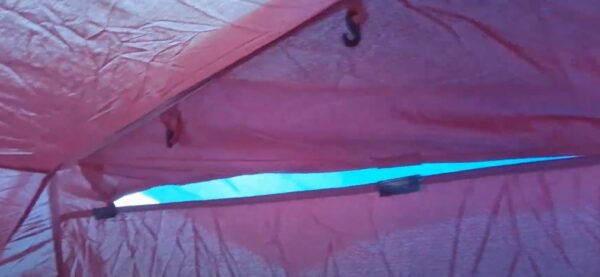 There is also a wide gap between the inner tent canopy and the shell, so this is useful to reduce condensation.
Please see more in this video:
---
Who is it for
Regarding the area, the tent is officially for 6 people. For this it offers no less than 202 ft² (18.8 m²). This means 33.4 ft² (3.1 m²) per person, so you have a generous space indeed.
The living room alone has more than 10 square meters of the fully protected area, so 6 more people can easily sleep there. This would be suitable for a large group of friends at some summer festival or any similar event.
Regarding seasons & climate, the tent is ventilated, tall and pleasant, perhaps a bit more suitable for a cooler climate. The waterproof rating is very good so you are fully protected. I would describe it as a true 3-season tent.
Regarding the weight, it is a bit on the heavy side, though its packed size is quite good for such a large tent, the numbers are given below. But this is a car camping tent so you are not supposed to carry it long distances.
Regarding the price, it is more than fair for such a tent. You will see below the links to several sellers so you can compare.
---
Specifications
Weight: 56.4 lb (25.6 kg).
Official capacity: 6 people.
Dimensions: 19.5 x 12.47 ft (595 x 380 cm).
Inner area: 202 ft² (18.8 m²).
Inner area per person: 33.4 ft² (3.1 m²).
Porch area: 41 ft² (3.8 m²).
Peak height: 82.68 in (210 cm).
Packed size: 30 x 12.6 x 12.6 in (76 x 32 x 32 cm).
---
Final thoughts, rating, pros & cons
In summary, this Hi-Gear Hampton 6 Nightfall Family Tent is a pleasant, large, and affordable family camping shelter. The best features of this tent are its dark rest bedrooms and its numerous solid windows on the three sides. So you have what you need for both sleeping and daily activity. I have included it in my list of dark rest tents.
Below you can see how this tent stands against my standard rating criteria that I apply consistently to all the tents here in the site so that you can easily compare:
BEST PLACEs TO BUY:
For more tents of this shape please check in the category Tunnel Tents.
Let me know if you have questions, there is a comment box below. Bookmark this site and come again, this will keep you informed, as you realize I add texts here on a regular basis. Thank you for reading.