The Kamp-Rite Privacy Shelter with Shower is an instant setup, tall, easy to use construction, and it comes with a shower unit included.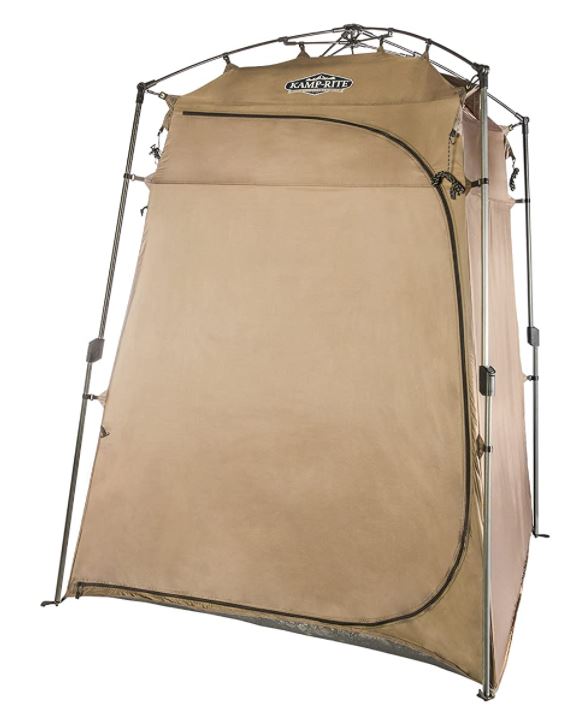 ---
Key features & benefits
Instant setup.
Steel frame.
Large area.
Includes a 5-gallon portable shower unit.
---
Overview
This Kamp-Rite Privacy Shelter with Shower is an instant setup construction with the frame pre-attached to the shelter like an inverted umbrella. The picture below shows its roof construction, so you get some idea of how it looks. You will see in the video below how it works.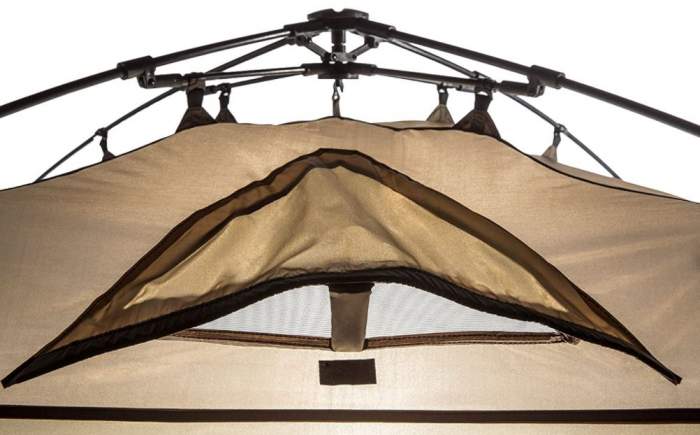 It is supported by 4 legs that have two sliding sections. So when you unfold the shelter you extend them one by one. This all is done in in a minute or so. When you pack the shelter, it fits nicely in its included carry bag shown in the picture below. Its dimensions are 42 x 7 x 7 inches (107 x 18 x 18 cm).

It comes with a 5-gallon portable shower unit shown below, that you attach under the roof, there are attachment toggles for this purpose.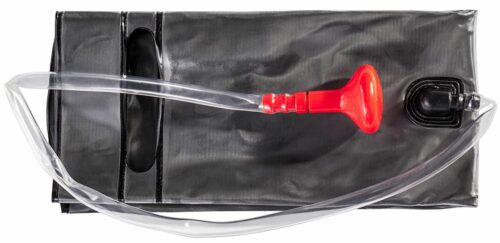 Here is the picture which shows how it looks when you put it in place. Note that you have 80 inches (203 cm) peak height. The picture also shows a wall mesh pouch with compartments, and above you can see the roof vent.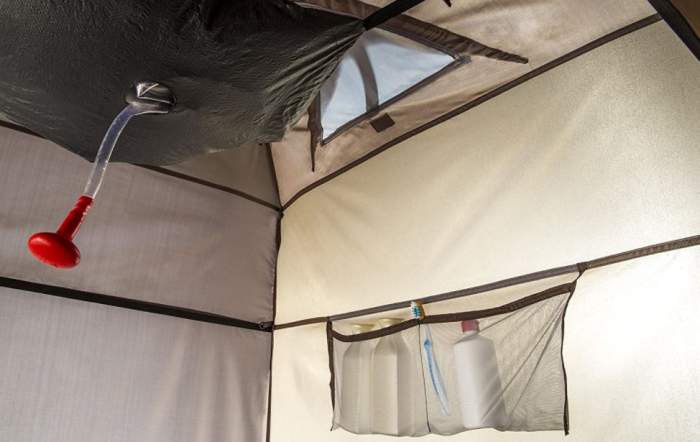 The floor is with a removable cover which you can attach on the back wall when not in use. It is with a mesh panel to allow for water drainage.
Materials
You have a strong steel frame and the fabric is a 190T nylon. You have several steel stakes to secure the shelter to the ground.
Please see more in this video:
---
Who is this Kamp-Rite Privacy Shelter with Shower for
Regarding the area, you have a square of 60 x 60 inches (152 x 152 cm), so the area is 25 ft² (2.3 m²) and this is quite a lot for such a single room privacy shelters. If this is not enough you might want to go for a two-room privacy shelter, but note that most of them are not much bigger.
Regarding the best use you have a privacy space that can be used as a shower, and indeed it comes completely ready for such a purpose. But you can also take it to the beach and use as a change room, or use also to place your camping toilet inside.
This is also a nice annex to a larger family camping tent, regardless of how you use it. Below you have a view inside with the floor attached on the back.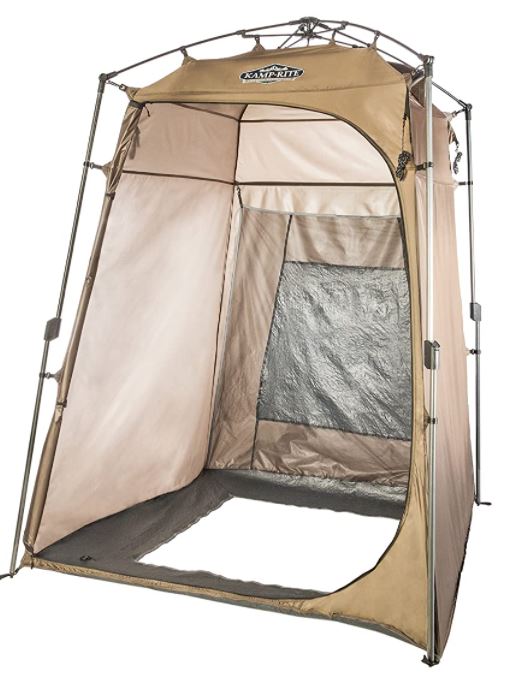 Regarding the weight, this item weighs 13 lb (5.9 kg). Its packed size you have already seen, so this is a shelter for car camping.
Regarding the price, it is reasonable as you would expect from a brand like Kamp-Rite. Note that the included shower unit adds value.

---
Specifications
Weight: 13 lb (5.9 kg).
Dimensions (W x L x H): 60 x 60 x 80 in (152 x 152 x 203 cm).
Inner area: 25 ft² (2.3 m²).
Packed size: 42 x 7 x 7 in (107 x 18 x 18 cm).
---
Final thoughts, rating, pros & cons
In summary, this Kamp-Rite Privacy Shelter with Shower is incredibly versatile, easy to use and reliable single room shelter. But its inner area is the same as in many 2-room privacy shelters.
It has been on the market for many years already, and this is for all the good reasons. You have a reliable brand behind this product so you know what you are buying. Fully recommended.
Below you can see how this shelter stands against my standard rating criteria that I apply consistently to all products of this type, so that you can easily compare:
BEST PLACEs TO BUY:
For more products of this type please check among Camping Privacy Shelters here in the site. Note that this Lightspeed Outdoors Xtra Wide Quick Set Up Privacy Tent is also with an instant setup. But see also this Zempire Pocket Rocket Campsite Utility Tent if you want something larger.
Bookmark this site and come again, this will keep you informed, as you realize I add texts here on a regular basis. Thank you for reading.