---
This Kelty Tallboy 6 Person Tent is a simple and easy to use dome structure with one door and one window, fiberglass poles, and a great price tag. Keep reading.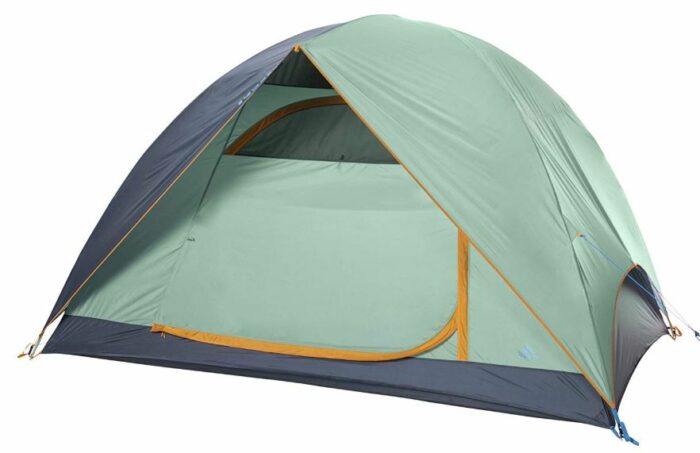 ---
Key features & benefits
Easy to use.
Dome tent.
Fiberglass poles.
Great price.
---
What type of tent is this
Here you have what could be described as a fully freestanding dome-style tent, and this means that you can move it around even after adding the fly. The picture below shows its simple structure supported by two main poles. This is a new tent from a series that also includes a 4-person tent with the same features.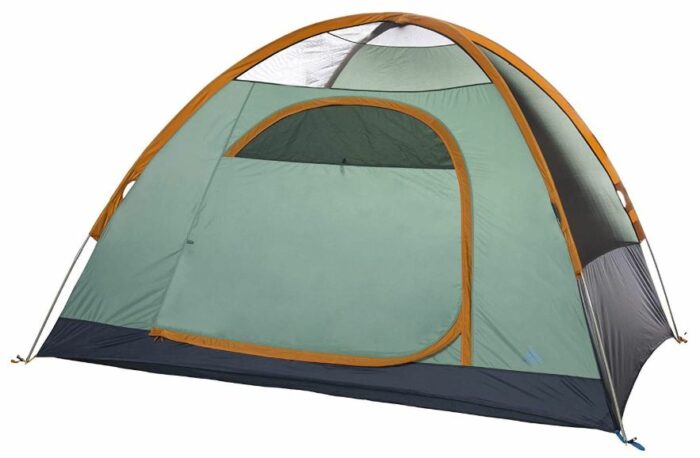 The tent comes with a partial coverage fly that creates small brims on the front and on the back, supported by an additional short pole. The fly attaches to the corners through buckles.
The tent is a simple one-room structure with one door. There are no vestibules here, and this is why the tent is freestanding. You have a window on the door and this is a double-layer structure. It is deep under the brim so you can keep it with its mesh layer all the time for better ventilation. The picture below gives a view inside to get some feeling about its interior.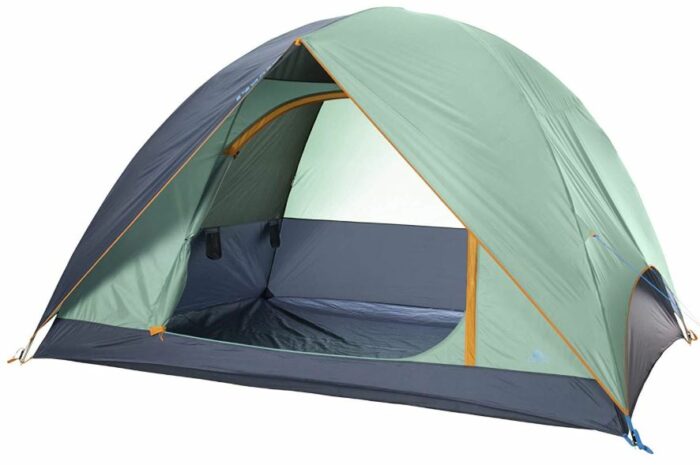 The tent is quite high for such a size, with a peak height of 72 inches (183 cm). This is why the door is also tall and large. So this is almost a standing height but bear in mind that the volume is limited in such a dome design. Check this Columbia Mammoth Creek 6 Person Cabin Tent if you need more shoulder space.
Ventilation
There is lots of mesh on the inner tent and it goes quite low on the sides. So although the tent is without floor vents, this should be fine. As mentioned above, you can keep the front window open practically all the time. The fly is not large and you will always have enough airflow due to the brim, so condensation should be minimal.

---
Who is it for
Regarding the size, the declared capacity is 6 people, but you have only 86 ft² (8 m²) of the area and this means 14.3 ft² (1.3 m²) per person. This is far from enough because there is no vestibule for storage, but you can indeed squeeze 6 pads on the floor. The picture below shows what they think about using the floor for 6 users.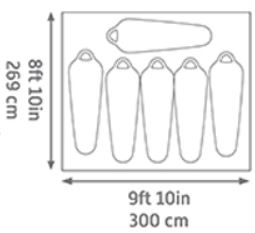 Regarding the climate & seasons, this is a 3-season reliable tent, but I would not use it at places with very strong winds. With such a brim design it would not last long. So use it in quiet areas without much wind combined with rain.
Regarding the weight, with its packed weight of 14 lb 1 oz (6.38 kg) this is a lightweight tent. So it can be carried on some shorter tours, but there are a bit lighter 6-person backpacking tents for such a purpose.
The packed size is not bad at all, the tent measures 24 x 8 x 8 inches (61 x 20 x 20 cm) in its nicely designed carry bag, see it shown below. So you can carry it in the pack or transport on a bicycle, in a kayak, etc.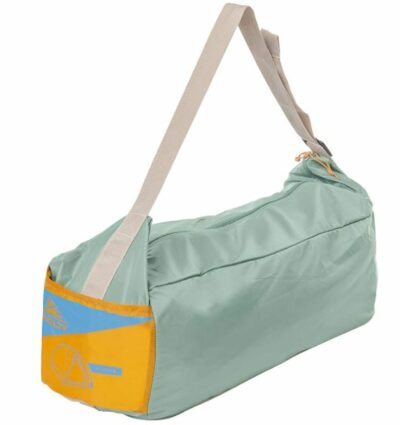 ---
Materials
The poles
The poles are here the same as in their Wireless Tent 6 Person. This is fiberglass, but they claim this is a special wrapped fiberglass design that is supposed to make them much stronger than standard poles of this material. So even with such a relatively heavy material, the tent is still very light.
The design includes color-coding and this makes setup easy and intuitive. You have sleeves integrated into the inner tent's body, there are no clips. The picture below shows the pole's attachment to the grommet and the fly's buckle.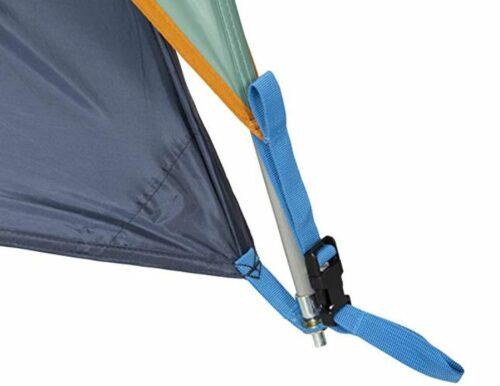 The fabric
The floor is a 68D polyester with a 1200 mm waterproof rating. The fly is the same material. The walls are a combination of this same 68D polyester and a 40D No-see-um Mesh. All seams are taped. So these are good and reasonably durable materials except for the floor where it is best to add an optional footprint (shown below).
Please see more in this short video which presents this Tallboy series:
Optional Kelty TALLBOY 6 Footprint
As you have seen, the floor is a quality material but to avoid damages they have built a footprint specifically for this tent and you can order it here. With such an addition you can use the tent in a fast-fly variant with poles and fly as a shed on the beach or during family picnics.
The picture below shows the footprint which is also with a convenient color-coding so you have nothing to guess about its combination with the tent.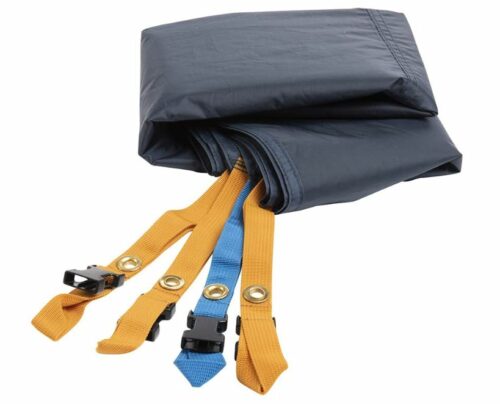 ---
Specifications
Declared capacity: 6 people.
Min weight: 12 lb 15 oz (5.87 kg).
Packed weight: 14 lb 1 oz (6.38 kg).
Dimension: 118 x 105.9 in (300 x 269 cm).
Area: 86 ft² (8 m²).
Area per person: 14.3 ft² (1.3 m²).
Packed size: 24 x 8 x 8 in (61 x 20 x 20 cm).
Peak height: 72 in (183 cm).
Poles: fiberglass.
Manufacturer's Warranty: Limited Lifetime.
---
Final thoughts, rating, pros & cons
So this Kelty Tallboy 6 Person Tent is very suitable for people who change the camping place frequently. This is not an instant setup tent but the design is very simple and one person can set it up easily in just a couple of minutes. The weight and packed size are very good and this makes the pack versatile, you can carry it in the pack and transport on a bicycle. I see it as a great option for a group of friends on a tour, but not for 6 people.
The tent comes at an affordable price, so if you do not want to spend much and still have a great and reliable tent, this is the one to consider.
Please see how I rate it against my standard set of criteria used for all the tents here in the site:
For more options in this size range or in any range, just look around, this site is all about large family camping tents so you will find what you need. Check under the category Dome Tents and also Tents for 5/6 people. Note that this Pacific Pass 6 Person Family Dome Tent is built in the same style. You might want also to see this nicely designed tent the Coleman Cabin Camping Tent with Screen Room with the 6-person capacity.
Note that we add new texts on a regular basis, so bookmark this site and check occasionally. There is a subscription form below for our weekly newsletter, so subscribe and stay informed. Have a nice day.