The MSR Habiscape 6-Person Family Camping Tent is a dome-type 2-door shelter with a full coverage fly, quality aluminum poles, and plenty of storage pouches.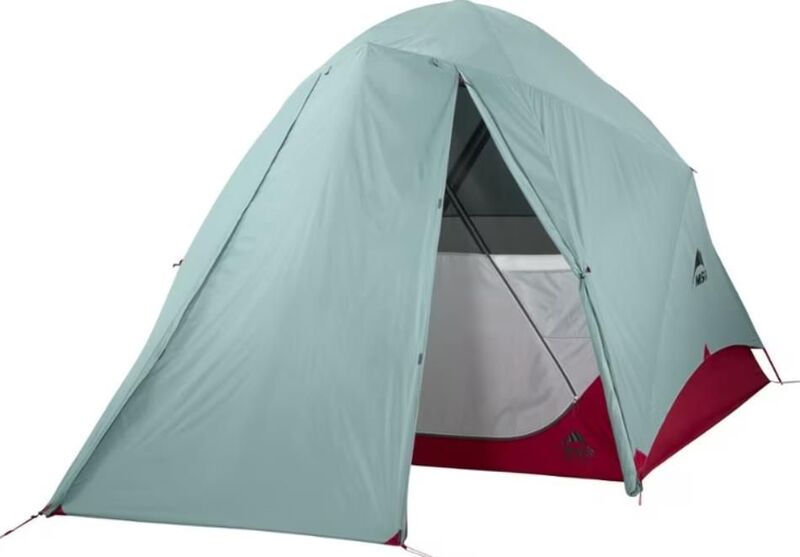 ---
Key features & benefits
Dome type tent.
Full coverage fly.
One vestibule.
2 Doors.
Aluminum poles.
Many storage pouches.
---
What this is about
So here you have a tent from MSR's new series of two tents, they also have a smaller 4-person version with the same features. The picture below shows it without the fly so you can better understand its structure.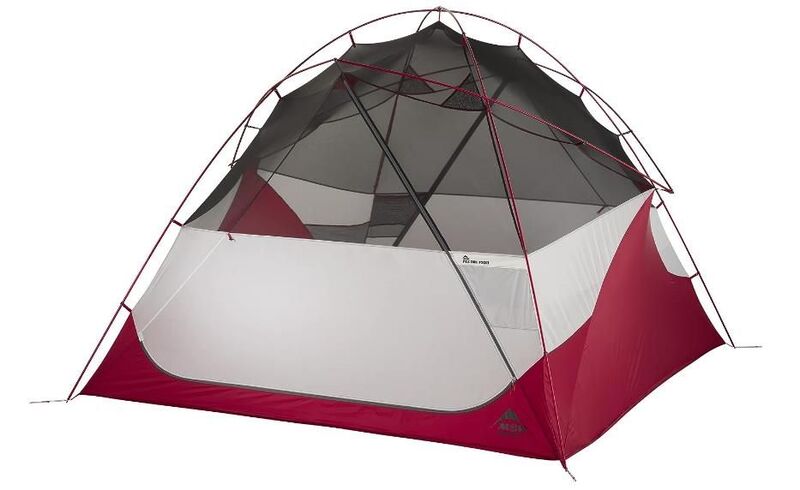 Without the fly the tent is fully freestanding of course, but when the fly is on you have to stake its vestibule to have it functional.
The tent is quite tall for a dome type, you have a peak height of 77 inches (196 cm), so this is a stand-up height for most of users. You will see below also that the volume is increased by a clever use of short poles.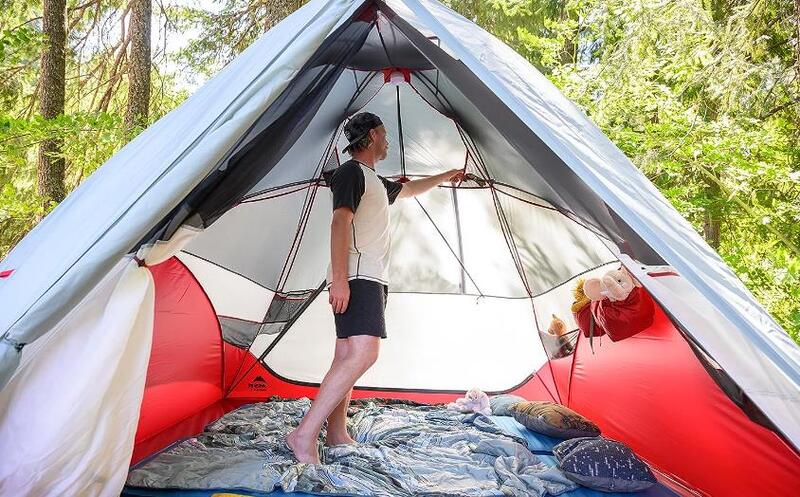 There are two identical large doors on the opposite sides, but the full coverage fly is asymmetric, so you have a vestibule on one side only. The picture below shows the floor plan and some dimensions.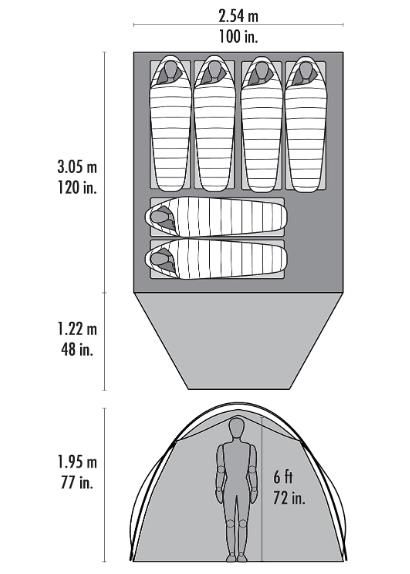 The tent offers many options for storage. You have already seen the vestibule in the picture above. But there are many pouches on the walls, both low and high, 10 in total, some of them are visible in the picture below. So you can keep lots of stuff off the ground and remain organized.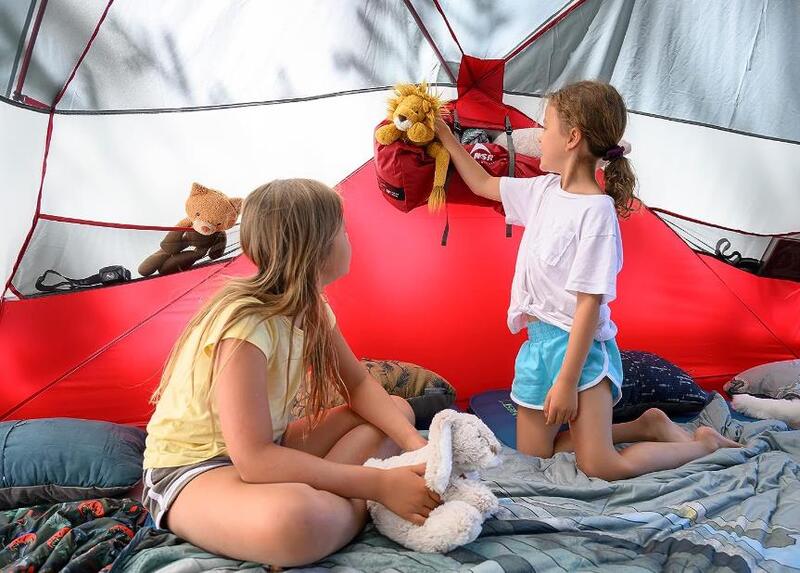 Some details here are in fact unique, see the pass-thru pocket in the picture below. With this you can access some items from outside and from inside.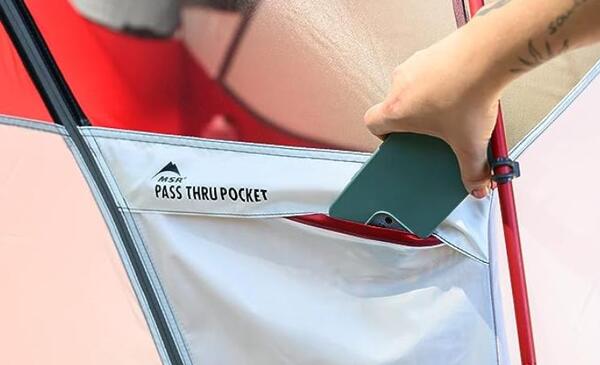 Even the carry bag converts into an additional hanging pocket. But this is not all, there are several loops to hang thing like lanterns, and you can also place a cord there to create laundry lines and to hang clothing.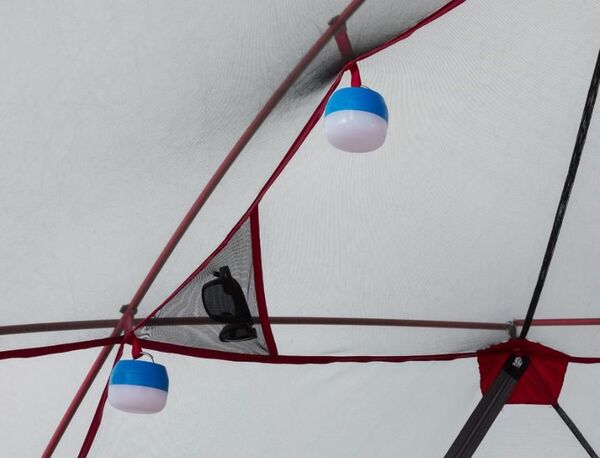 Materials
The poles: You have a set of high quality 7000 series aluminum poles that attach to the base through grommets, and on the canopy you have only clips. All job can be easily done by one person.
The fabric: The canopy fabric is a 40D ripstop nylon and mesh. The rainfly fabric is a moderately durable 68D polyester with a 1500 mm polyurethane coating. The same fabric is used for the floor, but here you have a particularly high 10000 mm polyurethane coating.
The vestibule flap with its dual zippers allows for an awning configuration with the help of extra poles that are not included, see how this may look.
Ventilation
The upper canopy is all mesh, you have seen this in the pictures. The fly doors allow for some venting options, like rolling the flap up and attaching it on the roof.
However, the lover canopy is taffeta, and there are no vents there. What surprises me is that the fly is also without vent. So I am sorry to say, but in my view this is not an optimal design. To see what a nicely ventilated tent is, have a look at my Snow Peak Alpha Breeze tent.
Please see more in this video:
---
Who is it for
Regarding the area, the tent offers 83 ft² (7.7 m²) of the floored space, but there is also 24.5 ft² (2.3 m²) under the vestibule. So this is not bad, but I would not describe it as a castle. It is best to downgrade it to 4 people.
But the picture below shows also that the volume is very good due to the short poles that they added on the canopy. So you have vertical parts on all the sides.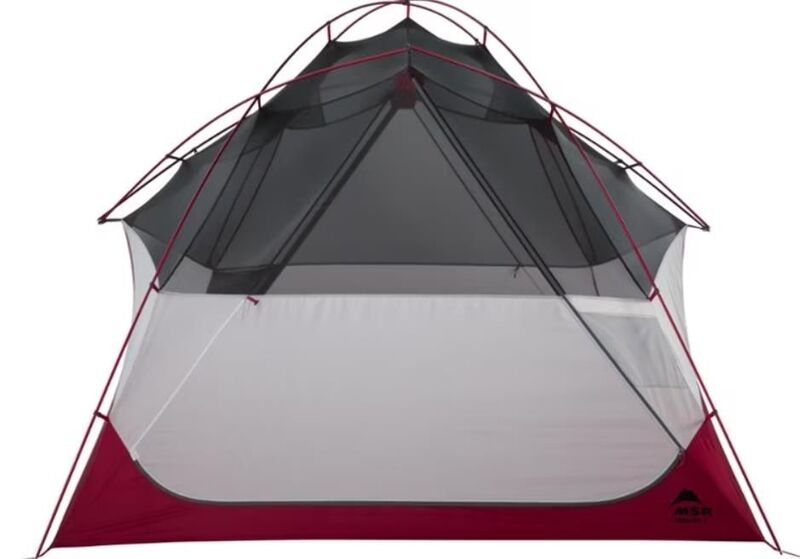 Regarding seasons & climate, the describe it as a 3-seaon tent and this is true. The full fly will protect you in almost any weather conditions. And the profile is also quite smooth so the tent will perform well even in windy places.
Regarding the weight, with its 14 lb 6 oz (6.52 kg) the tent can be described as lightweight. This is just a bit more than in their MSR Habitude 6-Person Camping Tent that is built in a similar style.
The packed size is also good, see the numbers in the picture below. Such a package can be transported even on a bicycle.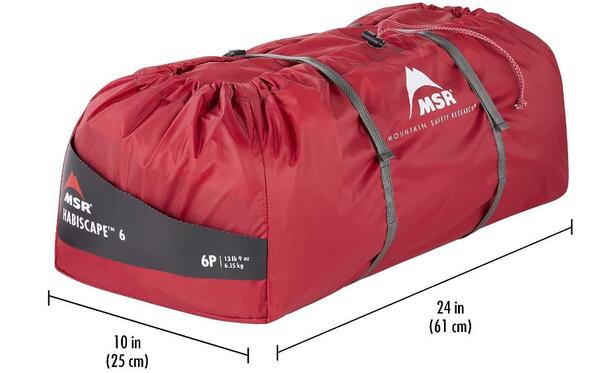 Regarding the price, I would describe it as a bit expensive, but there is no doubt this is a quality product and you have a top brand behind it.
---
Specifications
Weight: 14 lb 6 oz (6.52 kg).
Official capacity: 6 people.
Dimensions: 120 x 100 in (305 x 254 cm).
Inner area: 83 ft² (7.7 m²).
Inner area per person: 13.8 ft² (1.28 m²).
Vestibule area: 24.5 ft² (2.3 m²).
Peak height: 77 in (196 cm).
Packed size (L x D): 24 x 10 in (61 x 25 cm).
---
Final thoughts, rating, pros & cons
In conclusion, the MSR Habiscape 6-Person Family Camping Tent offers a versatile and well-designed shelter for outdoor enthusiasts. Its dome-type structure, full-coverage fly, and high-quality aluminum poles make it a reliable choice for various camping adventures.
With a spacious interior, standing height, and clever use of short poles, it provides comfortable living space for a family or a group of people.
One of its standout features is the abundance of storage options, including multiple pouches, a pass-thru pocket, and even a converted carry bag. These elements contribute to keeping your gear organized and easily accessible during your camping trips.
However, the tent's ventilation could be improved, as the lower canopy lacks vents, and the fly doesn't have venting options. This aspect might be a consideration for those camping in particularly hot or humid conditions.
In terms of capacity, while it's advertised for six people, it's best suited for four campers due to the available floor space. Nevertheless, the tent's unique design with short poles adds to its volume, providing a roomy feel inside.
With its lightweight build and compact packed size, the MSR Habiscape is relatively easy to transport, making it suitable for a variety of outdoor adventures.
Despite its slightly higher price point, its quality and the reputation of the MSR brand make it a worthwhile investment for those seeking a dependable and spacious camping tent.
All in all, the MSR Habiscape 6-Person Family Camping Tent offers a combination of comfort, durability, and convenience, making it a suitable choice for camping trips with family or friends, especially in three-season conditions.
Below you can see how this tent stands against my standard rating criteria that I apply consistently to all of them here in the site so that you can easily compare:
BEST PLACEs TO BUY:
For more tents of this shape please check in the category Dome Tents.
Let me know if you have questions, there is a comment box below. Bookmark this site and come again, this will keep you informed, as you realize I add texts here on a regular basis. Thank you for reading.