The Snow Peak Zekka Tent is an incredibly well-built reliable and functional tent that offers full protection in all weather conditions and in all seasons, with high quality materials and a top-level craftsmanship.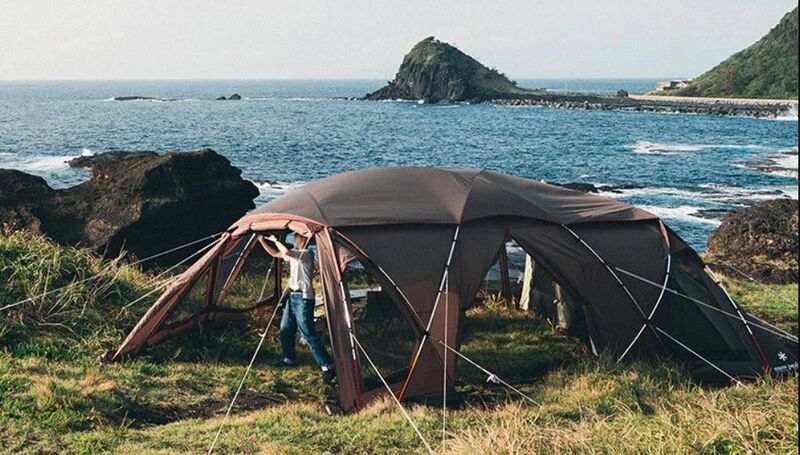 ---
Key features & benefits
---
Overview
This is a huge shelter with options for panoramic views around as you realize from the picture below. This is all mesh but you can close it. What you may not realize from the picture is the fact that it is very tall, you have a peak height here of 7.5 feet (230 cm).

The base shape is quite interesting and unique to this brand, the picture below shows how it looks. On the right you can see the inner tent area. Now, the problem is they do not give numbers for the area so you can only guess. But see the overall dimensions, this thing is gigantic.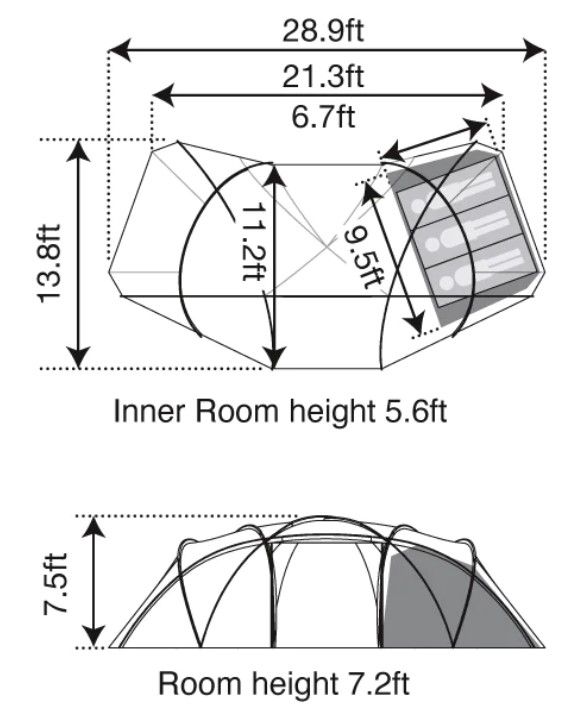 Below you can see how it looks from the living room. There is an inner tent with its double-layer sections with mesh and panels, and they match the windows on the shell tent. So this inner tent is also fully closable.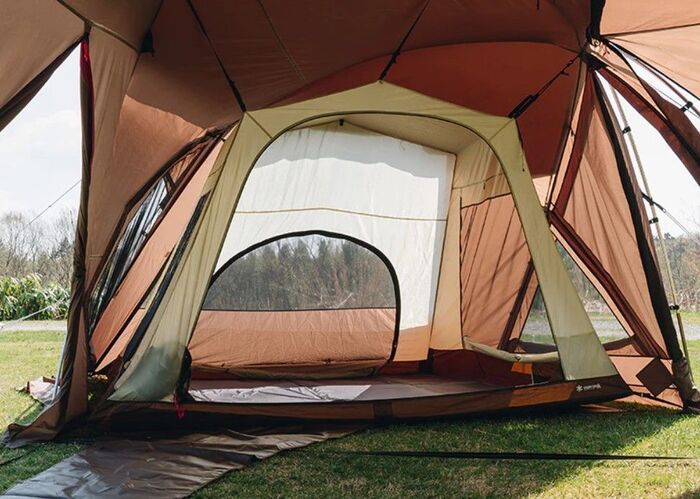 Note that this inner tent can be attached on either side of the tent so this is a modular design. You can order one more inner tent and attach it on the opposite side if you need more space protected from insects for sleeping.
The doors & windows
You have very differently shaped doors on the wide sides of the tent and this is access to the living area. One of them is with a huge panel which you can use to create an awning as in the aerial photo below.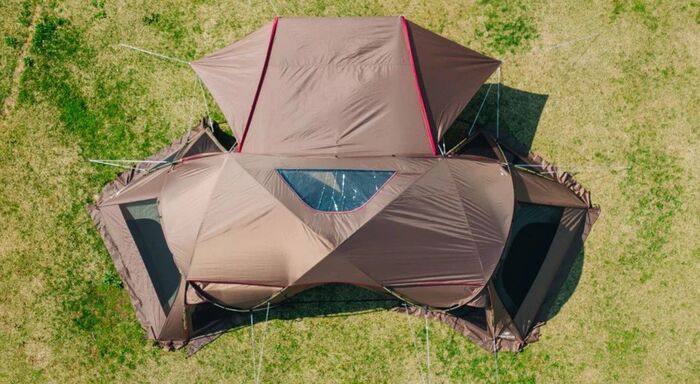 The sides are all in windows, and you have them also on its gigantic doors. All of them are double layer so you have full control over views and privacy. See how it looks from inside when the panels are rolled up: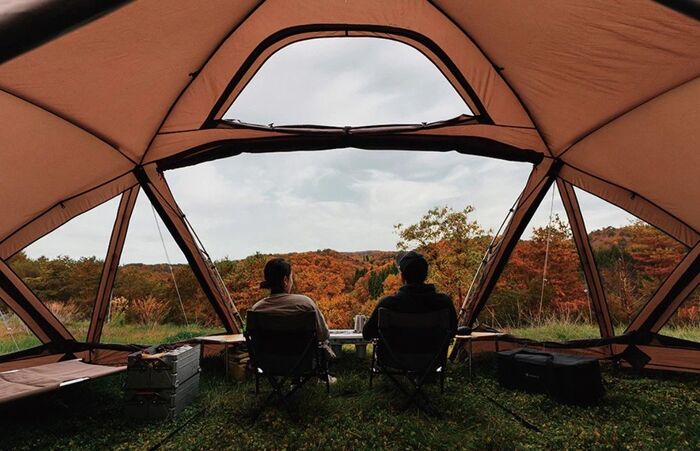 Note that there is also a skylight window (see the pictures) that has a mesh and zippered panel. It is always in function, even when the shield roof is on. This because the shield roof has its own solid window that matches the window on the shell tent.
Materials
You have premium materials here, and the list of elements included in the package is as follows:
Fly Sheet.
Inner Room.
Shield Roof.
Ground Sheet.
Pole Frame x 7.
Pegs x 34.
Rope w/ Tensioner x 24.
Carry, Frame, Peg Cases.
All the elements are shown in this picture. Observe two separate carry bags for the poles and for fabric.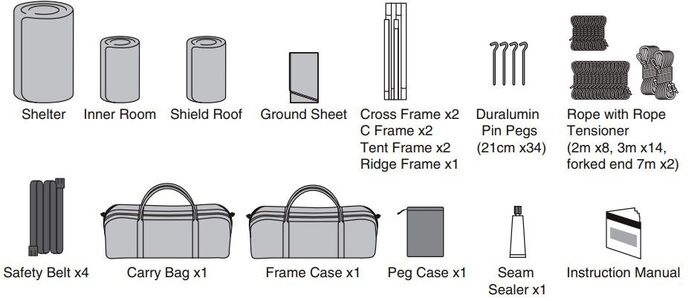 The tent is big and a bit complicated but one person can set it up. You can have a look at its user manual. It is in Japanese and English and it will be useful.
The poles: You have them 7 in total, shown in the picture below. This is thick aluminum tubing and the diameters are 16 mm (0.63″), 17.5 mm (0.69″), and 19 mm (0.75″).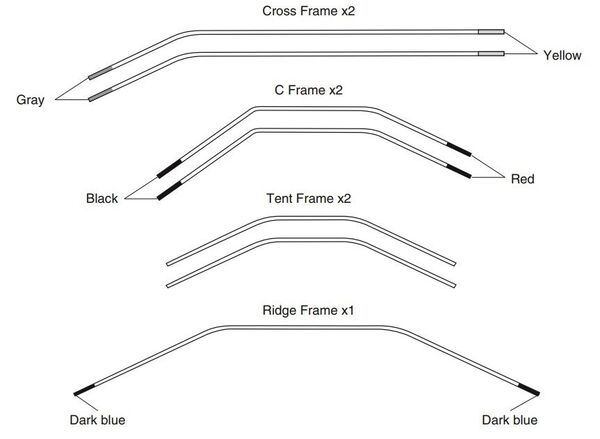 The fabric: Some great stuff here as well. The inner tent is a combination of 68D polyester taffeta, and 210D polyester Oxford with a PU coating used for the floor with a waterproof rating of 1800 mm. I find this value a bit low for the floor.
But there is also a ground sheet of the same material included, and you can use it under the inner tent as a second layer.
The shell is a durable 150D polyester Oxford with a PU coating and a waterproof rating of 1800 mm, with a Teflon water-repellent finish and UV protection treatment.
The shield roof is a 75D polyester taffeta with a shading pigment PU coating and a 3000 mm waterproof rating and Teflon water-repellent finish and UV protection.
In this video you can see how to set this tent up, it is in Japanese, but this does not matter:
Ventilation
With so many windows on the shell that are with mesh, you will never have issues with ventilation. The inner tent is also with the same mesh design. As you realize, the inner tent is fully protected so you can keep it with mesh only as long as you do not feel cold.
The shell tent is floorless, so you will always have some extra air flow from the ground under the shell.
But they have added numerous high vents as well, you have a series of them on one side of the tent. There is nothing really one could object to this design.
---
Who is it for
Regarding the area, the tent is officially for 6 people. But it comes with only one inner tent which is for 3 users. On the other hand, they do not give any numbers regarding the area, and it is difficult to estimate it because of the irregular shape of the base.
The inner tent is around 5.8 square meters and this is a generous space for three people. My rough guess is that the total covered area is above 20 square meters, most likely around 22 m² or so. But I may be wrong of course. So it is a bit difficult to give a proper rating, but this is a huge space in any case.
Note also that the tent has no floor in the living area. So it is difficult for me to rate this properly using my standard rating criteria. How to treat this huge space? As a vestibule? It makes no sense, it is too good to be treated as a vestibule.
Regarding seasons & climate, the tent can be described as freestanding and its poles create numerous intersection points. Note also that the poles are enormously thick. So the structure is incredibly strong.
The tent is tall but the profile is smooth and aerodynamic, see the picture bellow. So it will perform great in every weather situation. The shell is waterproof itself, but the waterproof rating is just moderate. They have added yet another roof shield for protection, but it covers only the central top area.

Regarding the weight, you have 66.1 lb (30 kg) so this is a heavy thing, but see its overall size and its strong frame. It is not built to be carried anywhere, so although my rating for the weight is not high, this is not a big deal.
The packed size is also not the best feature of this tent, and this may be more important than the weight. There are two carry cases, the numbers are below.
Regarding the price, the tent is very expensive, it is best to check the links below and see for updated prices. But if you can afford it, the tent is definitely worth the investment.
---
Specifications
Weight: 66.1 lb (30 kg).
Official capacity: 6 people.
Dimensions: 28.9 x 13.8 ft (880 x 420 cm).
Inner area: more than 2015 ft² (20 m²).
Inner area per person: 35.8 ft² (3.3 m²).
Peak height: 7.5 ft (230 cm).
Packed size:
– Poles: 28.7 x 8.3 x 10.2 in (73 x 26 x 21 cm).
– Fabric: 36.2 x 13.8 x 15.7 in (92 x 35 x 40 cm).
---
Final thoughts, rating, pros & cons
Below you can see how this tent stands against my standard rating criteria that I apply consistently to all of them here in the site so that you can easily compare. But note this is not a standard tent.
BEST PLACEs TO BUY:
For more tents of this shape please check in the category SS. Let me know if you have questions, there is a comment box below. Bookmark this site and come again, this will keep you informed, as you realize I add texts here on a regular basis. Thank you for reading.