This Bushtec Adventure Echo 2200 Luxury Camping Tent review is about an impressive canvas camping tent with a steel frame, two rooms, a huge porch, and a hard to match quality.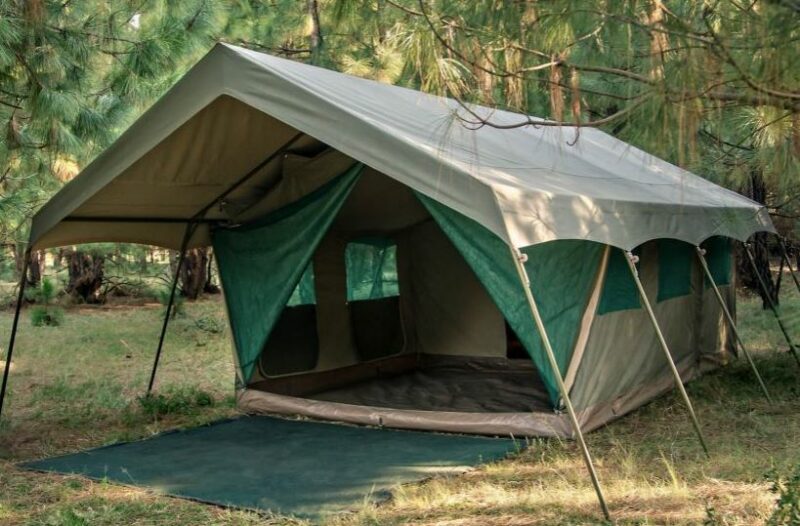 ---
Key features & benefits
Canvas tent.
2 Rooms + porch.
6 Windows.
Incredibly durable materials.
Framed tent.
3-Year warranty on all parts.
Built to last over 15 years.
---
What type of tent is this Echo 2200
Here you have one of the most impressive tents currently on the market. You could describe it as a framed cabin-style tent and the meaning is that the frame is a freestanding construction for itself, and the walls are steep and tall.
This is also a 2-room structure (see the picture below) but you have a deep porch on the front which extends the area and offers a nice space for sitting in the shade. I have included it in my list of best cabin tents with a porch. The floor structure will be shown below in the text, together with the most important dimensions so you will realize how great this space is.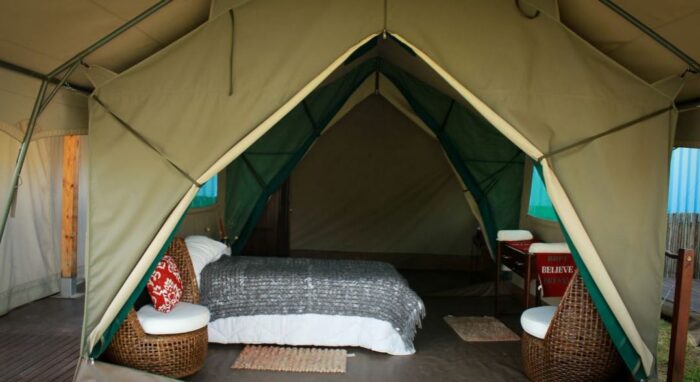 You have 6 windows in total (see the picture below) and these are two-layer structures with mesh and panels. The tent itself is a single-wall canvas structure, pleasant, breathable, and incredibly durable. But the roof is a true two-layer construction, so the inner ceiling is canvas as well.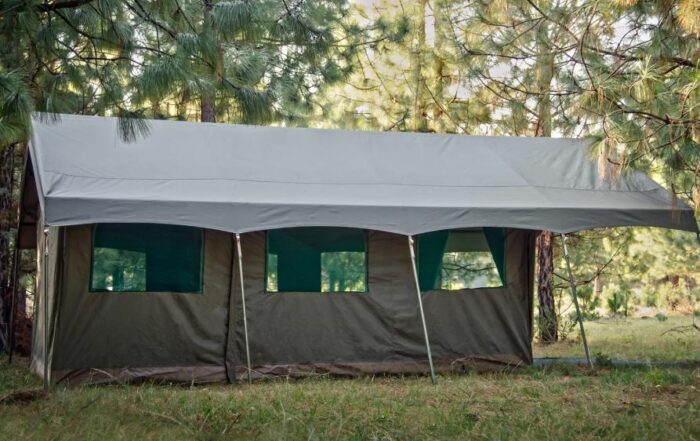 Dark rest design
The manufacturer did not even mention this aspect of the tent. But what you have here is indeed a structure with very reduced glare and with a cool atmosphere. As mentioned, the roof is a double-layer type with canvas and you can also close the panels and this will create a dark atmosphere.
How much space does it offer?
You will see some different numbers on the Internet and this is partly because of the three possible sets of dimensions, and it is easy to get confused. There are inner tent dimensions, then the dimensions of the tent with the frame, and finally the dimensions of the area where you add the stakes, the latter is important to know so you can plan the camping spot size. You can see them all in the picture: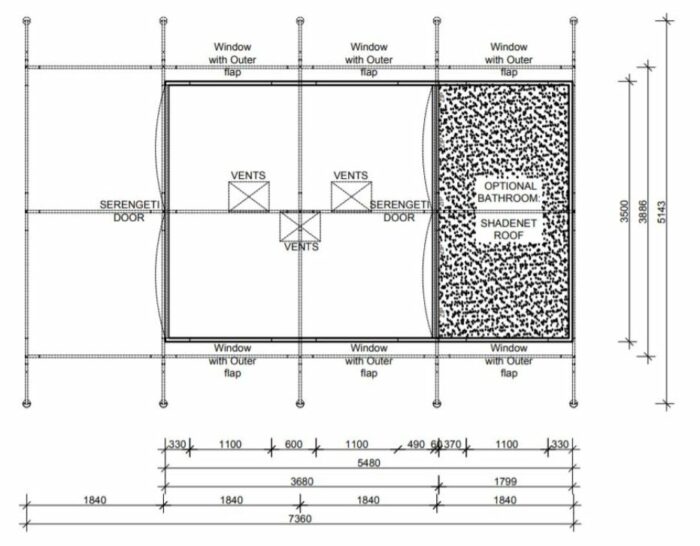 So you have the inner tent that offers 206 ft² (19.18 m²). With such dimensions and the official declared capacity of 4 people it is really difficult to properly categorize this tent. The front room offers 138.6 ft² (12.88 m²) and the room behind 67.8 ft² (6.3 m²).
This is a large structure and I have added it in my list of extra large camping tents. Note its impressive peak height which is 10 ft (3 m), so it is also in my list of very tall camping tents.
This is a fully enclosed space with mesh on all the openings, so you have full protection from the elements and from insects. But there is also a porch that adds 77 ft² (7.15 m²) of the area that is under its fly, so the total covered area is 283 ft² (26.3 m²).

Ventilation
Being a canvas tent, it is breathable and you also have so many openings with mesh, see the picture below. This includes the 6 windows plus the huge front door. Note that the windows with mesh and the door are under the roof so you can keep them with mesh whenever you want this.
But they have added three vents on the ceiling, you can see them in the picture with the floor plan given above. So ventilation here is as good as it possibly can be in a tent.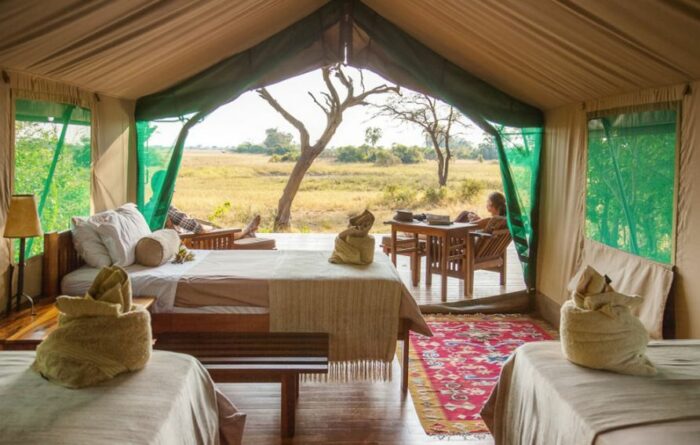 ---
Materials
I would say that materials are the best part of this structure. Everything you have here is top-quality, durable, and built to last. They claim their tents are designed to last over 15 years, and they give a 3-year warranty on all parts.
The fabric
This tent is manufactured using military-grade canvas, but it is combined with superior quality parts and functional design that you would expect in a luxury tent. This is a heavy-duty, rip-stop canvas 650 g/m², incredibly robust and long-lasting.
The fabric is impregnated during the production process and it is also fire-retardant to all international and USA standards (CPAI 84). It prevents rotting and blocks UV rays to reduce color fading (4 on the blue wool scale). They claim that the fabric shows no noticeable color fading for 15+ years.
They also write that all their tents are tested for 500 mm water head, this is not much but you probably do not need more. In any case, I have included it in my list of best canvas camping tents.
The floor is sewn-in 450 g/m² robust PVC material with 6-inch (15 cm) floodwalls. So this is again a very strong material and fully waterproof.
About the fabric, they use in their tents, and about some other features, in general, you can see in this video. They frequently show their Alpha Kilo 4000 tent presented in our separate text.
The poles & other hardware
This tent has a very strong frame that is self-supporting and freestanding by itself. The tubing is a premium grade powder-coated steel. The zippers are also the best you can get on the market #10 YKK zippers. You get unbendable pegs, zinc-coated D-rings, and brass eyelets.
In the video below you will see how they set up the larger version (the Meru tent), so this is not the Echo 2200 Tent, but it is exactly the same shape and built in the same style. Have a look:
---
Who is it for
Regarding the weight, with its 500 lb (227 kg) this is among the heaviest tents here in the site. Note also that its packed size is enormous, 90 x 45 x 18 inches (229 x 114 x 46 cm). So this is not something you would move frequently, and it takes lots of work to have it ready.
Regarding climate & seasons, you will see this tent described as a 4-season tent, and indeed the materials are such that you can use it anywhere. But with such a height and veranda design, you would not want to use this tent in harsh conditions with lots of wind. They claim it can withstand winds of 50 mph, but I would not use it in such weather conditions.
If you use the tent in a cooler environment, you can always close the panels on the openings to retain warmth. In the case of a warm climate, the design is such that it encourages airflow. You have seen above about its ventilation. Note that the inner tent is under the mightly fly, so it is well protected and you have a cool atmosphere inside. This makes it ideal for summer camping as well.
So this tent it is clearly for any weather. But if you need a true winter tent, it is best to check my separate text where some tips are given, and check also my list of best winter tents.
Regarding the area, the declared capacity is only 4 people and this should not be surprising in spite of its enormous size. This tent is built for luxury and glamping and not to be packed inside like sardines in a can.
So you have 4.6 m² per person, and this you will not see in many tents on the market. The picture below shows its interior. Clearly, this tent can accommodate far more people. I have included it in my list of best 4-person family camping tents.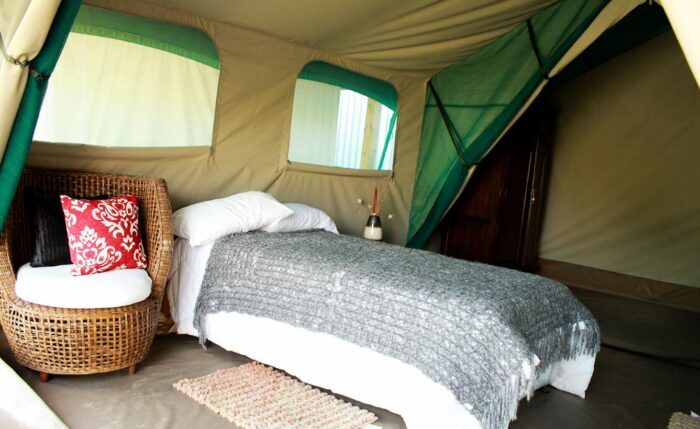 ---
Pros & Cons
It is so easy to get delighted with this tent's shape and features. But the truth is, you have extremes here. On one hand, this implies extremely strong and durable materials, designed to last for decades. It is very difficult to make any objections to its design and features.
On the other hand, this all implies enormous weight and bulk when the tent is packed. It is simply so heavy and bulky that not everybody can deal with it. You will see my summary in the rating box below. And see also the enormous price, not many tents on the market can match it. But this is a quality product.
---
Specifications
Weight: 500 lb (227 kg).
Outer dimensions: 24.18 x 12.76 ft (7.36 x 3.89 m).
Inner dimensions: 17.99 x 11.48 ft (5.48 x 3.5 m)
Inner area: 206 ft² (19.18 m²).
Porch area: 77 ft² (7.15 m²).
Total covered area: 283 ft² (26.3 m²).
Peak height: 10 ft (3 m).
Packed size: 90 x 45 x 18 in (229 x 114 x 46 cm).
Frame: steel.
Warranty: 3-year warranty on all parts.
---
Final thoughts & rating
In the conclusion of this Bushtec Adventure Echo 2200 Luxury Camping Tent review, I would stress again that what you have here is a tent of a superior quality that is hard to match. You have seen all its great features, but do not overlook its weight and packed size. In any case, if you can afford it, I can fully recommend this tent, it will work great in all seasons and climates. I have included it in my list of best canvas tents with awning.
Please see how I rate this tent, the rating is very badly affected by the weight and packed size:
Bushtec Adventure Echo 2200 Luxury Camping Tent
You might want also to check this Delta Zulu Combo Canvas 4 Person Chalet Tent with Gazebo from the same brand and built in the same style.
Please check in the various categories here in the site if you want something different or more affordable. This site is all about tents and you will surely find something for you.