---
Here you have 16 Extra Large Family Camping Tents that are available on the market in 2018, all with the floor area larger than 18 square meters (194 square feet).

---
About declared tent capacity – is it real
The short answer – in most cases it is not. I discussed this issue in my text related to the tent capacity, so please have a look. Manufacturers usually use the backpacking principle to determine the capacity, and this implies playing Tetris with sleeping pads and putting them on the floor trying to add as many as possible. So the number of pads that fit is then the tent's capacity.
But for a real camping this makes no sense. You will always have lots of stuff which must be stored somewhere. So, to be on the safe side, my suggestion is that you simply divide the declared capacity by 2. In other words, a 20-person tent is suitable for 10 people or so. You get the idea. But there are exceptions to such a rule, and you will see some truly great examples below.
Some tents, mostly those designed for wet and cool areas, are incredibly large and with huge living rooms, yet with a small declared capacity. Among the best examples of such tents are the Crua Loj 6 tent, the Vango Capri 6ooXL tent and a few other tents below. These two are with the declared capacity of 6 people but they offer the inner floor area of 235 ft² (22 m²), and 194 ft² (18 m²), respectively.
So my list is not necessarily ordered by the declared capacity. I rather use the actual inner floor area as the real parameter.
The problem is that some of the large tents have very irregular shapes and it is difficult to determine the actual floor area. You will see the numbers given in specifications by manufacturers, but those only describe the necessary ground area to set up such a tent. So imagine a tent of the Y-shape like the Ozark Trail 20 person tent, here you have the two major dimensions given, but you do not know the actual inner floor area. Yet another example is this cross-shaped Ozark Trail Base Camp 14-Person Cabin Tent; but I gave a reasonably accurate estimate of the floor area.
The point is the following: sometimes a 7-person tent can be more spacious than a 20-person tent, you will see some examples below. In fact, the largest tent in the list is a 7-person tent.
If you just follow the declared capacity, sometimes you can be unpleasantly surprised. Check the inner floor area and the total protected area instead of the declared capacity.
---
My list of the largest family camping tents
So here is my list which starts with the smallest tents, but those are true giants:
---
1. Vango Capri 600XL Tent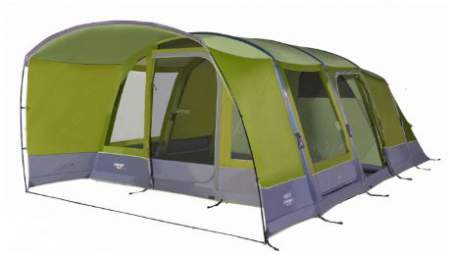 This is a tent for 6 people "only", but its inner area is huge. So you have 194 ft² (18 m²) and this includes a large living room plus 2 sleeping units. There is also a porch area which is covered and you have extra 41 ft² (3.8 m²).So the inner area per person is 32 ft² (3 m²) and this is really a comfortable option.
This tent has many great features and these include the Air Beam technology, so only the porch pole is classic and others are inflatable air beams. In this sense, it is similar to the Coleman Valdes tent below.
This is also a dark rest tent, so the sleeping rooms are with reduced glare. The windows are solid PVC material. Please read more in my detailed review.

---
2. Vango Avington 600XL
The Avington 600XL is with the declared capacity of 6 people. But it offers 18.2 m² (196 ft²) of the inner floor area in its 3 rooms, and you still have a large porch which you can see in the picture. Note that the living room is huge and fully sealed so the same number of people can sleep there as well, so the tent offers far more than what the declared capacity tells you.
The waterproof rating is impressive 4000 mm, as typical for most of the Vango tents. The 4 windows are PVC, so this is a fully enclosed area with a full protection from elements. As you realize, it is quite similar to the Capri 600 tent above, but here you have classic poles. Please read more in my full review.

---
3. Vango Odyssey Air 800 Tent
This is an inflatable tent so all poles are air beams. Officially it is for 8 people, and the floor area is 200 ft² (18.59 m²). You have a large sitting room plus 4 sleeping rooms. So the area per person is 25 ft² (2.3 m²).
This is the tent from the group of "lights out" or "dark rest" tents, with reduced glare in the sleeping rooms so you can sleep longer in the morning. It is also cooler than an ordinary tent. The waterproof rating is impressive 4000 mm. It is described in detail in my separate review so please follow the link.

---
4. CORE 10 Person Instant Cabin Tent With Screen Room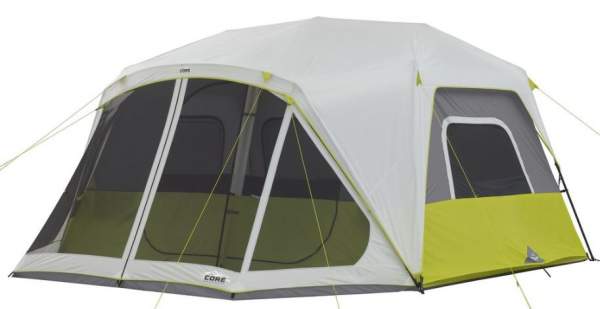 This Core 10 tent is with the floor area of around 203 ft² (18.9 m²) organized in 2 rooms plus a screen room. This is a cabin type tent as obvious from the picture, but more importantly this is an instant setup tent with the official st up time under 2 minutes. This makes it very suitable for people who change the camping place frequently.
The declared capacity of 10 people is not so realistic so for real summer camping you should downgrade it to half this number. The tent is very pleasant and livable with so many large windows and lots of headroom, the ventilation is excellent and it is very suitable for a warmer climate. Please read more in my full review.

---
5. Ozark Trail 16-Person 23.5 x 18.5 Cabin Camping Tent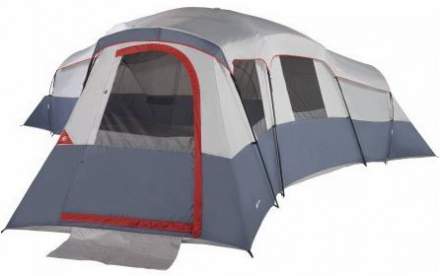 This tent is with the declared capacity of 16 people. Below I give the floor plan to realize how they determine the capacity. Here you have a typical example of those tents whose floor area (and the capacity) is hard to determine. The floor plan is almost a Y-letter shape. But you have the central hexagon area, plus two non-rectangular additions which you see in the picture, plus the entrance area. I have the exact dimensions of these parts and come to the total area of some 20 square meters (215 ft²). So the tent is indeed like a castle.
But in the name, you see 23.5 x 18.5 which indicate feet, so this is the rectangular ground area needed to set this tent in the camp. This means 435 ft² (40 m²) which is quite different from the inner floor area.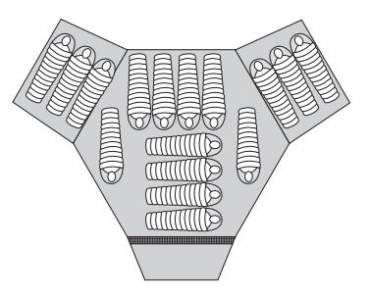 Now back to the issue of the capacity; the indicated floor area implies 1.25 m² (13.4 ft²) per person, and this is not so great.
So what you have here is a great tent for summertime family camping, with three external doors, and three rooms, big enough to accommodate 4 queen size beds. I would say this is a tent for 8 people.

---
6. Ozark Trail Base Camp 14-Person Cabin Tent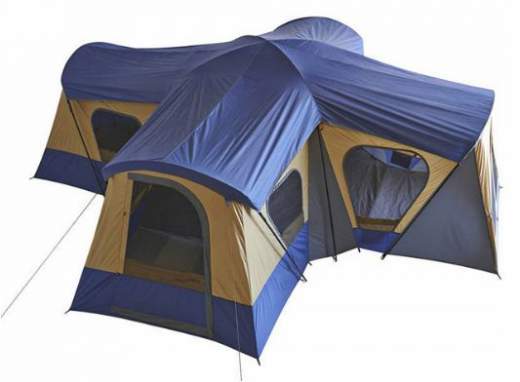 This beautifully designed tent is completely cross-shaped, with 4 rooms, 4 external doors, and 12 big windows. It is hard to imagine anything more livable for summer camping.
The official capacity is 14 people, but this is based on the backpacking principle. The total area is indeed huge, around 222 ft² (20.6 m²) or more, but for such a number of people you would have only around 16 ft² (1.4 m²) per person. So here it becomes clear again why you should check the actual inner floor area instead of the declared capacity.
This all aside, the tent is big enough to accommodate 5 queen size beds. Please see more in my full review.

---
7. Eurohike Buckingham 8 Classic Family Tent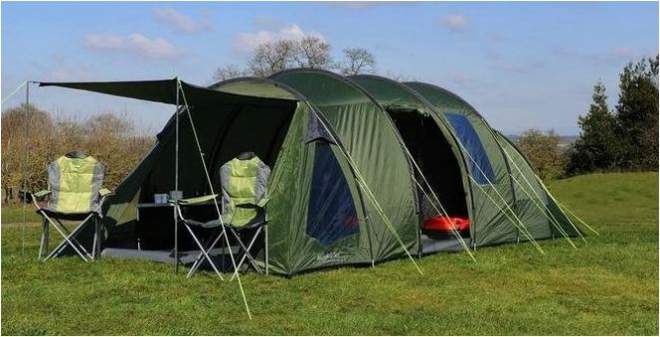 This is an 8-person tent regarding the declared capacity. But it offers a lot of space and you have 226 ft² (21 m²) of the floor area, which gives 28 ft² (2.6 m²) per person. So this is a luxurious option for family camping.
The tent is organized in 5 separate rooms. You have three inner tents within the external shell which you see in the picture. These inner tents are removable and you can use them all or only some of them. So the tent offers a lot of versatility.
There are three possible awning configurations, and one you see in the picture. The floor of the shell tent is removable so you can remove the inner tents and use the shell tent for family events.
There are 4 PVC windows which have blinds for privacy, and numerous vents on the floor level and under the roof provide a good ventilation. Please see more in my review.

---
8. Coleman Air Valdes 6XL Tent
Here you have a combination of inflatable beams and classic poles. The officially declared capacity is 6 people, but see the floor area which is 230 ft² (21.44 m²). This makes it 38.4 ft² (3.57 m²) per person. The living room is so large that it can easily accommodate extra 6 – 8 people.
The tent is 4-room by its organization, with a very large living area and three blackout bedrooms that block out 99% of the sunlight. The waterproof rating is impressive 4500 mm, and the tent comes with 3 doors and one of them is hinged door design.

---
9. Ozark Trail 18 x 18 Family Tent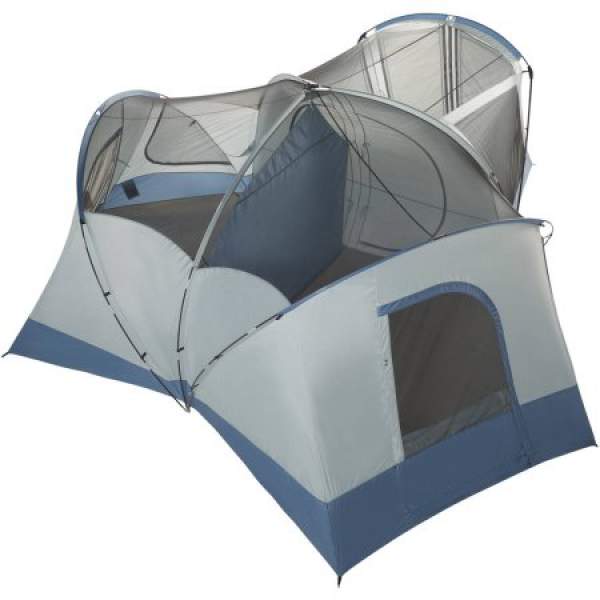 The numbers 18 x 18 in the name indicate feet, so this is again only the ground area which this tent needs. The tent is Y-shaped, and the inner area is around 22 m² (237 ft²), so it is huge but the declared capacity is 14 people. You can see below how they think the tent should be used: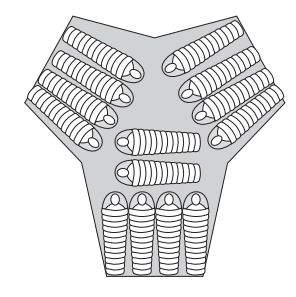 When you recalculate the space per person, you get 1.57 m² (17 ft²). This is better than in the case of the Ozark Trail 20 and Ozark Trail 16 tents.
This is a tent with 3 rooms, and each of them is with its private access, so the tent is perfect for 3 couples and for parents with 4 kids. One of the entrance doors is the double size and it is in the section which is a screen room by the design. In any case, you have enough space for three queen size beds.
This is a very livable structure with 8 windows and a mesh roof. You have an E-port for the electrical cord and a few pockets and bottle holders on the walls.

---
10. Neumayer Inflatable Family Tent XXL Fiji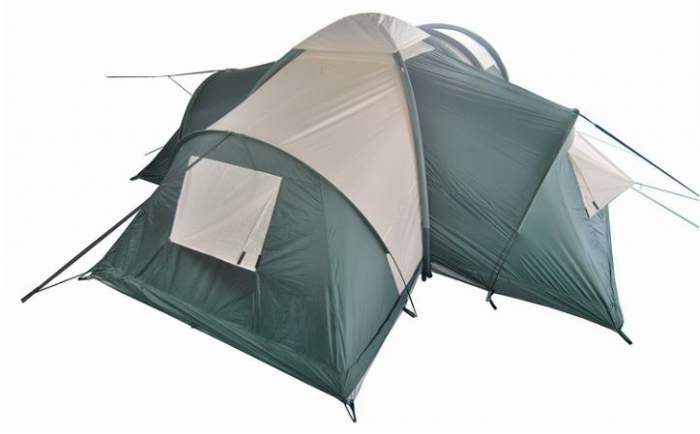 This is a 4-room tent with the sleeping rooms positioned in the extended sections, so this construction offers one of the best possible privacy configurations that you can find. The walls separating the rooms are sewn in and with inner doors. The tent is formally for 6 people.
The structure is cross-shaped and it needs far more ground area than the actual inner floor area of the tent. Thus, you have 22.75 square meters (245 square feet). So the floor area per person is 3.8 m² and this is one of the most comfortable options here.
This is a very reliable tent with the waterproof rating 4000 mm. It is nicely designed, ventilation is very good and you have no less than 5 vents.

---
11. Eurohike Buckingham Elite 8 Man Tent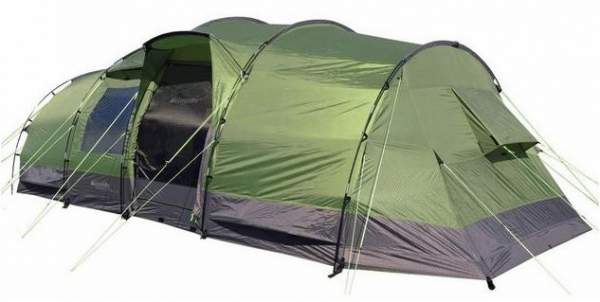 This incredible tent offers 249 ft² (23.1 m²) of the area for 8 people and the area is organized in 5 separate rooms. These include 4 sleeping units plus a large living room.
The tent is with 2 entry doors and 2 PVC windows, plus 4 inner doors in the sleeping rooms. The waterproof rating is quite impressive, so you have 3000 mm, with all seams sealed and with the mentioned solid windows. The floor is also sewn in and fully sealed. Note also that the design includes dark rest sleeping area with reduced glare.
All in all, this is a reliable and luxurious camping option that should keep you safe and dry in any weather conditions in a 3-season use. Please follow the link to read my detailed review.

---
12. Ozark Trail 15 Person Instant Tent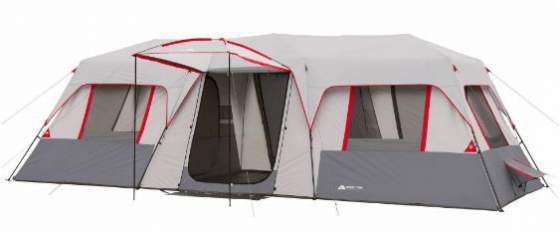 This is an exceptional design for several reasons. First, as you realize from its name, this is an instant cabin tent. Please follow the link to see more about this type. Here I would only stress that this implies that the frame is preattached in the factory and all you have to do is to unfold and raise it with its telescopic legs. So, such a huge structure you can set up in less than 2 minutes. Isn't this incredible?
This is also a 3-room tent, but here again, I want to stress that these are real rooms with sewn-in walls. This makes it quite different from some other tents where you have just some curtains.
But the size is the topic here, so here it is: you have 250 square feet (23.2 m²) of the floor area. This sounds a lot of space, but the declared capacity is 15 people. This means you would have only 1.55 m² per person. Remember what I said above about the declared capacity. So use this tent for 6 – 8 people or so.

---
13. Ozark Trail 20 Person Cabin Tent 25 x 21.5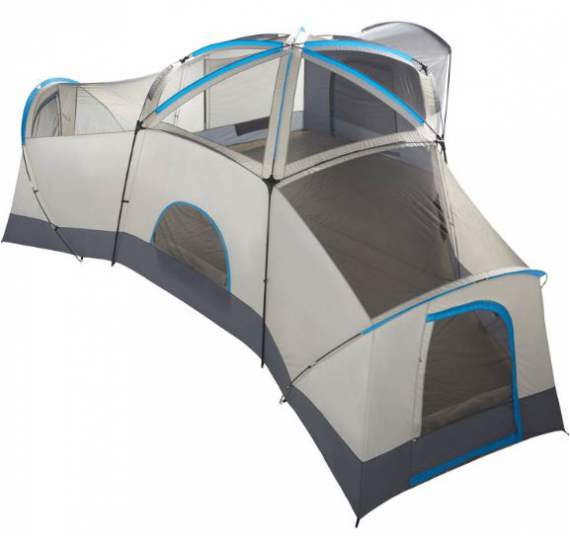 This is the tent with the centrally positioned hexagon structure plus the 3 nearly rectangular areas on the three sides. The inner space is large enough to accommodate 6 queen size beds, or 20 sleeping pads on the floor, see the picture below. You have 3 removable dividers which create up to 4 rooms. But you can certainly use only some of them and organize the space as you wish.
There are 3 separate entrances, so the tent can be used by 3 couples and they all will have a separate entrance and a separate room, plus the large central pentagon space which is more than 10 square meters floor area.
Now, the total floor area here is "only" 26 m² (280 ft²). So per person, you would have only around 1.3 m² (14 ft²). This is enough if you use the backpacking principle for the tent capacity. See the floor plan, this is how they suggest you should use this tent for 20 people.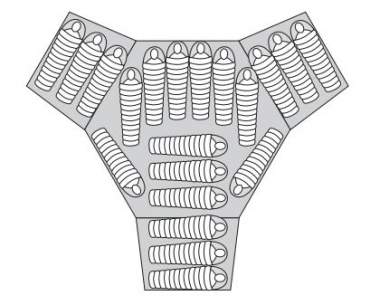 The numbers 25 x 21.5 in the name indicate the rectangular ground area needed to set up the tent, so do not mix this with the actual inner floor area.
The weight is 49.7 lb (22.5 kg). You have 8 windows, two gear lofts, several wall pockets, and a power cable port.

---
14. Crua Loj 6 Person Thermo Insulated Waterproof Family Tent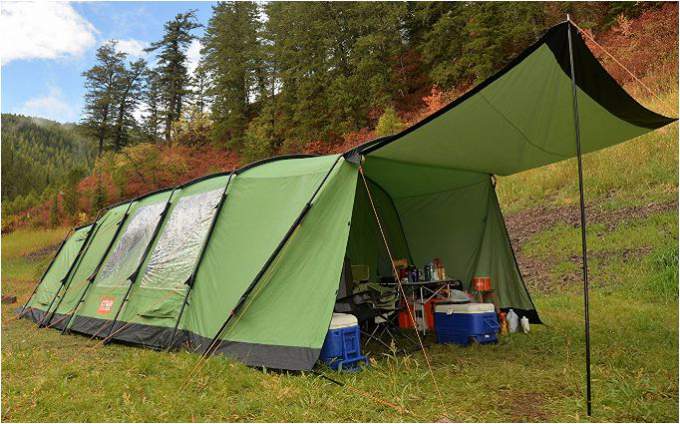 This is without any doubt the most unique of all tents here in the list, and it is obviously one of the most luxurious tents on the market; you can realize this from the position it holds here in the list.
As you realize from the name, this is the only thermally insulated tent here. It insulates you regardless what is outside, so you can use it in any climate, this is a true 4-season tent. Its R-value is 4.
This is an all-steel construction, and the fabric is breathable and this is also one of the features which makes it unique.
I should add that this is also a dark rest tent, similar to several other tents presented here. The total area here is 300 ft² (28 m²). There is much more about this extraordinary tent in my detailed review.

---
15. Vango Maritsa 600 XL Airbeam Tent
This luxurious tent offers 29.45 square meters (317 ft²) of the floor area in its 5 units, and this all is only for 6 people. So you have 3 sleeping rooms, one large living area, and one fully closed porch with vestibule. As you see, here you have 4.9 m² (53 ft²) per person, and this is more per person than any other tent here in the list.
This is one of the air-beam tents here, there are no classic poles at all. The weather resistance is impressive, so you have 6000 mm waterproof rating and this is one of the highest here in the list.

The Maritsa 600XL is also in the group of dark rest tents; note that at Vango they call this "lights out" feature but the meaning is the same.
Please see more in this video:
---
16. Outwell Corvette 7 Air Comfort Family Tent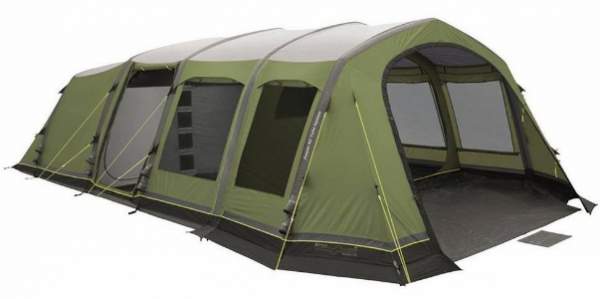 This giant is organized into 5 separate units, and these include a fully protected porch, a large living room, and three sleeping rooms.
The floor area is incredible, you have 364 ft² (33.75 m²) but its declared capacity is only 7 people. This makes 4.8 square meters per person which is second only to the Vango Maritsa tent above.
But there is much more in this tent. Its waterproof rating is an incredible 10000 mm hydrostatic head for the ground sheet and 5000 mm for the rest of the tent.
This is an inflatable tent with all air beams instead of classic poles. It is also a dark rest design, so glare in the sleeping zone is considerably reduced.

---
Final thoughts
So this was my list of Extra Large Family Camping Tents, all exceptional designs and many of them with unique features and with new trends. Therefore, this is not just a list of tents chosen purely by the floor area. What I mean by this is the following. In case you missed, you have the following types of the tents here:
Air beam tents (or inflatable tents). This is a relatively new trend and we have many new models that have appeared recently. This industry will only be growing in the following years. The largest tents in the list are these air beam tents.
There are several dark rest tents here. So again, this is a completely new trend in the tent manufacturing industry.
You also have one insulated tent. Now, how unique does this sound to you?
Several of the tents are with an extraordinary high waterproof rating and suitable for 3-season use in any weather conditions. One is also suitable for the coldest winter environment.
Some of the tents combine several of these unique features.
I shall be adding new tents here as they appear on the market, so please stay tuned and bookmark this text.
Thank you for reading. I shall appreciate if you share this review on your social media. In the case of questions or comments, please use the comment box below
---