---
Crua Core Dome 6 Person Tent is a completely unique design, unlike anything on the market. It can be used alone or in combination with 3 other smaller tents that can be zipped to it. This is an ingenious air beam structure with an impressive waterproof rating and many entrance points.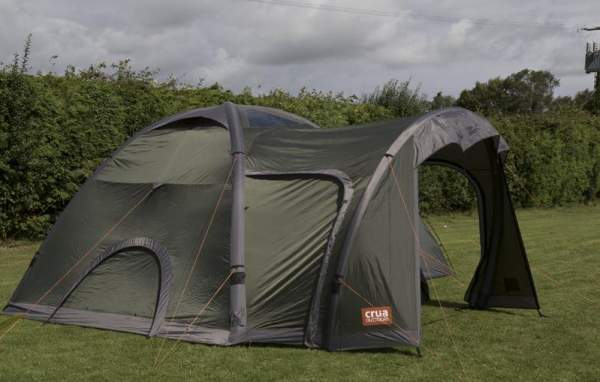 ---
Key features & benefits
Air beam technology.
An incredibly versatile tent which can be used alone or in combination as a Crua Clan.
3 huge doors.
Huge porch.
Incredibly tall.
Suitable for attaching a vehicle to one of the doors.
It allows for the attachment of up to 3 Crua Duo tents.
---
What is Crua Dome 6 about – what is so unique
What is Crua Outdoors
The Crua Outdoors is a brand that is developing something totally unique. When you see their tents, you realize that there is nothing on the market to compare with them.
To understand what I am talking about, check my reviews of the Crua Loj 6 tent which is a unique insulated tent for all seasons, and also the Crua Tri 3-person insulated tent.
But this Crua Dome 6 is again something totally unique, they are pushing the boundaries even further and you will realize this from the text below.
The Crua Dome 6
I have already pointed out a few of its most remarkable features. So this is a tent with air beams instead of classic poles. All you need is to inflate them in a couple of minutes. So in a way, this is also an instant tent. Note that the pump is included. But this is still not what makes this tent unique, there are many inflatable tents on the market, so keep reading.
With such inflatable beams, this is also a freestanding structure. As soon as the beams are inflated the tent is up and you can rotate it and move around a bit. Note also that the tent is incredibly tall with its 90 inches (229 cm) peak height, you will not find many tents with such a height. As a dome tent, the structure is quite aerodynamic. But in view of its size, you shouldn't miss staking it down properly.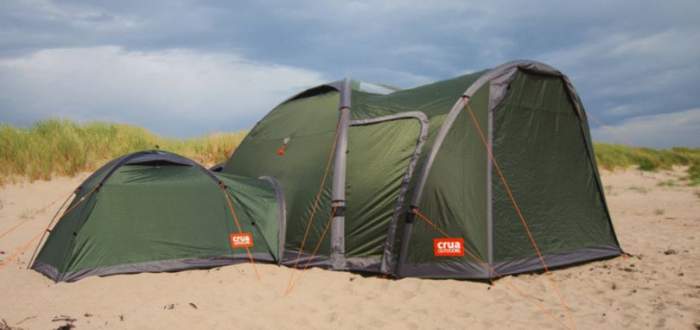 Coming to its unique features – This is a part of the Crua Clan
The Core Dome is the most important part of what they call the Crua Clan. But what is Crua Clan? In short, this is a combination which includes:
This Core 6 person tent.
3 Duo tents that can be zipped to the Core tent from outside, you can see one of them in the picture above.
Those 3 Duo tents can also have 3 Cocoon Insulated tents inside. See more in this short video:
Right now, the Crua Clan is not available on the market as a complete set. There is this Core tent as well as the Crua Cocoon. I have noticed the Crua Duo recently on Amazon but it disappeared quickly. It might be there when you read this text. Note that you can use several of these Cocoon tents inside the Dome and you will be insulated and can use it at any temperatures; the R-value for the Cocoon is 9 so imagine.
Here is a bit longer video where you can see more about the Core 6, it is presented by Derek who is the brain and force behind this great project, so have a look:
You might want to know that there is something similar from Coleman, the Coleman 6-Person Connectable Tent which can be connected to three other tents.

---
Who is the Core Dome 6 for
Space-wise, the Crua Core 6 tent is designed for 6 people according to the specifications. But let's see what you have here. The inner area is 192 ft² (17.8 m²) and this means 32 ft² (2.97 m²) per person. So you realize already that this is an incredibly generous space for 6 people. In fact, I do not remember any other dome-style tent that offers more. But this is not all. You also have a huge floorless porch with three doors which adds roughly 67 ft² (6.25 m²) of the area.
So the total protected area is around 259 ft² (24 m²). Per person, this means 43 ft² (4 m²). You will not find many tents that could match this, see my list of extra large tents.
Seasons-wise, this is a tent with an impressive waterproof rating and it is suitable for a 3-season use. The structure is a single-layer type, so the tent's body is its waterproof shell, there is no mesh here at all except on the doors. But if you use it in the Clan combination or with just Cocoon, it is then a tool for all seasons.
Climate-wise, from what I have just mentioned above, you realize that this is a quite enclosed structure and it is suitable for a cooler environment. But if you need something for extreme temperatures, just put in some of their Cocoon tents and you will be thermally insulated by a structure with an R-value 9. Or you can simply zip-in the Duo tent with a Cocoon inside and you will have a sleeping area where you will be protected regardless of how cold (or warm) it is outside.
Weight-wise, the tent is 33 lb (15 kg) so this looks like a heavy tool, but from the comparison table below you will realize it is lighter than some of its competitors. Its packed size is 35 x 15 x 15 inches (89 x 38 x 38 cm), so you will need a car and you can use this tent at places with a motorized access only.
---
Materials & construction
The fabric used for this tent is polyester and its waterproof rating is no less than 5000 mm. This is equivalent to 7.11 PSI and this is a huge value, see more about this here. They use fire-retardant materials.
There are three air beams so you will have to repeat the process of inflating them. The two of them create the dome and the third is for the porch support. Each of them is inflated in less than a minute time.
Note that you have two small PVC windows on the top, you will need them because the tent's fabric is very dark.
The doors
There are 3 doors on the porch, all of them are huge and the front door is used also if you want to use the tent with your vehicle, this door is with a flap which you put over the vehicle. There is also the inner gigantic door between the porch area and the main dome part.
There are three additional zippered ports (or doors if you wish) on the three sides where you can attach Duo tents if you use them together. If this is not so, they can be used as small doors for kids, they might find them interesting to play around.
Ventilation
There is no mesh on the ceiling but they have added two vents on the roof. Since you have no less than 3 doors on the porch, you can always keep one of them at least partly unzipped. This in combination with the mesh on the doors will help the air circulation.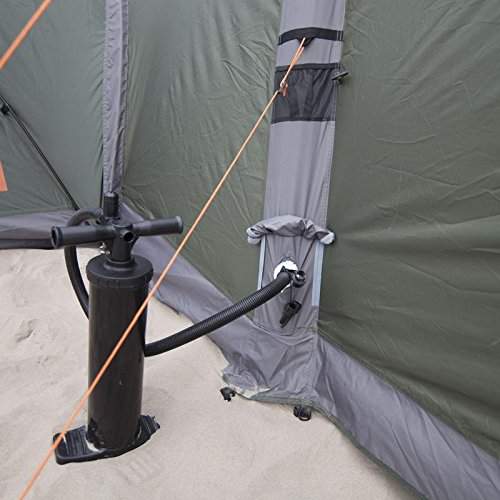 ---
Specifications
Type: air-beam tent.
Capacity: 6 people.
Weight: 33 lb (15 kg).
Ground dimensions: 16 x 12 ft (488 x 366 cm).
Floor area: 192 ft² (17.8 m²).
Area per person: 32 ft² (2.97 m²).
Peak height: 7.5 ft (229 cm).
Porch dimensions: 8.2 x 8.2 ft (2.5 x 2.5 m).
Porch area: 67 ft² (6.25 m²).
Packed size: 35 x 15 x 15 in (89 x 38 x 38 cm).
---
Crua Core 6 tent vs Competitors
Here you have the Core 6 side by side with 2 other inflatable tents, it may be interesting to compare the basic parameters. Note that the other tents are built in a different style as tunnel tents. As I mentioned above, the Core 6 is unlike anything on the market. But all three tents here are with some unique features. Please follow the links in the table to read more.
---
Final thoughts, rating, pros & cons
In the summary of this Crua Core Dome 6 Person Tent review, I hope that from the text above you have realized how unique this tent is. It has so many great features if used as it is, a separate 6-person tent. But it offers so much more as a central part of the Crua Clan structure. In any case, this is an incredibly well-engineered and reliable tent which I can fully recommend. I have included it in my list of the very tall tents for camping.
So this is an expensive item but totally worth the investment. As a 6-person tent alone, it offers an unparalleled comfort, and you can upgrade it later if you wish and add the Duo tents with Cocoons. But you don't have to, this is a great tent as it is. See how I rate it:
Thank you for reading. If you still need a different air-beam tent, check in the category Inflatable Tents here in the site. For dome tents in general check this list. Need something with a lot of the storage area? Then check this Eureka Boondocker Hotel 6 Tent and Marmot Orbit 6P Tent. Please use the comment box below in the case of questions or comments. Have a nice day.