The Bessport Camping Tent 10 Person is a tunnel-type 2-room tall structure with one large door and two windows, suitable for 3-season camping.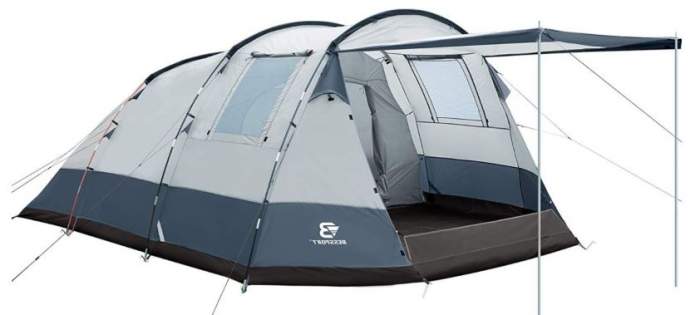 ---
Key features & benefits
Tunnel-shaped tent.
Huge area.
Tall tent.
2 Rooms.
E-cable port.
Awning.
Very good price.
---
Overview
Here you have a typical tunnel-type tent supported by three loops. The tent is tall with its 78.6 inches (200 cm) so you have stand-up height in the bigger part of it.
This is a 2-room construction with a shell tent and an inner tent for sleeping. The inner tent is removable so you can use it with the shell tent alone.
From the picture above you realize that it allows for an awning configuration created by the door's flap. Note that this is the only door here, and it is without mesh. Below you can see how it looks from inside.
There are also two side windows both double-layer type with inner mesh and with panels from outside. I know that some people find this a bit annoying but this is not such a big deal in my view.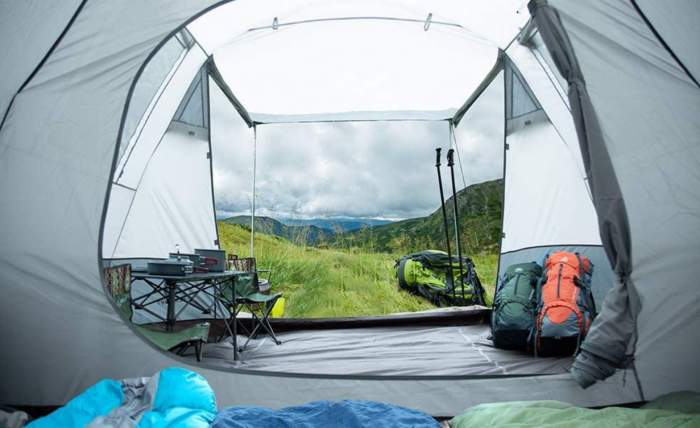 Materials
The mentioned loops are fiberglass. This is not a very durable material but it is used even in far more expensive tents. They attach to the roof through sleeves and clips, one is shown below.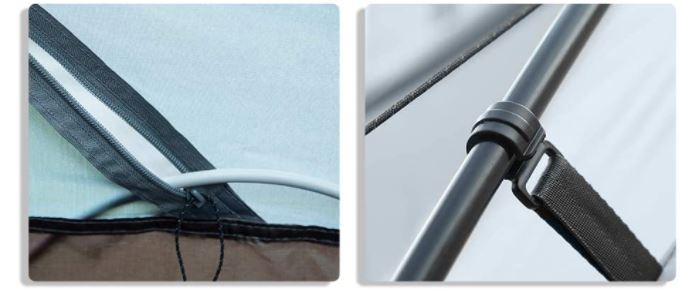 The information about the fabric is a bit confusing. It seems that the inner and outer tents are 68D+190T polyester with a PU coating that gives it a 3000 mm waterproof rating. The bathtub style floor appears to be polyethylene 140 g/m² with a 3000 mm rating. There is an e-cable port, it is shown above.
Ventilation
There are high vents, two on the front and one on the back. You can see the front vents in the picture below, they are on the sides of the door.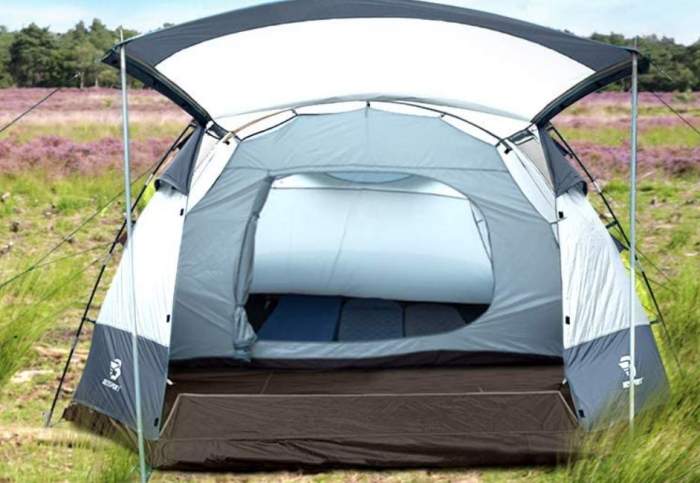 The inner tent is separated from the shell, there is a wide gap because it is attached to the shell by toggles, this is visible in the picture above. So this allows for air circulation between the two walls and this should help against condensation.
The mentioned windows are also with mesh, so this should be good enough as long as the sky is clear. Note that there is no mesh on the door, pity.
But when you have to keep the door and the windows closed, you have to rely on the vents only. It is a pity that they did not add a couple of floor vents, this would help against condensation.
---
Who is this Bessport Camping Tent 10 Person for
Regarding the capacity, the tent is officially for 10 people. It is indeed large, you can see the dimensions in the picture below. The area is 161 ft² (15 m²). But in the case of 10 users, this would give only 16.1 ft² (1.5 m²) per person. The picture shows also how they determine the capacity.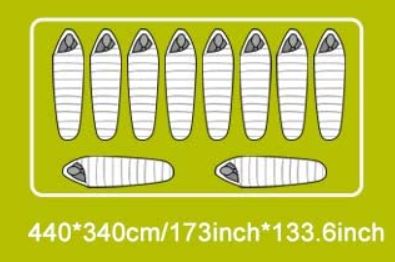 In practice, this cannot work. There is enough place to put 5 sleeping pads on the floor in the inner tent, and in my view this is it. The front room should be used as a living room.
Regarding seasons and climate, I see it as a 3-season tent, perhaps better suited for a cooler than for a warm climate. They write about 4-season use but I would not take this seriously.
Regarding the weight, it is best to see its size and then you realize that it can be described as a very light tent with its 24.25 lb (11 kg). The same holds for its packed size 30 x 10.2 x 10.2 inches (76 x 26 x 26 cm). But in any case, this is a tent for car camping and you would not carry it anywhere.
Regarding the price, I would say it is very moderate for such a large tent.
---
Specifications
Official capacity: 10 people.
Weight: 24.25 lb (11 kg).
Dimensions: 173 x 133.6 in (440 x 340 cm).
Area: 161 ft² (15 m²).
Area per person: 16.1 ft² (1.5 m²).
Peak height: 78.6 in (200 cm).
Packed size: 30 x 10.2 x 10.2 in (76 x 26 x 26 cm).
---
Final thoughts, rating, pros & cons
So this Bessport Camping Tent 10 Person is large and tall, but it is best to disregard its official capacity. The two rooms and large side windows make it pleasant and livable. But I have a few objections that are listed below, so have a look and decide if they are important to you or not.
Please see how I rate this tent against my usual rating criteria, it scores very good:
Bessport Camping Tent 10 Person
For more tents of this type please check under the category Tunnel Tents, and for the tents in this capacity group check under Tents for 9/10 people. But you might want to check also something very different, if so see this Ozark Trail 10-Person Family Camping Tent with 3 Rooms and Screen Porch.
Thank you for reading. There is a comment box below so let me know if you have questions or comments. have a nice day.