The Ozark Trail 10-Person Family Camping Tent with 3 Rooms and Screen Porch is an incredibly affordable large but compact when packed summer camping tent for families and groups.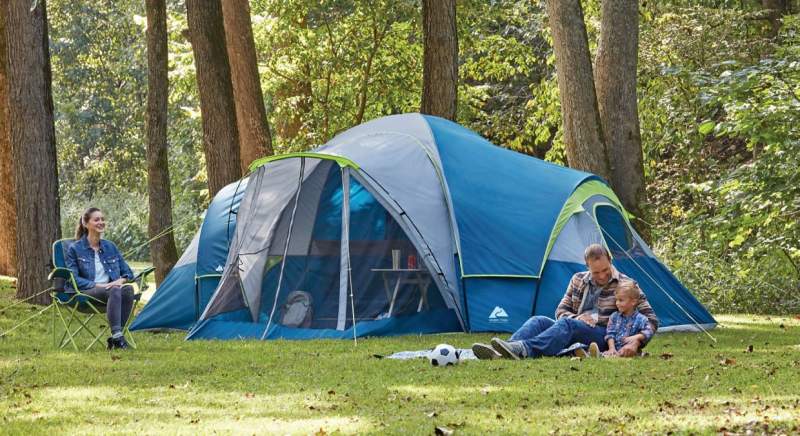 ---
Key features & benefits
Extended dome tent.
Lightweight.
Very compact.
Screen porch.
3 Rooms.
E-cable port.
Media pocket.
Fiberglass poles.
Incredible price.
---
Overview
This Ozark Trail 10-Person Family Camping Tent should not be mixed with several other 10-person tents here in the site. It could be described as an extended dome tent. But the dome part is really only a small part of the whole structure as you realize from the aerial view below.
So the base is T-shaped and what you see in the picture is the central part below and the screen porch in the upper part of the picture.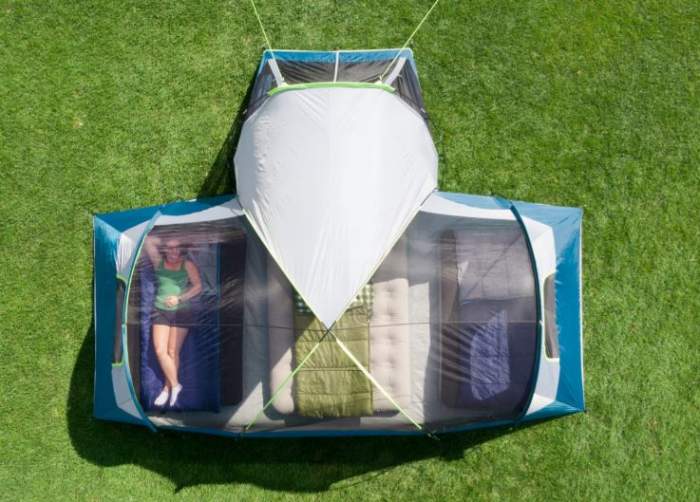 Below you can see it from the ground perspective, so you realize that each of its three extensions is supported by an extra loop. Note that the porch is covered and this cover is a part of its inner tent fabric (this is the gray roof fabric in the picture above). The picture below shows the tent with the fly on, but it is rolled up on the side for a stargazing configuration: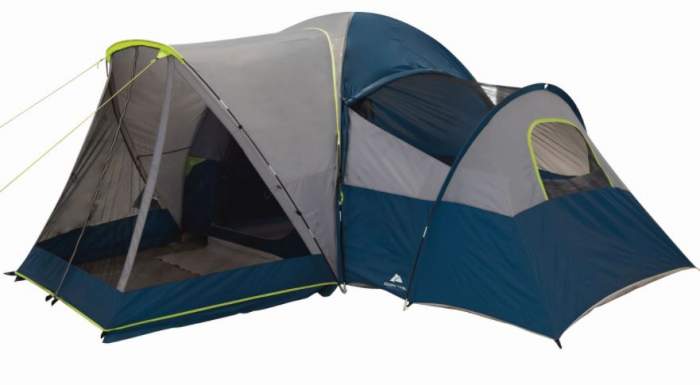 Below you see how it looks when the fly (the blue color fabric on the roof) is deployed. So it covers only the roof and you have views through its two side windows.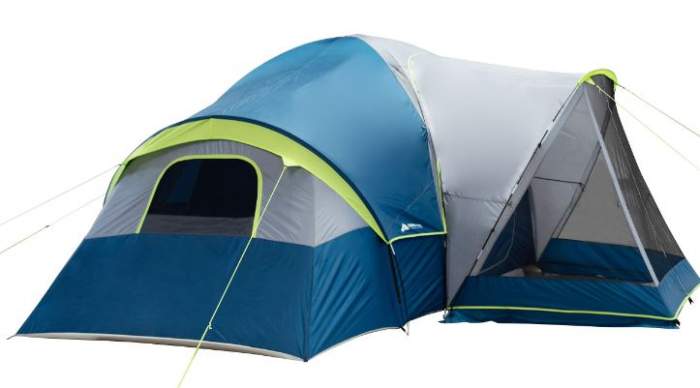 The tent is non-freestanding, and it is quite tall, the peak height in the central part is 80 inches (203 cm). The only entry point is through the porch. There are two removable dividers inside, so the tent is a 3-room structure, plus the screen porch.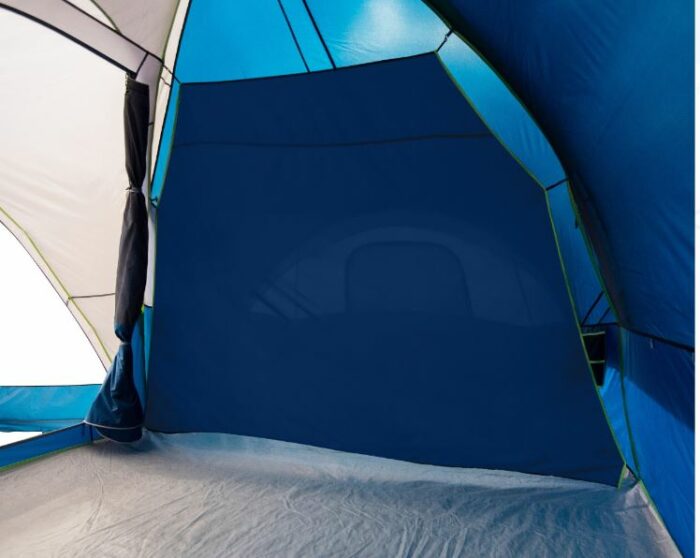 The porch
Note that the porch is a screened space. So this is an area that is only partly protected from the rain, but you have a full protection from flying insects. Dependent on the position of the sun, you can also have some shade here.
The fly covers it enough to have a dry entry and also to keep your shoes there protected. There is a small pre-attached mat there as well, but the porch is generally floorless.
This is an area of 30 ft² (2.8 m²), so enough space for two people with large camping chairs. You can use this space also for cooking. I have included it in my list of family camping tents with a screen porch.
Materials
The fabric: The body is a poly taffeta 185T with 600 mm waterproof rating. The same material is used for the minimal fly. All seams are taped. The mesh areas are a 68D polyester.
The floor us a durable polyethylene, so you are safe from water from this side. The carry bag shown below is a poly Oxford 210D. Note that instructions are printed on a piece of fabric that is attached inside of the bag.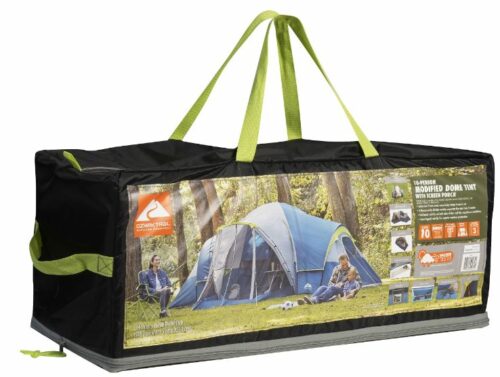 The poles & stakes: There are 5 poles in total and this is fiberglass. They attach at the tent's base with the usual pin and ring system. On the canopy you have long sleeves for poles. You also have 8 guylines and 23 steel stakes.
Setup
One person can set this tent up in 15-20 minutes. You stake it down first, and then start adding poles, it is best to begin with the two dome poles. As mentioned, setup instructions are sewn-in.
Ventilation
The whole ceiling of this tent is a mesh, and you have it also on windows and on the door. So vapor can easily escape. There are no fly vents but they are not necessary with such a design. Remember also its roll-back fly on each side of the roof, this provides excellent ventilation when the sky is clear.
It is a bit different with the floor vents, there aren't any around. The tent would be much better with them for situations when you have to keep the windows closed.
Other features
There is a cable port available.
A gear loft is included, see the picture below.
A lantern hanging loop is in place.
There is also a media pocket shown below.
In each of side rooms you have a storage set with several mesh wall pouches.
---
Who is this Ozark Trail 10-Person Family Camping Tent for
Regarding the area, the tent is officially for 10 people. For this you have 137 ft² (12.7 m²), and this means 13.7 ft² (1.27 m²) per person. This is unrealistic for real camping, but no doubt you can put 10 sleeping pads on the floor.
I see this tent best suited for up to 6 people, ideal for parents with 2-4 kids. It is also ideal for two couples who could share the central living room and have sleeping rooms that are physically separated.
Regarding seasons & climate, they describe it as a 3-season tent but I do not see it suitable for such a purpose. This is a summer camping tent for mild weather and for places without much rain and wind.
Its waterproof rating is minimal and the fly is such that many things can go wrong regarding leaks. But you have seen its stargazing configuration, so use it for summer camping only.
Regarding the weight, this is a moderately light tent with its 25.6 lb (11.6 kg). The packed size of 25.5 x 9.5 x 9.5 inches (65 x 24 x 24 cm) is very good for its overall size. But in any case, this is a car camping tent.
Regarding the price, it is simply incredible, no more no less.

---
Specifications
Weight: 25.6 lb (11.6 kg).
Official capacity: 10 people.
Dimensions: 17 x 13.5 ft (518 x 411 cm).
Inner area: 137 ft² (12.7 m²).
Inner area per person: 13.7 ft² (1.27 m²).
Porch area: 30 ft² (2.8 m²).
Peak height: 80 in (203 cm).
Packed size: 25.5 x 9.5 x 9.5 in (65 x 24 x 24 cm).
1-Year Limited Warranty.
---
Final thoughts, rating, pros & cons
In summary, the price of this Ozark Trail 10-Person Family Camping Tent with 3 Rooms and Screen Porch is hard to match. So if you do not want to spend much and still have a huge tent for your family for occasional mild weather camping adventures, this is it. The packed size is great and the tent is moderately light, the area organization is very good, it is tall and pleasant.
Below you can see how this tent stands against my standard rating criteria. I apply them consistently to all the tents here in the site so that you can easily compare:
Ozark Trail 10-Person Family Camping Tent with 3 Rooms and Screen Porch
BEST PLACE TO BUY:
For more tents of this official capacity please check in the category Tents for 9/10 People. If you want a tent with a fully protected screen room, check this Coleman Skylodge 10-Person Instant Camping Tent With Screen Room.
Let me know if you have questions, there is a comment box below. Bookmark this site and come again, this will keep you informed, as you realize I add texts here on a regular basis. Thank you for reading.