Big Agnes Dog House Camping Tent 6 Person is a freestanding, easy to use, and lightweight single-wall dome type tent with top-quality aluminum poles and great fabric.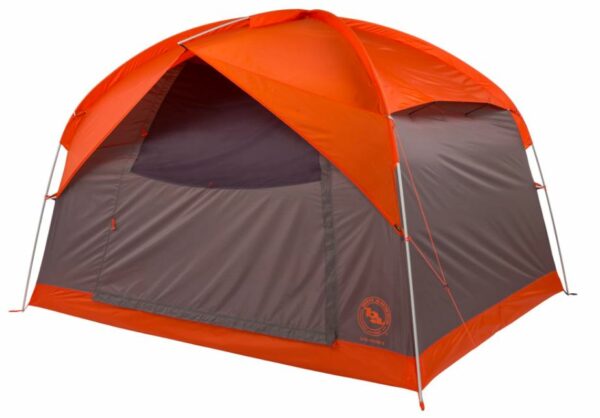 ---
Key features & benefits
Lightweight & backpack-portable.
Very tall.
Single-layer design.
DAC aluminum poles.
---
So what this is about
Big Agnes has launched several new series recently, and also updated their Big House series, and all of them now come in the orange color which you see here in the pictures. So this Dog House 6 is the larger of the two tents in this mini-series, a simple single-room construction supported by two main poles only plus a brow pole.
This is a freestanding construction in the true sense. What you see in the pictures is a single-layer construction of a particular type with an integrated brim on the front and on the back as well (see the picture below). So you have a dry-entry, and the front and back windows are protected so you can keep them open almost all the time.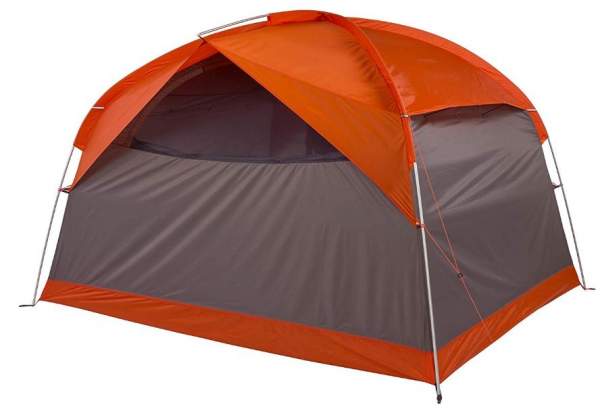 The good side of this single-wall design is that it allows for a dry setup even if you are pitching the tent when it is already raining. You add the poles from outside so the inner area is always protected, there is no separate rain fly. Some call this fly-first pitch, but this phrase is not appropriate here because there is no fly in any case, the whole tent is a fly.
Now, is it a dome or cabin type tent? You see the pictures, I would call it a dome tent but it is in between. The fact is this is an incredibly tall structure for a dome tent. The peak height is 80 inches (203 cm).
Ventilation
They write about 'increased ventilation' because of the windows but the tent is also with vents on the sides, you can see one in the picture above. It is good to have so many options to fight condensation in such a single-wall tent.
But there are no floor vents here. The walls are coated and the mesh windows are high. Low vents would improve livability drastically, pity they did not add them here.

---
Who is it for
Space-wise, the declared capacity is 6 people, and the picture below tells you what the manufacturer suggests for using the floor area. While it could be possible to squeeze such a number of people inside, in practical terms this is surely useless even for the backpacking principle which they apply here.
The floor area is 81.8 ft² (7.6 m²) and this is 13.6 ft² (1.27 m²) per person. Use it for up to 4 people maximum and this should be fine.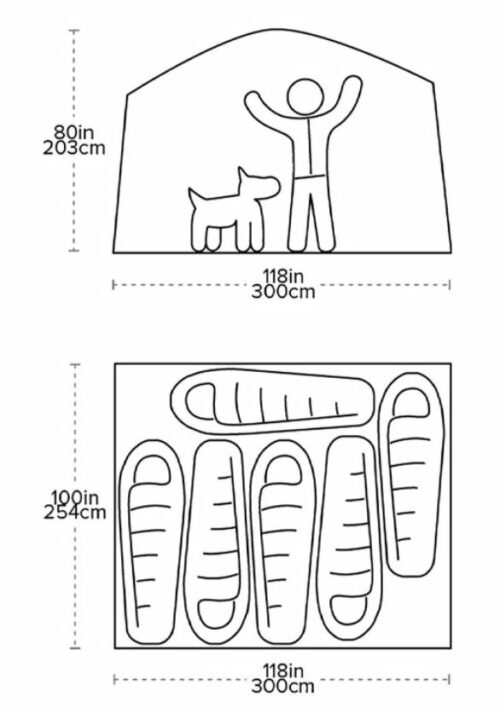 But note that the walls are steep and it is tall, so it looks like a cabin-tent and it provides a lot of headroom. The windows on the two sides make it really pleasant.
Seasons-wise & climate-wise, no doubt this is a 3-season tent, but I see it better suited for a cooler environment. Without floor vents it can be warm inside if you use it for the hot summer camping and have to keep the windows closed (due to rain or dust in the air).
Note that it is surprisingly tall and quite boxy for a dome tent so it is best to avoid very windy environments.
Weight-wise, although they describe it as a car camping and base camp tent, with its minimum trail weight of 13 lb (5.9 kg) it is lightweight and it qualifies to be included in my list of best 6-person backpacking tents.
Such a weight is partly because of its single-layer construction and partly because of its aluminum poles. The packed size 25.5 x 9 inches (65 x 23 cm) is not so bad, so it can be carried attached to the pack and also transported on a bicycle.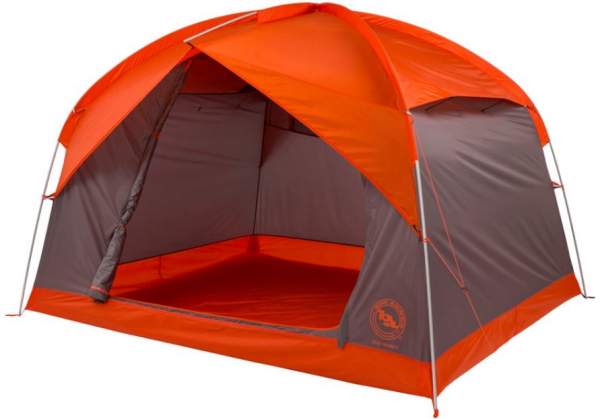 ---
Materials
The poles
You have a high-quality DAC DA17 lightweight aluminum pole set. The DAC is the leading brand in the tents poles industry and this DA17 type was introduced in 1991 specifically for large modern tent structures. The pole diameter is 14.5 millimeters. Plastic clips and sleeves attach tent body to pole frame. Everything is color-coded for easy setup.
The fabric
The canopy is polyester with 1500 mm waterproof polyurethane coating and the mesh areas is nylon. The floor fabric is the same material and the same waterproof rating. All seams are taped. The picture above shows how it looks inside.
The floor's thickness and coating are not particularly impressive, they have a footprint for protection but it must be ordered separately.
Other features
Ready to pitch with pre-cut guylines and tensioners attached to the tent.
Reflective guylines and reflective webbing.
Multiple interior loops for attaching gear lofts, accessories and mtnGLO and camp lights which they sell separately.
2 Interior mesh pockets.
8 Aluminum hook stakes are included.
Here is a bit more about this tents series:
---
Specifications
Declared capacity: 6-person.
Minimum trail weight: 13 lb (5.9 kg).
Packed weight: 13 lb 7 oz (6.1 kg).
Dimensions: 118 x 100 in (300 x 254 cm).
Area: 81.8 ft² (7.6 m²).
Area per person: 13.6 ft² (1.27 m²).
Packed size (L x D): 25.5 x 9 in (65 x 23 cm).
Peak height: 80 in (203 cm).
---
Final thoughts, rating, pros & cons
In summary, this Big Agnes Dog House 6 Person Tent is indeed a quality product and nicely built. It is lightweight and easy to use because of its single-layer design. But such structures tend to have more issues with condensation. This is why they have added those long vents under the roof, and the two windows are there for the same purpose. Fully recommended.
Please see how I rate this tent, the same criteria are used for all the tents here in the site for easy comparison:
Note that I have a separate list with Big Agnes camping tents. Check their Big House 6 tent built in a similar style, or this Columbia Mammoth Creek 6 if you would rather have a true cabin style tent. Look around if you need something bigger, there are hundreds of tents here in the site.
We add texts regularly so bookmark this site and visit occasionally. Stay informed and subscribe to our weekly newsletter, there is a subscription form below.