Here I have prepared for you the best rated Big Agnes camping tents in the capacity range 6 people and more. These are reliable outdoor shelters with quality poles and some are built for extreme weather conditions.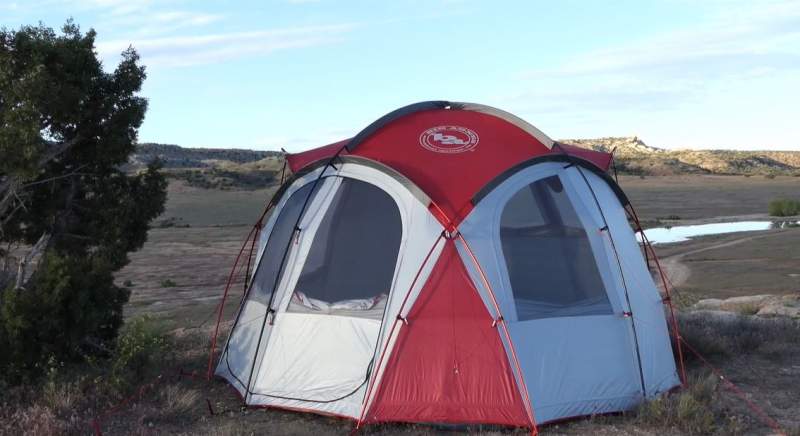 ---
My list of best Big Agnes car camping tents
The tents in the list are ordered by the floored area from smaller to larger:
---
1. Big Agnes Wyoming Trail 4 Person Tent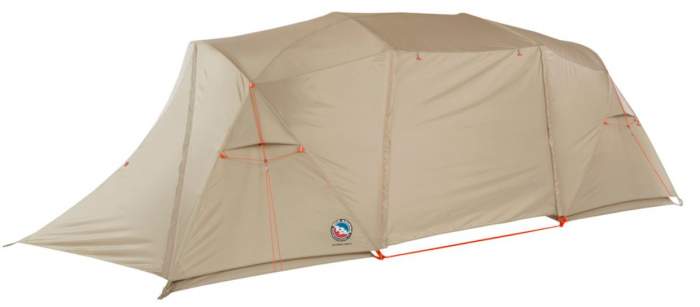 This tent is with a relatively small floored area of only 67.5 ft² (6.27 m²) and this is about two separate tents under the fly. But you also have a huge central floorless living room or porch with 42 ft² (3.9 m²), plus two vestibules that provide an area of 11 + 11 ft² (1 + 1 m²).
So the total covered area is 131.5 ft² (12.16 m²) and the tent is officially for 4 people only. As you realize, this is a very luxurious camping option. Note that the two inner tents are completely separated for the best possible privacy.
The tent is supported with quality DAC aluminum poles, it has four doors, and plenty of storage pouches, plus a backpack style carry bag. The weight is 22 lb 5 oz (10.12 kg).

---
2. Big Agnes Dog House Camping Tent 6 Person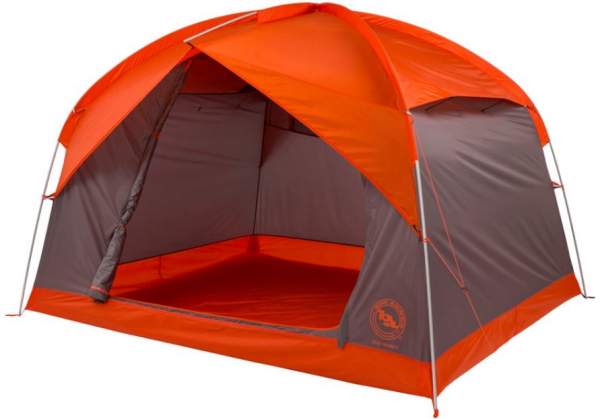 This Dog House 6 provides a floor area of 81.8 ft² (7.6 m²), and this is why it is in such a position in the list. It can be described as a very light tent for its size, the packed weight is only 13 lb 7 oz (6.1 kg).
But from the picture you realize that there are no vestibules, so this is mostly a single-layer construction and this is partly behind its great weight. As you see from the picture, the poles are from outside, and the door is partly protected. This is what you might call a dry setup, convenient if you have to pitch the tent when it is raining.
Note also that the tent is very tall, the peak height is 80 inches (203 cm). You have quality fabric and DAC aluminum poles.

---
3. Big Agnes Spicer Peak 6 Tent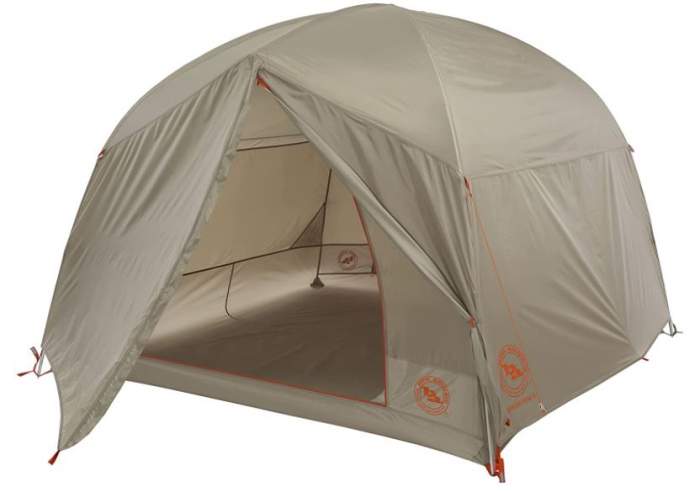 This is a dome-type very tall tent with a peak height of 80 inches (203 cm). It offers two doors, a full coverage fly and two vestibules for storage. The inner area is 82 ft² (7.6 m²) but you also have 15 + 15 ft² (1.4 + 1.4 m²) under the vestibules.
The tent is easy to use, and reliable. The weight is 15 lb 4 oz (6.92 kg), and it is supported with quality aluminum poles. Note that you have 8 storage pouches as well.

---
4. Big Agnes Bunk House 6 Tent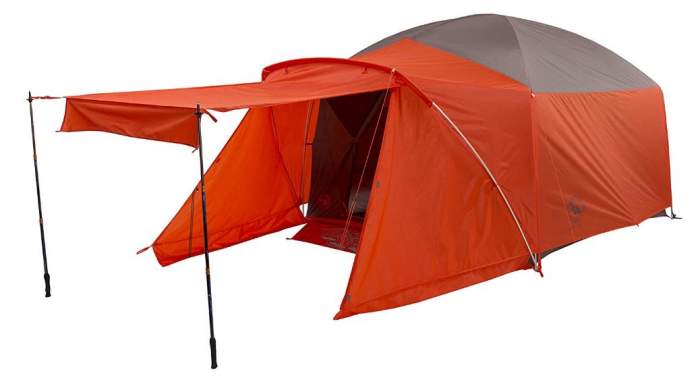 This is an extended dome tent that offers 83 ft² (7.7 m²) of the inner floor area. There are two large and asymmetric vestibules so the total protected area is 139 ft² (12.9 m²).
The tent has two doors and they allow for the awning configuration shown in the picture above. It is supported with with top-quality aluminum poles and you have a full-cover fly. Because of this it is included in my list of best tents with a full fly.
It is versatile and it allows for several different configurations, including a unique shelter mode configuration. You also have a unique carry bag design. From the picture you would not expect, but this is a very tall tent with a 81 inches (203 cm) peak height.

---
5. Big Agnes Tensleep Station 6 Tent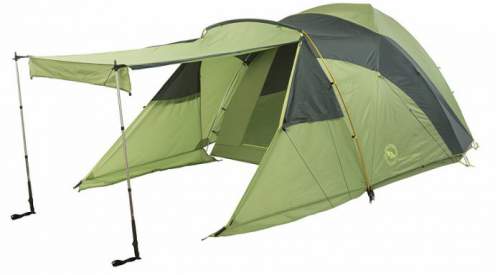 What you have here is a full-coverage fly tent that will protect you from elements in any weather situations in a 3-season use. It can be described as an extended dome style, this is because of an extra pole that creates an exceptionally large front vestibule. This also allows for multiple awning configurations, and one of them is shown in the picture.
The inner floored area is 90 ft² (8.4 m²), and the declared capacity is 6 people. But here you have 2 vestibules that create extra 38.5 ft² + 10 ft² (3.6 + 0.9 m²) of the protected space. This means you have a lot of storage area for equipment and this increases its livability in spite of a relatively small inner area.
The packed size is quite good, it measures 27 x 15 x 5 inches (68 x 38 x 12 cm), so this is small enough to be transported even on a motorbike.

---
6. Big Agnes Mad House Mountaineering Tent 6 Person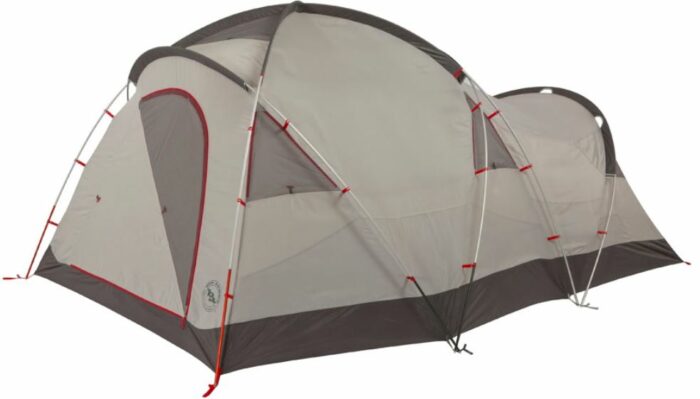 The word Mountaineering does not necessarily mean that it is only for this activity. But this is a strongly built tent suitable for all seasons. What you have here is a true double-layer construction. It has several mesh sections for ventilation, but they are all closable with their zippered panels.
What you see in the picture is its inner tent, but there is also a full coverage fly for a full protection from the elements. The fly has no less than 6 vents. The tent is a 2-room structure, you also have 2 doors and 2 vestibule.
From the picture you realize this is an extended dome supported by quality aluminum poles with intersection points that make the tent strong. What you do not see is the fact that it offers 16 storage pouches to keep the gear off the ground.
Here are a few numbers. The weight is 21 lb 8 oz (9.75 kg), and the floor area is 94 ft² (8.7 m²). The two vestibules add 25 + 6 ft² (2.3 + 0.5 m²) of the protected area.

Note that they also have the Big Agnes Mad House Mountaineering Tent 8 with essentially the same features.
---
7. Big Agnes Bunk House 8 Tent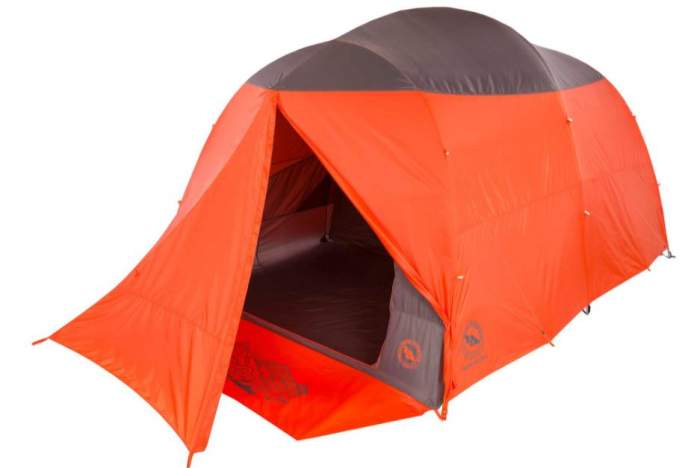 This is the largest tent in their Bunk House series of tents that are all completely different. So this one is a very tall tunnel type and freestanding 2-room shelter. Its peak height is impressive 82 inches (208 cm). It has two large vestibules.
The tent is supported with quality DAC aluminum poles, and the fabric is a polyester with a 1500 mm waterproof polyurethane coating. All seams are taped.
The tent has 16 interior mesh pockets, simply incredible. It comes with a backpack-style carry bag with adjustable shoulder straps, webbing handles, and with a zip closure.
The weight is 22 lb 15 oz (10.4 kg) and the tent's official capacity is 8 people. For this you have the floored area of 104 ft² (9.7 m²) which is not so much, but the mentioned two vestibules add 25 + 25 ft² (2.3 + 2.3 m²).

---
8. Big Agnes Guard Station 8 Tent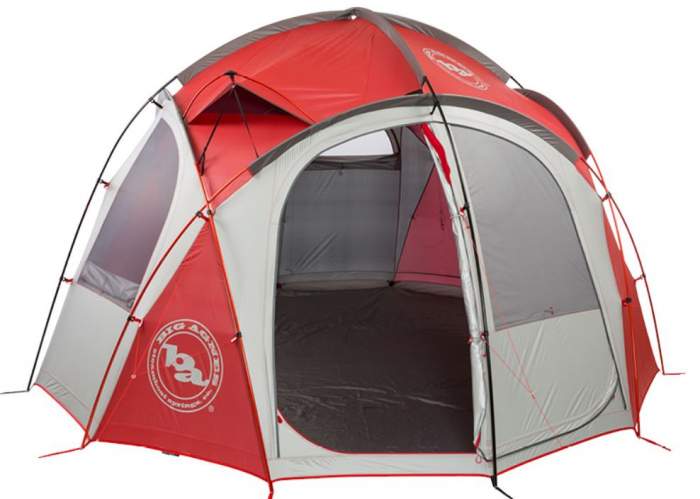 This tent could be described as a geodesic dome structure, and it is officially for 8 people. You have an impressive tent for the most extreme conditions, for expeditions and for mountaineering.
It is built as a single-layer tent with 2 doors and 6 windows. Note that it is also fully freestanding and supported by a DAC Pressfit pole system.
Being built for severe conditions, it includes 20 DAC oversized 12 inches aluminum J stakes. Note also that it has something unique, 2 short vents poles. The floor is removable, and the area is 128 ft² (11.9 m²). The tent is very tall, the peak height is 84 inches (214 cm).
The fabric is a Dominico undyed polyester ripstop made with high-tenacity yarns. They claim that this increase tear strength by 20-25% over standard nylon or polyester ripstop. It is silicone-treated and with a 1200 mm waterproof polyurethane coating. On the floor you have a polyester Oxford with a 5000 mm waterproof polyurethane coating.

---
Final thoughts
So this was my selection of the best Big Agnes camping tents that are currently on the market. This brand does not really build very large tents, but these are among the largest they currently have.
As you see, they are mainly dome and extended dome tents, but they are very tall and some are with pre-bent poles so you have lots of volume.
This brand frequently launches new tents, so this list will be updated whenever I find a tent that belongs here. This is why you might want to bookmark this text and visit it occasionally, this will keep you informed.
Let me know if you have questions, there is a comment box below. Thank you for reading and have a nice day.