The Cabela's Big Country 6-Person Cabin Tent is very tall, ventilated, supported with thick aluminum poles, and with a great waterproof rating for a full protection in a 3-season camping.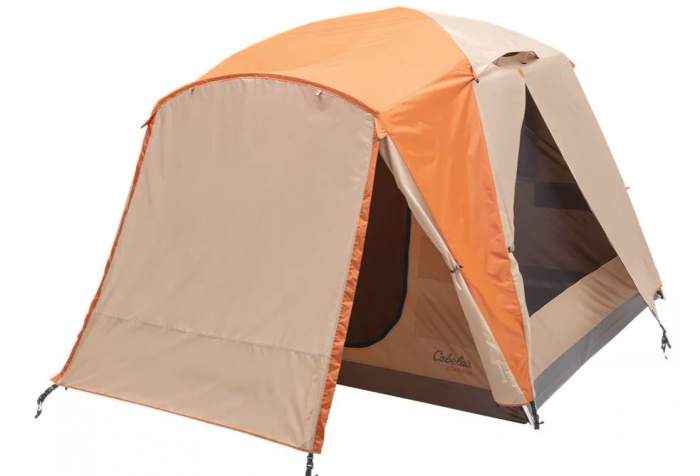 ---
Key features & benefits
Aluminum poles.
Full protection.
Rugged materials.
Very tall.
Vestibule.
Great ventilation.
---
What is in the name
There is a word "cabin" in the name of this Cabela's Big Country 6-Person Cabin Tent and the picture below may explain why this is so. As you realize, the side poles are almost completely straight, and some segments of the roof poles are pre-bent.
This creates lots of volume inside just like in a cabin type tent, but this is a dome type tent, there are many of them similar on the market.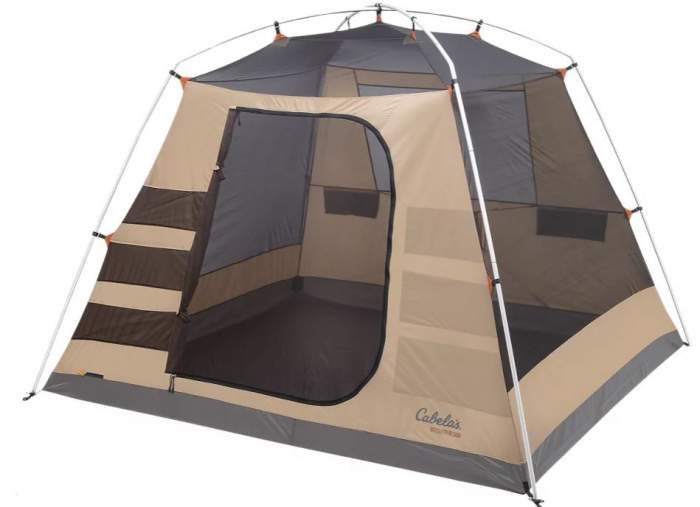 Without the fly, the tent is fully freestanding. But it comes with a full coverage fly that must be staked properly because it creates a front vestibule. So the tent as a whole is not freestanding.
Note also that this is a very tall tent for its size, you have a remarkable 84 inches (213 cm) peak height here. There are plenty of storage pouches inside to keep you things organized. You might want to compare this to their Cabela's Alaskan Guide Model Geodesic 6-Person Tent that is built in a bit similar style but it is much lower.
The tent has only one door but it is large and tall, so this is fine. This is a two-layer construction with a mesh and with a panel.
The vestibule is with two parallel zippers so you can use it in several ways. You can keep it staked as in the top picture above and then enter from the sides. But you can also keep those side flaps staked down and roll the central flap and fix above the door.
Note that the fly has zippers on the two sides so you can unzip them and have views around whenever the sky is clear and this is also for extra ventilation.
Materials
The support: I already mentioned poles, so this is a truly heavy-duty aluminum with a 22 mm diameter. I do not remember any tent of this size with such thick poles. You also have strong guy-out cords and heavy-duty steel stakes.
The fabric: They use a very interesting combination of materials here, and I would say completely justified. So the walls are a durable 210T/75-denier, 72 g/m² polyesters with a 600 mm polyurethane coating. For walls you will never need more. The mesh is a no-see-um type.
But the fly is a 150D polyester with a 2000 mm polyurethane coating and with taped seams. On the floor you have a durable 200D polyester with a 5000 mm polyurethane coating. So these are excellent materials
Ventilation
You have seen the canopy with its mesh, and it goes very low on the sides so you do not need floor vents. The door can be kept with mesh only all the time if you need more air, it is deep under the vestibule and fully protected.
The fly is massive, but they have added two roof vents, see the picture below, plus the mentioned side zippers for extra ventilation. There is not much one could object to this design.
---
Who is it for
Regarding the area, the tent is officially for 6 people, and for this you have 90 ft² (8.3 m²). This implies 15 ft² (1.39 m²) per person. The dimensions are such that you can indeed put 6 pads on the floor.
But as usual, for more comfort you will want to reduce the number of users in this tent to up to 4 or so. Note that you still have a vestibule to store your gear, it will be fully protected as you realize from the picture below.
Regarding seasons & climate, the tent has plenty of mesh on the sides plus vents, so this should work well in a warm climate even though it has such a massive fly for protection.
When fully closed, it should perform well even in windy places, the structure is tall but it is still reasonably aerodynamic. The waterproof rating is very good and the poles are strong. So I would describe it as a reliable 3-season tent.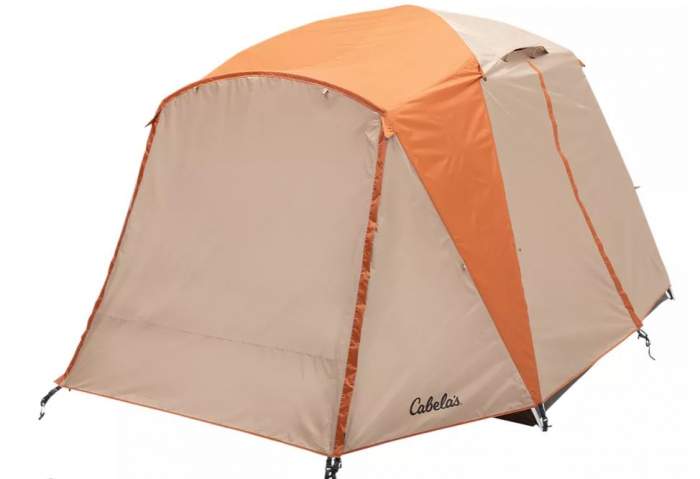 Regarding the weight, the tent weighs 34 lb (15.4 kg) so it is quite heavy, but you have seen its rugged materials. The packed size is 34.6 x 11.4 x 11.4 inches (88 x 29 x 29 cm) and it can be described as bulky. All in all, this is for places with a car access.
---
Specifications
Weight: 34 lb (15.4 kg).
Official capacity: 6 people.
Dimensions: 10 x 9 ft (305 x 274 cm).
Inner area: 90 ft² (8.3 m²).
Inner area per person: 15 ft² (1.39 m²).
Peak height: 84 in (213 cm).
Packed size: 34.6 x 11.4 x 11.4 in (88 x 29 x 29 cm).
---
Final thoughts, rating, pros & cons
In summary, this Cabela's Big Country 6-Person Cabin Tent is incredibly tall and pleasant with its side openings for views and ventilation. They use a very strong fabric in its construction, and its thick aluminum poles are equally impressive.
You have a full coverage fly with a great waterproof rating, and it creates a large front vestibule for gear storage and as a dry entry. In spite of such a full fly, the tent has plenty of venting options. Fully recommended. I have included it in my list of best dome tents for camping.
Below you can see how this tent stands against my standard rating criteria that I apply consistently to all of them here in the site so that you can easily compare:
BEST PLACEs TO BUY:
For more tents of this shape please check in the category Dome Tents. If you would want more options from this brand, please check my list with best Cabela's tents for camping. But see also this Eureka Jade Canyon X 6 Person Tent if you want something totally different.
Let me know if you have questions, there is a comment box below. Bookmark this site and come again, this will keep you informed, as you realize I add texts here on a regular basis. Thank you for reading.