The Cabela's Outback Lodge 8 Person Tent is a non-freestanding single-layer 3-season tent with 3 windows and a large door, equipped with roof vents and an E-cable port.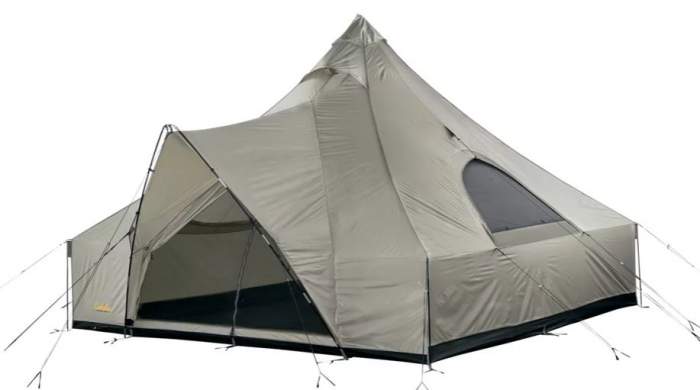 ---
Key features & benefits
Single-layer tent.
Non-freestanding.
3 Roof windows.
1 Door.
Roof vents.
Power port.
---
What this Cabela's Outback Lodge 8 Person Tent is about
This tent has been around for a number of years already and this is not without reasons. The shape is such that it has features of a bell-type and a cabin-type tent. This means you have a central supporting pole that is similar to a bell tent, but there are also 4 straight corner poles. This shape you have also in their tents from the Alaknak series.
The base is a simple rectangle, and with the mentioned support the tent is not freestanding, so you have to stake it properly before putting the central pole in place.
The sides are completely vertical and these walls are around 32 inches (81 cm tall). But the overall height is impressive 9 feet (274 cm), this is why I have included it in my list of very tall tents for camping.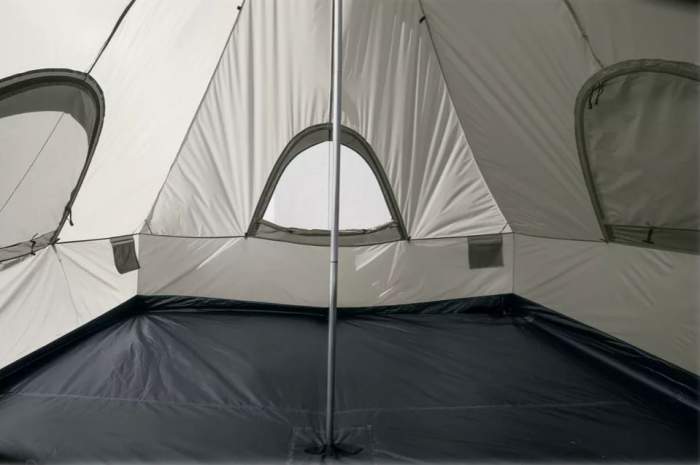 The door & windows
The tent has only one door but it is wide and 70 inches (178 cm) tall, and this is a double-layer construction with mesh and with zippered panels. Note that the bottom of the door does not have a zipper, but no worry you have it on the mesh layer.
One nice detail here is its awning above the door, it is supported by an A-frame. So you have a dry entry and you can keep the upper part unzipped even during the rain for extra ventilation.
There are three roof windows, all double-layer so you can have views around as long as the sky is clear.
Ventilation
You have seen its four openings with mesh, this all works well when the sky is clear and you can regulate ventilation. But when it is raining you have to rely on two top vents.
So it is a pity that they did not add floor vents. As far as I know, one of its earlier versions has had such vents. This is not an improvement for sure.
Materials
The support: I already mentioned the poles, so the central one is a steel pole and those in the corners and the A-frame above the door are made of fiberglass. You also have included steel stakes and guy lines.
The fabric: This is a single layer tent so you have the same material everywhere, and this is a 75D polyester-taffeta with a 1500 mm waterproof-rated coating. The mesh openings are a 68D polyester-tricot.
The bathtub floor is a much more durable 210D polyester-oxford but its waterproof rating is the same 1500 mm. Note that you have top quality reliable YKK zippers. You cannot expect something better in a tent.
Other details include:
An E-cable zippered pored above the floor.
5 Wall pockets.
Please see more in this video:
---
Who is it for
Regarding the area, the tent is officially for 8 people and for this you have 144 ft² (13.4 m²). This would mean 18 ft² (1.67 m²) per person so it is possible to put such a number of pads on the floor, but for real camping this would not work. It is best to downgrade the number of users by half or so.
Regarding seasons & climate, I have seen people using it in a very cold environment and in snow conditions. So the tent is definitely suitable for a 3-season use.
It is tall and boxy but there are many reports that it performed well even in very strong winds and in thunderstorms.
Regarding the weight, in view of its 28 lb (12.7 kg) it is moderate. Regarding the packed size it can be described as a bit bulky, but this is a car camping tent so this is not a big deal.
Regarding the price, I would say it is fair for such a great tent. There are links below so you can check for updates.
---
Specifications
Weight: 28 lb (12.7 kg).
Official capacity: 8 people.
Dimensions: 12 x 12 ft (366 x 366 cm).
Inner area: 144 ft² (13.4 m²).
Inner area per person: 18 ft² (1.67 m²).
Peak height: 9 ft (274 cm).
Packed size: 34 x 11 x 10.5 in (86 x 28 x 27 cm).
---
Final thoughts, rating, pros & cons
In summary, this Cabela's Outback Lodge 8 Person Tent is well-built and reliable so it is not surprising that it has remained on the market for so long. It is ventilated with its roof vents, and you have nice windows and a large door for extra air circulation and views. This is a true 3-season tent. Fully recommended.
Below you can see how this tent stands against my standard rating criteria that I apply consistently to all of them here in the site so that you can easily compare:
BEST PLACEs TO BUY:
For more tents of this shape please check in the category Cabin Tents. If you would want more options from this brand, please check my list with best Cabela's tents for camping.
Let me know if you have questions, there is a comment box below. Bookmark this site and come again, this will keep you informed, as you realize I add texts here on a regular basis. Thank you for reading.